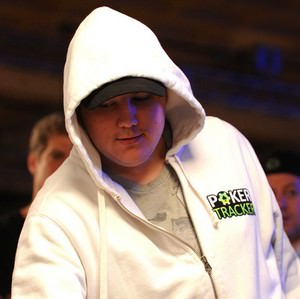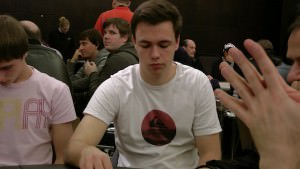 Die SCOOP läuft auf Hochtouren. 12 weitere Events sind zu Ende gegangen. Es war ein guter und erfolgreicher Tag für die deutschsprachigen Spieler. "Anywhat" konnte einen Titel nach Österreich holen, Ole "wizowizo" Schemion erreichte einen zweiten Platz, ebenfalls wie zwei weitere Deutsche. Julian Herold und "päffchen" verpassen das Podest.
Gestern starteten zunächst die letzten Spieler des NL Hold'em Ante Up Events. Julian Herold erreichte hier einen starken vierten Platz in der $700 High Variante und durfte $20.563 mit nach Hause nehmen. 
Bei Event #17, ein 10-Max NL Hold'em Shoot-Out, erreichte Alex 'skalexjung' Jung im Middle Event den Final Table, scheiterte allerdings auf Rang 6 für $8.000. Besser lief es hier für Ole "wizowizo" Schemion, der es bis ins Heads-Up schaffte, sich allerdings gegen Andrew "southrnctowl" Badecker die Zähne ausbiss. $40.000 gab es für den Runner-Up. 
Beim SCOOP Event #18 PL-Omaha Rebuy gab es einen erfreulichen Sieg für "Anywhat" aus Österreich in der Low Variante. $27.199 wurden dafür auf seinem Konto gutgeschrieben. In der Middle Variante erreichten "Efan123" und "päffchen" den Final Table. Für Päffchen war auf Rang 4 Endstation aber Efan123 schaffte es ebenfalls ins Heads-Up und holte Silber für Deutschland. 
Im Highroller gingen die deutschsprachigen Spieler leer aus. Dafür mischten am Final Table bekannte Gesichter mit. Jason Mercier und Phil "MrSweets28" Galfond spielten mit "MrCoco" um den Titel. Es wurde sich auf einen Deal geeinigt und am Ende gingen alle drei Spieler All-In um den Sieger zu ermitteln. Das Ergebnis sah folgendermaßen aus:
Jason Mercier machte sich direkt an den Stud Tisch, wo Team PokerStars Kollege Eugene Katchalov unter den letzten drei Spielern vertreten war. Jason: "u guys are still 3 handed? u guys were 3 handed when i got to the FT  and we already done!!!" Das STUD zu den eher zähen Varianten gehört, ist nichts neues, doch vor wenigen Minuten fiel auch hier die Entscheidung und niemand geringeres als Shaun Deeb gewann den Titel und übernimmt die Führung in der SCOOP 2012 Gesamtwertung:

SCOOP-Ergebnisse im Überblick!
SCOOP-#14 NL Hold'em Ante Up
PokerStars Turnier Low, No Limit Hold'em
Buy-in: $7.00/$0.50 USD
13223 Spieler
Preispool gesamt: $92561.00 USD 
  1: J_Marcos (Brazil), $9423.38 (10.18%)
  2: maximum123 (Norway), $9639.73 (10.414%)
  3: CarltonRulz (Australia), $8539.82 (9.226%)
  4: KeryaFadeev (Russia), $4628.05 (5%)
  5: elfeggg (Russia), $3702.44 (4%)
  6: redKameleon (Denmark), $2776.83 (3%)
  7: neonasl (Lithuania), $1851.22 (2%)
  8: PoLoTeN41kXX (Russia), $925.61 (1%)
  9: Chocoyote (Germany), $555.36 (0.599%)
…
  14: OutschOo (Germany), $277.68 (0.299%)
  15: camuloz (Germany), $277.68 (0.299%)
  21: Tiger0302 (Germany), $175.86 (0.189%)
  26: jetly69 (Germany), $175.86 (0.189%)
  28: singul4rity (Austria), $161.98 (0.174%)
  31: Hahnsworld (Germany), $161.98 (0.174%)
  38: fiGo_2703 (Austria), $148.09 (0.159%)
  47: Svennyboy1 (Germany), $134.21 (0.144%)
PokerStars Turnier Middle, No Limit Hold'em
Buy-in: $75.00/$7.00 USD
1997 Spieler
Preispool gesamt: $149775.00 USD 
  1: Zackattak13 (Canada), $23965.24 (16%)
  2: ujhcrbq (Russia), $17973.00 (12%)
  3: hlamberg (Latvia), $13479.75 (9%)
  4: RaulFu (Spain), $9847.70 (6.574%)
  5: Noiberman (Australia), $7114.31 (4.749%)
  6: cathi18 (Germany), $5541.67 (3.699%)
  7: Skobelev670 (Russia), $4043.92 (2.699%)
  8: w00tLOL (Russia), $2621.06 (1.749%)
  9: Xading (Russia), $1497.75 (1%)
 …
  19: Ole1904 (Germany), $554.16 (0.369%)
  20: Suppinho (Germany), $554.16 (0.369%)
  22: peter bosen (Germany), $554.16 (0.369%)
  36: roelle19 (Austria), $479.28 (0.32%)
  49: SebbyGl (Germany), $366.94 (0.244%)
PokerStars Turnier High, No Limit Hold'em
Buy-in: $670.00/$30.00 USD
372 Spieler
Preispool gesamt: $249240.00 USD 
  1: kleath (Malta), $41391.90 (16.607%)
  2: theczar19 (Mexico), $34566.59 (13.868%)
  3: Rens02 (Netherlands), $35825.65 (14.373%)
  4: julianherold (Germany), $20562.30 (8.25%)
  5: 1BigAceHole (Canada), $14206.68 (5.7%)
  6: lechuckpoker (United Kingdom), $10966.56 (4.4%)
  7: joacowalter (Uruguay), $8474.16 (3.4%)
  8: Face333X (Germany), $5981.76 (2.4%)
  9: tRaMp$d0PrAy (Cyprus), $4361.70 (1.75%)
 …
  14: GeorgeDanzer (Germany), $3115.50 (1.25%)
  24: skalexjung (Germany), $1869.30 (0.75%)
SCOOP-#17 10-Max NL Hold'em Shoot-Out
PokerStars Turnier Low, No Limit Hold'em
Buy-in: $25.00/$2.00 USD
6952 Spieler
Preispool gesamt: $173800.00 USD 
  1: nebo_blizko (Ukraine), $23591.56 (13.573%)
  2: ruaa (Denmark), $18304.01 (10.531%)
  3: DonkDeezNutz (Canada), $20672.43 (11.894%)
  4: Vamo Fael (Brazil), $10862.50 (6.25%)
  5: MarcusVonRix (Denmark), $6952.00 (4%)
  6: JacktShipper (Belgium), $5214.00 (3%)
  7: _s_fischer_ (Austria), $3997.40 (2.3%)
  8: goleafsgoeh (Canada), $2867.70 (1.65%)
  9: klimsamgin (Russia), $1998.70 (1.15%)
  10: Collusion888 (Germany), $1129.70 (0.65%)
 …
  17: hmsryglamour (Germany), $260.70 (0.15%)
  27: Chip&Chap86 (Germany), $260.70 (0.15%)
  28: krendipont (Germany), $260.70 (0.15%)
  39: bloby (Switzerland), $260.70 (0.15%)
  43: Dacor (Germany), $260.70 (0.15%)
  45: wolliz (Germany), $260.70 (0.15%)
  49: DaCheckahh (Germany), $260.70 (0.15%)
PokerStars Turnier Middle, No Limit Hold'em
Buy-in: $200.00/$15.00 USD
1000 Spieler
Preispool gesamt: $200000.00 USD 
  1: FlyingSumo (Norway), $31950.00 (15.975%)
  2: ultralord007 (Russia), $29950.00 (14.975%)
  3: 3P3NIPA (Czech Republic), $18900.00 (9.45%)
  4: kev19 (Canada), $14100.00 (7.05%)
  5: bnn boos (Netherlands), $9900.00 (4.95%)
  6: skalexjung (Germany), $8000.00 (4%)
  7: barrybab333 (Hungary), $6300.00 (3.15%)
  8: SALTWORT (Lithuania), $5000.00 (2.5%)
  9: Bandano (Netherlands), $3800.00 (1.9%)
  10: Mieses88 (Czech Republic), $2800.00 (1.4%)
  …
  22: PaccMR28 (Germany), $770.00 (0.385%)
  23: Phantomes124 (Austria), $770.00 (0.385%)
  29: 2402Dennis (Germany), $770.00 (0.385%)
PokerStars Turnier High, No Limit Hold'em
Buy-in: $2000.00/$100.00 USD
100 Spieler
Preispool gesamt: $200000.00 USD 
  1: southrnctowl (Mexico), $60000.00 (30%)
  2: wizowizo (Germany), $40000.00 (20%)
  3: as1025 (Russia), $27000.00 (13.5%)
  4: jdtjpoker (Mexico), $19800.00 (9.9%)
  5: 0Human0 (Romania), $14000.00 (7%)
  6: MrKlout (Spain), $11000.00 (5.5%)
  7: shaundeeb (Mexico), $8800.00 (4.4%)
  8: E. Katchalov (Ukraine), $7500.00 (3.75%)
  9: MONSTER_DONG (Australia), $6400.00 (3.2%)
  10: j.thaddeus (Ireland), $5500.00 (2.75%)
SCOOP-#18 PL-Omaha Rebuy
PokerStars Turnier Low, Pot Limit Omaha
Buy-in: $10.00/$1.00 USD
5783 Spieler
Preispool gesamt: $178330.00 USD 
  1: Anywhat (Austria), $27199.34 (15.252%)
  2: MegaMarc1 (Netherlands), $19170.47 (10.749%)
  3: Maxacante (Spain), $13820.57 (7.749%)
  4: LUFCBas (United Kingdom), $8470.67 (4.749%)
  5: OMG soo SICK (Mexico), $5055.65 (2.834%)
  6: Big_Nemo (Canada), $2674.95 (1.5%)
  7: Zone09 (Canada), $1836.79 (1.029%)
  8: budzior (Poland), $1836.79 (1.029%)
  9: Purple Haze (Sweden), $1836.79 (1.029%)
…
  24: pokerturo (Germany), $891.65 (0.5%)
  33: R0BtheT0P (Switzerland), $570.65 (0.319%)
  47: Latha (Germany), $397.67 (0.222%)
PokerStars Turnier Middle, Pot Limit Omaha
Buy-in: $100.00/$9.00 USD
1146 Spieler
Preispool gesamt: $364700.00 USD 
  1: Fiskin1 (United Kingdom), $61087.31 (16.75%)
  2: Efan123 (Germany), $45587.50 (12.5%)
  3: Fred-wpt (Netherlands), $34646.50 (9.5%)
  4: Päffchen (Germany), $23705.50 (6.5%)
  5: BQNNEN (Denmark), $15645.63 (4.29%)
  6: Paolo69 (United Kingdom), $10941.00 (3%)
  7: Ceewyl (Hungary), $6382.25 (1.75%)
  8: NhFy (Sweden), $6382.25 (1.75%)
  9: theczar19 (Mexico), $6382.25 (1.75%)
…
  13: Oldbeerdevil (Germany), $3063.48 (0.84%)
  17: skalexjung (Germany), $3063.48 (0.84%)
  20: WushuTM (Austria), $2297.61 (0.63%)
  24: DaMethod (Austria), $2297.61 (0.63%)
  42: zwulf123 (Germany), $1276.45 (0.35%)
  49: tomsawyer1 (Germany), $1057.63 (0.29%)
PokerStars Turnier High, Pot Limit Omaha
Buy-in: $1000.00/$50.00 USD
241 Spieler
Preispool gesamt: $682000.00 USD 
  1: MrCoco (United Kingdom), $118606.67 (17.391%)
  2: JasonMercier (Canada), $114606.67 (16.804%)
  3: MrSweets28 (Canada), $114606.66 (16.804%)
  4: O.Klunssila (Finland), $54560.00 (8%)
  5: subiime (Canada), $40920.00 (6%)
  6: Sira Al Aziz (Portugal), $27962.00 (4.1%)
  7: ActionFreak (Greece), $19437.00 (2.85%)
  8: ferocious666 (Russia), $19437.00 (2.85%)
  9: djk123 (Australia), $19437.00 (2.85%)
SCOOP-#19 Triple Stud
PokerStars Turnier Low, Triple Stud
Buy-in: $25.00/$2.00 USD
1908 Spieler
Preispool gesamt: $47700.00 USD 
  1: Drew M Scott (Canada), $8348.00 (17.501%)
  2: janik446 (Germany), $5962.50 (12.5%)
  3: lotos64 (Russia), $4531.50 (9.5%)
  4: isegalkarl (Germany), $3339.00 (7%)
  5: Desslock (Canada), $2385.00 (5%)
  6: Eskarnia (Germany), $1431.00 (3%)
  7: mitras01 (Lithuania), $954.00 (2%)
 …
  18: TheRabbit40 (Germany), $206.06 (0.431%)
  34: Huxelallstar (Germany), $147.87 (0.31%)
  41: dpo18 (Switzerland), $135.94 (0.284%)
  46: nomnomnomo (Germany), $135.94 (0.284%)
  49: ataraktos 06 (Germany), $124.02 (0.26%)
  50: DevilLoveGal (Germany), $124.02 (0.26%)
PokerStars Turnier Middle, Triple Stud
Buy-in: $200.00/$15.00 USD
357 Spieler
Preispool gesamt: $71400.00 USD 
  1: PerpCzech (New Zealand), $13744.50 (19.25%)
  2: goleafsgoeh (Canada), $10174.50 (14.25%)
  3: donut604 (Canada), $7675.50 (10.75%)
  4: FONBET_RULIT (Russia), $5533.50 (7.75%)
  5: Crisper (Argentina), $3748.50 (5.25%)
  6: Cshosz (Hungary), $2677.50 (3.75%)
  7: squee451 (Canada), $1963.50 (2.75%)
…
  14: Isetit (Austria), $963.90 (1.35%)
  20: schusch (Austria), $696.15 (0.975%)
  43: Bora999 (Germany), $339.15 (0.475%)
PokerStars Turnier High, Triple Stud
Buy-in: $2000.00/$100.00 USD
68 Spieler
Preispool gesamt: $136000.00 USD 
  1: shaundeeb (Mexico), $44200.00 (32.5%)
  2: stevie444 (United Kingdom), $28560.00 (21%)
  3: E. Katchalov (Ukraine), $20400.00 (15%)
  4: JohnSmith (Russia), $13600.00 (10%)
  5: PerpCzech (New Zealand), $10200.00 (7.5%)
  6: GVOZDIKA55 (Russia), $7480.00 (5.5%)
  7: $tinger 88 (Canada), $6120.00 (4.5%)
  8: Spokey (Norway), $5440.00 (4%)