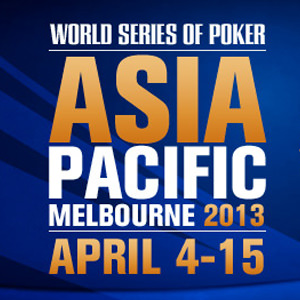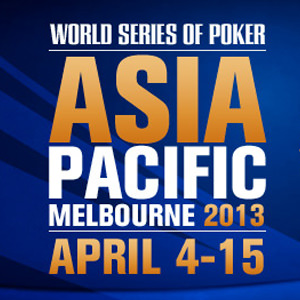 Die WSOP expandiert. Nachdem bereits die World Series of Poker in Europa Fuß gefasst hatte, will man nun auch andere Kontinente erobern. Jetzt hat man den Schedule zur WSOP Asia Pacific veröffentlicht. 
WSOP Europa, WSOP Afrika und nun auch WSOP Asia Pacific. Die World Series of Poker wird zum ersten Mal in Australien abgehalten. Austragungsort ist das Crowne Casino in Melbourne, in dem auch die Aussie Millions stattfinden. Dieses Festival startet heute. Die WSOP wird dort vom 04. – 15. April fünf Bracelet-Events anbieten. 
Highlights sind unter anderem das $10.000 Main Event, das $50.000 High Roller Event sowie der "Caesars Cup Invitational – Asia Pacific vs. Europe vs. The Americas"! Das geplante $500.000 Super Highroller Event findet wohl nicht statt. Zumindest taucht es beim Schedule nicht auf. 
[cbanner#11]
Schedule
WSOP Asia-Pacific 2013 Turnierplan

Datum

#

Turnier

Buy-in

04.04.13

1

No-Limit Hold'em Accumulator – Tag 1 Flug A (5-Tage-Event)

AUD$1.100

05.04.13

1

No-Limit Hold'em Accumulator – Tag 1 Flug B (5-Tage-Event)

AUD$1.100

06.04.13

1

No-Limit Hold'em Accumulator – Tag 1 Flug C (5-Tage-Event)

AUD$1.100

07.04.13

1

No-Limit Hold'em Accumulator – Tag 2 (Stacks & Feld kombiniert)




07.04.13

2

Pot-Limit Omaha – Tag 1 (3-Tage-Event)

AUD$1.650

08.04.13

2

Pot-Limit Omaha – Tag 2




08.04.13

1

No-Limit Hold'em Accumulator – Final Table




08.04.13

3

Mixed Event (3-Tage-Event)

AUD$2.200

09.04.13

3

Mixed Event – Tag 2




09.04.13

2

Pot-Limit Omaha – Final Table




09.04.13

4

6-Handed No-Limit Hold'em (3-Tage-Event)

AUD$5.000

10.04.13

4

6-Handed No-Limit Hold'em – Tag 2




10.04.13

3

Mixed Event – Final Table




11.04.13

4

6-Handed No-Limit Hold'em – Final Table




11.04.13

5

WSOP ASIA-PACIFIC MAIN EVENT – No-Limit Hold'em

AUD$10.000

12.04.13

5

WSOP APAC MAIN EVENT – Tag 2




13.04.13

5

WSOP APAC MAIN EVENT – Tag 3




13.04.13




High Roller No-Limit Hold'em mit Rebuys (2-Tage-Event)

AUD$50.000

14.04.13




Caesars Cup Invitational – Asia Pacific vs. Europe vs. The Americas




14.04.13

5

WSOP APAC MAIN EVENT – Tag 4




14.04.13




High Roller No-Limit Hold'em – Final Table




15.04.13

5

WSOP Asia-Pacific Main Event Championship – Final Table