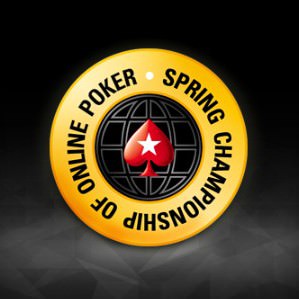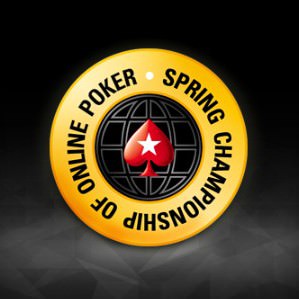 Am 12. Mai startet die Spring Championship Of Online Poker bei PokerStars.eu. Passend zum Event wartet der Reload Bonus. 
Macht euch bereit für die Spring Championship of Online Poker 2013 (SCOOP) mit allen Vorteilen eines 20% Reload Bonus bis zu $100! Ladet bis zum 10. Mai, 23.59 Uhr ET euer bestehendes PokerStars-Konto wieder auf und gebt dabei den Code "SCOOP2013" an. Nähere Informationen gibt's hier!
44 Events warten vom 12. – 26. Mai auf die Spieler von PokerStars. Das sind vier Events mehr als im Vorjahr. Auch die Zoom Turniere, die bereits bei den Micro Millions zum Einsatz kamen, sind vertreten. Des Weiteren wird es auch erstmals Courchevel, 5-Card Omaha und 5-Card Omaha Hi/Lo als SCOOP-Events geben.
Im Vorjahr feierte die SCOOP die Auszeichnung "biggest online tournament series in history". $65.000.000 wurden ausgespielt. Dies gilt es in diesem Jahr zu toppen und $40.000.000 werden garantiert.
Des Weiteren starten heute die Satellites auf PokerStars. Diese findet ihr unter  'Events' > 'SCOOP' in der Lobby des Clients. Alle weiteren Infos findet ihr auf der offiziellen SCOOP-Seite.
Schedule 
| | | | | | | |
| --- | --- | --- | --- | --- | --- | --- |
| Tourn ID | Event # | Datum |  Zeit | Name | Buy-in |  Guarantee  |
| 2013050011 | 01-L | 12-May | 17:00 | NL Hold'em [6-Max] | $27.00 | $ 300,000 |
| 2013050012 | 01-M | 12-May | 17:00 | NL Hold'em [6-Max] | $215.00 | $ 600,000 |
| 2013050013 | 01-H | 12-May | 17:00 | NL Hold'em [6-Max] | $2,100.00 | $ 1,000,000 |
| 2013050021 | 02-L | 12-May | 20:30 | NL Hold'em | $27.00 | $ 400,000 |
| 2013050022 | 02-M | 12-May | 20:30 | NL Hold'em | $215.00 | $ 1,000,000 |
| 2013050023 | 02-H | 12-May | 20:30 | NL Hold'em | $2,100.00 | $ 1,250,000 |
| 2013050031 | 03-L | 13-May | 17:00 | NL Hold'em + R [6-Max] | $5.50 | $ 200,000 |
| 2013050032 | 03-M | 13-May | 17:00 | NL Hold'em + R [6-Max] | $55.00 | $ 300,000 |
| 2013050033 | 03-H | 13-May | 17:00 | NL Hold'em + R [6-Max] | $530.00 | $ 500,000 |
| 2013050041 | 04-L | 13-May | 20:00 | FL Badugi | $27.00 | $ 30,000 |
| 2013050042 | 04-M | 13-May | 20:00 | FL Badugi | $215.00 | $ 40,000 |
| 2013050043 | 04-H | 13-May | 20:00 | FL Badugi | $2,100.00 | $ 50,000 |
| 2013050051 | 05-L | 13-May | 23:00 | NL Hold'em [Rebuys,][Turbo] | $11.00 | $ 250,000 |
| 2013050052 | 05-M | 13-May | 23:00 | NL Hold'em [Rebuys,][Turbo] | $109.00 | $ 500,000 |
| 2013050053 | 05-H | 13-May | 23:00 | NL Hold'em [Rebuys,][Turbo] | $1,050.00 | $ 750,000 |
| 2013050061 | 06-L | 14-May | 17:00 | NL Draw [2x][Chance] | $11.00 | $ 30,000 |
| 2013050062 | 06-M | 14-May | 17:00 | NL Draw [2x][Chance] | $109.00 | $ 40,000 |
| 2013050063 | 06-H | 14-May | 17:00 | NL Draw [2x][Chance] | $1,050.00 | $ 50,000 |
| 2013050071 | 07-L | 14-May | 20:00 | NL Hold'em [Heads-Up] | $7.50 | $ 50,000 |
| 2013050072 | 07-M | 14-May | 20:00 | NL Hold'em [Heads-Up] | $82.00 | $ 150,000 |
| 2013050073 | 07-H | 14-May | 20:00 | NL Hold'em [Heads-Up] | $700.00 | $ 250,000 |
| 2013050081 | 08-L | 14-May | 23:00 | NL Hold'em | $11.00 | $ 100,000 |
| 2013050082 | 08-M | 14-May | 23:00 | NL Hold'em | $109.00 | $ 300,000 |
| 2013050083 | 08-H | 14-May | 23:00 | NL Hold'em (Super Tuesday) | $1,050.00 | $ 1,000,000 |
| 2013050091 | 09-L | 15-May | 17:00 | PL 5-Card Omaha Hi/Lo [6-Max] | $7.50 | $ 25,000 |
| 2013050092 | 09-M | 15-May | 17:00 | PL 5-Card Omaha Hi/Lo [6-Max] | $82.00 | $ 50,000 |
| 2013050093 | 09-H | 15-May | 17:00 | PL 5-Card Omaha Hi/Lo [6-Max] | $700.00 | $ 100,000 |
| 2013050101 | 10-L | 15-May | 20:00 | NL Hold'em [Super-Knockout] | $27.00 | $ 200,000 |
| 2013050102 | 10-M | 15-May | 20:00 | NL Hold'em [Super-Knockout] | $215.00 | $ 400,000 |
| 2013050103 | 10-H | 15-May | 20:00 | NL Hold'em [Super-Knockout] | $2,100.00 | $ 600,000 |
| 2013050111 | 11-L | 15-May | 23:00 | Stud | $27.00 | $ 30,000 |
| 2013050112 | 11-M | 15-May | 23:00 | Stud | $215.00 | $ 40,000 |
| 2013050113 | 11-H | 15-May | 23:00 | Stud | $2,100.00 | $ 75,000 |
| 2013050121 | 12-L | 16-May | 17:00 | NL Single Draw 2-7 | $27.00 | $ 30,000 |
| 2013050122 | 12-M | 16-May | 17:00 | NL Single Draw 2-7 | $215.00 | $ 40,000 |
| 2013050123 | 12-H | 16-May | 17:00 | NL Single Draw 2-7 | $2,100.00 | $ 50,000 |
| 2013050131 | 13-L | 16-May | 20:00 | PL Omaha [Heads-Up] | $27.00 | $ 25,000 |
| 2013050132 | 13-M | 16-May | 20:00 | PL Omaha [Heads-Up] | $215.00 | $ 75,000 |
| 2013050133 | 13-H | 16-May | 20:00 | PL Omaha [Heads-Up] | $2,100.00 | $ 200,000 |
| 2013050141 | 14-L | 16-May | 23:00 | NL Hold'em [Big][Antes,][Rebuys] | $11.00 | $ 150,000 |
| 2013050142 | 14-M | 16-May | 23:00 | NL Hold'em [Big][Antes,][Rebuys] | $109.00 | $ 250,000 |
| 2013050143 | 14-H | 16-May | 23:00 | NL Hold'em [Big][Antes,][Rebuys] | $1,050.00 | $ 400,000 |
| 2013050151 | 15-L | 17-May | 17:00 | NL Hold'em (Ante Up) | $7.50 | $ 50,000 |
| 2013050152 | 15-M | 17-May | 17:00 | NL Hold'em (Ante Up) | $82.00 | $ 75,000 |
| 2013050153 | 15-H | 17-May | 17:00 | NL Hold'em (Ante Up) | $700.00 | $ 150,000 |
| 2013050161 | 16-L | 17-May | 20:00 | FL Omaha Hi/Lo | $27.00 | $ 25,000 |
| 2013050162 | 16-M | 17-May | 20:00 | FL Omaha Hi/Lo | $215.00 | $ 50,000 |
| 2013050163 | 16-H | 17-May | 20:00 | FL Omaha Hi/Lo | $2,100.00 | $ 100,000 |
| 2013050171 | 17-L | 17-May | 23:00 | NL Hold'em [Super-Knockout,][6-Max] | $27.00 | $ 200,000 |
| 2013050172 | 17-M | 17-May | 23:00 | NL Hold'em [Super-Knockout,][6-Max] | $215.00 | $ 400,000 |
| 2013050173 | 17-H | 17-May | 23:00 | NL Hold'em [Super-Knockout,][6-Max] | $2,100.00 | $ 800,000 |
| 2013050181 | 18-L | 18-May | 17:00 | NL Hold'em [10-Max,][Shootout] | $27.00 | $ 100,000 |
| 2013050182 | 18-M | 18-May | 17:00 | NL Hold'em [10-Max,][Shootout] | $215.00 | $ 150,000 |
| 2013050183 | 18-H | 18-May | 17:00 | NL Hold'em [10-Max,][Shootout] | $2,100.00 | $ 150,000 |
| 2013050191 | 19-L | 18-May | 20:00 | PL 5-Card Omaha [6-Max,][Rebuys] | $11.00 | $ 75,000 |
| 2013050192 | 19-M | 18-May | 20:00 | PL 5-Card Omaha [6-Max,][Rebuys] | $109.00 | $ 150,000 |
| 2013050193 | 19-H | 18-May | 20:00 | PL 5-Card Omaha [6-Max,][Rebuys] | $1,050.00 | $ 300,000 |
| 2013050201 | 20-L | 18-May | 23:00 | NL Hold'em [Turbo,][Zoom] | $27.00 | $ 150,000 |
| 2013050202 | 20-M | 18-May | 23:00 | NL Hold'em [Turbo,][Zoom] | $215.00 | $ 350,000 |
| 2013050203 | 20-H | 18-May | 23:00 | NL Hold'em [Turbo,][Zoom] | $2,100.00 | $ 500,000 |
| 2013050211 | 21-L | 19-May | 17:00 | NL Hold'em | $27.00 | $ 300,000 |
| 2013050212 | 21-M | 19-May | 17:00 | NL Hold'em | $215.00 | $ 600,000 |
| 2013050213 | 21-H | 19-May | 17:00 | NL Hold'em | $2,100.00 | $ 1,000,000 |
| 2013050221 | 22-L | 19-May | 20:30 | NL Hold'em | $27.00 | $ 400,000 |
| 2013050222 | 22-M | 19-May | 20:30 | NL Hold'em | $215.00 | $ 1,000,000 |
| 2013050223 | 22-H | 19-May | 20:30 | NL Hold'em | $2,100.00 | $ 1,250,000 |
| 2013050231 | 23-L | 19-May | 23:00 | PL Omaha [6-Max,][Turbo,][Rebuys] | $11.00 | $ 50,000 |
| 2013050232 | 23-M | 19-May | 23:00 | PL Omaha [6-Max,][Turbo,][Rebuys] | $109.00 | $ 100,000 |
| 2013050233 | 23-H | 19-May | 23:00 | PL Omaha [6-Max,][Turbo,][Rebuys] | $1,050.00 | $ 200,000 |
| 2013050241 | 24-L | 20-May | 17:00 | Mixed NLHE/PLO | $11.00 | $ 50,000 |
| 2013050242 | 24-M | 20-May | 17:00 | Mixed NLHE/PLO | $109.00 | $ 100,000 |
| 2013050243 | 24-H | 20-May | 17:00 | Mixed NLHE/PLO | $1,050.00 | $ 200,000 |
| 2013050251 | 25-L | 20-May | 20:00 | FL Hold'em [6-Max] | $27.00 | $ 25,000 |
| 2013050252 | 25-M | 20-May | 20:00 | FL Hold'em [6-Max] | $215.00 | $ 50,000 |
| 2013050253 | 25-H | 20-May | 20:00 | FL Hold'em [6-Max] | $2,100.00 | $ 75,000 |
| 2013050261 | 26-L | 20-May | 23:00 | PL Courchevel Hi/Lo [1R1A,][Turbo] | $11.00 | $ 50,000 |
| 2013050262 | 26-M | 20-May | 23:00 | PL Courchevel Hi/Lo [1R1A,][Turbo] | $109.00 | $ 150,000 |
| 2013050263 | 26-H | 20-May | 23:00 | PL Courchevel Hi/Lo [1R1A,][Turbo] | $1,050.00 | $ 300,000 |
| 2013050271 | 27-L | 21-May | 17:00 | Triple Draw 2-7 | $27.00 | $ 25,000 |
| 2013050272 | 27-M | 21-May | 17:00 | Triple Draw 2-7 | $215.00 | $ 50,000 |
| 2013050273 | 27-H | 21-May | 17:00 | Triple Draw 2-7 | $2,100.00 | $ 100,000 |
| 2013050281 | 28-L | 21-May | 20:00 | Stud Hi/Lo | $27.00 | $ 25,000 |
| 2013050282 | 28-M | 21-May | 20:00 | Stud Hi/Lo | $215.00 | $ 50,000 |
| 2013050283 | 28-H | 21-May | 20:00 | Stud Hi/Lo | $2,100.00 | $ 75,000 |
| 2013050291 | 29-L | 21-May | 23:00 | NL Hold'em | $11.00 | $ 100,000 |
| 2013050292 | 29-M | 21-May | 23:00 | NL Hold'em | $109.00 | $ 300,000 |
| 2013050293 | 29-H | 21-May | 23:00 | NL Hold'em (Super Tuesday) | $1,050.00 | $ 1,000,000 |
| 2013050301 | 30-L | 22-May | 17:00 | Razz | $27.00 | $ 25,000 |
| 2013050302 | 30-M | 22-May | 17:00 | Razz | $215.00 | $ 50,000 |
| 2013050303 | 30-H | 22-May | 17:00 | Razz | $2,100.00 | $ 100,000 |
| 2013050311 | 31-L | 22-May | 20:00 | NL Hold'em [Knockout] | $27.00 | $ 250,000 |
| 2013050312 | 31-M | 22-May | 20:00 | NL Hold'em [Knockout] | $265.00 | $ 500,000 |
| 2013050313 | 31-H | 22-May | 20:00 | NL Hold'em [Knockout] | $2,600.00 | $ 750,000 |
| 2013050321 | 32-L | 22-May | 23:00 | PL Omaha [Turbo,][Zoom] | $27.00 | $ 40,000 |
| 2013050322 | 32-M | 22-May | 23:00 | PL Omaha [Turbo,][Zoom] | $215.00 | $ 75,000 |
| 2013050323 | 32-H | 22-May | 23:00 | PL Omaha [Turbo,][Zoom] | $2,100.00 | $ 100,000 |
| 2013050331 | 33-L | 23-May | 17:00 | 8-Game | $27.00 | $ 30,000 |
| 2013050332 | 33-M | 23-May | 17:00 | 8-Game | $215.00 | $ 50,000 |
| 2013050333 | 33-H | 23-May | 17:00 | 8-Game | $2,100.00 | $ 100,000 |
| 2013050341 | 34-L | 23-May | 20:00 | PL Omaha Hi/Lo | $27.00 | $ 50,000 |
| 2013050342 | 34-M | 23-May | 20:00 | PL Omaha Hi/Lo | $215.00 | $ 100,000 |
| 2013050343 | 34-H | 23-May | 20:00 | PL Omaha Hi/Lo | $2,100.00 | $ 150,000 |
| 2013050351 | 35-L | 23-May | 23:00 | NL Hold'em [2x][Chance,][Turbo] | $27.00 | $ 250,000 |
| 2013050352 | 35-M | 23-May | 23:00 | NL Hold'em [2x][Chance,][Turbo] | $215.00 | $ 400,000 |
| 2013050353 | 35-H | 23-May | 23:00 | NL Hold'em [2x][Chance,][Turbo] | $2,100.00 | $ 800,000 |
| 2013050361 | 36-L | 24-May | 17:00 | NL Hold'em [1R1A] | $27.00 | $ 250,000 |
| 2013050362 | 36-M | 24-May | 17:00 | NL Hold'em [1R1A] | $215.00 | $ 350,000 |
| 2013050363 | 36-H | 24-May | 17:00 | NL Hold'em [1R1A] | $2,100.00 | $ 500,000 |
| 2013050371 | 37-L | 24-May | 20:00 | HORSE | $27.00 | $ 30,000 |
| 2013050372 | 37-M | 24-May | 20:00 | HORSE | $215.00 | $ 60,000 |
| 2013050373 | 37-H | 24-May | 20:00 | HORSE | $2,100.00 | $ 100,000 |
| 2013050381 | 38-L | 24-May | 23:00 | NL Omaha Hi/Lo | $27.00 | $ 40,000 |
| 2013050382 | 38-M | 24-May | 23:00 | NL Omaha Hi/Lo | $215.00 | $ 70,000 |
| 2013050383 | 38-H | 24-May | 23:00 | NL Omaha Hi/Lo | $2,100.00 | $ 100,000 |
| 2013050391 | 39-L | 25-May | 11:00 | PL Omaha [6-Max] | $55.00 | $ 100,000 |
| 2013050392 | 39-M | 25-May | 11:00 | PL Omaha [6-Max] | $530.00 | $ 200,000 |
| 2013050393 | 39-H | 25-May | 11:00 | PL Omaha [6-Max] | $5,200.00 | $ 400,000 |
| 2013050401 | 40-L | 25-May | 18:30 | NL Hold'em [Heads-Up,][High-Roller] | $215.00 | $ 200,000 |
| 2013050402 | 40-M | 25-May | 18:30 | NL Hold'em [Heads-Up,][High-Roller] | $2,100.00 | $ 300,000 |
| 2013050403 | 40-H | 25-May | 18:30 | NL Hold'em [Heads-Up,][High-Roller] | $21,000.00 | $ 400,000 |
| 2013050411 | 41-L | 25-May | 20:00 | NL Hold'em [4-Max] | $27.00 | $ 200,000 |
| 2013050412 | 41-M | 25-May | 20:00 | NL Hold'em [4-Max] | $215.00 | $ 350,000 |
| 2013050413 | 41-H | 25-May | 20:00 | NL Hold'em [4-Max] | $2,100.00 | $ 600,000 |
| 2013050421 | 42-L | 26-May | 23:00 | NL Hold'em [8-Max] | $27.00 | $ 300,000 |
| 2013050422 | 42-M | 26-May | 23:00 | NL Hold'em [8-Max] | $215.00 | $ 600,000 |
| 2013050423 | 42-H | 26-May | 23:00 | NL Hold'em [8-Max] | $2,100.00 | $ 1,000,000 |
| 2013050431 | 43-L | 26-May | 20:30 | Main Event – L | $109.00 | $ 1,000,000 |
| 2013050432 | 43-M | 26-May | 20:30 | Main Event -M | $1,050.00 | $ 2,000,000 |
| 2013050433 | 43-H | 26-May | 20:30 | Main Event -H | $10,300.00 | $ 3,000,000 |
| 2013050441 | 44-L | 26-May | 23:00 | SCOOP Wrap-Up – L [3x][Chance] | $11.00 | $ 100,000 |
| 2013050442 | 44-M | 26-May | 23:00 | SCOOP Wrap-Up – M [3x][Chance] | $109.00 | $ 250,000 |
| 2013050443 | 44-H | 26-May | 23:00 | SCOOP Wrap-Up – H [3x][Chance] | $1,050.00 | $ 400,000 |