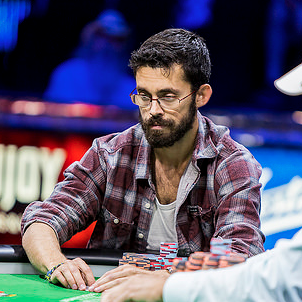 Während sich gestern Richard Gryko und Mike Leah in Event #3 am Pot Limit Omaha Final Table eine erbitterte Kartenschlacht lieferten, stand für alle 8-Game Spezialisten ab 16 Uhr das nächste Bracelet Event auf dem Programm. Für das €2,200 6-Max Mixed Game registrierten sich insgesamt 113 Teilnehmer, die zusammen ein Preisgeld von €226,000 generierten.
Den besten Start an Tag 1 legte Scott Clements hin. Er tütete am Ende des Tages 116,200 Chips ein. Im Verfolgerfeld wartet aber bereits der Führende der "WSOP Player of the Year" Wertung Mike Gorodinsky (81,000 Chips), dicht gefolgt von Shaun Deeb (77,600 Chips).
Aus deutscher Sicht liegen Jens Lakemeier (60,000 Chips), Arnaud Esouevin (53,200), Ismael Bojang (48,700) aber auch Thomas Butzhammer (45,000 Chips) noch gut im Rennen bei der Jagt auf das goldene Armband. Etwas weiter hinten im Feld, befindet sich mit Timo Schwerdfeger ein weiterer Deutscher unter den verbleibenden 24 Spielern aus Tag 1. Neben dem WSOP Champ von 2010 Jonathan Duhamel sitzen mit Mohsin Charania, Bryn Kenney, Stephen Chidwick, Richard Ashby, Brian Yoon auch noch weitere Hochkaräter mit an den Tischen. Auch Runner-Up des gestrigen PLO Finales Mike Leah und der Drittplatzierte Mikkel Plum registrierten sich zwar spät, schafften es aber dennoch den Tag erfolgreich zu beenden. Seit 13 Uhr wird in der Spielbank Berlin bereits weitergespielt und es gilt sich in Position für das morgige Finale zu bringen.
WSOPE Berlin 2015 – Event #5 – €2,200 Mixed Game 6-Max
Teilnehmer: 113
Preispool: €226.000
Player left: 24
| | | | |
| --- | --- | --- | --- |
| Name |   | Country | Chipcount |
| CLEMENTS | Scott Jeremy | United States of America | 116.200 |
| Gorodinsky | Mike | United States of America | 81.000 |
| DEEB | Shaun kristopher | United States of America | 77.600 |
| HILDEBRAND | Per alexander | Sweden | 74.600 |
| KHAKHULA | Volodymyr | Ukraine | 72.800 |
| Duhamel | Jonathan | Canada | 62.300 |
| LAKEMEIER | Jens | Germany | 60.000 |
| ESOUEVIN | Arnaud leon | Germany | 53.200 |
| CHARANIA | Mohsin | United States of America | 53.100 |
| ISRAELASHVILI | ROLAND | United States of America | 49.100 |
| BOJANG | Ismael lolin | Germany | 48.700 |
| VRONSKII | Mark | Russia | 47.200 |
| BUTZHAMMER | Thomas | Germany | 45.000 |
| PLUM | Mikkel frimer | Denmark | 40.100 |
| LEAH | Michael | Canada | 38.900 |
| KENNEY | Bryn joseph | United States of America | 31.500 |
| CHIDWICK | Stephen james | United Kingdom | 25.300 |
| LATEGUI LOURIDO | Martin rafael | Uruguay | 24.300 |
| ASHBY | Richard anthony frazer | United Kingdom | 23.800 |
| BRONSTEIN | Noah s | United States of America | 23.300 |
| SCHWERDTFEGER | Timo | Germany | 21.900 |
| YOON | Brian tae hyun | United States of America | 21.400 |
| SERHAN | Fuad khamis ahmad | United Kingdom | 19.700 |
| YAROSHEVSKYY | Igor | Ukraine | 16.400 |