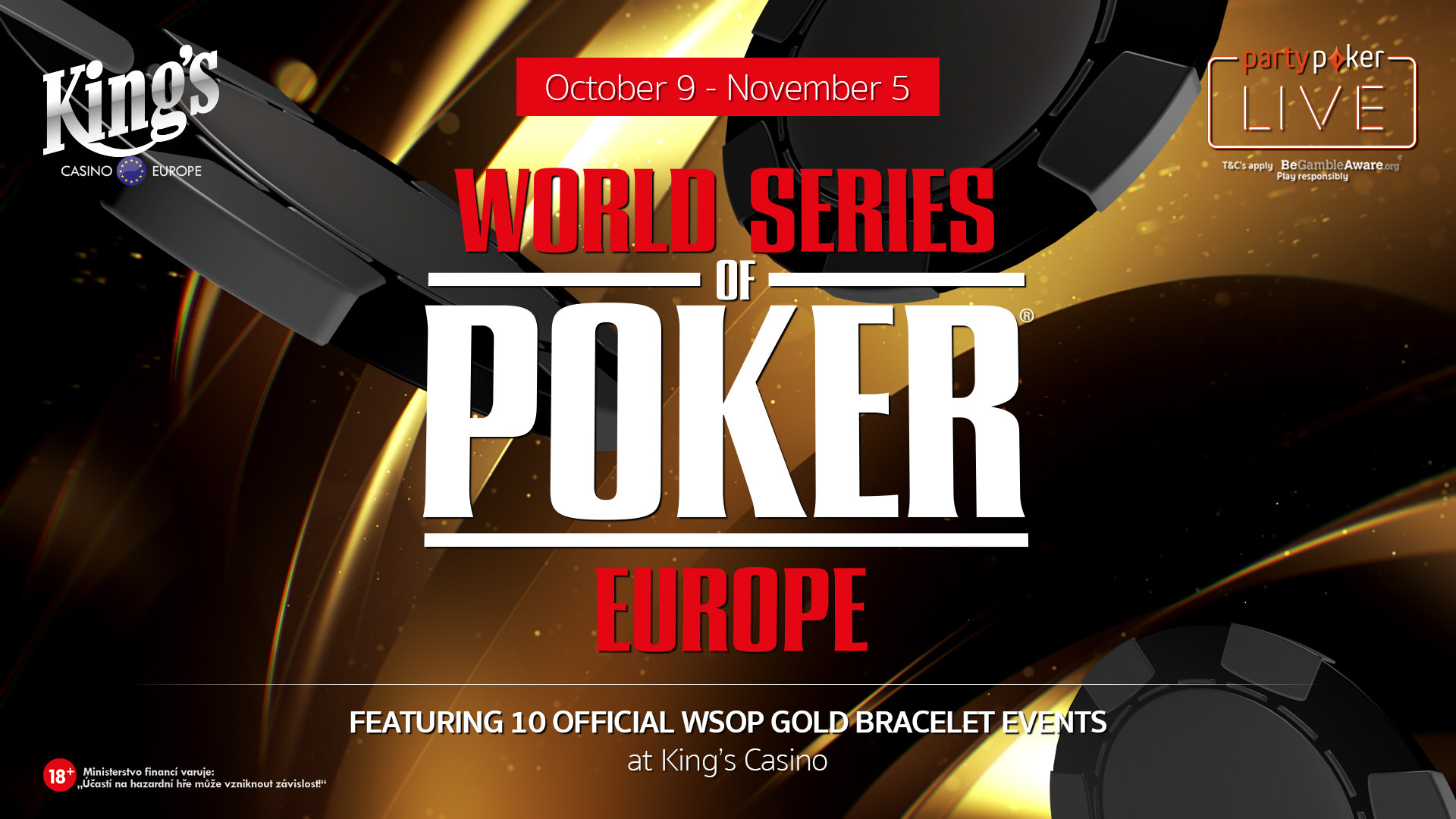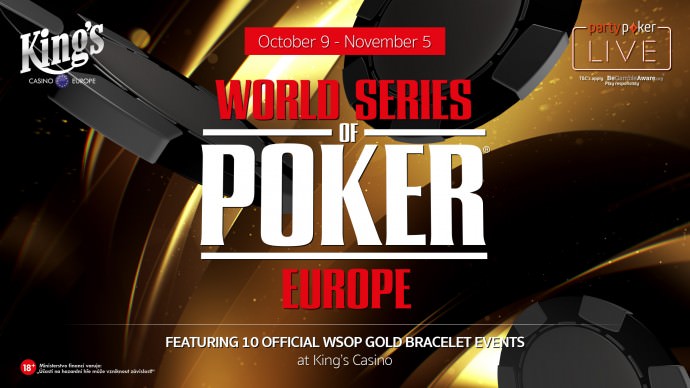 Bereits in vier Wochen fällt im King's Rozvadov der Startschuss zu Europas größten Poker-Festival. Bei der Kombination aus WSOP Circuit Rozvadov und World Series of Poker Europe warten in sieben Wochen garantierte Preisgelder von insgesamt €17.858.000 auf die Pokerfans aus aller Welt.
Los geht es vom 20. September bis 08. Oktober 2018 mit dem WSOP Circuit Festival Rozvadov. Hier werden 15 WSOP Circuit Ringe ausgespielt und es sind Preisgelder von €2.600.000 garantiert. Die Buy-Ins bewegen sich zwischen €110 und €5.300. Das Highlight ist der WSOP Circuit Main Event bei dem es für ein Buy-In von €1.500+€150 um mindestens eine Million Euro und den Champions-Ring geht.
Wenn das WSOP Circuit Festival beendet ist startet sofort die World Series of Poker Europe. Vom 09. Oktober bis 05. November 2018 werden hier zehn der legendären WSOP Bracelets ausgespielt. Die Buy-Ins während des Festival bewegen sich zwischen €110 und €100.000 und es werden Preisgelder in Höhe von €15.258.000 garantiert. Highlights gibt es viele während des Festivals, doch zwei stechen besonders hervor. Zum einen das €10.000+€350 WSOP Europe Main Event (27. Oktober – 02. November) bei dem €5.000.000 garantiert werden und zum anderen das €95.000+€5.000 WSOP Europe Super Highroller (26.- 28. Oktober) wo es ebenfalls um garantierte €5.000.000 geht. Selbstverständlich darf das beliebte Massen-Event "Colossus" nicht fehlen. Vom 09.- 15. Oktober kann man hier für ein Buy-In von €505+€45 um garantierte €1.000.000 und das WSOP Bracelet mitspielen.
Natürlich gibt es für alle größeren Events Live-Satellite im King's, so dass man schon für kleines Geld mitspielen kann.
Auf partypoker gibt es außerdem die Möglichkeit sich Online für den WSOP Circuit Main Event, das Colossus Turnier und den WSOP Europe Main Event zu qualifizieren.
Die Highlight-Events des Festivals gibt es für euch wie gewohnt auch im Livestream zu sehen.
Auch die Cash Game Freunde werden während des Festival voll auf ihre Kosten kommen. Los geht es bereits ab €1/€3 THNL oder €2/€2 PLO und einem Minimum Buy-In von €100. Nach oben gibt es fast keine Grenzen. Angeboten wird das was die Gäste sich wünschen.
Wer sich schon frühzeitig sein Hotelzimmer sichern möchte für den gibt es hier einige Angebote und die Möglichkeit der Online-Reservierung.
Alle weiteren Informationen zum WSOP Festival gibt es auf der Pokerroom King's Homepage.
Hier ist für euch die Turnierübersicht:
20th September – 8th October
World Series of Poker Circuit Events 2018
€2 Million Guaranteed & 15 WSOP Gold Rings to win

Thu,
20.09.2018 15:00
Satellite to WSOP Circuit Opening 2018 Day 1a
20 Seats *
60 EUR + 5 EUR
Thu,
20.09.2018 18:00
WSOP Circuit Opening Event 2018 – Day 1a (RING 1)
300.000 EUR *
270 EUR + 29 EUR
Thu,
20.09.2018 20:00
NLH Daily Tournament
–
100 EUR + 10 EUR
Fri,
21.09.2018 12:00
Noon Bounty NLH
75 EUR + 25 EUR + 10 EUR
Fri,
21.09.2018 14:00
Satellite to WSOP Circuit Opening 2018 Day 1b
20 Seats *
60 EUR + 5 EUR
Fri,
21.09.2018 18:00
WSOP Cicruit Opening Event 2018 – Day 1b (RING 1)
300.000 EUR *
270 EUR + 29 EUR
Fri,
21.09.2018 20:00
King`s Local Championship
10.000 EUR *
100 EUR + 10 EUR
Sat,
22.09.2018 11:00
Satellite to WSOP Circuit Opening 2018 Day 1c
10 Seats *
60 EUR + 5 EUR
Sat,
22.09.2018 13:00
WSOP Circuit Opening Event 2018 – Day 1c (RING 1)
300.000 EUR *
270 EUR + 29 EUR
Sat,
22.09.2018 17:00
WSOP Circuit Opening Event 2018 – Day 1d (RING 1)
300.000 EUR *
270 EUR + 29 EUR
Sat,
22.09.2018 19:00
King`s Local Championship
15.000 EUR *
100 EUR + 10 EUR
Sun,
23.09.2018 14:00
WSOP Circuit Opening Event 2018 – Day 2 (RING 1)
300.000 EUR *
–
Sun,
23.09.2018 14:00
Satellite to WSOP Circuit Deep Stack Open – Day 1a
20 Seats *
50 EUR + 5 EUR
Sun,
23.09.2018 15:00
WSOP Circuit Senior Event 50+ Ring Event (RING 2)
–
225 EUR + 25 EUR
Sun,
23.09.2018 17:00
WSOP Circuit Deep Stack Open – Day 1a
100.000 EUR *
200 EUR + 20 EUR
Sun,
23.09.2018 18:00
WSOP Circuit Omaha Side Event
–
150 EUR + 15 EUR
Sun,
23.09.2018 20:00
NLH Daily Tournament
100 EUR + 10 EUR
Mon,
24.09.2018 13:00
WSOP Circuit Opening Event 2018 – Final Day (RING 1)
300.000 EUR *
–
Mon,
24.09.2018 15:00
Satellite to WSOP Circuit Deep Stack Open – Day 1b
20 Seats *
50 EUR + 5 EUR
Mon,
24.09.2018 16:00
WSOP Circuit Seven Card Stud Ring Event LIMIT (RING 3)
–
300 EUR + 30 EUR
Mon,
24.09.2018 18:00
WSOP Circuit Deep Stack Open – Day 1b
100.000 EUR *
200 EUR + 20 EUR
Mon,
24.09.2018 20:00
NLH Daily Tournament
100 EUR + 10 EUR
Tue,
25.09.2018 14:00
WSOP Circuit Omaha HI/LO Pot Limit – Ring Event (RING 4)
–
300 EUR + 30 EUR
Tue,
25.09.2018 16:00
Satellite to WSOP Circuit Deep Stack Open – Day 1c
20 Seats *
50 EUR + 5 EUR
Tue,
25.09.2018 18:00
WSOP Circuit Deep Stack Open – Day 1c
100.000 EUR *
200 EUR + 20 EUR
Tue,
25.09.2018 20:00
NLH Daily Tournament
–
100 EUR + 10 EUR
Wed,
26.09.2018 12:00
WSOP Circuit Deep Stack Open – Day 1d – Turbo
100.000 EUR *
200 EUR + 20 EUR
Wed,
26.09.2018 15:00
Satellite to WSOP Circuit Monster Stack 1a
10 Seats *
80 EUR + 10 EUR
Wed,
26.09.2018 16:30
WSOP Circuit Deep Stack Open – Final Day
100.000 EUR *
–
Wed,
26.09.2018 18:00
WSOP Circuit Monster Stack – Day 1a (RING 5)
300.000 EUR *
500 EUR + 50 EUR
Wed,
26.09.2018 20:00
NLH Daily Tournament
–
100 EUR + 10 EUR
Thu,
27.09.2018 16:00
Satellite to WSOP Circuit Monster Stack 1b
10 Seats *
80 EUR + 10 EUR
Thu,
27.09.2018 18:00
WSOP Circuit Monster Stack – Day 1b (RING 5)
300.000 EUR *
500 EUR + 50 EUR
Thu,
27.09.2018 20:00
NLH Tournament Daily
–
100 EUR + 10 EUR
Fri,
28.09.2018 13:00
King`s Knockout Turbo
–
75 EUR + 25 EUR + 10 EUR
Fri,
28.09.2018 14:00
Satellite to WSOP Circuit Monster Stack 1c
10 Seats *
80 EUR + 10 EUR
Fri,
28.09.2018 16:00
WSOP Circuit Monster Stack – Day 1c (RING 5)
300.000 EUR *
500 EUR + 50 EUR
Fri,
28.09.2018 19:00
King`s Local Championship
15.000 EUR *
100 EUR + 10 EUR
Sat,
29.09.2018 12:00
King`s Deepstack Turbo
–
70 EUR + 10 EUR
Sat,
29.09.2018 13:00
WSOP Circuit Pot Limit Omaha – 1 Day Event
–
300 EUR + 30 EUR
Sat,
29.09.2018 14:00
Satellite to WSOP Circuit Monster Stack 1d
10 Seats *
80 EUR + 10 EUR
Sat,
29.09.2018 16:00
WSOP Circuit Monster Stack – Day 1d (RING 5)
300.000 EUR *
500 EUR + 50 EUR
Sat,
29.09.2018 19:00
King`s Local Championship
20.000 EUR *
100 EUR + 10 EUR
Sun,
30.09.2018 14:00
WSOP Circuit Monster Stack – Day 2 (RING 5)
300.000 EUR *
500 EUR + 50 EUR
Sun,
30.09.2018 15:00
Satellite to WSOP Circuit Oktober Fest – Day 1a
5 Seats *
80 EUR + 8 EUR
Sun,
30.09.2018 16:00
WSOP Circuit 6-Max Omaha
–
330 EUR + 30 EUR
Sun,
30.09.2018 18:00
WSOP Circuit Oktoberfest – Day 1a (RING 6)
400.000 EUR *
225 EUR + 25 EUR
Sun,
30.09.2018 20:00
NLH Daily Tournament
–
100 EUR + 10 EUR
Mon,
01.10.2018 14:00
WSOP Circuit Monster Stack – Final Day
300.000 EUR *
–
Mon,
01.10.2018 15:00
Satellite to WSOP Circuit Oktober Fest – Day 1b
5 Seats *
80 EUR + 8 EUR
Mon,
01.10.2018 17:00
WSOP Circuit 6-Max NLH – Day 1 (RING 7)
–
600 EUR + 66 EUR
Mon,
01.10.2018 18:00
WSOP Circuit Oktoberfest – Day 1b (RING 6)
400.000 EUR *
225 EUR + 25 EUR
Mon,
01.10.2018 20:00
NLH Daily Tournament
–
100 EUR + 10 EUR
Tue,
02.10.2018 14:00
WSOP Circuit 6-Max NLH – Final Day (RING 7)
–
600 EUR + 66 EUR
Tue,
02.10.2018 15:00
Satellite to WSOP Circuit Oktober Fest – Day 1c
5 Seats *
80 EUR + 8 EUR
Tue,
02.10.2018 16:00
NLH Turbo Event
–
300 EUR + 30 EUR
Tue,
02.10.2018 18:00
WSOP Circuit Oktoberfest – Day 1c (RING 6)
400.000 EUR *
225 EUR + 25 EUR
Tue,
02.10.2018 20:00
NLH Daily Tournament
–
100 EUR + 10 EUR
Wed,
03.10.2018 10:00
Satellite to WSOP Circuit Oktober Fest – Day 1d
5 Seats *
80 EUR + 8 EUR
Wed,
03.10.2018 12:00
WSOP Circuit Oktoberfest – Day 1d (RING 6)
400.000 EUR *
225 EUR + 25 EUR
Wed,
03.10.2018 14:00
Satelite to PLO Highroller 8-Max Tournament
5 Seats *
200 EUR + 20 EUR
Wed,
03.10.2018 16:00
WSOP Circuit Bounty Hunter – RING Event (RING 8)
–
400 EUR + 200 EUR + 60 EUR
Wed,
03.10.2018 17:00
WSOP Circuit PLO Highroller Tournament 8-Max Day 1 (RING 9)
100.000 EUR *
1.850 EUR + 150 EUR
Wed,
03.10.2018 18:00
WSOP Circuit Oktoberfest – Day 1e (RING 6)
400.000 EUR *
225 EUR + 25 EUR
Wed,
03.10.2018 20:00
Mega Satellite to WSOP Circuit Main Event
10 Seats *
200 EUR + 20 EUR
Thu,
04.10.2018 10:00
WSOP Circuit Oktoberfest – Day 1f Turbo (RING 6)
400.000 EUR *
225 EUR + 25 EUR
Thu,
04.10.2018 14:30
WSOP Circuit Oktoberfest – Day 2 (RING 6)
400.000 EUR *
–
Thu,
04.10.2018 14:00
WSOP Circuit PLO Highroller Tournament 8-Max Final Day (RING 9)
100.000 EUR *
1.850 EUR + 150 EUR
Thu,
04.10.2018 16:00
NL Holdem Freezeout (RING 10)
–
400 EUR + 40 EUR
Thu,
04.10.2018 18:00
WSOP CIRCUIT Highroller Day 1 (RING 11)
200.000 EUR *
5.000 EUR + 300 EUR
Thu,
04.10.2018 19:00
NLH Daily Tournament
–
100 EUR + 10 EUR
Thu,
04.10.2018 20:00
Giga Satellite to WSOP Circuit Main Event
20 Seats *
300 EUR + 30 EUR
Fri,
05.10.2018 12:00
TURBO Satellite to WSOP Circuit Main Event – Day 1a
5 Seats *
100 EUR + 10 EUR
Fri,
05.10.2018 13:00
WSOP Circuit Oktoberfest – Final Day (RING 6)
400.000 EUR *
–
Fri,
05.10.2018 14:00
WSOP CIRCUIT MAIN EVENT – DAY 1a (RING 12)
1.000.000 EUR *
1.500 EUR + 150 EUR
Fri,
05.10.2018 16:00
WSOP CIRCUIT Highroller Day 2 (RING 11)
200.000 EUR *
5.000 EUR + 300 EUR
Fri,
05.10.2018 18:00
MEGA Satellite to WSOP Circuit Main Event – Day 1b
10 Seats *
225 EUR + 25 EUR
Fri,
05.10.2018 18:00
WSOP Circuit Ladies Event (RING 13)
–
200 EUR + 20 EUR
Fri,
05.10.2018 20:00
King`s Local Championship
20.000 EUR *
100 EUR + 10 EUR
Sat,
06.10.2018 12:00
TURBO Satellite to WSOP Circuit Main Event – Day 1b
5 Seats *
100 EUR + 10 EUR
Sat,
06.10.2018 13:00
King`s Big Stack Main Event 1a
100.000 EUR *
135 EUR + 15 EUR
Sat,
06.10.2018 14:00
WSOP CIRCUIT MAIN EVENT – DAY 1b (RING 12)
1.000.000 EUR *
1.500 EUR + 150 EUR
Sat,
06.10.2018 16:00
WSOP Circuit NLH/OMAHA Mixed Game Ring Event (RING 14)
–
500 EUR + 50 EUR
Sat,
06.10.2018 17:00
King`s Big Stack Main Event 1b
100.000 EUR *
135 EUR + 15 EUR
Sat,
06.10.2018 19:00
King`s Local Championship
–
100 EUR + 10 EUR
Sat,
06.10.2018 20:00
WSOP Circuit Main Event Last Chance Satellite
5 Seats *
150 EUR + 15 EUR
Sun,
07.10.2018 10:00
King`s Big Stack Main Event 1c Turbo
100.000 EUR *
135 EUR + 15 EUR
Sun,
07.10.2018 14:30
King`s Big Stack Main Event Day2
100.000 EUR *
–
Sun,
07.10.2018 14:00
WSOP CIRCUIT MAIN EVENT – DAY 2 (RING 12)
1.000.000 EUR *
1.500 EUR + 150 EUR
Sun,
07.10.2018 16:00
WSOPE Main Event Mega Satellite ( EUR 100.000 guaranteed)
10 Seats *
500 EUR + 50 EUR
Sun,
07.10.2018 18:00
NLH Daily Tournament
20.000 EUR *
100 EUR + 10 EUR
Mon,
08.10.2018 14:00
WSOP CIRCUIT MAIN EVENT – FINAL DAY (RING 12)
1.000.000 EUR *
–
Mon,
08.10.2018 15:00
WSOP Circuit 8max Turbo NLH (RING 15)
–
400 EUR + 40 EUR
Mon,
08.10.2018 18:00
Satellite to WSOPE Colossus Day 1a
20 Seats *
75 EUR + 5 EUR
Mon,
08.10.2018 20:00
NLH Daily Tournament
–
100 EUR + 10 EUR
9th October – 5th November
World Series of Poker Europe 2018
€13 Million Guaranteed & 10 WSOP Gold Bracelets to win

Tue,
09.10.2018 13:00
King`s Noon Turbo
150 EUR + 10 EUR
Tue,
09.10.2018 15:00
Satellite to WSOPE Colossus Day 1a
10 Seats *
75 EUR + 5 EUR
Tue,
09.10.2018 18:00
WSOP Europe Colossus – Day 1a [BRACELET][#1]
1.000.000 EUR *
505 EUR + 45 EUR
Tue,
09.10.2018 20:00
NLH Daily Tournament
–
100 EUR + 10 EUR
Wed,
10.10.2018 12:00
Noon Turbo
–
200 EUR + 20 EUR
Wed,
10.10.2018 15:00
Satellite to WSOPE Colossus Day 1b
10 Seats *
75 EUR + 5 EUR
Wed,
10.10.2018 18:00
WSOP Europe Colossus – Day 1b [BRACELET][#1]
1.000.000 EUR *
505 EUR + 45 EUR
Wed,
10.10.2018 20:00
NLH Daily Tournament
–
100 EUR + 10 EUR
Thu,
11.10.2018 10:00
Satellite to WSOPE Colossus Day 1c
10 Seats *
75 EUR + 5 EUR
Thu,
11.10.2018 12:00
WSOP Europe Colossus – Day 1c [BRACELET][#1]
1.000.000 EUR *
505 EUR + 45 EUR
Thu,
11.10.2018 15.00
Big Omaha
8.000 EUR *
150 EUR + 10 EUR
Thu,
11.10.2018 18:00
WSOP Europe Colossus – Day 1d [BRACELET][#1]
1.000.000 EUR *
505 EUR + 45 EUR
Thu,
11.10.2018 20:00
NLH Daily Tournament
–
100 EUR + 10 EUR
Fri,
12.10.2018 10:00
Satellite to WSOPE Colossus Day 1e
10 Seats *
75 EUR + 5 EUR
Fri,
12.10.2018 12:00
WSOP Europe Colossus – Day 1e [BRACELET][#1]
1.000.000 EUR *
505 EUR + 45 EUR
Fri,
12.10.2018 15:00
Deepstack Turbo Knockout
300 EUR + 200 EUR + 50 EUR
Fri,
12.10.2018 18:00
WSOP Europe Colossus – Day 1f [BRACELET][#1]
1.000.000 EUR *
505 EUR + 45 EUR
Fri,
12.10.2018 20:00
King`s Local Championship
10.000 EUR *
100 EUR + 10 EUR
Sat,
13.10.2018 10:00
Satellite to WSOPE Colossus Day 1g
10 Seats *
75 EUR + 5 EUR
Sat,
13.10.2018 12:00
WSOP Europe Colossus – Day 1g [BRACELET][#1]
1.000.000 EUR *
505 EUR + 45 EUR
Sat,
13.10.2018 18:00
WSOP Europe Colossus – Day 1h [BRACELET][#1]
1.000.000 EUR *
505 EUR + 45 EUR
Sat,
13.10.2018 20:00
King`s Local Championship
15.000 EUR *
100 EUR + 10 EUR
Sun,
14.10.2018 13:00
WSOP Europe Colossus – Day 2 [BRACELET][#1]
1.000.000 EUR *
–
Sun,
14.10.2018 11:00
Satellite to WSOPE 6-max Bracelet Event
10 Seats *
250 EUR + 25 EUR
Sun,
14.10.2018 15:00
WSOPE NLH 6-Max Deepstack Bracelet Event – Day 1 [BRACELET][EVENT][#2]
200.000 EUR *
1.515 EUR + 135 EUR
Sun,
14.10.2018 15:00
WSOPE Main Event Satellite
10 Seats *
500 EUR + 50 EUR
Sun,
14.10.2018 18:00
King`s Omaha Knockout
–
200 EUR + 100 EUR + 30 EUR
Sun,
14.10.2018 20:00
NLH Daily Turbo Tournament
–
100 EUR + 10 EUR
Mon,
15.10.2018 TBA
WSOP Europe Colossus – Final Day [BRACELET][#1]
1.000.000 EUR *
–
Mon,
15.10.2018 12:00
Satellite to WSOPE PL Omaha 8-Max
5 Seats *
70 EUR + 10 EUR
Mon,
15.10.2018 14:00
WSOPE NLH 6-Max Deepstack Bracelet Event – Day 2 [BRACELET][EVENT][#2]
200.000 EUR *
1.515 EUR + 135 EUR
Mon,
15.10.2018 15:00
WSOPE Pot Limit Omaha 8-Max – Day 1A [BRACELET][EVENT][#3]
100.000 EUR *
505 EUR + 45 EUR
Mon,
15.10.2018 16:00
WSOPE Turbo NLH
–
500 EUR + 50 EUR
Mon,
15.10.2018 18:00
WSOPE Main Event Satellite
2 Seats *
500 EUR + 50 EUR
Mon,
15.10.2018 20:00
NLH Daily Turbo Tournament
–
100 EUR + 10 EUR
Tue,
16.10.2018 12:00
Satellite to WSOPE PL Omaha 8-Max
5 Seats *
70 EUR + 10 EUR
Tue,
16.10.2018 14:00
WSOPE NLH 6-Max Deepstack Bracelet Event – Final Day [BRACELET][EVENT][#2]
200.000 EUR *
–
Tue,
16.10.2018 15:00
WSOPE Pot Limit Omaha 8-Max – Day 1B [BRACELET][EVENT][#3]
100.000 EUR *
505 EUR + 45 EUR
Tue,
16.10.2018 18:00
No Limit Holdem 6-Max Event
–
1.000 EUR + 100 EUR
Tue,
16.10.2018 20:00
NLH Daily Turbo Tournament
–
100 EUR + 10 EUR
Wed,
17.10.2018 14:00
WSOPE Pot Limit Omaha 8-Max – Day 2 [BRACELET][EVENT][#3]
100.000 EUR *
505 EUR + 45 EUR
Wed,
17.10.2018 15:00
King`s Turbo Freezout
–
250 EUR + 25 EUR
Wed,
17.10.2018 17:00
WSOPE Turbo Bounty Hunter [BRACELET][EVENT][#4]
200.000 EUR *
710 EUR + 300 EUR + 90 EUR
Wed,
17.10.2018 18:00
WSOPE Main Event Satellite
3 Seats *
500 EUR + 50 EUR
Wed,
17.10.2018 20:00
NLH Daily Turbo Tournament
–
100 EUR + 10 EUR
Thu,
18.10.2018 TBA
WSOPE Pot Limit Omaha 8-Max – Final Day [BRACELET][EVENT][#3]
–
–
Thu,
18.10.2018 12:00
Turbo Satellite to WSOPE Monster Stack – Day 1A
5 Seats *
200 EUR + 20 EUR
Thu,
18.10.2018 15:00
WSOPE Monster Stack – Day 1A [BRACELET][EVENT][#][5]
500.000 EUR *
1.010 EUR + 90 EUR
Thu,
18.10.2018 16:00
WSOPE NLH/PLO Mixed Game
–
500 EUR + 50 EUR
Thu,
18.10.2018 20:00
NLH Daily Turbo Tournament
–
100 EUR + 10 EUR
Fri,
19.10.2018 12:00
Turbo Satellite to WSOPE Monster Stack – Day 1B
5 Seats *
200 EUR + 20 EUR
Fri,
19.10.2018 15:00
WSOPE Monster Stack – Day 1B [BRACELET][EVENT][#][5]
500.000 EUR *
1.010 EUR + 90 EUR
Fri,
19.10.2018 18:00
WSOPE Knock Out Bounty
–
300 EUR + 200 EUR + 50 EUR
Fri,
19.10.2018 20:00
King's Local Championship
15.000 EUR *
100 EUR + 10 EUR
Sat,
20.10.2018 12:00
Turbo Satellite to WSOPE Monster Stack – Day 1C
5 Seats *
200 EUR + 20 EUR
Sat,
20.10.2018 15:00
WSOPE Monster Stack – Day 1C [BRACELET][EVENT][#][5]
500.000 EUR *
1.010 EUR + 90 EUR
Sat,
20.10.2018 16:00
WSOPE Main Event Satellite
2 Seats *
1.000 EUR + 100 EUR
Sat,
20.10.2018 18:00
King's 8-Max Turbo
–
320 EUR + 30 EUR
Sat,
20.10.2018 20:00
King's Local Championship
20.000 EUR *
100 EUR + 10 EUR
Sun,
21.10.2018 14:00
WSOPE Monster Stack – Day 2 [BRACELET][EVENT][#][5]
500.000 EUR *
1.010 EUR + 90 EUR
Sun,
21.10.2018 15:00
WSOPE PLO/NLH MIXED (BRACELET #6)
200.000 EUR *
1.500 EUR + 150 EUR
Sun,
21.10.2018 18:00
WSOPE Main Event Mega Satellite (100.000 EUR guaranteed)
10 Seats *
500 EUR + 50 EUR
Sun,
21.10.2018 20:00
NLH Daily Turbo Tournament
–
100 EUR + 10 EUR
Mon,
22.10.2018 TBA
WSOPE Monster Stack – Final Day [BRACELET][EVENT][#][5]
500.000 EUR *
–
Mon,
22.10.2018 13:00
Turbo Satellite to WSOPE King`s Trophy Event Day 1a
10 Seats *
280 EUR + 20 EUR
Mon,
22.10.2018 14:00
WSOPE PLO/NLH MIXED – Day 2 (BRACELET #6)
200.000 EUR *
1.500 EUR + 150 EUR
Mon,
22.10.2018 15:00
WSOPE PL Omaha 8-Max Day 1 [BRACELET][EVENT][#7]
200.000 EUR *
2.020 EUR + 180 EUR
Mon,
22.10.2018 16:00
WSOPE King`s Trophy Event Day 1a
1.000.000 EUR *
2.250 EUR + 250 EUR
Mon,
22.10.2018 18:00
WSOPE Main Event Mega Satellite (100.000 EUR guaranteed)
10 Seats *
500 EUR + 50 EUR
Mon,
22.10.2018 20:00
NLH Daily Turbo Tournament
–
100 EUR + 10 EUR
Tue,
23.10.2018 TBA
WSOPE PLO/NLH MIXED – Final Day (BRACELET #6)
200.000 EUR *
–
Tue,
23.10.2018 12:00
Turbo Satellite to WSOPE King`s Trophy Event Day 1b
10 Seats *
280 EUR + 20 EUR
Tue,
23.10.2018 14:00
WSOPE PL Omaha 8-Max Day 2 [BRACELET][EVENT][#7]
200.000 EUR *
2.020 EUR + 180 EUR
Tue,
23.10.2018 14:00
WSOPE King`s Trophy Event Day 1b
1.000.000 EUR *
2.250 EUR + 250 EUR
Tue,
23.10.2018 18:00
WSOPE Main Event Mega Satellite (100.000 EUR guaranteed)
10 Seats *
500 EUR + 50 EUR
Tue,
23.10.2018 20:00
NLH Daily Turbo Tournament
–
100 EUR + 10 EUR
Wed,
24.10.2018 TBA
WSOPE PL Omaha 8-Max Final Day [BRACELET][EVENT][#7]
–
–
Wed,
24.10.2018 14:00
WSOPE King`s Trophy Event Day 2
1.000.000 EUR *
2.250 EUR + 250 EUR
Wed,
24.10.2018 15:00
WSOPE Highroller Day1 [BRACELET][EVENT][#8]
1.000.000 EUR *
25.000 EUR + 500 EUR
Wed,
24.10.2018 18:00
WSOPE Main Event Mega Satellite (100.000 EUR guaranteed)
10 Seats *
500 EUR + 50 EUR
Wed,
24.10.2018 20:00
NLH Daily Turbo Tournament
–
100 EUR + 10 EUR
Thu,
25.10.2018 12:00
Turbo Satellite to WSOPE Deepstack NLH Day 1a
10 Seats *
50 EUR + 10 EUR
Thu,
25.10.2018 13:00
WSOPE King`s Trophy Event Final Day
1.000.000 EUR *
–
Thu,
25.10.2018 14:00
WSOPE Highroller Final Table [BRACELET][EVENT][#8]
1.000.000 EUR *
25.000 EUR + 500 EUR
Thu,
25.10.2018 15:00
WSOPE Deepstack NLH – Day 1a
200.000 EUR *
250 EUR + 25 EUR
Thu,
25.10.2018 16:00
WSOPE H.O.R.S.E – Day1
2.000 EUR + 200 EUR
Thu,
25.10.2018 16:00
WSOPE Turbo Highroller 10k (Single Day)
10.000 EUR + 500 EUR
Thu,
25.10.2018 18:00
WSOPE Main Event Mega Satellite (100.000 EUR guaranteed)
10 Seats *
500 EUR + 50 EUR
Thu,
25.10.2018 20:00
NLH Daily Turbo Tournament
–
100 EUR + 10 EUR
Fri,
26.10.2018 12:00
Turbo Satellite to WSOPE Deepstack NLH Day 1b
10 Seats *
50 EUR + 10 EUR
Fri,
26.10.2018 13:00
WSOPE H.O.R.S.E – Final Day
–
–
Fri,
26.10.2018 14:00
WSOP Europe Super Highroller [BRACELET][EVENT][#9]
5.000.000 EUR *
95.000 EUR + 5.000 EUR
Fri,
26.10.2018 15:00
WSOPE Deepstack NLH – Day 1b
200.000 EUR *
250 EUR + 25 EUR
Fri,
26.10.2018 18:00
WSOPE Main Event Mega Satellite (50.000 EUR guaranteed)
10 Seats *
500 EUR + 50 EUR
Fri,
26.10.2018 20:00
King's Local Championship
15.000 EUR *
100 EUR + 10 EUR
Sat,
27.10.2018 10:00
Turbo Satellite to WSOPE Deepstack NLH Day 1b
10 Seats *
50 EUR + 10 EUR
Sat,
27.10.2018 12:00
WSOPE Deepstack NLH – Day 1b
200.000 EUR *
250 EUR + 25 EUR
Sat,
27.10.2018 12:00
WSOP Europe Main Event – No-Limit Hold'em – Day 1A [BRACELET][#10]
5.000.000 EUR *
10.000 EUR + 350 EUR
Sat,
27.10.2018 13:00
WSOP Europe Super Highroller – Day 2 [BRACELET][EVENT][#9]
5.000.000 EUR *
95.000 EUR + 5.000 EUR
Sat,
27.10.2018 15:00
WSOPE Seven Card Stud Limit
–
1.500 EUR + 150 EUR
Sat,
27.10.2018 17:00
WSOPE Deepstack NLH – Day 1c
200.000 EUR *
250 EUR + 25 EUR
Sat,
27.10.2018 18:00
WSOPE Main Event Mega Satellite (50.000 EUR guaranteed)
5 Seats *
500 EUR + 50 EUR
Sat,
27.10.2018 20:00
King's Local Championship
20.000 EUR *
100 EUR + 10 EUR
Sun,
28.10.2018 12:00
WSOP Europe Main Event – No-Limit Hold'em – Day 1B [BRACELET][#10]
5.000.000 EUR *
10.000 EUR + 350 EUR
Sun,
28.10.2018 13:00
WSOP Europe Super Higholler – Final Table TV [BRACELET][EVENT][#9]
5.000.000 EUR *
95.000 EUR + 5.000 EUR
Sun,
28.10.2018 14:00
WSOPE Deepstack NLH – Final Day
200.000 EUR *
250 EUR + 25 EUR
Sun,
28.10.2018 16:00
WSOPE Turbo 6max
–
1.000 EUR + 100 EUR
Sun,
28.10.2018 18:00
WSOPE Main Event Mega Satellite (50.000 EUR guaranteed)
5 Seats *
500 EUR + 50 EUR
Sun,
28.10.2018 20:00
NLH Daily Turbo Tournament
–
100 EUR + 10 EUR
Mon,
29.10.2018 09:00
Last Chance Satellite to WSOPE Main Event
–
1.000 EUR + 100 EUR
Mon,
29.10.2018 12:00
WSOP Europe Main Event – Day 2 [BRACELET][#10]
5.000.000 EUR *
10.000 EUR + 350 EUR
Mon,
29.10.2018 13:00
Turbo Satellite to 8 max Knock-Out
–
500 EUR + 50 EUR
Mon,
29.10.2018 15:00
Satellite to King`s Celebration Cup 1a
20 Seats *
45 EUR + 5 EUR
Mon,
29.10.2018 16:00
WSOPE 8 max Knockout
–
1.500 EUR + 500 EUR + 200 EUR
Mon,
29.10.2018 17:00
King`s Celebration Cup Day 1a
500.000 EUR *
200 EUR + 20 EUR
Mon,
29.10.2018 18:00
WSOPE Pot Limit Omaha Turbo
–
500 EUR + 50 EUR
Mon,
29.10.2018 20:00
NLH Daily Turbo Tournament
–
100 EUR + 10 EUR
Tue,
30.10.2018 12:00
WSOP Europe Main Event – Day 3 [BRACELET][#10]
5.000.000 EUR *
–
Tue,
30.10.2018 14:00
Satellite to King`s Celebration Cup 1b
20 Seats *
45 EUR + 5 EUR
Tue,
30.10.2018 16:00
WSOPE Highroller
–
25.000 EUR + 500 EUR
Tue,
30.10.2018 17:00
King`s Celebration Cup Day 1b
500.000 EUR *
200 EUR + 20 EUR
Tue,
30.10.2018 18:00
WSOPE 2k Turbo
–
2.000 EUR + 200 EUR
Tue,
30.10.2018 20:00
NLH Daily Turbo Tournament
–
100 EUR + 10 EUR
Wed,
31.10.2018 12:00
WSOP Europe Main Event – Day 4 [BRACELET][#10]
5.000.000 EUR *
–
Wed,
31.10.2018 14:00
Satellite to King`s Celebration Cup 1c
20 Seats *
45 EUR + 5 EUR
Wed,
31.10.2018 16:00
WSOPE Highroller – Final Day
–
25.000 EUR + 500 EUR
Wed,
31.10.2018 16:00
WSOPE PLO Knock-Out
–
1.000 EUR + 1.000 EUR + 200 EUR
Wed,
31.10.2018 17:00
King`s Celebration Cup Day 1c
500.000 EUR *
200 EUR + 20 EUR
Wed,
31.10.2018 20:00
NLH Daily Turbo Tournament
–
100 EUR + 10 EUR
Thu,
01.11.2018 12:00
WSOP Europe Main Event – Day 5 [BRACELET][#10]
5.000.000 EUR *
–
Thu,
01.11.2018 10:00
Satellite to King`s Celebration Cup 1d
20 Seats *
45 EUR + 5 EUR
Thu,
01.11.2018 13:00
King`s Celebration Cup Day 1d
500.000 EUR *
200 EUR + 20 EUR
Thu,
01.11.2018 16:00
WSOPE PLO/NLH Mixed Game
–
750 EUR + 75 EUR
Thu,
01.11.2018 18:00
King`s Celebration Cup Day 1e
500.000 EUR *
200 EUR + 20 EUR
Thu,
01.11.2018 20:00
NLH Daily Turbo Tournament
–
100 EUR + 10 EUR
Fri,
02.11.2018 10:00
Satellite to King`s Celebration Cup 1f
20 Seats *
45 EUR + 5 EUR
Fri,
02.11.2018 12:00
WSOP Europe Main Event – Final Table [BRACELET][#10]
5.000.000 EUR *
–
Fri,
02.11.2018 13:00
King`s Celebration Cup Day 1f
500.000 EUR *
200 EUR + 20 EUR
Fri,
02.11.2018 16:00
King´s Big Omaha
10.000 EUR *
200 EUR + 20 EUR
Fri,
02.11.2018 18:00
King`s Celebration Cup Day 1g
500.000 EUR *
200 EUR + 20 EUR
Fri,
02.11.2018 20:00
King`s Local Championship
15.000 EUR *
100 EUR + 10 EUR
Sat,
03.11.2018 10:00
Satellite to King`s Celebration Cup 1h
20 Seats *
45 EUR + 5 EUR
Sat,
03.11.2018 12:00
King`s Celebration Cup Day 1h
500.000 EUR *
200 EUR + 20 EUR
Sat,
03.11.2018 18:00
King`s Celebration Cup Day 1i
500.000 EUR *
200 EUR + 20 EUR
Sat,
03.11.2018 20:00
King`s Local Championship
20.000 EUR *
100 EUR + 10 EUR
Sun,
04.11.2018 10:00
King`s Celebration Cup Day 1j – Turbo
500.000 EUR *
200 EUR + 20 EUR
Sun,
04.11.2018 14:30
King`s Celebration Cup Day 2
500.000 EUR *
200 EUR + 20 EUR
Sun,
04.11.2018 18:00
King`s Big Sunday
10.000 EUR *
100 EUR + 10 EUR
Mon,
05.11.2018 13:00
King`s Celebration Cup Final Day
500.000 EUR *
200 EUR + 20 EUR
Mon,
05.11.2018 17:00
King`s Monday
–
80 EUR + 10 EUR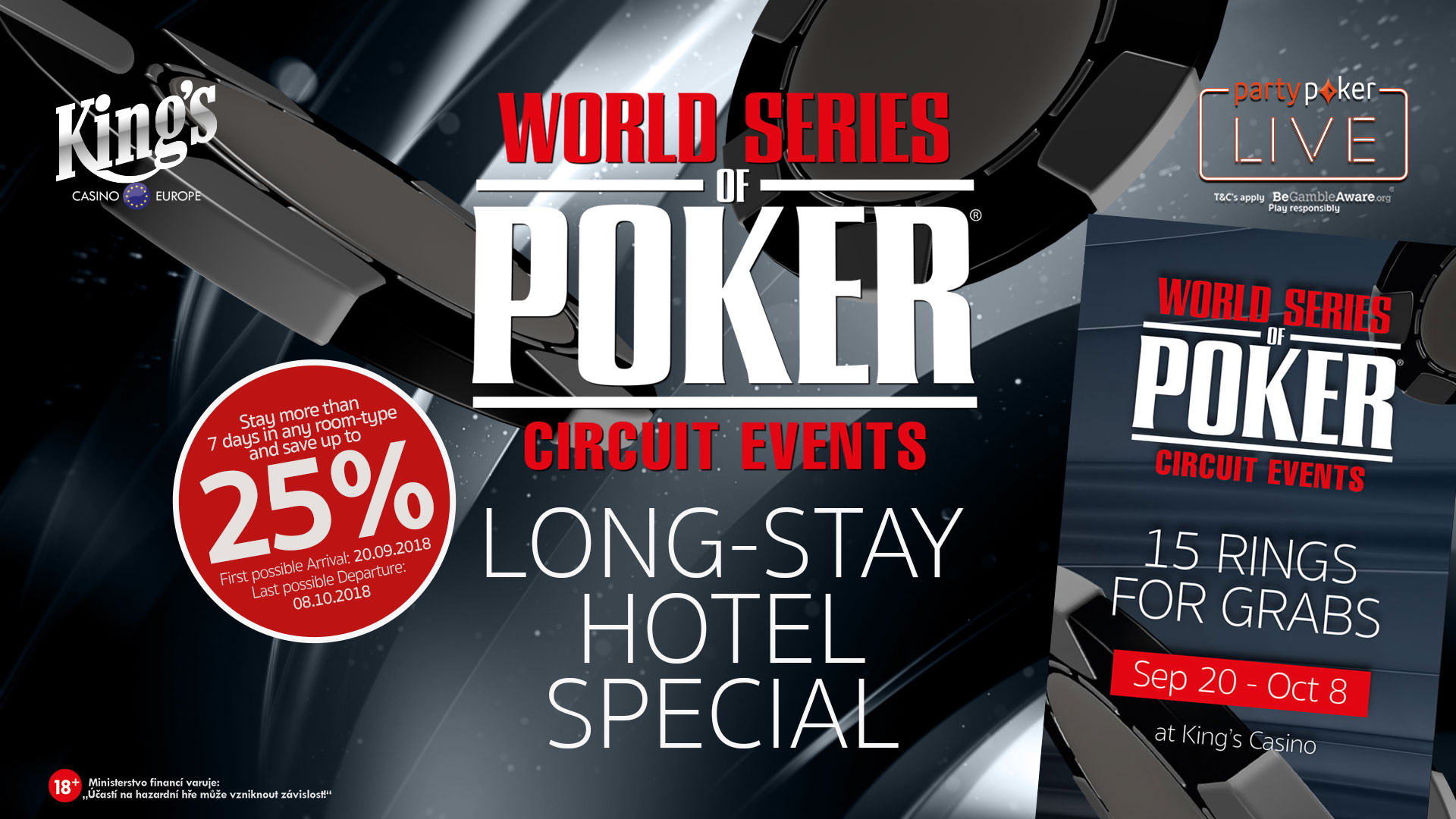 Quelle/Bildquelle: King's Europe