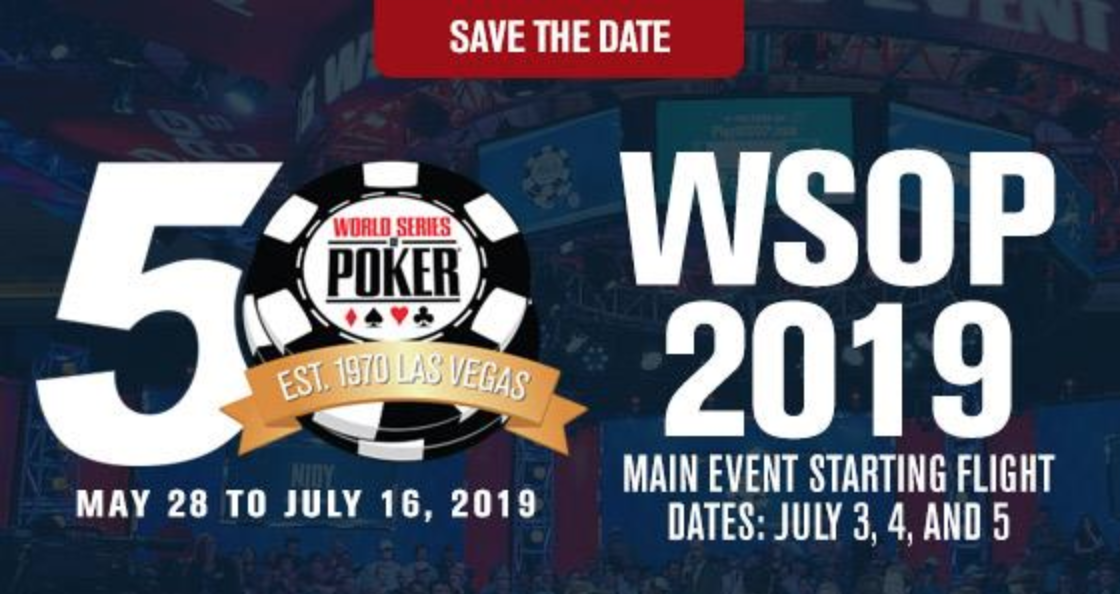 Vom 28. Mai bis 16. Juli 2019 fliegen bei der 50 Ausgabe der World Series of Poker im Rio All Suite Hotel & Casino Las Vegas wieder die Karten. In den letzten Wochen gab es immer wieder Updates zu den Turnieren und weitere Details zur Serie. Nun gibt es eine weitere Bekanntmachung. Die Jubiläums WSOP soll die beste und größte aller Zeiten werden. Um die Turnierserie für die Spieler noch interessanter zu gestalten, hat man zum Beispiel die Starting Stack massive angehoben. Gab es bisher z.B bei den $1.500 Events nur 7.500 Chips so darf man sich in diesem Jahr auf 25.000 freuen. Wurden im letzten Jahr nur vereinzelt Turniere mit Big Blind Ante gespielt, so werden es 2019 alle Turniere sein. Auch die Satellites und Daily Tournament werden jetzt nach diesem Modus gespielt. Dabei gilt die Regel zuerst wird der Big Blind gepostet und dann die Ante (ist wichtig wenn ein Spieler weniger als zwei Big Blinds hat).
Bis jetzt wurden schon 40 Turniertermine bekanntgegeben, was gleichzeitig bedeutet das noch 34 Events folgen. Am 10. Juli wird es erstmal ein $1.500 "Bracelet Winners Only" (Champion of Champions) Turnier geben, an dem nur Bracelet Gewinner teilnehmen dürfen. Seit 1970 gab es 1.078 Bracelet-Champions (+ 60 Champions aus 2019) und wir dürfen gespannt sein, wie viele sich im Rio einfinden werden.
Auch zum "The Big 50" Event sind weitere Details durchgesickert. Das Turnier wird vom 30. Mai bis 05. Juni gespielt. Für ein Buy-In von $500 (es wird kein Rake für das erste Buy-In erhoben, Re-Entries werden normal gerakt) werden unglaubliche $5.000.000 garantiert. Allein $1.000.000 sind für den Sieger reserviert. Es geht los mit 50.000 in Chips und an den Starttagen Eins werden 12 Levels à 50 Minuten gespielt. 15% der Teilnehmer kommen in die Preisgeldränge und das schon am Tag 1.
Weitere Informationen zum "The Big 50" gibt es hier.
LIVE WSOP NO-LIMIT HOLD'EM/OMAHA BUY-IN & STARTING CHIP CHART
BUY-IN AMOUNT
2019 STARTING

CHIP STACK

2018 STARTING

CHIP STACK

NOTES
$400
40,000
N/A
Colossus is only event at this price point
$500
25,000
5,000
Big 50 gets 50,000
$600
30,000
N/A
New Price Point
$800
40,000
N/A
New Price Point
$888
40,000
8,000
Crazy Eights is only event at this price point
$1,000
20,000
5,000
Double Stack: 40,000 chips; Mini Main 60,000 chips

Little One: 40,000 chips w/$111 add-on

$1,500
25,000
7,500
Monster Stack, Double Stack & Bracelet Winners Only: 50,000 chips
$2,500
15,000
12,500
June 20 event is only NLH event at this price point
$2,620
26,200
Same
Marathon is only event at this price point
$3,000
20,000
15,000
All six events at this price point have same chips
$5,000
30,000
25,000
Three NLH events at this price point
$10,000
60,000
50,000
All events at this price point have same chips
$25,000
150,000
125,000
High Roller Pot-Limit Omaha is only event at this price point
$50,000
300,000
250,000
50th Annual High Roller NLH is only NLH event at this price point
$100,000
600,000
500,000
High Roller No-Limit Hold'em is only event at this price point
ALL OTHER LIVE WSOP EVENT BUY-IN & STARTING CHIP CHART (Mixed/Limit/Stud)
BUY-IN

AMOUNT

2019 STARTING

CHIP STACK

2018 STARTING

CHIP STACK

NOTES
$150
10,000
10,000
Daily Deepstack
$200
15,000
15,000
Daily Deepstack
$250
20,000
20,000
Daily Deepstack
$400
25,000
25,000
Daily Deepstack
$1,500
10,000
7,500
Various
$2,500
15,000
12,500
Various
$3,000
20,000
15,000
H.O.R.S.E./Limit Hold'em
$10,000
60,000
50,000
All $10,000 buy-in events
$50,000
300,000
250,000
Poker Players Championship
Hier gibt es weitere Informationen zur WSOP.
Hier ist ein Überblick über die Turniertermine die schon feststehen:
Tue, Jan 1st
12:00 PM


1 Day

PARTIAL 2019 WSOP SCHEDULE LISTED BELOW




Stay tuned for updates on additional events as information is finalized.

$0
Wed, May 29th
11:00 AM


2 Days

$500 Casino Employees Event



$500
Wed, May 29th
12:00 PM


2 Days

$10,000 Super Turbo Bounty



$10,000
Thu, May 30th
11:00 AM


7 Days

BIG 50 – Flight A




First entry is rake-free! $5 million guaranteed prize pool and $1 million guaranteed to winner.

$500
Thu, May 30th
3:00 PM


4 Days

$1,500 Omaha Hi/Lo 8 or Better



$1,500
Fri, May 31st
11:00 AM


6 Days

BIG 50 – Flight B




First entry is rake-free! $5 million guaranteed prize pool and $1 million guaranteed to winner.

$500
Fri, May 31st
3:00 PM


4 Days

50th Annual High Roller – $50,000 No-Limit Hold'em



$50,000
Sat, Jun 1st
10:00 AM


5 Days

BIG 50 – Flight C




First entry is rake-free! $5 million guaranteed prize pool and $1 million guaranteed to winner.

$500
Sat, Jun 1st
3:00 PM


3 Days

$2,500 Limit Mixed Triple Draw




A-5 2-7 Badugi

$2,500
Sun, Jun 2nd
10:00 AM


4 Days

BIG 50 – Flight D




First entry is rake-free! $5 million guaranteed prize pool and $1 million guaranteed to winner.

$500
Sun, Jun 2nd
6:00 PM


4 Days

$10,000 Short Deck No-Limit Hold'em



$10,000
Mon, Jun 3rd
3:00 PM


3 Days

$1,500 Dealers Choice




6-Handed
No-Limit Hold'em Limit Hold'em Razz Seven Card Stud Seven Card St Hi-Lo 8 or Better Seven Card Stud Hi-Lo Regular Pot-Limit Hold'em Pot-Limit Omaha Pot-Limit Omaha Hi-Lo 8 or Better Big O Limit Omaha Hi-Lo 8 or Better Limit 2-7 Lowball Triple Draw Pot-Limit 2-7 Lowball Triple Draw A-5 Lowball Triple Draw Badugi Badeucy Badacy No-Limit 2-7 Lowball Draw No-Limit Five-Card Draw High

$1,500
Mon, Jun 3rd
6:00 PM


4 Days

$5,000 No-Limit Hold'em



$5,000
Tue, Jun 4th
11:00 AM


1 Day

$1,000 No-Limit Hold'em Super Turbo Bounty




Every Player is a $300 bounty.

$1,000
Tue, Jun 4th
3:00 PM


5 Days

$1,500 No-Limit 2-7 Lowball Draw



$1,500
Wed, Jun 5th
11:00 AM


3 Days

$1,500 HORSE




Limit Hold'em Omaha Hi-Lo 8 or Better Razz Seven Card Stud Seven Card Hi-Lo 8 or Better

$1,500
Wed, Jun 5th
3:00 PM


4 Days

$10,000 Heads-Up No-Limit Hold'em



$10,000
Wed, Jun 5th
4:00 PM


3 Days

$1,500 No-Limit Hold'em 6-Handed



$1,500
Thu, Jun 6th
11:00 AM


3 Days

$1,500 No-Limit Hold'em Shootout




2 000 Player Max

$1,500
Thu, Jun 6th
3:00 PM


4 Days

$10,000 Omaha Hi-Lo 8 or Better



$10,000
Fri, Jun 7th
10:00 AM


5 Days

Millionaire Maker – Flight A




$1 000 000 Guaranteed to winner.

$1,500
Fri, Jun 7th
3:00 PM


3 Days

$1,500 Seven-Card Stud



$1,500
Sat, Jun 8th
10:00 AM


4 Days

Millionaire Maker – Flight B




$1 000 000 Guaranteed to winner.

$1,500
Sat, Jun 8th
3:00 PM


4 Days

$10,000 No-Limit 2-7 Lowball Draw



$10,000
Sun, Jun 9th
11:00 AM


2 Days

$1,000 No-Limit Hold'em Double Stack



$1,000
Sun, Jun 9th
3:00 PM


2 Days

$1,500 Eight Game Mix




Limit Hold'em Limit Omaha Hi-Lo 8 or Better Seven Card Stud Razz Seven Card Stud Hi-Lo 8 or Better No-Limit Hold'em Pot-Limit Omaha Limit 2-7 Lowball Triple Draw

$1,500
Mon, Jun 10th
12:00 PM


6 Days

$2,620 No-Limit Hold'em Marathon




26 200 starting stack
100 minute levels

$2,620
Mon, Jun 10th
3:00 PM


3 Days

$1,500 Seven-Card Stud Hi/Lo 8 or Better



$1,500
Tue, Jun 11th
11:00 AM


3 Days

$1,000 No-Limit Hold'em



$1,000
Tue, Jun 11th
3:00 PM


4 Days

$10,000 HORSE



$10,000
Wed, Jun 12th
11:00 AM


3 Days

$1,000 Pot-Limit Omaha



$1,000
Wed, Jun 12th
3:00 PM


4 Days

$3,000 No-Limit Hold'em 6-Handed



$3,000
Thu, Jun 13th
10:00 AM


3 Days

Seniors No-Limit Hold'em




Must be 50+ to participate.

$1,000
Thu, Jun 13th
3:00 PM


3 Days

$1,500 Limit 2-7 Lowball Triple Draw



$1,500
Fri, Jun 14th
10:00 AM


5 Days

$1,000 Double Stack No-Limit Hold'em – Flight A



$1,000
Fri, Jun 14th
3:00 PM


4 Days

$10,000 Dealers Choice (6-Handed)




No-Limit Hold'em Limit Hold'em Razz Seven Card Stud Seven Card St Hi-Lo 8 or Better Seven Card Stud Hi-Lo Regular Pot-Limit Hold'em Pot-Limit Omaha Pot-Limit Omaha Hi-Lo 8 or Better Big O Limit Omaha Hi-Lo 8 or Better Limit 2-7 Lowball Triple Draw Pot-Limit 2-7 Lowball Triple Draw A-5 Lowball Triple Draw Badugi Badeucy Badacy No-Limit 2-7 Lowball Draw No-Limit Five-Card Draw High

$10,000
Sat, Jun 15th
10:00 AM


4 Days

$1,000 Double Stack No-Limit Hold'em – Flight B



$1,000
Sat, Jun 15th
3:00 PM


3 Days

$3,000 No-Limit Hold'em Shootout




2 000 Player Max

$3,000
Mon, Jun 17th
10:00 AM


3 Days

$1,000 Super Seniors No-Limit Hold'em




Must be 60+

$1,000
Mon, Jun 17th
12:00 PM


3 Days

$1,500 Pot-Limit Omaha



$1,500
Mon, Jun 17th
3:00 PM


4 Days

$10,000 Seven Card Stud



$10,000
Tue, Jun 18th
3:00 PM


4 Days

$2,500 Mixed Big Bet




NLHE PLO 2-7 NL NL 5 Card Draw Big O PLO Hi-Low 2-7 Pot-Limit Triple Draw

$2,500
Wed, Jun 19th
11:00 AM


3 Days

$1,500 No-Limit Hold'em Bounty




Every player is a $500 bounty

$1,500
Wed, Jun 19th
3:00 PM


4 Days

$25,000 Pot-Limit Omaha High Roller



$25,000
Thu, Jun 20th
11:00 AM


3 Days

$1,000/$10,000 Ladies No-Limit Hold'em




Discount for Ladies $1 000 buy-in

$10,000
Thu, Jun 20th
12:00 PM


4 Days

$2,500 No-Limit Hold'em



$2,500
Thu, Jun 20th
3:00 PM


4 Days

$10,000 Limit 2-7 Lowball Triple Draw



$10,000
Fri, Jun 21st
10:00 AM


5 Days

Monster Stack – Flight A



$1,500
Fri, Jun 21st
3:00 PM


3 Days

$2,500 Mixed Omaha Hi/Lo 8 or Better, Seven Card Stud Hi/Lo 8 or Better



$2,500
Sat, Jun 22nd
10:00 AM


4 Days

Monster Stack – Flight B



$1,500
Sat, Jun 22nd
3:00 PM


4 Days

$10,000 Pot-Limit Omaha 8-Handed



$10,000
Sun, Jun 23rd
3:00 PM


4 Days

$1,500 Razz



$1,500
Mon, Jun 24th
11:00 AM


1 Day

$1,500 No-Limit Hold'em Super Turbo Bounty




Every Player is a $500 bounty

$1,500
Mon, Jun 24th
2:00 PM


3 Days

$1,000 Tag Team No-Limit Hold'em




Teams of 2-4 people

$1,000
Mon, Jun 24th
3:00 PM


5 Days

$50,000 Poker Players Championship




Limit Hold'em Omaha Hi-Lo 8 or Better Seven Card Stud Razz Seven Card Stud Hi-Lo 8 or Better No-Limit Hold'em Pot-Limit Omaha Limit 2-7 Lowball Triple Draw

$50,000
Tue, Jun 25th
3:00 PM


3 Days

$1,500 Pot-Limit Omaha 8 or Better



$1,500
Wed, Jun 26th
10:00 AM


5 Days

$400 Colossus – Flight A



$400
Wed, Jun 26th
3:00 PM


3 Days

$10,000 Razz



$10,000
Thu, Jun 27th
10:00 AM


4 Days

$400 Colossus – Flight B



$400
Thu, Jun 27th
3:00 PM


4 Days

$1,500 Omaha Mix




Pot-Limit Omaha Hi-Lo 8 or Better Omaha Hi Lo 8 or Better Big O (5 Card PLO Hi-Lo 8)

$1,500
Fri, Jun 28th
10:00 AM


6 Days

$888 Crazy Eights No-Limit Hold'em – Flight A




$888 888 Guaranteed to winner.

$888
Fri, Jun 28th
3:00 PM


4 Days

$10,000 Pot-Limit Omaha Hi-Lo 8 or Better



$10,000
Fri, Jun 28th
5:00 PM


6 Days

$888 Crazy Eights No-Limit Hold'em – Flight B




$888 888 Guaranteed to winner.

$888
Sat, Jun 29th
10:00 AM


5 Days

$888 Crazy Eights No-Limit Hold'em – Flight C




$888 888 Guaranteed to winner.

$888
Sat, Jun 29th
3:00 PM


3 Days

$1,500 Limit Hold'em



$1,500
Sun, Jun 30th
10:00 AM


4 Days

$888 Crazy Eights No-Limit Hold'em – Flight D




$888 888 Guaranteed to winner.

$888
Sun, Jun 30th
3:00 PM


4 Days

$10,000 Seven Card Stud Hi-Lo 8 or Better



$10,000
Mon, Jul 1st
11:00 AM


2 Days

$1,000 Mini Main Event



$1,000
Mon, Jul 1st
3:00 PM


4 Days

$5,000 No-Limit Hold'em 6-Handed



$5,000
Tue, Jul 2nd
3:00 PM


3 Days

$10,000 Limit Hold'em Championship



$10,000
Wed, Jul 3rd
12:00 PM


14 Days

$10,000 No-Limit Hold'em MAIN EVENT – World Championship – Flight A



$10,000
Thu, Jul 4th
12:00 PM


13 Days

$10,000 No-Limit Hold'em MAIN EVENT – World Championship – Flight B



$10,000
Fri, Jul 5th
12:00 PM


12 Days

$10,000 No-Limit Hold'em MAIN EVENT – World Championship – Flight C



$10,000
Sat, Jul 6th
12:00 PM


7 Days

$1000 +$111 Little One for One Drop – Flight A




Unlimited Re-entry

$1,111
Sun, Jul 7th
12:00 PM


6 Days

$1000 +$111 Little One for One Drop – Flight B




Unlimited Re-entry

$1,111
Mon, Jul 8th
11:00 AM


5 Days

$1000 +$111 Little One for One Drop – Flight C




Unlimited Re-entry

$1,111
Mon, Jul 8th
3:00 PM


4 Days

$3,000 Limit Hold'em 6-Handed



$3,000
Tue, Jul 9th
11:00 AM


3 Days

$1,500 Pot-Limit Omaha Bounty




Every player is a $500 Bounty

$1,500
Tue, Jul 9th
3:00 PM


3 Days

$3,000 No-Limit Hold'em



$3,000
Wed, Jul 10th
11:00 AM


3 Days

$1,500 Mixed No-Limit Hold'em Pot-Limit Omaha




Played 8-Handed

$1,500
Wed, Jul 10th
3:00 PM


4 Days

$1,500 50th Annual Bracelet Winners Only No-Limit Hold'em




Open to all past bracelet winners

$1,500
Thu, Jul 11th
11:00 AM


2 Days

$1,500 No-Limit Hold'em Double Stack



$1,500
Thu, Jul 11th
3:00 PM


3 Days

$100,000 No-Limit Hold'em High Roller



$100,000
Fri, Jul 12th
11:00 AM


6 Days

The Closer – $1,500 No-Limit Hold'em – Flight A




Unlimited re-entry

$1,500
Fri, Jul 12th
3:00 PM


4 Days

$3,000 Pot-Limit Omaha 6-Handed



$3,000
Sat, Jul 13th
11:00 AM


5 Days

The Closer – $1,500 No-Limit Hold'em – Flight B




Unlimited re-entry

$1,500
Sat, Jul 13th
3:00 PM


4 Days

$10,000 No-Limit Hold'em 6-Handed



$10,000
Sun, Jul 14th
11:00 AM


4 Days

The Closer – $1,500 No-Limit Hold'em – Flight C




Unlimited re-entry

$1,500
Sun, Jul 14th
3:00 PM


3 Days

$3,000 HORSE




Limit Hold'em Omaha Hi-Lo 8 or Better Razz Seven Card Stud Seven Card Stud Hi-Lo 8 or Better

$3,000
Mon, Jul 15th
12:00 PM


2 Days

$5,000 No-Limit Hold'em



$5,000
Quelle/Bildquelle: WSOP.com