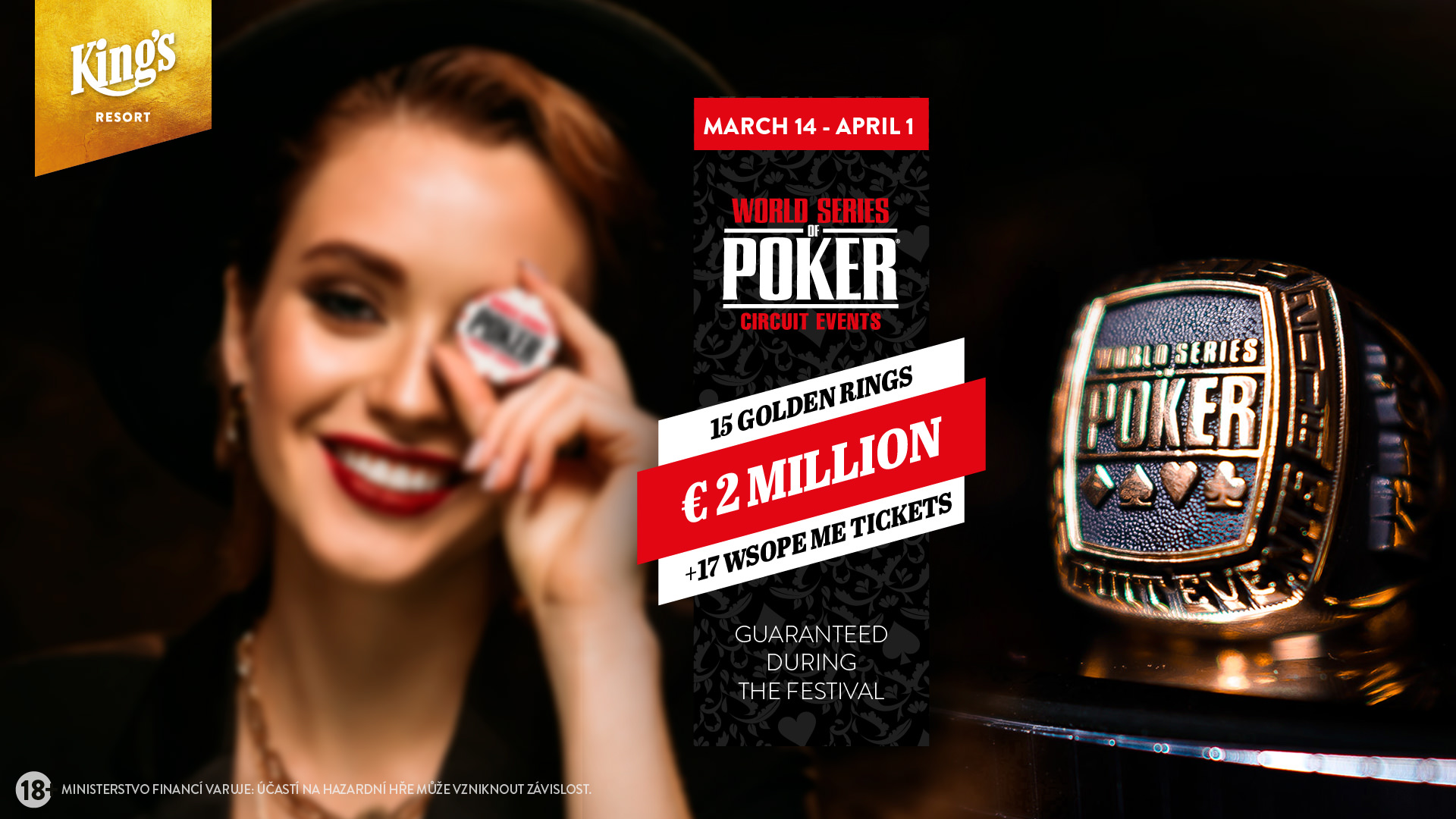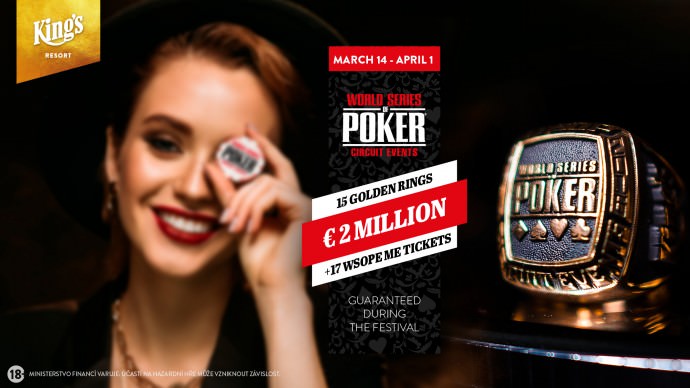 Das King's Resort Rozvadov ist nicht nur das "Home of WSOP Europe" sondern auch zweimal pro Jahr Gastgeber für die World Series of Poker Circuit Turnierserie. Vom 14. März bis 01. April 2019 steht die WSOP Circuit Rozvadov Spring Edition auf dem Programm. Insgesamt werden dort 15 der begehrten WSOP Circuit Goldringe ausgespielt und über das gesamte Festival werden Preisgelder in Höhe von €2.230.950 garantiert. Die Buy-Ins bei den Ring-Events starten bei €220 und gehen bis €5.300. Bei der Auswahl der Turniere wurde an alles gedacht. Es gibt Monster Stack, Mixed Game NLH/PLO, 7-Card Stud Limit, PLO, PLO High/Low, Seniors (50+), 6-Max, Highroller oder auch ein Ladies Event. Neben reichlich Side Events mit Buy-Ins ab €115 gibt es natürlich für alle großen Turniere fast täglich Live-Satellites. Das Highlight der Serie ist selbstverständlich der €1.550+€150 WSOP Circuit Rozvadov Main Event vom 29. März bis 01. April, bei dem ein Preisgeld von €1.103.500 garantiert wird. Während der Festival-Wochen werden für die Champions und bestplatzierten insgesamt 17 WSOP Europe Main Event Tickets im Wert von jeweils €10.350 ausgespielt. Wer möchte kann sich auch über partypoker Live Dollar in alle Turniere einkaufen.
Vom WSOPC Opener, WSOPC Monster Stack und WSOPC Main Event wird es jeweils die Tage 2 und die Finaltage im Livestream zu sehen geben. Außerdem sind fünf High Stakes Cash Game Livestreams geplant. Hochgepokert wird natürlich täglich über das Geschehen im King's berichten, so dass ihr nichts verpassen werdet.
Im King's Resort laufen während des WSOP Circuit Festival rund um die Uhr heiße Cash Games. Hier geht der Spaß bereits bei Blinds €1/€3 THNL oder €2/€2 PLO und einem Minimum Buy-In von €100 los.
Wer sich näher über das große Angebot des King's informieren möchte findet alles Wichtige auf der Homepage, bei Facebook, Instagram oder auf Twitter.
Hier ist der WSOP Circuit Turnierplan:
| | | | | | | |
| --- | --- | --- | --- | --- | --- | --- |
| Thu 14.03. 16:00 | Satellite to WSOPC Spring Opener – Day 1A | 20 Seats | 60 EUR | 5 EUR | | |
| Thu 14.03. 18:00 | WSOP Circuit Spring Opener – Day 1A [RING][#1] | 331.050 EUR | 270 EUR | 29 EUR | | |
| Thu 14.03. 20:00 | NLH Daily Turbo Tournament | | 100 EUR | 15 EUR | | |
| Fri 15.03. 11:00 | Satellite to WSOPC Spring Opener – Day 1B | 20 Seats | 60 EUR | 5 EUR | | |
| Fri 15.03. 13:00 | WSOP Circuit Spring Opener – Day 1B [RING][#1] | 331.050 EUR | 270 EUR | 29 EUR | | |
| Fri 15.03. 15:00 | Satellite to WSOPC Spring Opener – Day 1C | 10 Seats | 60 EUR | 5 EUR | | |
| Fri 15.03. 17:00 | WSOP Circuit Spring Opener – Day 1C [RING][#1] | 331.050 EUR | 270 EUR | 29 EUR | | |
| Fri 15.03. 20:00 | King's Friday Night Tournament | 20.000 EUR | 100 EUR | 15 EUR | | |
| Sat 16.03. 11:00 | Satellite to WSOPC Spring Opener – Day 1D | 20 Seats | 60 EUR | 5 EUR | | |
| Sat 16.03. 13:00 | WSOP Circuit Spring Opener – Day 1D [RING][#1] | 331.050 EUR | 270 EUR | 29 EUR | | |
| Sat 16.03. 15:00 | Satellite to WSOPC Spring Opener – Day 1E | 10 Seats | 60 EUR | 5 EUR | | |
| Sat 16.03. 17:00 | WSOP Circuit Spring Opener – Day 1E [RING][#1] | 331.050 EUR | 270 EUR | 29 EUR | | |
| Sat 16.03. 20:00 | King's Saturday Night Tournament | 30.000 EUR | 100 EUR | 15 EUR | | |
| Sun 17.03. 10:00 | WSOP Circuit Spring Opener – Day 1F Turbo [RING][#1] | 331.050 EUR | 270 EUR | 29 EUR | | |
| Sun 17.03. 15:00 | WSOP Circuit Spring Opener – Day 2 [RING][#1] | 331.050 EUR | – | – | | |
| Sun 17.03. 16:00 | Satellite to WSOPC Lucky 7s Event – Day 1A | 7 Seats | 100 EUR | 15 EUR | | |
| Sun 17.03. 18:00 | WSOP Circuit Lucky 7s Event – Day 1A [RING][#2] | 110.350 EUR | 707 EUR | 70 EUR | | |
| Sun 17.03. 20:00 | King's Sunday Night Tournament | 10.000 EUR | 100 EUR | 15 EUR | | |
| Mon 18.03. 12:00 | NLH Morning Turbo Bounty | | 100 EUR + 100 EUR Bounty | 20 EUR | | |
| Mon 18.03. 14:00 | WSOP Circuit Spring Opener – Final Day [RING][#1] | 331.050 EUR | – | – | | |
| Mon 18.03. 16:00 | Satellite to WSOPC Lucky 7s Event – Day 1B | 7 Seats | 100 EUR | 15 EUR | | |
| Mon 18.03. 18:00 | WSOP Circuit Lucky 7s Event – Day 1B [RING][#2] | 110.350 EUR | 707 EUR | 70 EUR | | |
| Mon 18.03. 20:00 | NLH Daily Turbo Tournament | | 100 EUR | 15 EUR | | |
| Tue 19.03. 12:00 | NLH Morning Turbo Freezeout | | 100 EUR | 15 EUR | | |
| Tue 19.03. 14:00 | WSOP Circuit Lucky 7s Event – Day 2 [RING][#2] | 110.350 EUR | 707 EUR | 70 EUR | | |
| Tue 19.03. 17:00 | WSOP Circuit 6-Max NLH [RING][#3] | | 600 EUR | 60 EUR | | |
| Tue 19.03. 20:00 | NLH Daily Turbo Tournament | | 100 EUR | 15 EUR | | |
| Wed 20.03. 12:00 | NLH Morning Turbo Bounty | | 100 EUR + 100 EUR Bounty | 20 EUR | | |
| Wed 20.03. 15:00 | WSOP Circuit Senior Event 50+ [RING][#4] | | 225 EUR | 25 EUR | | |
| Wed 20.03. 16:00 | Satellite to WSOPC Monster Stack – Day 1A | 10 Seats | 80 EUR | 10 EUR | | |
| Wed 20.03. 18:00 | WSOP Circuit Monster Stack – Day 1A [RING][#5] | 220.700 EUR | 500 EUR | 50 EUR | | |
| Wed 20.03. 20:00 | NLH Daily Turbo Tournament | | 100 EUR | 15 EUR | | |
| Thu 21.03. 12:00 | NLH Morning Turbo Freezeout | | 100 EUR | 15 EUR | | |
| Thu 21.03. 15:00 | WSOP Circuit Omaha HI/LO Pot Limit [RING][#6] | | 270 EUR | 30 EUR | | |
| Thu 21.03. 16:00 | Satellite to WSOPC Monster Stack – Day 1B | 10 Seats | 80 EUR | 10 EUR | | |
| Thu 21.03. 18:00 | WSOP Circuit Monster Stack – Day 1B [RING][#5] | 220.700 EUR | 500 EUR | 50 EUR | | |
| Thu 21.03. 20:00 | NLH Daily Turbo Tournament | | 100 EUR | 15 EUR | | |
| Fri 22.03. 12:00 | NLH Morning Turbo Bounty | | 100 EUR + 100 EUR Bounty | 20 EUR | | |
| Fri 22.03. 14:00 | Satellite to WSOPC Monster Stack – Day 1C | 10 Seats | 80 EUR | 10 EUR | | |
| Fri 22.03. 16:00 | WSOP Circuit Monster Stack – Day 1C [RING][#5] | 220.700 EUR | 500 EUR | 50 EUR | | |
| Fri 22.03. 18:00 | WSOP Circuit Turbo Deepstack | | 360 EUR | 40 EUR | | |
| Fri 22.03. 20:00 | King's Big Friday Night Tournament | 15.000 EUR | 100 EUR | 15 EUR | | |
| Sat 23.03. 12:00 | NLH Morning Turbo Freezeout | | 100 EUR | 15 EUR | | |
| Sat 23.03. 14:00 | Satellite to WSOPC Monster Stack – Day 1D | 15 Seats | 80 EUR | 10 EUR | | |
| Sat 23.03. 16:00 | WSOP Circuit Monster Stack – Day 1D [RING][#5] | 220.700 EUR | 500 EUR | 50 EUR | | |
| Sat 23.03. 19:00 | King's Big Saturday Night Tournament | 20.000 EUR | 100 EUR | 15 EUR | | |
| Sat 23.03. 21:00 | Last Chance Satellite to WSOPC Monster Stack – Day 2 | 10 Seats | 80 EUR | 10 EUR | | |
| Sun 24.03. 14:00 | WSOP Circuit Monster Stack – Day 2 [RING][#5] | 220.700 EUR | 500 EUR | 50 EUR | | |
| Sun 24.03. 15:00 | Satellite to WSOPC Mini Main Event – Day 1A | 20 Seats | 35 EUR | 5 EUR | | |
| Sun 24.03. 16:00 | WSOP Circuit Seven Card Stud Limit [RING][#7] | | 300 EUR | 30 EUR | | |
| Sun 24.03. 18:00 | WSOP Circuit Mini MAIN EVENT – Day 1A [RING][#8] | 110.350 EUR | 225 EUR | 25 EUR | | |
| Sun 24.03. 20:00 | NLH Daily Turbo Tournament | | 100 EUR | 15 EUR | | |
| Mon 25.03. 12:00 | NLH Morning Turbo Freezeout | | 100 EUR | 15 EUR | | |
| Mon 25.03. 14:00 | WSOP Circuit Monster Stack – Final Day [RING][#5] | 220.700 EUR | – | – | | |
| Mon 25.03. 17:00 | Satellite to WSOPC Mini Main Event – Day 1B | 20 Seats | 35 EUR | 5 EUR | | |
| Mon 25.03. 19:00 | WSOP Circuit Mini MAIN EVENT – Day 1B [RING][#8] | 110.350 EUR | 225 EUR | 25 EUR | | |
| Tue 26.03. 12:00 | NLH Morning Turbo Bounty | | 100 EUR + 100 EUR Bounty | 20 EUR | | |
| Tue 26.03. 16:00 | WSOP Circuit NLH/OMAHA Mixed Game [RING][#9] | | 500 EUR | 50 EUR | | |
| Tue 26.03. 17:00 | Satellite to WSOPC Mini Main Event – Day 1C | 20 Seats | 35 EUR | 5 EUR | | |
| Tue 26.03. 19:00 | WSOP Circuit Mini MAIN EVENT – Day 1C [RING][#8] | 110.350 EUR | 225 EUR | 25 EUR | | |
| Wed 27.03. 10:00 | WSOP Circuit Mini MAIN EVENT – Day 1D Turbo [RING][#8] | 110.350 EUR | 225 EUR | 25 EUR | | |
| Wed 27.03. 14:00 | Satellite to WSOPC PLO Highroller 8-Max Day 1 | 5 Seats | 200 EUR | 20 EUR | | |
| Wed 27.03. 15:00 | WSOP Circuit Mini MAIN EVENT – Final Day [RING][#8] | 110.350 EUR | – | – | | |
| Wed 27.03. 16:00 | WSOP Circuit Bounty Hunter [RING][#10] | | 400 EUR + 200 EUR Bounty | 60 EUR | | |
| Wed 27.03. 17:00 | WSOP Circuit PLO Highroller 8-Max Day 1 [RING][#11] | 100.000 EUR | 1.850 EUR | 150 EUR | | |
| Wed 27.03. 20:00 | Mega Satellite to WSOPC Main Event | 10 Seats | 200 EUR | 20 EUR | | |
| Thu 28.03. 12:00 | NLH Morning Turbo Freezeout | | 100 EUR | 15 EUR | | |
| Thu 28.03. 14:00 | WSOP Circuit PLO Highroller 8-Max Final Day [RING][#11] | 100.000 EUR | 1.850 EUR | 150 EUR | | |
| Thu 28.03. 15:00 | Satellite to WSOPC NLH Highroller | 3 Seats | 300 EUR | 30 EUR | | |
| Thu 28.03. 18:00 | WSOP Circuit NLH Highroller [RING][#12] | 100.000 EUR | 5.000 EUR | 300 EUR | | |
| Thu 28.03. 19:00 | NLH Daily Turbo Tournament | | 100 EUR | 15 EUR | | |
| Thu 28.03. 20:00 | Giga Satellite to WSOPC Main Event | 20 Seats | 300 EUR | 30 EUR | | |
| Fri 29.03. 11:00 | Satellite to WSOPC Main Event – DAY 1A | 5 Seats | 100 EUR | 10 EUR | | |
| Fri 29.03. 14:00 | WSOP Circuit MAIN EVENT – Day 1A [RING][#13] | 1.103.500 EUR | 1.550 EUR | 150 EUR | | |
| Fri 29.03. 16:00 | WSOP Circuit Ladies Event [RING][#14] | | 200 EUR | 20 EUR | | |
| Fri 29.03. 18:00 | Giga Satellite to WSOPC Main Event – DAY 1B | 20 Seats | 300 EUR | 30 EUR | | |
| Fri 29.03. 20:00 | King's Big Friday Night Tournament | 20.000 EUR | 100 EUR | 15 EUR | | |
| Sat 30.03. 11:00 | Satellite to WSOPC Main Event – DAY 1B | 5 Seats | 100 EUR | 10 EUR | | |
| Sat 30.03. 14:00 | WSOP Circuit MAIN EVENT – Day 1B [RING][#13] | 1.103.500 EUR | 1.550 EUR | 150 EUR | | |
| Sat 30.03. 16:00 | WSOP Circuit NL Holdem Freezeout [RING][#15] | | 400 EUR | 40 EUR | | |
| Sat 30.03. 19:00 | King's Big Saturday Night Tournament | 30.000 EUR | 100 EUR | 15 EUR | | |
| Sat 30.03. 21:00 | Satellite to WSOPC Main Event – DAY 2 | | 200 EUR | 20 EUR | | |
| Sun 31.03. 10:00 | Last Chance Satellite to WSOPC Main Event | | 200 EUR | 20 EUR | | |
| Sun 31.03. 14:00 | WSOP Circuit MAIN EVENT – Day 2 [RING][#13] | 1.103.500 EUR | 1.550 EUR | 150 EUR | | |
| Sun 31.03. 16:00 | WSOP Circuit Short-Deck Ante Only Tournament | | 200 EUR | 20 EUR | | |
| Sun 31.03. 18:00 | Satellite to "The Big Wrap" | 7 Seats | 320 EUR | 30 EUR | | |
| Sun 31.03. 20:00 | King's Sunday Night Tournament | 10.000 EUR | 100 EUR | 15 EUR | | |
| Mon 01.04. 12:00 | NLH Morning Turbo Freezeout | | 100 EUR | 15 EUR | | |
| Mon 01.04. 14:00 | WSOP Circuit MAIN EVENT – Final Day [RING][#13] | 1.103.500 EUR | – | – | | |
| Mon 01.04. 15:00 | Satellite to "The Big Wrap Warmup" | 10 Seats | 65 EUR | 10 EUR | | |
| Mon 01.04. 18:00 | The Big Wrap Warmup PLO – Day 1A (8 handed) | 200.000 EUR | 500 EUR | 50 EUR | | |
| Mon 01.04. 19:00 | WSOP Circuit Farewell | 8.000 EUR | 100 EUR | 15 EUR | | |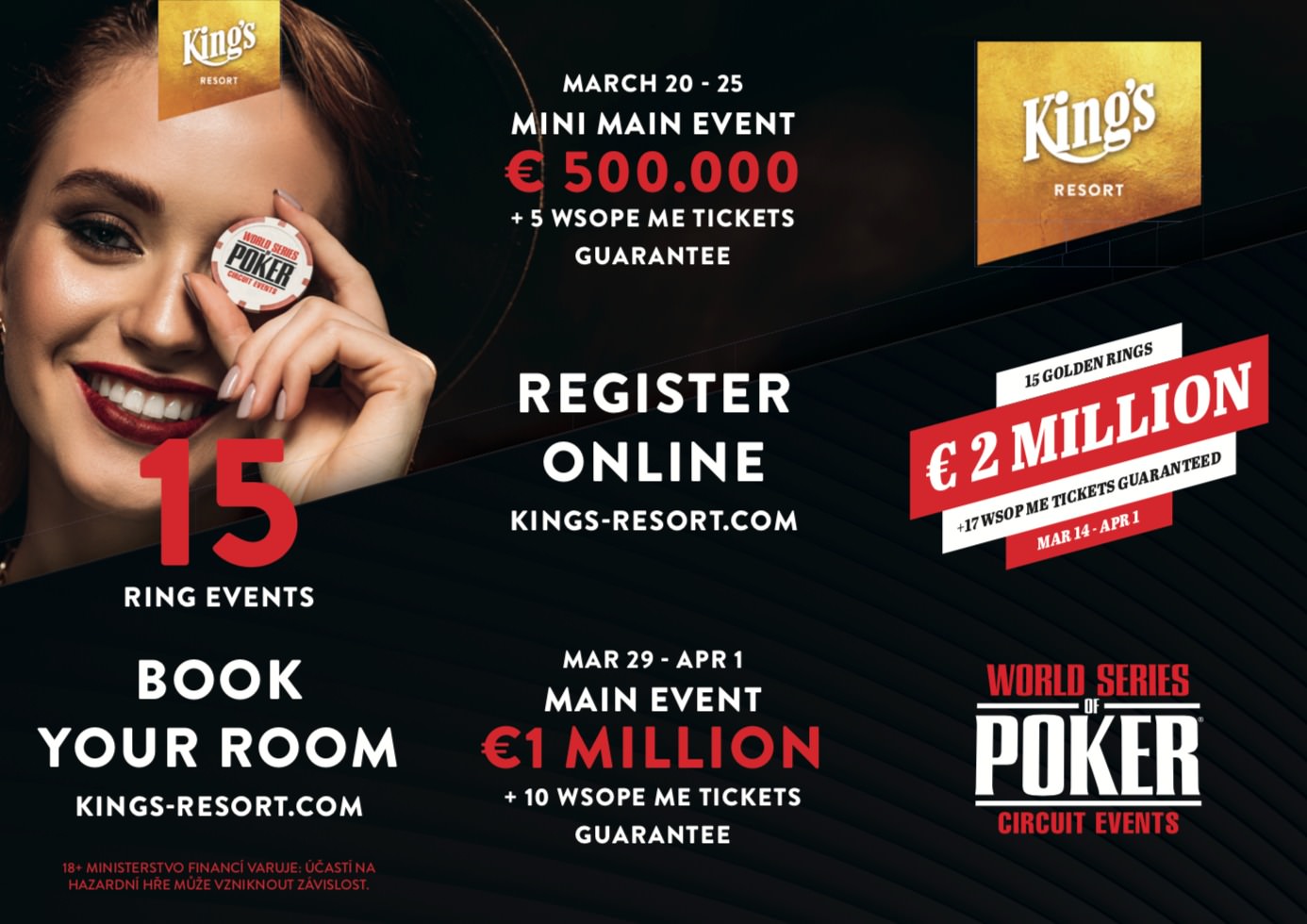 Quelle/Bildquelle: King's Resort Rozvadov