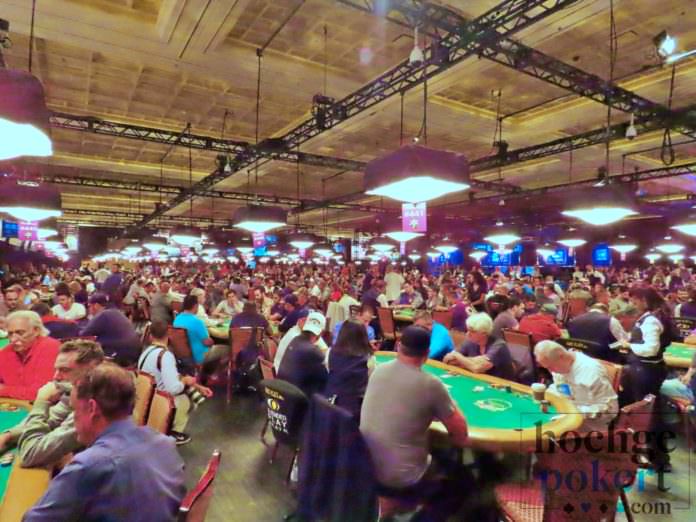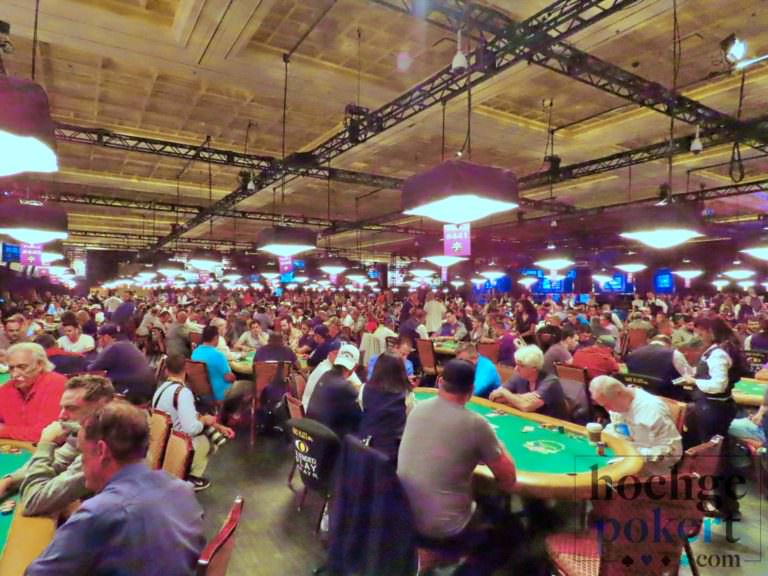 Das lange Warten hat endlich ein Ende, gestern fielen die legendären Worte "Shuffle Up and Deal", und der erste Starttag beim $10.000 World Series of Poker Main Event begann. Über 1.300 Spieler kamen ins Rio All-Suites Hotel & Casino um sich am wichtigsten Turnier des Jahres zu versuchen.
Nach fünf  Levels zu jeweils zwei Stunden Spielzeit konnte Bryan Campanello mit 417.500 den Tag als Chipleader beenden, gefolgt von Ryamand Travis Rice mit 333.500 Chips. Insgesamt schafften es 960 Spielerinnen und Spieler durch den Tag.
Mit Qui Nguyen (180.500 Chips) und Chris Moneymaker (95.000 Chips) konnten sich auch zwei WSOP ME Champions für den zweiten Tag qualifizieren. Im noch inoffiziellen Chipcount fanden wir bekannte Spieler wie Jeff Lisandro (180,100), Alex Foxen (173,200), Faraz Jaka (174,100), Martin Kabrhel (164,500), Jack Sinclair (153,800), Brian Hastings (124,200), Elio Fox (73,400), Erik Seidel (57,400), und Stephen Chidwick (45,000).
Zu einer unterhaltsamen Situation kam in Level 3 zwischen dem Poker Pärchen Liv Boeree und Igor Kurganov. Boree machte nach einem Raise eines Spielers am Tisch eine 3-bet All-in für 2.400 vom cutoff. Als die Action zu Kurganov im Big Blind kam, raiste er für 5.000 wodurch die weiteren involvierten Spieler foldeten. Er zeigte
und seine Freundin
. Das Board brachte
und nach einem Tweet von Boeree wird Igor diese Nacht wohl eher auf der Couch schlafen.
Als bester Spieler der DACH-Community konnte Nidal Echaust den Tag mit 217.400 Chips abschließen. Ebenfalls sehr gut dabei sind Sebastian Dornbracht (178.200) und Anton Morgenstern (174.400).
Im offiziellen Chipcount könnt ihr nach Lust und Laune eure Lieblinge, Freunde & Bekannte suchen:
WSOP 2019 $10.000 MAIN EVENT - World Championship (1A)
| RANK | PLAYER | CITY / STATE / COUNTRY | CHIP COUNT | ROOM / TABLE / SEAT |
| --- | --- | --- | --- | --- |
| 1 | Bryan Campanello | Southlake, TX, US | 417500 | Pavilion / 228 / 7 |
| 2 | Timothy Su | Boston, MA, US | 297300 | Pavilion / 186 / 9 |
| 3 | Quentin Roussey | Begangon, , FR | 266400 | Amazon / 511 / 6 |
| 4 | Takehiro Kato | JP | 259200 | Pavilion / 176 / 7 |
| 5 | Charidimos Demetriou | LONDON, ON, EE | 252000 | Pavilion / 242 / 4 |
| 6 | Craig Chait | Newport Beach, CA, US | 249600 | Pavilion / 219 / 5 |
| 7 | Stephen Graner | HENDERSON, NV, US | 247100 | Pavilion / 105 / 8 |
| 8 | Mark Zullo | SEVILLE, OH, US | 245600 | Pavilion / 101 / 3 |
| 9 | David Lolis | Henderson, NV, US | 245100 | Pavilion / 215 / 8 |
| 10 | Thomas Roupe | HOUSTON, TX, US | 238800 | Pavilion / 113 / 2 |
| 11 | Michael Miller | Haverford, PA, US | 235800 | Pavilion / 216 / 6 |
| 12 | Jonathan Braier | SHERMAN OAKS, CA, US | 231500 | Amazon / 492 / 2 |
| 13 | Richard Barabino | NEW YORK, NY, US | 227500 | Pavilion / 139 / 7 |
| 14 | Alexander Yen | LISLE, IL, US | 225400 | Pavilion / 269 / 2 |
| 15 | Yuan Li | Nanjing, CN | 218900 | Amazon / 484 / 1 |
| 16 | Nidal Echaust | Onl Signup-No City, , DE | 217400 | Amazon / 497 / 1 |
| 17 | Patrick Serda | Winnipeg, MB, CA | 216700 | Pavilion / 176 / 4 |
| 18 | Aric Pluskat | Largo, FL, US | 210300 | Pavilion / 163 / 9 |
| 19 | Paul Miller | Lexington, KY, US | 210100 | Pavilion / 268 / 7 |
| 20 | Juan Ignacio Pallotta | Buenos Aires, , AR | 209000 | Amazon / 432 / 4 |
| 21 | Timothy Burt | Diberville, MS, US | 204900 | Amazon / 479 / 1 |
| 22 | Kane Lai | HIGHLANDS RANCH, CO, US | 201900 | Pavilion / 207 / 3 |
| 23 | Joe Foresman | Las Vegas, NV, US | 196400 | Amazon / 498 / 3 |
| 24 | David Ross | | 194700 | Amazon / 459 / 2 |
| 25 | Chris Dombrowski | WESLEY CHAPEL, FL, US | 192600 | Pavilion / 211 / 3 |
| 26 | David Thomas | Clovis, CA, US | 191100 | Pavilion / 257 / 8 |
| 27 | Jesper Hougaard | HASSENGRADE, , DK | 190000 | Pavilion / 247 / 3 |
| 28 | Benjamin Philipps | London, GB | 189900 | Pavilion / 183 / 7 |
| 29 | Jared Bleznick | NEW YORK, NY, US | 189100 | Pavilion / 153 / 3 |
| 30 | Christopher MacFarland | DALLAS, TX, US | 188600 | Amazon / 485 / 3 |
| 31 | Jimmy Kebe | FR | 188200 | Pavilion / 205 / 8 |
| 32 | Michael Marder | Sewell, NJ, US | 185700 | Pavilion / 185 / 6 |
| 33 | Daniel Strelitz | TORRANCE, CA, US | 185300 | Pavilion / 257 / 4 |
| 34 | Pavao Vujnovac | Oolantak, , RU | 184800 | Amazon / 465 / 2 |
| 35 | Johnnie Moreno | LAS VEGAS, NV, US | 184000 | Pavilion / 268 / 6 |
| 36 | Rory Brown | Galway, IE | 181100 | Pavilion / 257 / 2 |
| 37 | Timothy McDermott | Santa Rosa, CA, US | 181100 | Pavilion / 180 / 4 |
| 38 | Qui Nguyen | Las Vegas, NV, US | 180500 | Pavilion / 178 / 5 |
| 39 | Samuel Hughes | Arp, TX, US | 180300 | Pavilion / 112 / 4 |
| 40 | Jeff Lisandro | Sydney, AU | 180100 | Amazon / 508 / 7 |
| 41 | Sebastian Dornbracht | Dortmund, , DE | 178200 | Pavilion / 162 / 2 |
| 42 | Adria Diaz | Century Wharf, , ES | 177500 | Pavilion / 116 / 3 |
| 43 | Robert Chudobiak | Coaldale, AB, CA | 177100 | Pavilion / 158 / 9 |
| 44 | Henrik Hecklen | AARHUS, DK | 175200 | Pavilion / 131 / 2 |
| 45 | Anton Morgenstern | Berlin, DE | 174400 | Pavilion / 120 / 3 |
| 46 | Faraz Jaka | BOULDER, CO, US | 174100 | Pavilion / 227 / 2 |
| 47 | Alex Foxen | COLD SPRING HARBOR, NY, US | 173200 | Pavilion / 144 / 1 |
| 48 | Georgios Karakousis | London, , EE | 173000 | Amazon / 461 / 3 |
| 49 | Pierre Barthlemy | Albi, , FR | 172200 | Pavilion / 242 / 8 |
| 50 | Sara Hall | Cleveland, OH, US | 171400 | Pavilion / 125 / 7 |
| 51 | Matthew Ellis | Bentonville, AR, US | 171100 | Amazon / 445 / 3 |
| 52 | David Rees | Youngstown, OH, US | 170400 | Pavilion / 155 / 5 |
| 53 | Reed Hensel | DENVER, CO, US | 169400 | Pavilion / 113 / 9 |
| 54 | Daniel Nygard | Marquette, MI, US | 169400 | Amazon / 490 / 4 |
| 55 | Gregory Fishberg | WILLOW GROVE, PA, US | 168800 | Pavilion / 104 / 3 |
| 56 | Michael Burch | Port Orange, FL, US | 168300 | Pavilion / 159 / 3 |
| 57 | Michael Laufer | Upper Saddle River, NJ, US | 167800 | Pavilion / 116 / 6 |
| 58 | Mick Heder | US | 167100 | Amazon / 430 / 1 |
| 59 | William Tonking | FLEMINGTON, NJ, US | 167100 | Amazon / 495 / 7 |
| 60 | Ronni Borg | Silkeborg, , DK | 167100 | Pavilion / 259 / 8 |
| 61 | Kevin Igersheim | Chicago, IL, US | 167000 | Pavilion / 258 / 2 |
| 62 | Dong Guo | BEIJING, CN | 166800 | Pavilion / 207 / 2 |
| 63 | Andrew Pacifico | MIDDLEBURG, FL, US | 166300 | Amazon / 516 / 8 |
| 64 | Ziran Xiao | LIVINGSTON, NJ, US | 165300 | Amazon / 497 / 8 |
| 65 | Perry Friedman | LAS VEGAS, NV, US | 165300 | Pavilion / 192 / 8 |
| 66 | Josh King | Austin, TX, US | 165100 | Pavilion / 135 / 5 |
| 67 | Martin Kabrhel | PRAGUE, , CZ | 164500 | Amazon / 461 / 1 |
| 68 | Luis Rodriguez Cruz | Espoo, , FI | 164100 | Pavilion / 243 / 9 |
| 69 | Philippe Dauteuil | QUEBEC CITY, QC, CA | 164100 | Pavilion / 207 / 1 |
| 70 | Matthew Doyle | Cronulla Nsw, , AT | 163700 | Pavilion / 166 / 5 |
| 71 | Todd Poland | Bella Vista, AR, US | 163400 | Pavilion / 209 / 6 |
| 72 | Joseph Ardern | IE | 163200 | Amazon / 429 / 1 |
| 73 | Lewis Gallo | Bradenton, FL, US | 162400 | Pavilion / 169 / 4 |
| 74 | Joey Weissman | BOCA RATON, FL, US | 161600 | Pavilion / 212 / 3 |
| 75 | Paul Mannoni | CONCORD, CA, US | 161300 | Pavilion / 152 / 7 |
| 76 | Ryan Berger | WASHINGTON, DC, US | 161200 | Pavilion / 160 / 5 |
| 77 | Dan Owen | NAPA, CA, US | 161200 | Pavilion / 148 / 8 |
| 78 | Didrik Mantor | Oslo, , NO | 159900 | Pavilion / 205 / 3 |
| 79 | Yee How Lee | MO | 158600 | Pavilion / 102 / 7 |
| 80 | Marc MacDonnell | Dublin, , IE | 158300 | Pavilion / 184 / 6 |
| 81 | Jordan Jurow | SAN FRANCISCO, CA, US | 158300 | Pavilion / 163 / 8 |
| 82 | Adam Levy | CORAL SPRINGS, FL, US | 157100 | Pavilion / 182 / 7 |
| 83 | Adam Swan | Irvine, CA, US | 154700 | Pavilion / 167 / 1 |
| 84 | Jason Bullock | Houston, TX, US | 154200 | Amazon / 504 / 8 |
| 85 | Jack Sinclair | London, , GB | 153800 | Pavilion / 153 / 7 |
| 86 | Vitalijs Zavorotnijs | LV | 152400 | Pavilion / 231 / 3 |
| 87 | Dmitry Yurasov | Moscow, , RU | 152100 | Pavilion / 123 / 2 |
| 88 | Brian Green | Decatur, TX, US | 152100 | Amazon / 446 / 3 |
| 89 | Maxx Coleman | WICHITA, KS, US | 151900 | Pavilion / 202 / 9 |
| 90 | Robert Rini | Hilton Head Island, SC, US | 151300 | Pavilion / 157 / 7 |
| 91 | Dejan Pustoslemsek | Ravne Na Koroskem, , SI | 151200 | Amazon / 450 / 2 |
| 92 | Steven Markowitz | Old Bethpage, NY, US | 151100 | Pavilion / 269 / 6 |
| 93 | Michael Stembera | SAN ANTONIO, TX, US | 150800 | Amazon / 440 / 4 |
| 94 | Hector Meana | Av San Martin, , AR | 150300 | Pavilion / 134 / 9 |
| 95 | Justin Young | HENDERSON, NV, US | 149900 | Pavilion / 137 / 1 |
| 96 | Kevin Law | Mill Creek, WA, US | 149900 | Amazon / 506 / 8 |
| 97 | Joel Feldman | Melbourne, Victoria, AU | 149800 | Pavilion / 197 / 6 |
| 98 | Timothy Pughsley | BIRMINGHAM, AL, US | 149500 | Pavilion / 203 / 5 |
| 99 | Brant Taylor | DELTA, BC, CA | 148900 | Pavilion / 154 / 9 |
| 100 | Judson Joplin | Mckinney, TX, US | 147500 | Pavilion / 164 / 4 |
| 101 | Andy Hwang | SUGAR LAND, TX, US | 146900 | Amazon / 493 / 3 |
| 102 | Isaac Baron | Menlo Park, CA, US | 146600 | Amazon / 512 / 8 |
| 103 | Fabrice Soulier | PARIS, , FR | 146400 | Pavilion / 202 / 1 |
| 104 | Carlton Taylor | Peoria, AZ, US | 146200 | Pavilion / 178 / 1 |
| 105 | Jonathan Lawson | OMAHA, NE, US | 145300 | Pavilion / 129 / 8 |
| 106 | Richard Anthony | NEW YORK, NY, US | 145000 | Pavilion / 246 / 3 |
| 107 | Brian Rush | Redondo Beach, CA, US | 144800 | Amazon / 506 / 4 |
| 108 | Ronnie Pease | Las Vegas, NV, US | 143700 | Pavilion / 184 / 8 |
| 109 | Daichi Tominga | Tokyo, , MX | 143500 | Pavilion / 109 / 9 |
| 110 | Steve Constantino | PORT ORANGE, FL, US | 141700 | Amazon / 472 / 6 |
| 111 | Eric Gong | Bayside, NY, US | 141200 | Amazon / 412 / 7 |
| 112 | Sergei Verbitski | EE | 140700 | Pavilion / 193 / 3 |
| 113 | Nick Grippo | ARLINGTON HEIGHTS, IL, US | 140400 | Amazon / 476 / 4 |
| 114 | Laurent Manderlier | BE | 139600 | Pavilion / 188 / 3 |
| 115 | Sergio Castelluccio | BISACCIA, IT | 139500 | Amazon / 426 / 4 |
| 116 | Jiachen Gong | POINTE-CLAIRE, QC, CA | 139200 | Pavilion / 140 / 2 |
| 117 | Simon Casserly | Montego Bay, , JP | 139200 | Pavilion / 193 / 6 |
| 118 | Joseph Mcdermott | HOUSTON, TX, US | 138500 | Pavilion / 259 / 5 |
| 119 | Rami Boukai | SAN DIEGO, CA, US | 138400 | Amazon / 445 / 7 |
| 120 | David Farber | LAKE MARY, FL, US | 137700 | Pavilion / 179 / 8 |
| 121 | Mark Sandness | MOORHEAD, MN, US | 137600 | Pavilion / 178 / 9 |
| 122 | Shawn Quinn | MIDDLETON, WI, US | 137500 | Pavilion / 200 / 2 |
| 123 | Thomas McTeer | COLUMBIA, SC, US | 137300 | Amazon / 470 / 3 |
| 124 | Kelly Minkin | Tucson, AZ, US | 137100 | Amazon / 453 / 1 |
| 125 | Michael Kane | Uddington Glascow, , GB | 137000 | Pavilion / 228 / 5 |
| 126 | Jesse Smith | Pittsburgh, PA, US | 136600 | Amazon / 501 / 7 |
| 127 | Clayton Kalisek | SAN ANTONIO, TX, US | 136500 | Amazon / 489 / 1 |
| 128 | Michael Loncar | RANCHO MIRAGE, CA, US | 135800 | Pavilion / 185 / 8 |
| 129 | Francis Anderson | POUGHKEEPSIE, NY, US | 135700 | Pavilion / 174 / 9 |
| 130 | Duane Blanchard | LAS VEGAS, NV, US | 135300 | Amazon / 425 / 2 |
| 131 | Alan Schein | FORT WASHINGTON, PA, US | 135000 | Pavilion / 247 / 7 |
| 132 | Scott Neuman | Rawlins, WY, US | 134200 | Amazon / 505 / 3 |
| 133 | Michael Moore (SD) | AGAR, SD, US | 133000 | Amazon / 428 / 1 |
| 134 | Brandon Hill | Mechanicsville, VA, US | 132900 | Pavilion / 179 / 3 |
| 135 | Adam Greenberg | Long Grove, IL, US | 132200 | Pavilion / 211 / 1 |
| 136 | Christoph Richter | SACHSEN, , DE | 131900 | Pavilion / 169 / 3 |
| 137 | Jon Gisler | Irvine, CA, US | 131800 | Pavilion / 144 / 2 |
| 138 | David Farah | WEST PATERSON, NJ, US | 131700 | Pavilion / 210 / 7 |
| 139 | Billy Baxter | LAS VEGAS, NV, US | 131500 | Pavilion / 200 / 7 |
| 140 | Maria Mcalpin | Boise, ID, US | 131200 | Pavilion / 214 / 4 |
| 141 | Ryan Dersch | Louisville, KY, US | 130200 | Amazon / 513 / 7 |
| 142 | David Miscikowski | SAN DIEGO, CA, US | 130000 | Amazon / 455 / 8 |
| 143 | Athanasios Polychronopoulos | SPRINGS, NY, US | 129800 | Pavilion / 177 / 8 |
| 144 | Matthew Maccaroni | HAMILTON SQ, NJ, US | 129500 | Pavilion / 270 / 4 |
| 145 | John Dolan | Bonita Springs, FL, US | 129400 | Amazon / 502 / 2 |
| 146 | Niklas Astedt | Goteborg, , SE | 129300 | Pavilion / 144 / 9 |
| 147 | Igor Kurganov | RU | 129100 | Pavilion / 194 / 1 |
| 148 | Allen Nielson | MERCER ISLAND, WA, US | 129000 | Pavilion / 269 / 5 |
| 149 | Steven Grybas | Las Vegas, NV, US | 128800 | Pavilion / 157 / 5 |
| 150 | Tobias Duthweiler | Vienna, AT | 127900 | Pavilion / 183 / 5 |
| 151 | Dien Le | Bellevue, WA, US | 127900 | Amazon / 467 / 2 |
| 152 | Stevan Chew | Adelaide, , AU | 127700 | Pavilion / 146 / 8 |
| 153 | Shenming Yin | Pasadena, CA, US | 127600 | Pavilion / 148 / 2 |
| 154 | Sean Lindsey | Lees Summit, MO, US | 127500 | Pavilion / 212 / 1 |
| 155 | Connor Drinan | Arlington Heights, IL, US | 127400 | Pavilion / 124 / 1 |
| 156 | Romain Lewis | LATRESNE, , FR | 127400 | Pavilion / 138 / 3 |
| 157 | Michael Sutton (CA) | San Dimas, CA, US | 127200 | Pavilion / 162 / 1 |
| 158 | Derek Harrington | MIDVALE, UT, US | 126900 | Pavilion / 231 / 1 |
| 159 | Ryan Day | SANFORD, FL, US | 126900 | Amazon / 510 / 3 |
| 160 | Martins Adeniya | LONDON, , GB | 126200 | Pavilion / 177 / 4 |
| 161 | Rabeh Ebeed | Windham, NH, US | 126000 | Pavilion / 170 / 1 |
| 162 | Steven Nichols | CHANDLER, AZ, US | 125900 | Pavilion / 208 / 9 |
| 163 | Robert McLaughlin | WASHINGTON, DC, US | 125500 | Pavilion / 196 / 1 |
| 164 | Richard Mckeever | Newport Beach, CA, US | 125400 | Pavilion / 203 / 9 |
| 165 | Daniel Kohnen | POWELL, OH, US | 124500 | Pavilion / 168 / 4 |
| 166 | Andrew Glauberg | TENAFLY, NJ, US | 124400 | Amazon / 428 / 2 |
| 167 | Brian Hastings | HANOVER TOWNSHIP, PA, US | 124200 | Pavilion / 132 / 3 |
| 168 | Elliott Kampen | Indianapolis, IN, US | 124100 | Amazon / 485 / 4 |
| 169 | Alberto Destrade | PLANTATION, FL, US | 124000 | Amazon / 450 / 8 |
| 170 | Aaron Messmer | Whittier, CA, US | 123800 | Pavilion / 185 / 1 |
| 171 | Brent Wheeler | Saint Charles, IL, US | 123700 | Pavilion / 230 / 8 |
| 172 | Carlos Hey | Porto Velmo, , BR | 123500 | Pavilion / 242 / 5 |
| 173 | Francisco Fragoso | MAYWOOD, CA, US | 123400 | Pavilion / 130 / 2 |
| 174 | Jesse Copley | SEVILLE, OH, US | 123200 | Pavilion / 171 / 3 |
| 175 | Lauren Monosson | WOODBURY, NY, US | 123000 | Pavilion / 207 / 5 |
| 176 | Dan O'Brien | LAS VEGAS, NV, US | 122800 | Amazon / 520 / 2 |
| 177 | Michael Shanahan | AVON, IN, US | 122400 | Amazon / 504 / 6 |
| 178 | Jared Hamby | HENDERSON, NV, US | 122300 | Pavilion / 115 / 8 |
| 179 | Lars Bonding | Centreville , VA, US | 122200 | Amazon / 449 / 4 |
| 180 | Jared Kwong | American Cyn, CA, US | 121800 | Amazon / 462 / 8 |
| 181 | Sean Barringer | SAUGERTIES, NY, US | 121600 | Pavilion / 152 / 5 |
| 182 | Jonathan Depa | CHICAGO, IL, US | 121600 | Pavilion / 259 / 6 |
| 183 | Tyler Patterson | Everett, WA, US | 121200 | Amazon / 471 / 2 |
| 184 | Chase Bianchi | Columbia, MD, US | 121200 | Pavilion / 120 / 2 |
| 185 | Jan Suchanek | Nelson, NZ | 121100 | Pavilion / 197 / 2 |
| 186 | Timothy Vukson | Mount Forest , ON, CA | 120900 | Amazon / 415 / 4 |
| 187 | Matt Glantz | LAFAYETTE HILL, PA, US | 120800 | Pavilion / 177 / 6 |
| 188 | Daryl Roberts | Henderson, NV, US | 120600 | Amazon / 520 / 3 |
| 189 | Barny Boatman | HENDON, GB | 120000 | Pavilion / 215 / 2 |
| 190 | Ali Eslami | VAN NUYS, CA, US | 119900 | Pavilion / 247 / 5 |
| 191 | Jeremy Ausmus | LAS VEGAS, NV, US | 119800 | Pavilion / 139 / 4 |
| 192 | Federico Quevedo | CR | 119200 | Pavilion / 219 / 4 |
| 193 | Chris Lindh | LAS VEGAS, NV, US | 119000 | Pavilion / 231 / 6 |
| 194 | Christian Conrad | Rochester, NY, US | 118500 | Pavilion / 165 / 9 |
| 195 | Michael Ehrhart | Houston, TX, US | 118400 | Amazon / 478 / 7 |
| 196 | Pim Gieles | Rotteedam, , NR | 118100 | Pavilion / 125 / 9 |
| 197 | Brian Smithx | NEW YORK, NY, US | 117800 | Pavilion / 100 / 2 |
| 198 | Jim Carroll | FRISCO, TX, US | 117100 | Pavilion / 247 / 1 |
| 199 | Yaji Ren | Ithaca, NY, US | 117000 | Pavilion / 127 / 4 |
| 200 | Alexander Krisak | INDIANA, PA, US | 117000 | Amazon / 515 / 2 |
| 201 | Morten Mortensen | COPENHAGEN, DK | 116900 | Pavilion / 185 / 5 |
| 202 | Blaz Zerjav | SI | 116800 | Pavilion / 183 / 6 |
| 203 | Tyler Dickinson | La Crosse, WI, US | 116700 | Pavilion / 242 / 6 |
| 204 | Allen Cunningham | LAS VEGAS, NV, US | 116700 | Amazon / 505 / 1 |
| 205 | Uri Reichenstein | Tel Aviv, IL | 116500 | Amazon / 422 / 5 |
| 206 | Parker Drew | HARRISON, NY, US | 116400 | Pavilion / 269 / 9 |
| 207 | Andrew Graham | Westford, MA, US | 116100 | Pavilion / 215 / 6 |
| 208 | Brett Maistri | Wellington, FL, US | 115600 | Amazon / 414 / 9 |
| 209 | Sarah Bilney | MELBOURNE, , AU | 115400 | Pavilion / 180 / 2 |
| 210 | Anthony March | Tampa, FL, US | 115000 | Pavilion / 199 / 4 |
| 211 | Kindah Sakkal | Lynnwood, WA, US | 115000 | Amazon / 494 / 6 |
| 212 | Tony Dunst | LAS VEGAS, NV, US | 114900 | Pavilion / 116 / 7 |
| 213 | Maged Botros | Wichita, KS, US | 114800 | Pavilion / 138 / 7 |
| 214 | Hiren Patel | CAROL STREAM, IL, US | 114800 | Pavilion / 219 / 2 |
| 215 | Mark Gerecke | Henderson, NV, US | 114700 | Pavilion / 210 / 6 |
| 216 | Eduards Kudrjavcevs | Katlakalns, , LV | 114200 | Pavilion / 110 / 7 |
| 217 | Matthew Farmer | SUGAR GROVE, IL, US | 114200 | Pavilion / 131 / 5 |
| 218 | Mark Stockton | Las Vegas, NV, US | 113900 | Amazon / 434 / 8 |
| 219 | Clayton Saliba | San Antonio, TX, US | 113800 | Pavilion / 187 / 5 |
| 220 | Lawrence Scholl | PALATINE, IL, US | 113700 | Pavilion / 110 / 4 |
| 221 | Arlie Shaban | Stouffville, , CA | 113600 | Pavilion / 132 / 6 |
| 222 | Cecil Gabbidon | Brooklyn, NY, US | 113600 | Pavilion / 161 / 1 |
| 223 | Jeffrey Schwimmer | Valley Vlg, CA, US | 112900 | Pavilion / 186 / 5 |
| 224 | Adam Cress | San Francisco, CA, US | 112800 | Pavilion / 227 / 7 |
| 225 | Roberto Perez | Don Benito, ES | 112500 | Amazon / 415 / 7 |
| 226 | Dennis Rubba | London, GB | 111400 | Pavilion / 170 / 6 |
| 227 | Alon Eldar | Timrat, , IL | 111300 | Pavilion / 217 / 2 |
| 228 | Mark Stevens | ADA, MI, US | 111000 | Pavilion / 162 / 4 |
| 229 | Donald Blum | Fountain Valley, CA, US | 110800 | Pavilion / 114 / 9 |
| 230 | James Whittinghill | RUSSELVILLE, KY, US | 110600 | Pavilion / 137 / 2 |
| 231 | Scott Sanders | Santa Clara, CA, US | 110500 | Pavilion / 243 / 5 |
| 232 | Elias Gutierrez | Georgia, , CH | 110100 | Pavilion / 147 / 6 |
| 233 | William Pengelly | Southlake, TX, US | 110000 | Amazon / 491 / 2 |
| 234 | Carl Cajuste | Dania Beach, FL, US | 110000 | Amazon / 425 / 3 |
| 235 | Kalidou Sow | Lhay Les Roses, , FR | 110000 | Amazon / 418 / 3 |
| 236 | Salvatore Popolo | ALBERTSON, NY, US | 109900 | Pavilion / 216 / 8 |
| 237 | Jason Lester | AVENTURA, FL, US | 109700 | Pavilion / 170 / 2 |
| 238 | Nick Caltabiano | CLAY, NY, US | 109600 | Pavilion / 202 / 3 |
| 239 | Brian Rast | Las Vegas, NV, US | 109100 | Pavilion / 103 / 8 |
| 240 | Nghia Le (FL) | Jacksonville, FL, US | 109100 | Pavilion / 243 / 2 |
| 241 | Brett Bader | Jericho, NY, US | 108700 | Pavilion / 258 / 3 |
| 242 | Katharina Clark | Woodland Hills, CA, US | 108600 | Amazon / 476 / 1 |
| 243 | George Burroughs | Jefferson, GA, US | 108600 | Amazon / 432 / 6 |
| 244 | Roi Perran | SASKATOON, SK, CA | 108500 | Pavilion / 187 / 8 |
| 245 | Kelly Andrews | Florence, SC, US | 108500 | Pavilion / 111 / 9 |
| 246 | Eric Barnes | KENOSHA, WI, US | 108300 | Pavilion / 198 / 6 |
| 247 | Daniel Jordan | Albany, NY, US | 108300 | Pavilion / 151 / 1 |
| 248 | Adam Sherman | Seattle, WA, US | 108200 | Pavilion / 114 / 3 |
| 249 | Joonas Helin | ESPOO, , FI | 108200 | Pavilion / 194 / 2 |
| 250 | Camilla Reventlow | DK | 108100 | Pavilion / 180 / 5 |
| 251 | Artem Skakun | RU | 108000 | Pavilion / 123 / 6 |
| 252 | Kristofer Kneele | Cornwall On Hudson, NY, US | 107400 | Pavilion / 166 / 4 |
| 253 | Alexander Ziskin | Vernon Hills, IL, US | 107100 | Pavilion / 232 / 3 |
| 254 | Thomas Haarstad | Norway, , NO | 106800 | Amazon / 423 / 4 |
| 255 | Michael Rossitto | Brooklyn, NY, US | 106700 | Amazon / 441 / 2 |
| 256 | Matt Livingston | NORTH LAS VEGAS, NV, US | 106600 | Pavilion / 245 / 6 |
| 257 | Richard Tinsley | Los Gatos, CA, US | 106500 | Pavilion / 156 / 3 |
| 258 | Jeffrey Tugwell | Redding, CA, US | 105700 | Pavilion / 149 / 4 |
| 259 | Craig Hartman | SYRACUSE, IN, US | 105500 | Pavilion / 133 / 6 |
| 260 | Jason Pritchard | NORTH WILLOUGHBY, AU | 105500 | Pavilion / 270 / 3 |
| 261 | James Calderaro | VENICE, FL, US | 105300 | Pavilion / 173 / 1 |
| 262 | Jacqueline Burkhart | Boring, OR, US | 105100 | Amazon / 442 / 7 |
| 263 | Anna Antimony | Fort Lee, NJ, US | 105000 | Pavilion / 206 / 8 |
| 264 | John Andress | DOYLESTOWN, PA, US | 104900 | Pavilion / 217 / 7 |
| 265 | Jerod Smith | Troy, IL, US | 104700 | Amazon / 412 / 6 |
| 266 | Donald Schiavone | Brookings, OR, US | 104000 | Amazon / 475 / 3 |
| 267 | Aki Pyysing | Helsinki, , FI | 104000 | Pavilion / 187 / 4 |
| 268 | Wayne Whittinghill | RUSSELLVILLE, KY, US | 103900 | Amazon / 438 / 8 |
| 269 | Andrew Hulme | Stamford, , GB | 103700 | Pavilion / 194 / 5 |
| 270 | Louis Papadelias | Pensacola, FL, US | 103700 | Amazon / 495 / 1 |
| 271 | David Manikos | North Bergen, NJ, US | 103600 | Amazon / 474 / 6 |
| 272 | Zaher Sayegh | Northridge, CA, US | 103400 | Amazon / 516 / 7 |
| 273 | Sepande Mochaver | New York, NY, US | 103200 | Pavilion / 148 / 4 |
| 274 | Tony Bracy | W, SACRAMENTO, CA, US | 103200 | Pavilion / 117 / 7 |
| 275 | Matthew Moss | LONDON, GB | 103000 | Pavilion / 203 / 3 |
| 276 | Stephen Ma | IOWA CITY, IA, US | 103000 | Amazon / 449 / 3 |
| 277 | Dmytro Lytvynov | Kharkiv, , GB | 102600 | Amazon / 500 / 1 |
| 278 | Veerab Zakarian | Toronto, ON, CA | 102500 | Amazon / 513 / 2 |
| 279 | Bradley Golomb | CENTRAL, SC, US | 102500 | Pavilion / 103 / 4 |
| 280 | Bahman Jahanguiri | PLANO, TX, US | 102300 | Pavilion / 157 / 6 |
| 281 | Christopher Hayes | Melbourne, FL, US | 102100 | Amazon / 496 / 1 |
| 282 | Michael Blake | Broomfield, CO, US | 102000 | Pavilion / 187 / 9 |
| 283 | Colin McHugh | Las Vegas, NV, US | 101700 | Pavilion / 214 / 1 |
| 284 | Dmitrii Kamalov | Menlo Park, CA, US | 101600 | Pavilion / 134 / 3 |
| 285 | Colbey Cleckler | Gulf Shores, AL, US | 101300 | Amazon / 413 / 4 |
| 286 | Arron Woodcock | LONDON, GB | 101200 | Pavilion / 115 / 5 |
| 287 | David Valone | New Haven, CT, US | 101200 | Pavilion / 110 / 1 |
| 288 | Jeffrey Pringle | Birmingham, AL, US | 101200 | Pavilion / 107 / 5 |
| 289 | Jeffrey Dewitt | REDMOND, WA, US | 101100 | Amazon / 426 / 2 |
| 290 | Sebastian Percy-Smith | Copenhagen, DK | 101000 | Amazon / 484 / 4 |
| 291 | Gereon Sowa | DE | 101000 | Pavilion / 247 / 4 |
| 292 | Kristina Holst | PALO ALTO, CA, US | 101000 | Pavilion / 245 / 5 |
| 293 | Eric Garma | HENDERSON, NV, US | 100800 | Pavilion / 104 / 5 |
| 294 | Andrey Pateychuk | MOSCOW, RU | 100800 | Pavilion / 209 / 8 |
| 295 | Jarod Einsohn | North Hollywood, CA, US | 100700 | Amazon / 455 / 2 |
| 296 | Loc Nguyen | Houston, TX, US | 100600 | Pavilion / 123 / 8 |
| 297 | Keith Sims | NAVARRE, FL, US | 100400 | Pavilion / 205 / 4 |
| 298 | Brian Dennis | EGG HARBOR CITY, NJ, US | 100200 | Pavilion / 201 / 2 |
| 299 | Joseph Palma | Bensalem, PA, US | 100100 | Pavilion / 191 / 6 |
| 300 | Craig McCorkell | WEST SUSSEX, GB | 100000 | Pavilion / 208 / 3 |
| 301 | Romain Nussmann | SAINT MARTIAN RE VIMOUX, , | 100000 | Pavilion / 270 / 6 |
| 302 | Vladimir Geshkenbein | MOSCOW, RU | 100000 | Amazon / 479 / 4 |
| 303 | Michael Sanders | Russellville, AR, US | 99900 | Amazon / 492 / 3 |
| 304 | Paul Smith | Nashville, TN, US | 99900 | Pavilion / 133 / 7 |
| 305 | Florian Fuchs | Vienna, MA, AT | 99500 | Pavilion / 189 / 1 |
| 306 | Omri Moga | Dollard-Des-Ormeaux, QC, CA | 99100 | Pavilion / 243 / 6 |
| 307 | Ruslan Gazaev | Moscow, , RU | 99100 | Pavilion / 109 / 1 |
| 308 | Troy Brandwein | Staten Island, NY, US | 98900 | Pavilion / 105 / 7 |
| 309 | Hoyt Corkins | GLENWOOD, AL, US | 98800 | Pavilion / 187 / 3 |
| 310 | Casey Diener | LAS VEGAS, NV, US | 98400 | Amazon / 429 / 2 |
| 311 | Qing Lu | Walnut, CA, US | 98300 | Amazon / 464 / 4 |
| 312 | Robert Mitchell | HENDERSON, NV, US | 98300 | Amazon / 422 / 1 |
| 313 | Michael Stein | Evans, GA, US | 98000 | Pavilion / 168 / 3 |
| 314 | Shintaro Baba | Hakataku, , JP | 97800 | Pavilion / 121 / 9 |
| 315 | Beau Wilshire | Shawnee, KS, US | 97700 | Pavilion / 135 / 6 |
| 316 | David Singontiko | Chatsworth, CA, US | 97600 | Pavilion / 106 / 2 |
| 317 | Vadim Baranovsky | VALLEY VILLAGE, CA, US | 97400 | Pavilion / 196 / 6 |
| 318 | Huidong Gu | MO | 97200 | Pavilion / 173 / 9 |
| 319 | Chao Duan | Jiangxi, CN | 96900 | Pavilion / 162 / 8 |
| 320 | Benjamin Grise | INDIANAPOLIS, IN, US | 96500 | Pavilion / 102 / 9 |
| 321 | Armin Rezaei | Leibnitz, , AT | 96300 | Amazon / 490 / 8 |
| 322 | Rene Lazaro | Budapest, , HU | 96300 | Amazon / 465 / 4 |
| 323 | Justin Bonomo | Las Vegas, NV, US | 96000 | Pavilion / 157 / 3 |
| 324 | James Buckley | LOS ANGELES, CA, US | 95900 | Pavilion / 139 / 9 |
| 325 | Denise Pratt | Olive Branch, MS, US | 95700 | Amazon / 507 / 2 |
| 326 | Neel Choksi | Chicago, IL, US | 95600 | Amazon / 454 / 7 |
| 327 | James Cavanaugh | SANTA ROSA, CA, US | 95500 | Pavilion / 172 / 3 |
| 328 | Carl Brewington | NASHVILLE, TN, US | 95400 | Amazon / 511 / 4 |
| 329 | Jonathan Martinelli | N Las Vegas, NV, US | 95100 | Pavilion / 228 / 9 |
| 330 | Joshua Boulton | GB | 95000 | Pavilion / 270 / 5 |
| 331 | Chris Moneymaker | LAKELAND, TN, US | 95000 | Amazon / 442 / 2 |
| 332 | Christine Gresko | Ancaster, ON, CA | 95000 | Pavilion / 148 / 1 |
| 333 | Jorge Cuello | UY | 94800 | Pavilion / 159 / 5 |
| 334 | Janjoost Vandenbogert | London, , GB | 94600 | Amazon / 473 / 2 |
| 335 | Brent Roberts | LAS VEGAS, NV, US | 94300 | Pavilion / 120 / 7 |
| 336 | Jordan Kaplan | Staten Island, NY, US | 94200 | Pavilion / 232 / 5 |
| 337 | Craig Spalding | EVANSVILLE, IN, US | 93700 | Pavilion / 143 / 1 |
| 338 | Robert Hankins | MURFREESBORO, TN, US | 93000 | Pavilion / 120 / 9 |
| 339 | Tomer Daniel | SHERMAN OAKS, CA, US | 92600 | Pavilion / 165 / 8 |
| 340 | Patrick Ledbetter | Las Vegas, NV, US | 92600 | Pavilion / 210 / 9 |
| 341 | Fevzi Gulsen | Evansville, IN, US | 92500 | Pavilion / 194 / 7 |
| 342 | Michael Marvanek | Strafford, VT, US | 92400 | Pavilion / 190 / 3 |
| 343 | Samuel Devers | FENTON, MO, US | 92300 | Amazon / 494 / 2 |
| 344 | Michael Dinardi | Hillsborough, NJ, US | 92200 | Pavilion / 178 / 2 |
| 345 | Alexander Turyansky | SOURBRUDEN, , DE | 92200 | Pavilion / 148 / 7 |
| 346 | Andreas Wagner | DE | 91800 | Pavilion / 213 / 1 |
| 347 | Andrei Razov | Moscow, , RU | 91500 | Pavilion / 206 / 7 |
| 348 | Michael Lang | Waukee, IA, US | 91200 | Pavilion / 149 / 6 |
| 349 | Nicholas Petitti | DENVER, CO, US | 91000 | Pavilion / 191 / 4 |
| 350 | Hunter Frey | HOUSTON, TX, US | 90600 | Pavilion / 149 / 3 |
| 351 | Xiaowei Tan | Shanghai, , KM | 90000 | Pavilion / 169 / 7 |
| 352 | Michael Higginson | Melbourne, NH, AT | 89800 | Pavilion / 179 / 9 |
| 353 | Jacky Jiang | Richmond, BC, CA | 89700 | Pavilion / 176 / 3 |
| 354 | Jeffrey Smith | ENCINITAS, CA, US | 89400 | Pavilion / 212 / 5 |
| 355 | Yvonne Szumski | Villa Park, IL, US | 89300 | Pavilion / 163 / 2 |
| 356 | Kyle Knecht | CINCINNATI, OH, US | 89100 | Pavilion / 243 / 3 |
| 357 | Paulo Villena | Valencia, ES | 89000 | Pavilion / 218 / 9 |
| 358 | Paulius Plausinaitis | Lekeciai, , LT | 89000 | Amazon / 446 / 8 |
| 359 | Zachery Wall | Lonoke, AR, US | 88800 | Pavilion / 228 / 4 |
| 360 | Natalia Breviglieri | GB | 88600 | Pavilion / 196 / 4 |
| 361 | Sean Magee | Allentown, PA, US | 88500 | Pavilion / 108 / 1 |
| 362 | Igor Merda | CZ | 88200 | Amazon / 512 / 3 |
| 363 | Chris Johnson | LAS VEGAS, NV, US | 88100 | Amazon / 489 / 6 |
| 364 | Ryan Dodge | AUSTIN, TX, US | 88000 | Pavilion / 160 / 2 |
| 365 | Matt Waxman | Fort Lauderdale, FL, US | 87900 | Amazon / 491 / 6 |
| 366 | Jonathan Bryan | Red Bank, NJ, US | 87800 | Amazon / 455 / 6 |
| 367 | Kevin Rabichow | Dzerzhinsk, , RU | 87500 | Amazon / 460 / 3 |
| 368 | Thomas Gabriel | GAINESVILLE, FL, US | 87300 | Pavilion / 218 / 7 |
| 369 | Heidi May | Hobart, AU | 87300 | Pavilion / 259 / 2 |
| 370 | Gary Fisher | LONDON, , GB | 87100 | Amazon / 498 / 4 |
| 371 | Sebastian Pauli | Dortmund, DE | 87000 | Amazon / 466 / 6 |
| 372 | Robert Georato | Naples, FL, US | 86600 | Pavilion / 197 / 4 |
| 373 | Dan Schmiech | HOUSTON, TX, US | 86400 | Amazon / 443 / 8 |
| 374 | Aharon Tsveniashvili | IL | 86300 | Amazon / 446 / 2 |
| 375 | Thomas Cardona | UPLAND, CA, US | 86300 | Amazon / 447 / 1 |
| 376 | Keith Gipson | LAS VEGAS, NV, US | 86300 | Amazon / 445 / 1 |
| 377 | Steven Larro | Vineland, NJ, US | 85900 | Pavilion / 179 / 4 |
| 378 | Alexander Tumay | New York, NY, US | 85900 | Pavilion / 201 / 3 |
| 379 | Dennis Cronin | HONEY BROOK, PA, US | 85700 | Pavilion / 105 / 6 |
| 380 | Michael Lavoie | Wolcott, CT, US | 85500 | Pavilion / 157 / 8 |
| 381 | Steven Forman | Del Mar, CA, US | 85400 | Pavilion / 213 / 8 |
| 382 | Thanh Tran | San Jose, CA, US | 85400 | Pavilion / 156 / 4 |
| 383 | Mark Nelson | Onl Signup-No City, CA, US | 85300 | Pavilion / 131 / 1 |
| 384 | Aaron Steury | FORT WAYNE, IN, US | 85300 | Pavilion / 142 / 7 |
| 385 | John Hall | Liverpool, , GB | 85200 | Pavilion / 192 / 5 |
| 386 | Zachary Donovan | Franklin, MA, US | 85100 | Pavilion / 207 / 6 |
| 387 | Bruno Gmur | CH | 85000 | Pavilion / 199 / 8 |
| 388 | Thomas Wheaton | LONGWOOD, FL, US | 84600 | Pavilion / 159 / 2 |
| 389 | Joshua Ahler | Spring Hill, TN, US | 84500 | Pavilion / 157 / 1 |
| 390 | William Gray | YUCAIPA, CA, US | 84300 | Pavilion / 112 / 6 |
| 391 | Kurt Lichtman | NEW YORK, NY, US | 84300 | Amazon / 510 / 4 |
| 392 | Bruce Hensel | Denver, CO, US | 84100 | Pavilion / 150 / 2 |
| 393 | Eric Hicks | El Segundo, CA, US | 84000 | Pavilion / 140 / 4 |
| 394 | Matthew Smith | CAYCE, SC, US | 83900 | Amazon / 493 / 1 |
| 395 | DID NOT REPORT 2 | US | 83800 | Amazon / 451 / 7 |
| 396 | Chris Foster | Calgary, AB, CA | 83700 | Pavilion / 143 / 7 |
| 397 | Joao Barbosa | PORTO, , PT | 83700 | Pavilion / 208 / 8 |
| 398 | Elise Rosen | NEW YORK, NY, US | 83700 | Pavilion / 106 / 8 |
| 399 | Terry Grimes | Yonkers, NY, US | 83600 | Pavilion / 214 / 5 |
| 400 | Domenico Maurici | Hallandale Beach, FL, US | 83300 | Pavilion / 216 / 1 |
| 401 | Icha Ux | Reno, NV, US | 83300 | Pavilion / 121 / 4 |
| 402 | Jonathan Borenstein | Teaneck, NJ, US | 83200 | Amazon / 422 / 6 |
| 403 | Nick DiVella | LAS VEGAS, NV, US | 83000 | Pavilion / 128 / 9 |
| 404 | Eric Lescot | Stanbruges, BE | 82900 | Pavilion / 138 / 6 |
| 405 | Derek Sudell | Greenwich, CT, US | 82800 | Pavilion / 184 / 7 |
| 406 | Thomas Syversen | Moelu, , NO | 82700 | Pavilion / 257 / 5 |
| 407 | Edward Paloian | ELMWOOD PARK, IL, US | 82500 | Amazon / 444 / 2 |
| 408 | Samuel Phillips | Columbus, OH, US | 82500 | Pavilion / 186 / 7 |
| 409 | Kevin MacPhee | COEUR D ALENE, ID, US | 82500 | Pavilion / 245 / 1 |
| 410 | Samuel Gagnon | Grand-Mere, , CA | 82500 | Pavilion / 156 / 6 |
| 411 | Robert Elias | Seaford, NY, US | 82500 | Pavilion / 200 / 9 |
| 412 | Colm Galloway | Beacon Hill, , AT | 82200 | Pavilion / 218 / 1 |
| 413 | Todd Sloane | Barrie, ON, CA | 81900 | Pavilion / 270 / 2 |
| 414 | Michael Sharabi | Millbrae, CA, US | 81900 | Pavilion / 190 / 9 |
| 415 | Franklin Yao | Hong Kong, CN | 81900 | Pavilion / 154 / 5 |
| 416 | Matthew Kassela | GERMANTOWN, TN, US | 81900 | Pavilion / 101 / 9 |
| 417 | Tim Finne | Westfield, NJ, US | 81900 | Pavilion / 257 / 6 |
| 418 | Doyle Elliott | Bradenton, FL, US | 81600 | Pavilion / 152 / 9 |
| 419 | Khang Pham | SANTA ANA, CA, US | 81600 | Pavilion / 163 / 6 |
| 420 | Jonathan Pence | Lawrenceburg, IN, US | 81400 | Pavilion / 101 / 7 |
| 421 | Timothy Flanders | PRESTON, GB | 81300 | Pavilion / 244 / 9 |
| 422 | Lanny Vaysman | Rego Park, NY, US | 81200 | Amazon / 507 / 8 |
| 423 | Andreas Hagen | HIRAM, ME, US | 80900 | Pavilion / 116 / 5 |
| 424 | Kyung Jung | AS | 80600 | Amazon / 516 / 4 |
| 425 | Jeffrey Surdez | DISCOVERY BAY, CA, US | 80600 | Amazon / 413 / 9 |
| 426 | Tate Reynolds | Newport, KY, US | 80500 | Pavilion / 219 / 1 |
| 427 | Ye Shen | Pasadena, CA, US | 80100 | Pavilion / 191 / 9 |
| 428 | David James | Falling Waters, WV, US | 80100 | Pavilion / 154 / 1 |
| 429 | Steven Fuhrman | NAPLES, FL, US | 80000 | Pavilion / 202 / 5 |
| 430 | Simon Deadman | NOTTINGHAM, GB | 80000 | Pavilion / 181 / 7 |
| 431 | John Dunn | Midland, TX, US | 80000 | Pavilion / 165 / 3 |
| 432 | Brett Richey | NEW YORK, NY, US | 79800 | Amazon / 496 / 3 |
| 433 | William Cheeseman | EAST LANSING, MI, US | 79700 | Pavilion / 156 / 7 |
| 434 | Yevgeniy Fidchuk | RU | 79600 | Pavilion / 269 / 7 |
| 435 | Adam Ross (GA) | ROSWELL, GA, US | 79500 | Pavilion / 110 / 2 |
| 436 | Abhinav Iyer | Chennai, , IN | 79500 | Amazon / 483 / 3 |
| 437 | Pedro Tarantino Pimentel | Onl Signup-No City, CA, US | 78900 | Pavilion / 203 / 7 |
| 438 | Youcheng Jiang | TD | 78900 | Pavilion / 212 / 6 |
| 439 | Vincent Maglio | REVERE, MA, US | 78800 | Amazon / 481 / 3 |
| 440 | Matthew Gonzales | San Ramon, CA, US | 78700 | Pavilion / 139 / 5 |
| 441 | Scott Blackman | WEBSTER, NY, US | 78500 | Pavilion / 168 / 7 |
| 442 | Troy Quenneville | ST CLAIR BEACH, ON, CA | 78300 | Amazon / 496 / 7 |
| 443 | Tom Bedell | Benidorm, NO | 77700 | Pavilion / 199 / 3 |
| 444 | Steven Mavrikos | Brooklyn, NY, US | 77600 | Pavilion / 242 / 1 |
| 445 | Mark Fowler | Roseville, MI, US | 77600 | Pavilion / 100 / 1 |
| 446 | Katharina Sohren | Hamburg, , DE | 77600 | Pavilion / 123 / 9 |
| 447 | Kiran Majmudar | VISTA, CA, US | 77400 | Pavilion / 227 / 8 |
| 448 | David Margi | Gan Yaune, , IL | 77400 | Amazon / 521 / 8 |
| 449 | Matthew Wood | WHITBY, ON, CA | 77300 | Amazon / 419 / 6 |
| 450 | David Neiman | CA, US | 77300 | Pavilion / 142 / 1 |
| 451 | Adi Abugazal | Los Angeles, CA, US | 77200 | Pavilion / 153 / 2 |
| 452 | Marshall Schraibman | Saint Louis, MO, US | 76900 | Amazon / 416 / 6 |
| 453 | Joshua Greenberg | LAS VEGAS, NV, US | 76900 | Pavilion / 219 / 7 |
| 454 | Michael Maresca | Wyckoff, NJ, US | 76700 | Pavilion / 112 / 9 |
| 455 | David Knudsen | Pottstown, PA, US | 76600 | Pavilion / 150 / 1 |
| 456 | Kao Saechao | Portland, OR, US | 76500 | Pavilion / 140 / 6 |
| 457 | Fabian Gumz | DE | 76400 | Amazon / 500 / 3 |
| 458 | Romuaid Pycior | HENDERSON, NV, US | 76300 | Amazon / 455 / 4 |
| 459 | Jay Farber | SANTA BARBARA, CA, US | 76300 | Pavilion / 232 / 1 |
| 460 | Corey Thompson | WINTER PARK, FL, US | 76200 | Pavilion / 107 / 7 |
| 461 | Austin Morin | Virginia Bch, VA, US | 76200 | Amazon / 454 / 1 |
| 462 | Hye Park | Holmdel, NJ, US | 76000 | Pavilion / 158 / 8 |
| 463 | Daniel Melten | Brighton, , DE | 75600 | Amazon / 480 / 1 |
| 464 | Jerry Burgess | WAKE FOREST, NC, US | 75100 | Pavilion / 167 / 9 |
| 465 | Craig Strobel | SAN CARLOS, AZ, US | 75100 | Pavilion / 199 / 6 |
| 466 | David Roepke | TROY, TX, US | 75000 | Amazon / 451 / 6 |
| 467 | Anders Wessman | CH | 74800 | Pavilion / 172 / 8 |
| 468 | Jason Strasser | NEW YORK, NY, US | 74700 | Pavilion / 192 / 1 |
| 469 | John Justice | Hermitage, TN, US | 74500 | Pavilion / 120 / 5 |
| 470 | Terrence Walsh | Wheaton, IL, US | 74500 | Amazon / 481 / 2 |
| 471 | Andrew Nguyen (Milpitas) | MILPITAS, CA, US | 74400 | Amazon / 215 / 5 |
| 472 | Aditya Prasetyo | Cambridge, MA, US | 74300 | Pavilion / 150 / 6 |
| 473 | Jony Farah | Medley, FL, US | 74200 | Pavilion / 102 / 5 |
| 474 | Matthew Brooks | Falls Church, VA, US | 74100 | Pavilion / 208 / 1 |
| 475 | Joey Spanne | DANVILLE, CA, US | 74100 | Pavilion / 120 / 8 |
| 476 | Adam Krach | LONGMEADOW, MA, US | 74000 | Amazon / 521 / 2 |
| 477 | Tim Lim | Nashville, TN, US | 73900 | Pavilion / 195 / 1 |
| 478 | Dan Santoro | NORTH BELLMORE, NY, US | 73700 | Pavilion / 184 / 3 |
| 479 | Elio Fox | NEW YORK, NY, US | 73400 | Pavilion / 181 / 9 |
| 480 | David Hay | Peoria, AZ, US | 73400 | Pavilion / 190 / 4 |
| 481 | DID NOT REPORT 1 | US | 73200 | Pavilion / 192 / 3 |
| 482 | Maximilian Schierl | Schwawenstart, , AT | 73100 | Pavilion / 129 / 7 |
| 483 | Yaser Al-Keliddar | Arlington, VA, US | 72900 | Amazon / 517 / 4 |
| 484 | James Hundt | Philadelphia, PA, US | 72900 | Pavilion / 165 / 4 |
| 485 | Steven Sobel | TARZANA, CA, US | 72900 | Pavilion / 230 / 3 |
| 486 | Todd Dimartino | Alamo, CA, US | 72500 | Pavilion / 175 / 9 |
| 487 | Gabriel Johnson | Naperville, IL, US | 72500 | Pavilion / 268 / 3 |
| 488 | Martins Kleins | LV | 72500 | Pavilion / 166 / 2 |
| 489 | Jennifer Shahade | PHILADELPHIA, PA, US | 72400 | Pavilion / 153 / 9 |
| 490 | Maksim Prokhorov | Moscow, , RU | 72300 | Amazon / 480 / 2 |
| 491 | Scott Mahin | Elk Point, SD, US | 72300 | Pavilion / 246 / 6 |
| 492 | Hans Joachim Hein | SEHNDE, DE | 72300 | Pavilion / 154 / 2 |
| 493 | Milos Skrbic | Sremska Mitrovica, RS | 72200 | Pavilion / 130 / 7 |
| 494 | John Anderson | Onl Signup-No City, MD, US | 72100 | Pavilion / 268 / 9 |
| 495 | Denis Ethier | LAS VEGAS, NV, US | 72000 | Amazon / 434 / 7 |
| 496 | Alex Bolotin | BROOKLYN, NY, US | 72000 | Amazon / 458 / 3 |
| 497 | Francisco Araujo | Buenos Aires, AR | 72000 | Pavilion / 268 / 4 |
| 498 | Andjelko Andrejevic | Miami, FL, US | 72000 | Pavilion / 126 / 5 |
| 499 | Robert Black | Kingston, ON, CA | 71900 | Pavilion / 161 / 5 |
| 500 | Charles Sickmeir | EVANSVILLE, IN, US | 71800 | Amazon / 439 / 6 |
| 501 | William Mcmahon | San Marcos, CA, US | 71700 | Amazon / 498 / 6 |
| 502 | Stuart Marshak | CHICAGO, IL, US | 71500 | Amazon / 456 / 4 |
| 503 | Santiago Soriano | Barcelona, ES | 71300 | Pavilion / 204 / 8 |
| 504 | George Mcdonald | Glasgow, , GB | 71200 | Pavilion / 229 / 9 |
| 505 | Daniel Wendorf | GB | 71200 | Amazon / 459 / 4 |
| 506 | Endri Foto | Albany, NY, US | 71100 | Pavilion / 243 / 7 |
| 507 | Shane Douglas | PRIEST RIVER, ID, US | 71100 | Amazon / 513 / 4 |
| 508 | Daniel Monosson | PLAINVIEW, NY, US | 71000 | Pavilion / 214 / 9 |
| 509 | Ning Sun | Beijing, , TD | 70800 | Pavilion / 118 / 8 |
| 510 | Angela Jordison | TERREBONNE, OR, US | 70600 | Pavilion / 197 / 5 |
| 511 | Jacob Mcdonald | Dallas, OR, US | 70500 | Amazon / 447 / 6 |
| 512 | Scott Herbertson | Danville, CA, US | 70100 | Pavilion / 167 / 2 |
| 513 | Eric Semel | LOS ANGELES, CA, US | 70000 | Amazon / 453 / 7 |
| 514 | Chanracy Khun | LAVAL, QC, CA | 70000 | Pavilion / 142 / 9 |
| 515 | Jakob Madsen | Aarhus, , DK | 69700 | Pavilion / 228 / 8 |
| 516 | Nicholas Skyllas | West Nyack, NY, US | 69700 | Pavilion / 112 / 3 |
| 517 | Tom Koral | SKOKIE, IL, US | 69600 | Amazon / 413 / 1 |
| 518 | Aleksandr Shevliakov | Sarator, , RU | 69600 | Pavilion / 169 / 5 |
| 519 | Garrett Greer | New Port Beach, CA, US | 69300 | Pavilion / 103 / 2 |
| 520 | Ivan Emanuely | FR | 69200 | Amazon / 471 / 3 |
| 521 | Alan Wentz | Lancaster, OH, US | 69100 | Pavilion / 196 / 8 |
| 522 | Richard Thomas | Wickenburg, AZ, US | 69000 | Pavilion / 157 / 4 |
| 523 | Stefan Huber | SCHLIEREN, , CH | 69000 | Pavilion / 159 / 1 |
| 524 | Elena Stover | OAKLAND, CA, US | 68900 | Pavilion / 183 / 9 |
| 525 | Nenad Cvetkovic | Atlantic City, NJ, US | 68900 | Amazon / 489 / 2 |
| 526 | Anthony Hu | Las Vegas, NV, US | 68800 | Pavilion / 257 / 3 |
| 527 | Nabih Zaczac | BAL HARBOUR, FL, US | 68600 | Pavilion / 231 / 8 |
| 528 | Veselin Karakitukov | Plodiv, BG | 68500 | Pavilion / 148 / 3 |
| 529 | Christopher Brewer | Eugene, OR, US | 68400 | Pavilion / 217 / 5 |
| 530 | Christopher Barrett | Hartford, CT, US | 68300 | Amazon / 482 / 3 |
| 531 | Austin Lewis | WACO, TX, US | 68300 | Pavilion / 168 / 1 |
| 532 | Jason Les | COSTA MESA, CA, US | 68100 | Pavilion / 183 / 8 |
| 533 | Alistair Hill | REDLAND BRISTOL, , GB | 68100 | Pavilion / 259 / 9 |
| 534 | Frank Papasodero | Fort Myers, FL, US | 68000 | Amazon / 425 / 9 |
| 535 | Michael Dunn | Lafayette, CO, US | 67900 | Pavilion / 145 / 2 |
| 536 | William Mitchell | Jefferson, SC, US | 67600 | Pavilion / 243 / 8 |
| 537 | Yaron Wasserman | Key West, FL, US | 67500 | Amazon / 478 / 1 |
| 538 | Michael Graffeo | FORT MILL, SC, US | 67200 | Pavilion / 160 / 6 |
| 539 | Brandon Newsome | POWDER SPRING, GA, US | 67200 | Pavilion / 141 / 8 |
| 540 | Leonard Sande | WEST HAVEN, CT, US | 67100 | Pavilion / 203 / 2 |
| 541 | Ahmad Popal | Plano, TX, US | 66800 | Pavilion / 146 / 4 |
| 542 | Justin Hutton | Edmond, OK, US | 66700 | Pavilion / 194 / 8 |
| 543 | Antonio Graziano | Onl Signup-No City, RI, US | 66700 | Pavilion / 181 / 3 |
| 544 | Carson Ha | Vancouver, , CA | 66500 | Amazon / 489 / 3 |
| 545 | Andrew Sullivan | Las Vegas, NV, US | 66400 | Amazon / 475 / 7 |
| 546 | Edward Ross | LOS GATOS, CA, US | 66100 | Pavilion / 186 / 2 |
| 547 | William Thompson | VALLEY PARK, MO, US | 66100 | Pavilion / 196 / 9 |
| 548 | Raul Martinez | London, GB | 66000 | Pavilion / 141 / 7 |
| 549 | Matthew Volosevich | RICHMOND, VA, US | 66000 | Pavilion / 114 / 2 |
| 550 | Kunal Jain | HK | 65800 | Pavilion / 268 / 1 |
| 551 | Nate Bandy | Chattanooga, TN, US | 65800 | Pavilion / 123 / 1 |
| 552 | Artur Coelho | PT | 65700 | Amazon / 441 / 6 |
| 553 | Alan Brodsky | Rochester, NY, US | 65500 | Amazon / 500 / 8 |
| 554 | Karl Tretter | BELLEROSE, NY, US | 65400 | Pavilion / 146 / 1 |
| 555 | Mo Chen | Shanghai, , KM | 65200 | Pavilion / 218 / 6 |
| 556 | Dennis Zollo | MIDDLETOWN, NY, US | 65100 | Pavilion / 218 / 3 |
| 557 | Adam Johnson | Kansas City, MO, US | 65000 | Pavilion / 245 / 9 |
| 558 | Mark Owens | CHICAGO, IL, US | 64900 | Pavilion / 160 / 9 |
| 559 | Joshua Thibodaux | Thibodaux, LA, US | 64900 | Pavilion / 125 / 6 |
| 560 | Kento Mori | Kawasakishi, , JP | 64700 | Amazon / 424 / 3 |
| 561 | Zu Zhou | Temple City, CA, US | 64400 | Pavilion / 232 / 2 |
| 562 | Trung Tran | Houston, TX, US | 64300 | Pavilion / 104 / 1 |
| 563 | Max Steinberg | Benicia, CA, US | 64300 | Pavilion / 196 / 7 |
| 564 | Jared Griener | Santa Ana, CA, US | 64200 | Pavilion / 125 / 1 |
| 565 | Daniel Choi | Las Vegas, NV, US | 64200 | Pavilion / 163 / 3 |
| 566 | Weiyi Mo | Catskill, NY, US | 64100 | Amazon / 518 / 6 |
| 567 | Cyril Andre | LONDON, , GB | 64100 | Amazon / 498 / 7 |
| 568 | Ben Yu | LAS VEGAS, NV, US | 63600 | Pavilion / 199 / 7 |
| 569 | Jakob Miegel | Fred, , DE | 63100 | Pavilion / 174 / 6 |
| 570 | Andrew Flaherty | OVERLAND PARK, KS, US | 62900 | Pavilion / 172 / 5 |
| 571 | Alan Cummins | Trophy Club, TX, US | 62500 | Amazon / 441 / 4 |
| 572 | Chris Marrone | Marlton, New Jersey, US | 62400 | Amazon / 469 / 3 |
| 573 | Randall Emmett | BEVERLY HILLS, CA, US | 62300 | Amazon / 432 / 8 |
| 574 | Ying Jin | Las Vegas, NV, US | 62300 | Pavilion / 188 / 6 |
| 575 | Severin Schleser | Wien, AT | 62200 | Amazon / 442 / 4 |
| 576 | Sean Connell | Saint Leonard, MD, US | 62100 | Pavilion / 245 / 2 |
| 577 | Silvio Crisari | ROME, , IT | 62000 | Amazon / 463 / 3 |
| 578 | Viktor Rau | REGENSBURG, , DE | 61900 | Pavilion / 243 / 1 |
| 579 | Marc Emond | SCARSDALE, NY, US | 61900 | Pavilion / 230 / 5 |
| 580 | Stephan Kohlstetter | DE | 61800 | Amazon / 474 / 2 |
| 581 | Georgios Kitsios | GR | 61700 | Amazon / 427 / 2 |
| 582 | Damian Salas | BUENOS AIRES, , AR | 61500 | Pavilion / 213 / 3 |
| 583 | Jurgen Wenigwieser | AT | 61400 | Pavilion / 115 / 3 |
| 584 | Kyle Nelson | Exira, IA, US | 61300 | Pavilion / 166 / 6 |
| 585 | Louis Decanio | Pahrump, NV, US | 61000 | Pavilion / 229 / 7 |
| 586 | Ivonir Bento | Toledo, , BR | 61000 | Amazon / 450 / 4 |
| 587 | Richard Sheils | Erdington, , GB | 60900 | Amazon / 487 / 3 |
| 588 | Roland Deslippe | LAS VEGAS, NV, US | 60800 | Pavilion / 198 / 7 |
| 589 | Truong Nguyen | ARVADA, CO, US | 60700 | Pavilion / 106 / 1 |
| 590 | Michel Dattani | PORTO, PT | 60700 | Amazon / 471 / 8 |
| 591 | Rick Vanbruggen | London, NL | 60600 | Pavilion / 102 / 2 |
| 592 | Justin Gavri | WASHINGTON, DC, US | 60500 | Pavilion / 214 / 6 |
| 593 | Bryan Devonshire | HENDERSON, NV, US | 60400 | Pavilion / 111 / 8 |
| 594 | Jeffrey Cullis | VINELAND, NJ, US | 60400 | Pavilion / 175 / 8 |
| 595 | Jason Cooper | Birmingham, , GB | 60300 | Amazon / 422 / 2 |
| 596 | Anthony Morzillo | Rockville Centre, NY, US | 60200 | Pavilion / 247 / 2 |
| 597 | Donnacha O'Dea | DUBLIN, , IE | 60000 | Amazon / 487 / 8 |
| 598 | Metin Aksoy | Brooklyn, NY, US | 60000 | Amazon / 512 / 2 |
| 599 | Andrew Rubin | HOLLYWOOD, FL, US | 60000 | Pavilion / 229 / 1 |
| 600 | Aaron Mathis | Lake Forest, CA, US | 60000 | Pavilion / 115 / 7 |
| 601 | Louis Pfaff | US | 60000 | Pavilion / 187 / 1 |
| 602 | Robert Flowers | MACOMB TOWNSHIP, MI, US | 60000 | Amazon / 491 / 1 |
| 603 | John Dapkus | MANHATTAN, IL, US | 59900 | Amazon / 470 / 8 |
| 604 | Daniel Chess | Delray Beach, FL, US | 59800 | Amazon / 415 / 3 |
| 605 | Kenneth Hicks | HUNTINGTON, WV, US | 59800 | Pavilion / 269 / 3 |
| 606 | Rodrigo Garcia | Buenos Aires, , GB | 59600 | Pavilion / 177 / 7 |
| 607 | Satchit Kapur | Delhi, , IN | 59100 | Amazon / 498 / 2 |
| 608 | Noah Bronstein | Bellevue, WA, US | 59000 | Pavilion / 141 / 2 |
| 609 | Donna Lawton | OGDEN, UT, US | 58800 | Pavilion / 269 / 1 |
| 610 | Matthew Bomeisl | Lutz, FL, US | 58700 | Amazon / 429 / 7 |
| 611 | Bryan Frenchak | The Woodlands, TX, US | 58300 | Pavilion / 242 / 9 |
| 612 | Vladimir Vasilyev | Watertown, MA, US | 58100 | Pavilion / 258 / 4 |
| 613 | Jonathan Fader | Brooklyn, NY, US | 57900 | Pavilion / 161 / 6 |
| 614 | Nestor Martinez | SEABROOK, TX, US | 57900 | Amazon / 455 / 1 |
| 615 | Stan Jablonski | HENDERSON, NV, US | 57900 | Amazon / 473 / 4 |
| 616 | Michael Debs | Troy, MI, US | 57900 | Amazon / 472 / 8 |
| 617 | Mike Gorodinsky | ST, LOUIS, MO, US | 57800 | Amazon / 450 / 6 |
| 618 | Tommy Hoard | Las Vegas, NV, US | 57700 | Pavilion / 227 / 5 |
| 619 | Mark Groner | LAKE OSWEGO, OR, US | 57700 | Pavilion / 182 / 6 |
| 620 | Adrian Buckley | WESTMINSTER, CO, US | 57500 | Amazon / 474 / 7 |
| 621 | Erik Seidel | HENDERSON, NV, US | 57400 | Amazon / 452 / 6 |
| 622 | Bertrand Rosique | Legosier, , FR | 57200 | Pavilion / 131 / 3 |
| 623 | Igor Grytsak | Kmarkiv, , GB | 57200 | Pavilion / 127 / 2 |
| 624 | Nicholas Augustino | Weston, FL, US | 57000 | Pavilion / 131 / 4 |
| 625 | Ye Zhan | Wuhan Hubei Pov, , KM | 56900 | Amazon / 519 / 1 |
| 626 | Rogen Chhabra | MADISON, MS, US | 56800 | Pavilion / 196 / 2 |
| 627 | Adrian Apmann | Vienna, AT | 56800 | Pavilion / 172 / 1 |
| 628 | Jeff Flannery | Erie, CO, US | 56700 | Pavilion / 149 / 8 |
| 629 | Barry Fleishman | ROCKVILLE, MD, US | 56700 | Pavilion / 120 / 1 |
| 630 | John Gordon | CLEARWATER, FL, US | 56700 | Pavilion / 213 / 9 |
| 631 | Alexander Fitzgerald | Bowie, MD, US | 56500 | Pavilion / 192 / 6 |
| 632 | Clayton Fletcher | NEW YORK, NY, US | 56400 | Pavilion / 111 / 2 |
| 633 | Brayden Gazlay | Scottsdale, AZ, US | 56300 | Pavilion / 100 / 4 |
| 634 | Taylor West | Austin, TX, US | 56300 | Amazon / 497 / 3 |
| 635 | David Papais | Darien, IL, US | 56200 | Pavilion / 174 / 2 |
| 636 | Paul Varano | OLYMPIA, WA, US | 56000 | Pavilion / 198 / 9 |
| 637 | Michael Coombs | Bremerton, WA, US | 56000 | Pavilion / 178 / 8 |
| 638 | Paul Balzano | SUNRISE, FL, US | 55700 | Pavilion / 142 / 3 |
| 639 | Giuseppe Liantonio | Marietta, GA, US | 55700 | Pavilion / 173 / 5 |
| 640 | Terence Etim | Tobacco Wharf, , GB | 55500 | Pavilion / 169 / 9 |
| 641 | Steve Zolotow | LAS VEGAS, NV, US | 55500 | Amazon / 518 / 1 |
| 642 | Jack Shea | PFAFFTOWN, NC, US | 55400 | Pavilion / 190 / 2 |
| 643 | Jean Souprayenmestry | Saint Gilles Les Bains, , FR | 55300 | Pavilion / 244 / 2 |
| 644 | Bruce Kramer | WESTMINSTER, CA, US | 55000 | Pavilion / 150 / 7 |
| 645 | Thomer Pidun | DE | 54800 | Pavilion / 166 / 8 |
| 646 | Nicholas Andricopulos | PALOS PARK, IL, US | 54800 | Pavilion / 204 / 9 |
| 647 | Matthew Zola | RIVERSIDE, CT, US | 54700 | Pavilion / 171 / 9 |
| 648 | Kevin Andriamahefa | Chicago, IL, US | 54600 | Pavilion / 189 / 6 |
| 649 | Koen Breed | NL | 54600 | Amazon / 487 / 7 |
| 650 | Thomas Amato | Somerset, MA, US | 54300 | Pavilion / 257 / 1 |
| 651 | Arsens Sakanjans | Riga, , LV | 54100 | Pavilion / 144 / 5 |
| 652 | Shuaipeng Fang | New York, NY, US | 54000 | Pavilion / 197 / 3 |
| 653 | Lawrence Wayne | HOUSTON, TX, US | 54000 | Pavilion / 232 / 8 |
| 654 | Kyle Burnside | SOMERSET, MA, US | 53500 | Amazon / 508 / 4 |
| 655 | Cheetom Mason | Eight Mile, AL, US | 53500 | Pavilion / 204 / 2 |
| 656 | Kami Hudson | Highland Village, TX, US | 53500 | Pavilion / 103 / 5 |
| 657 | Shay Sarusi | Encino, CA, US | 53400 | Pavilion / 149 / 7 |
| 658 | Gennadiy Dvosis | BELLEVUE, WA, US | 53300 | Pavilion / 127 / 8 |
| 659 | Mark Ader | NOVI, MI, US | 53200 | Pavilion / 242 / 7 |
| 660 | Monika Zukowicz | Gdyna, , PT | 53200 | Amazon / 466 / 1 |
| 661 | Peter Lee | RESTON, VA, US | 53100 | Pavilion / 119 / 8 |
| 662 | Jonas Mackoff | VANCOUVER, BC, CA | 53100 | Pavilion / 159 / 7 |
| 663 | Jacob Davis | Tigard, OR, US | 53100 | Pavilion / 131 / 7 |
| 664 | Don Himpele | Mahwah, NJ, US | 52900 | Amazon / 453 / 3 |
| 665 | Mathew Moore | Las Vegas, NV, US | 52700 | Pavilion / 126 / 1 |
| 666 | Fadi Hamad | DANVERS, IL, US | 52400 | Pavilion / 270 / 8 |
| 667 | Eric Roque | Bloomingdale, IL, US | 52300 | Amazon / 425 / 6 |
| 668 | Omiros Mairou | Leanyei, , AT | 52230 | Amazon / 514 / 7 |
| 669 | Gregory White | Warren, MI, US | 52200 | Pavilion / 232 / 4 |
| 670 | Dwayne Pelham | Fayetteville, NC, US | 52100 | Amazon / 433 / 7 |
| 671 | Steve Ryan | NEW YORK, NY, US | 52000 | Pavilion / 246 / 1 |
| 672 | Michael Gathy | BRUSSELS, BE | 52000 | Pavilion / 127 / 6 |
| 673 | Bryan Zuriff | Los Angeles, CA, US | 51800 | Pavilion / 228 / 6 |
| 674 | Tiffany Lee | Brooklyn, NY, US | 51700 | Pavilion / 122 / 6 |
| 675 | Brandon Taff | Appleton, WI, US | 51600 | Pavilion / 231 / 5 |
| 676 | Scott Montgomery | Ottawa, ON, CA | 51600 | Amazon / 492 / 6 |
| 677 | Thomas Yenowine | LOUISVILLE, KY, US | 51600 | Amazon / 443 / 3 |
| 678 | Tobias Hariefeld | London, GB | 51300 | Pavilion / 232 / 7 |
| 679 | Marc Goone | Chesterfield, MO, US | 51200 | Pavilion / 143 / 3 |
| 680 | Jay Romano | BOCA RATON, FL, US | 51000 | Pavilion / 128 / 8 |
| 681 | Adam Dipasquale | Windsor, ON, CA | 50900 | Pavilion / 144 / 8 |
| 682 | Per Hildebrand | MARSTA, SE | 50700 | Pavilion / 247 / 8 |
| 683 | William Richmond | San Bruno, CA, US | 50500 | Pavilion / 244 / 7 |
| 684 | David Savarese | Chestnut Ridge, NY, US | 50300 | Amazon / 453 / 2 |
| 685 | Marius Pospiech | TRIER, , DE | 50300 | Pavilion / 171 / 6 |
| 686 | Stephen Mitchell | LOUISVILLE, KY, US | 50300 | Pavilion / 118 / 9 |
| 687 | Abdulla Alemadi | QA | 50100 | Pavilion / 242 / 2 |
| 688 | Joel Micka | EVERETT, WA, US | 50000 | Pavilion / 194 / 9 |
| 689 | Neil Webber | AUSTIN, TX, US | 49800 | Amazon / 457 / 3 |
| 690 | Christopher Graydon | AU | 49800 | Pavilion / 195 / 8 |
| 691 | Jose Chavez | La Puente, CA, US | 49800 | Pavilion / 215 / 9 |
| 692 | Ali Shojania | SAN DIEGO, CA, US | 49700 | Pavilion / 176 / 8 |
| 693 | Ronald Lankin | Hatfield, PA, US | 49500 | Amazon / 463 / 7 |
| 694 | Jacob Ferro | N SYRACUSE, NY, US | 49400 | Pavilion / 227 / 1 |
| 695 | Benjamin Ludlow | New York, NY, US | 49300 | Amazon / 486 / 8 |
| 696 | Jamie Dawick | OAKVILLE, ON, CA | 49100 | Pavilion / 258 / 8 |
| 697 | Erick Lee | Los Angeles, CA, US | 48600 | Pavilion / 213 / 7 |
| 698 | Mark Mazza | US | 48600 | Amazon / 458 / 6 |
| 699 | Sean Dunwoodie | Woree, , AT | 48500 | Pavilion / 109 / 7 |
| 700 | David Scatchard | Scottsdale, AZ, US | 48300 | Amazon / 501 / 4 |
| 701 | Angel Ruiz | Valencia, , ES | 48200 | Amazon / 459 / 6 |
| 702 | Michael Delvecchio | Las Vegas, NV, US | 48200 | Pavilion / 188 / 7 |
| 703 | Kevin Berthelsen | Omaha, NE, US | 48100 | Pavilion / 212 / 8 |
| 704 | Jean Said | Dakar, SN | 48000 | Pavilion / 202 / 7 |
| 705 | Aaron Willson | Penlyn, CA, US | 47500 | Pavilion / 147 / 3 |
| 706 | Wissam Abraham | Doral, FL, US | 47500 | Pavilion / 231 / 7 |
| 707 | Alex Keating | SARATOGA, CA, US | 47200 | Pavilion / 203 / 6 |
| 708 | David Fricke | Springfield, VA, US | 47000 | Pavilion / 210 / 4 |
| 709 | Niel Mittelman | LIBERTYVILLE, IL, US | 47000 | Pavilion / 137 / 5 |
| 710 | Michael Jagroo | Sunny Isles Beach, FL, US | 47000 | Pavilion / 127 / 7 |
| 711 | Nathan Watson | SCUNTHORPE, GB | 46800 | Amazon / 486 / 2 |
| 712 | William Hjorth | Hale, MI, US | 46700 | Pavilion / 246 / 2 |
| 713 | Timothy Acker | LAS VEGAS, NV, US | 46600 | Pavilion / 128 / 2 |
| 714 | Doris Gresik | Scarborough, ME, US | 46400 | Amazon / 484 / 6 |
| 715 | Sean Spector | ENCINO, CA, US | 46400 | Amazon / 481 / 1 |
| 716 | Joshua Rosengarten | Marlboro, NJ, US | 46200 | Pavilion / 151 / 2 |
| 717 | Julie Bonnett | LA JOLLA, CA, US | 46100 | Pavilion / 210 / 5 |
| 718 | Edward Holyoke | BUELLTON, CA, US | 46100 | Amazon / 506 / 6 |
| 719 | Albert Vorbe | HT | 46000 | Pavilion / 154 / 7 |
| 720 | Andy Black | DUBLIN, IE | 46000 | Amazon / 494 / 4 |
| 721 | Jonty Obrien | Brockman, AU | 45500 | Pavilion / 245 / 3 |
| 722 | John Reynolds | TULSA, OK, US | 45500 | Pavilion / 125 / 4 |
| 723 | Richard Raisman | Needham, MA, US | 45300 | Pavilion / 199 / 1 |
| 724 | Tai Nguyen | Westminster, CO, US | 45300 | Pavilion / 107 / 6 |
| 725 | Vikram Kumar Palanisamy | Tamil Nadu, IN | 45300 | Pavilion / 215 / 3 |
| 726 | Ema Zajmovic | Saint-Augustin-De-Desmaures, | 45000 | Amazon / 415 / 2 |
| 727 | Rustam Hajiyev | Azerbaijan, , AZ | 45000 | Pavilion / 117 / 4 |
| 728 | Stephen Chidwick | DEAL, , GB | 45000 | Pavilion / 162 / 5 |
| 729 | James Hughes | MIAMI, FL, US | 44900 | Pavilion / 157 / 9 |
| 730 | Larry Smart | Newmarket, ON, CA | 44800 | Pavilion / 186 / 1 |
| 731 | Shipeng Dai | Onl Signup-No City, , CA | 44800 | Pavilion / 170 / 7 |
| 732 | Roman Lanzerstorfer | LEOPOLDSCH LAG, , AT | 44800 | Pavilion / 244 / 6 |
| 733 | Clayton Maguire | BRIGHTON, CO, US | 44700 | Pavilion / 258 / 7 |
| 734 | Anthony Newman | BROOKLYN, NY, US | 44600 | Pavilion / 147 / 7 |
| 735 | Thomas Janitzky | Aachen, , DE | 44600 | Pavilion / 163 / 1 |
| 736 | Steven Gale | Jupiter, FL, US | 44500 | Pavilion / 200 / 1 |
| 737 | Scott Mayfield | GRANTS PASS, OR, US | 44500 | Pavilion / 116 / 8 |
| 738 | Terry Taieb | Sterling Heights, MI, US | 44300 | Amazon / 447 / 2 |
| 739 | Joe Leibman | FORT ATKINSON, WI, US | 44200 | Pavilion / 174 / 1 |
| 740 | Marius Meier | US | 44100 | Pavilion / 188 / 9 |
| 741 | Kevin Glenn | Santa Rosa, CA, US | 44000 | Pavilion / 189 / 7 |
| 742 | Davian Santana | Minneola, FL, US | 44000 | Amazon / 460 / 7 |
| 743 | David Mock | Medford, MA, US | 43900 | Pavilion / 202 / 8 |
| 744 | Steven Sanzaro | Onl Signup-No City, FL, US | 43800 | Pavilion / 172 / 7 |
| 745 | Bin Duan | Cupertino, CA, US | 43700 | Pavilion / 140 / 9 |
| 746 | Danny Ghobrial | Toronto, ON, CA | 43500 | Pavilion / 182 / 5 |
| 747 | Edward Sebesta | Sugar Land, TX, US | 43400 | Pavilion / 113 / 3 |
| 748 | Warren Jurkowitz | Aventura, FL, US | 43400 | Pavilion / 145 / 7 |
| 749 | John Bolton | Matteson, IL, US | 43300 | Pavilion / 183 / 2 |
| 750 | Sean Hegarty | West Barnstable, MA, US | 43200 | Amazon / 483 / 8 |
| 751 | Andreas Klatt | DE | 43100 | Amazon / 418 / 9 |
| 752 | Liran Twito | Aloni, , IL | 43000 | Pavilion / 156 / 1 |
| 753 | Edward Mcnamara | Davie, FL, US | 42700 | Amazon / 492 / 1 |
| 754 | Francisco Neto | Sao Paulo, , BR | 42600 | Pavilion / 230 / 6 |
| 755 | Alan Jacobs | Onl Signup-No City, NJ, US | 42500 | Pavilion / 230 / 9 |
| 756 | Daniel Sprung | Las Vegas, NV, US | 42500 | Pavilion / 163 / 5 |
| 757 | Randy Sloane | Colborne, ON, CA | 42400 | Pavilion / 244 / 3 |
| 758 | James Sullivan | WASHINGTON, DC, US | 42200 | Amazon / 439 / 1 |
| 759 | Ky Badgley | SCHAUMBURG, IL, US | 42200 | Pavilion / 202 / 4 |
| 760 | Harold Lilie | LAS VEGAS, NV, US | 42100 | Pavilion / 165 / 5 |
| 761 | Robert Radman | South Saint Paul, MN, US | 42000 | Pavilion / 212 / 2 |
| 762 | Ardit Kurshumi | REVERE, MA, US | 42000 | Pavilion / 230 / 4 |
| 763 | Grant Denison | Portland, OR, US | 41800 | Amazon / 454 / 2 |
| 764 | Ming Zhu | Portland, OR, US | 41600 | Pavilion / 201 / 5 |
| 765 | Daniel DiPasquale | DERRY, NH, US | 41600 | Pavilion / 115 / 6 |
| 766 | Igor Yaroshevskyy | Dnipropetrovsk, , UA | 41500 | Pavilion / 134 / 4 |
| 767 | Ryan Snow | Kennesaw, GA, US | 41500 | Pavilion / 171 / 4 |
| 768 | Giovanni Camardella | IT | 41400 | Amazon / 438 / 4 |
| 769 | Sundeep Sangany | London, , GB | 41300 | Pavilion / 155 / 7 |
| 770 | Gene Raman | Mullica Hill, NJ, US | 41100 | Amazon / 465 / 1 |
| 771 | Christopher Backhouse | Sandy Lane, , GT | 41000 | Pavilion / 189 / 4 |
| 772 | Matthew Olin | Tempe, AZ, US | 41000 | Pavilion / 156 / 5 |
| 773 | Eric Fields | GREENSBORO, NC, US | 41000 | Amazon / 513 / 8 |
| 774 | Vazgen Ohanian | Glendale, CA, US | 40900 | Amazon / 502 / 6 |
| 775 | Darwin Valdez | BROOKLYN, NY, US | 40700 | Pavilion / 149 / 1 |
| 776 | Ignacio Hidalgo | Altamonte Springs, FL, US | 40600 | Pavilion / 246 / 7 |
| 777 | Julien Loire | FR | 40400 | Amazon / 522 / 6 |
| 778 | Seth Kaplan | Stamford, CT, US | 40300 | Amazon / 413 / 5 |
| 779 | Brian Vu | San Ramon, CA, US | 40300 | Amazon / 433 / 3 |
| 780 | Corentin Briglia | Dilbeek, , BO | 40300 | Pavilion / 108 / 5 |
| 781 | Daniel Fuhs | San Diego, CA, US | 40200 | Amazon / 446 / 4 |
| 782 | Amer Akkawi | Mokena, IL, US | 40200 | Pavilion / 148 / 6 |
| 783 | Michael Hunsucker | ORLANDO, FL, US | 40200 | Pavilion / 229 / 6 |
| 784 | Minh Nguyen | Lake Elsinore, CA, US | 40000 | Amazon / 427 / 4 |
| 785 | Bryan Newman | La Quinta, CA, US | 40000 | Pavilion / 108 / 4 |
| 786 | Kyle Miholich | San Diego, CA, US | 39700 | Pavilion / 204 / 6 |
| 787 | James McCaffrey | Denver, CO, US | 39300 | Amazon / 465 / 6 |
| 788 | Jeremiah Callahan | OYSTER BAY, NY, US | 39100 | Pavilion / 216 / 2 |
| 789 | Klas Lofberg | GB | 38700 | Amazon / 481 / 6 |
| 790 | Richard Lee | Las Vegas, NV, US | 38600 | Pavilion / 201 / 6 |
| 791 | Lin Hongyin | Guangdong, , TD | 38500 | Pavilion / 212 / 4 |
| 792 | Hafiz Khan | STOCKTON, CA, US | 38200 | Pavilion / 135 / 9 |
| 793 | Michael Russell | La Plata, MD, US | 38200 | Pavilion / 111 / 3 |
| 794 | Shawn Barnett | Holiday, FL, US | 38100 | Pavilion / 217 / 1 |
| 795 | Martin Mathis | TALLAHASSEE, FL, US | 38100 | Pavilion / 176 / 2 |
| 796 | Yegor Moroz | PALM COAST, FL, US | 37600 | Amazon / 492 / 4 |
| 797 | BJ McBrayer | Tuscaloosa, AL, US | 37500 | Pavilion / 172 / 9 |
| 798 | Daniel Stickel | Buffalo Grove, IL, US | 37500 | Pavilion / 119 / 9 |
| 799 | Bradley Hertz | Regina, SK, CA | 37400 | Amazon / 469 / 2 |
| 800 | Sergi Reixach | Bournemouth, GB | 37400 | Pavilion / 125 / 2 |
| 801 | Mark Darner | WINTER PARK, FL, US | 37400 | Pavilion / 243 / 4 |
| 802 | Thida Lin | BERMUDA DUNES, CA, US | 37000 | Pavilion / 227 / 6 |
| 803 | Jonathan Dwek | TORONTO, ON, CA | 36800 | Amazon / 513 / 1 |
| 804 | Zhou Hongking | SG | 36700 | Pavilion / 162 / 6 |
| 805 | Carlos Chadha-Villamarin | Lexington, KY, US | 36300 | Amazon / 430 / 3 |
| 806 | Lawrence Senibaldi | NORTH LAS VEGAS, NV, US | 36200 | Pavilion / 258 / 5 |
| 807 | Steffen Kylevik | GB | 36200 | Pavilion / 174 / 3 |
| 808 | William Gibbons | MIDDLETON, WI, US | 36000 | Pavilion / 119 / 2 |
| 809 | Karyn Gordon | Dundowran Beach, AU | 35800 | Amazon / 422 / 3 |
| 810 | Rafael Lopez | Houston, TX, US | 35800 | Pavilion / 102 / 1 |
| 811 | Eemil Tuominen | Naanpali, , FI | 35500 | Pavilion / 217 / 4 |
| 812 | Ian Davis | Baltimore, MD, US | 35400 | Amazon / 450 / 3 |
| 813 | Silvio Panoscha | DE | 35300 | Amazon / 458 / 1 |
| 814 | Raymond Rice | FORT WORTH, TX, US | 35000 | Amazon / 437 / 6 |
| 815 | Richard Morton | Nashville, TN, US | 35000 | Pavilion / 170 / 4 |
| 816 | John Pierce | Rochester, MN, US | 35000 | Pavilion / 191 / 2 |
| 817 | Mark Burford | SHREVEPORT, LA, US | 34800 | Pavilion / 164 / 3 |
| 818 | Zackary Estes | Alton, IL, US | 34700 | Amazon / 518 / 2 |
| 819 | Jake Schwartz | NEW YORK, NY, US | 34400 | Amazon / 506 / 7 |
| 820 | Daniel Moravec | CIRCLE PINES, MN, US | 34000 | Pavilion / 197 / 8 |
| 821 | Richard Harroch | San Francisco, CA, US | 33900 | Pavilion / 156 / 2 |
| 822 | Joshua Miller | Albany, NY, US | 33900 | Pavilion / 117 / 9 |
| 823 | Albert Riccobono | WEST HARRISON, NY, US | 33600 | Amazon / 515 / 3 |
| 824 | Alex Jim | Brooklyn, NY, US | 33600 | Pavilion / 217 / 3 |
| 825 | Gerard Cassis | HT | 33500 | Pavilion / 169 / 6 |
| 826 | Michael Ruane | Hoboken, NJ, US | 33200 | Pavilion / 138 / 9 |
| 827 | Martin Wong | NAPA, CA, US | 33200 | Pavilion / 145 / 5 |
| 828 | Joshua Zimmerman | Yuen Long, , HK | 33200 | Amazon / 449 / 6 |
| 829 | Melissa French | Lynnwood, WA, US | 33000 | Pavilion / 181 / 2 |
| 830 | Steven Gurney-Goldman | New York, NY, US | 33000 | Pavilion / 245 / 8 |
| 831 | Peter Mak | HK | 33000 | Pavilion / 154 / 6 |
| 832 | Jordan Siegel | Oceanside, NY, US | 32800 | Pavilion / 121 / 7 |
| 833 | Stanley Tang | San Francisco, CA, US | 32700 | Pavilion / 195 / 4 |
| 834 | Faramarz Firoozabadi | Clifton, VA, US | 32500 | Pavilion / 122 / 8 |
| 835 | Niko Soininen | FI | 32300 | Amazon / 414 / 7 |
| 836 | Drew Dumanski | RICHARDSON, TX, US | 31900 | Amazon / 467 / 4 |
| 837 | Tony Bloom | LONDON, GB | 31900 | Pavilion / 188 / 5 |
| 838 | Jacob Rasmussen | COPENHAGEN, , DK | 31800 | Pavilion / 150 / 9 |
| 839 | Dana Parham | LAS VEGAS, NV, US | 31800 | Pavilion / 216 / 3 |
| 840 | Ryo Kotake | JP | 31800 | Pavilion / 214 / 3 |
| 841 | Robert Weiner | Selden, NY, US | 31700 | Pavilion / 130 / 1 |
| 842 | Peter Kelly | Garden City, NY, US | 31600 | Pavilion / 167 / 3 |
| 843 | Frank De Feo | Elmhurst, IL, US | 31500 | Pavilion / 136 / 7 |
| 844 | Leo Margets | Barcelona, , ES | 31500 | Amazon / 462 / 3 |
| 845 | Emily Larson | Plymouth, MN, US | 31100 | Amazon / 510 / 1 |
| 846 | Michael Weber | Fishers, IN, US | 31000 | Amazon / 442 / 3 |
| 847 | Marvin Rettenmaier | LEONBERG, , DE | 30800 | Pavilion / 184 / 9 |
| 848 | Ely Keysar | Berkeley, CA, US | 30800 | Pavilion / 161 / 4 |
| 849 | Jeremy Menard | RALEIGH, NC, US | 30500 | Pavilion / 168 / 8 |
| 850 | Armin Ghojehvand | London, , GB | 29800 | Amazon / 488 / 4 |
| 851 | Brian Hansen | LAS VEGAS, NV, US | 29700 | Pavilion / 244 / 4 |
| 852 | Manuel Mutke | DE | 29600 | Pavilion / 149 / 5 |
| 853 | Michael Amato | BOCA RATON, FL, US | 29600 | Amazon / 448 / 2 |
| 854 | James Dempsey | Hove, , GB | 29500 | Pavilion / 163 / 4 |
| 855 | Manfred Ferber | Munich, , DE | 29500 | Amazon / 507 / 1 |
| 856 | Carter King | LAS VEGAS, NV, US | 29400 | Pavilion / 152 / 4 |
| 857 | Dustin An | REDMOND, WA, US | 29300 | Pavilion / 198 / 4 |
| 858 | Katherine Fleck | FORT MYERS, FL, US | 29300 | Pavilion / 213 / 5 |
| 859 | Charles Sylvestre | Saint-Bruno, QC, CA | 29200 | Pavilion / 193 / 4 |
| 860 | Matthew Levine | Las Vegas, NV, US | 29000 | Pavilion / 117 / 2 |
| 861 | William Draper | Milton, DE, US | 29000 | Pavilion / 209 / 1 |
| 862 | Sam Chartier | MONTREAL, QC, CA | 29000 | Pavilion / 232 / 9 |
| 863 | Christoph Lovett | MOORESTOWN, NJ, US | 29000 | Pavilion / 247 / 6 |
| 864 | David Bach | ATHENS, GA, US | 28900 | Amazon / 431 / 3 |
| 865 | Jeffrey Kogok | Chester, MD, US | 28700 | Amazon / 441 / 8 |
| 866 | Andy Tsai | HUNTINGTON BEACH, CA, US | 28500 | Pavilion / 229 / 2 |
| 867 | Martin Clark | Newark, OH, US | 28000 | Pavilion / 269 / 4 |
| 868 | Russell Schwartz | Los Angeles, CA, US | 28000 | Pavilion / 185 / 3 |
| 869 | Fan Zheng | Guangdong, , TD | 27400 | Pavilion / 162 / 7 |
| 870 | Neil Patel (IL) | Chicago, IL, US | 26700 | Amazon / 417 / 7 |
| 871 | Gaelle Baumann | FR | 26200 | Pavilion / 200 / 3 |
| 872 | Benjamin Jensen | Herning, , DK | 26000 | Pavilion / 205 / 5 |
| 873 | Richard Demerle | Haverhill, MA, US | 25900 | Pavilion / 218 / 2 |
| 874 | Gary Bowker | Trevose, PA, US | 25800 | Pavilion / 107 / 1 |
| 875 | Danny Illingworth | CARLSBAD, CA, US | 25800 | Pavilion / 133 / 2 |
| 876 | Naoya Kihara | TOKYO, JP | 25700 | Amazon / 413 / 2 |
| 877 | Andy Bloch | LAS VEGAS, NV, US | 25300 | Pavilion / 217 / 9 |
| 878 | Christopher Squillario | Sykesville, MD, US | 24800 | Pavilion / 230 / 1 |
| 879 | Paul Stadtmueller | Seguin, TX, US | 24700 | Pavilion / 109 / 6 |
| 880 | Brett Haggard | Saint Joseph, MO, US | 24500 | Pavilion / 101 / 2 |
| 881 | Aaron Running | Solvang, CA, US | 24500 | Pavilion / 112 / 8 |
| 882 | Frosty Gilliam | ODESSA, TX, US | 24200 | Amazon / 514 / 1 |
| 883 | Toby Lewis | SOUTHAMPTON, GB | 24100 | Pavilion / 217 / 8 |
| 884 | Brian Whiteman | Chatsworth, CA, US | 24100 | Pavilion / 154 / 4 |
| 885 | Artem Zverkhovskyy | UA | 23900 | Pavilion / 147 / 4 |
| 886 | Senthuran Vijayaratnam | Scarborough, , CA | 23800 | Amazon / 501 / 2 |
| 887 | Scott Gordon | Machiasport, ME, US | 23700 | Pavilion / 170 / 8 |
| 888 | Roland Shen | San Jose, CA, US | 23600 | Pavilion / 208 / 2 |
| 889 | Steven Daoud | Las Vegas, NV, US | 23100 | Amazon / 512 / 1 |
| 890 | Jacob Perry | Branchville, NJ, US | 23000 | Pavilion / 104 / 9 |
| 891 | Rohan Dhawan | Lajpat Nagar, , IN | 23000 | Pavilion / 118 / 3 |
| 892 | Nelson Beck | Lawrenceburg, TN, US | 23000 | Pavilion / 170 / 3 |
| 893 | Mian Wei | CN | 23000 | Amazon / 521 / 3 |
| 894 | Zhao Ge | Vancouver, BC, CA | 23000 | Pavilion / 179 / 6 |
| 895 | Michael Jensen | OVERLAND PARK, KS, US | 22900 | Amazon / 477 / 6 |
| 896 | Matthew Ara | LAS VEGAS, NV, US | 22900 | Pavilion / 174 / 8 |
| 897 | Bruce Rosen | NEW YORK, NY, US | 22900 | Amazon / 464 / 2 |
| 898 | Christopher Leslie | Portland, OR, US | 22700 | Pavilion / 124 / 3 |
| 899 | Aleksejs Ponakovs | Riga, , LV | 22600 | Pavilion / 169 / 8 |
| 900 | Aresh Shirazi | Miami Beach, FL, US | 22400 | Pavilion / 217 / 6 |
| 901 | Michael Postal | Potomac, MD, US | 22200 | Pavilion / 194 / 3 |
| 902 | Howard Mash | Coconut Creek, FL, US | 21700 | Pavilion / 188 / 4 |
| 903 | Dan Smith | LAS VEGAS, NV, US | 21700 | Amazon / 508 / 6 |
| 904 | Elizabeth Cahill | Norton, MA, US | 21400 | Pavilion / 193 / 8 |
| 905 | Ilir Iskali | Addison, IL, US | 21300 | Pavilion / 229 / 4 |
| 906 | Ales Vrana | Oak Lawn, IL, US | 21200 | Amazon / 437 / 7 |
| 907 | Steven Morris | Birmingham, , GB | 21100 | Pavilion / 160 / 7 |
| 908 | Daniel Nocher | London, GB | 20800 | Pavilion / 102 / 3 |
| 909 | William Harder | Woodstock, NY, US | 20700 | Pavilion / 219 / 6 |
| 910 | Richard Napolitano | West Islip, NY, US | 20700 | Amazon / 448 / 7 |
| 911 | Abraham Passet | Wiesbaden, , DE | 20300 | Pavilion / 231 / 4 |
| 912 | Luke Marsh | Scunthorpe, , GB | 20000 | Pavilion / 196 / 3 |
| 913 | Ty Reiman | MORTON, IL, US | 19600 | Amazon / 485 / 2 |
| 914 | Cylus Watson | MADBURY, NH, US | 19500 | Pavilion / 192 / 2 |
| 915 | Artem Metalidi | Kiev, UA | 19300 | Pavilion / 189 / 8 |
| 916 | Cameron Lemmons | CASTRO VALLEY, CA, US | 19000 | Pavilion / 228 / 3 |
| 917 | Robert Lee | NORTH LAS VEGAS, NV, US | 18900 | Pavilion / 151 / 6 |
| 918 | Jasven Saigal | IL | 18600 | Pavilion / 230 / 2 |
| 919 | Baoqiang Ho | SG | 18500 | Pavilion / 227 / 9 |
| 920 | Andrew Christiansen | Aurora, IL, US | 18300 | Amazon / 458 / 2 |
| 921 | Paul Sexton | Henderson, NV, US | 18200 | Amazon / 414 / 1 |
| 922 | Chris Bjorin | Stockholm, SE | 18000 | Amazon / 486 / 3 |
| 923 | Hanoch Guttman | | 18000 | Pavilion / 180 / 3 |
| 924 | Justin Warner | GAINSVILLE, FL, US | 17900 | Pavilion / 156 / 9 |
| 925 | Peter Jetten | TORONTO, ON, CA | 17800 | Pavilion / 125 / 3 |
| 926 | Greg Rankich | KIRKLAND, WA, US | 17600 | Amazon / 482 / 8 |
| 927 | Jeffrey Tanouye | LAS VEGAS, NV, US | 17500 | Amazon / 444 / 7 |
| 928 | Manas Gandhi | Cerritos, CA, US | 17400 | Amazon / 425 / 4 |
| 929 | Jakub Wojtas | EMSDETTEN, , DE | 17300 | Pavilion / 206 / 1 |
| 930 | James Anderson | WOOSTER, OH, US | 17200 | Pavilion / 158 / 7 |
| 931 | Valentino Konakchiev | Sofia, BG | 16800 | Pavilion / 195 / 3 |
| 932 | Robert Zeidman | Cupertino, CA, US | 16700 | Pavilion / 151 / 7 |
| 933 | Sergei Kislinskii | Rostov, , RU | 16500 | Pavilion / 164 / 7 |
| 934 | Brent Francia | San Francisco, CA, US | 16500 | Amazon / 417 / 5 |
| 935 | Michael Hamm | Benton, MO, US | 16400 | Pavilion / 176 / 9 |
| 936 | James Church | Las Vegas, NV, US | 16300 | Pavilion / 203 / 8 |
| 937 | Alec Torelli | Las Vegas, NV, US | 15600 | Pavilion / 184 / 4 |
| 938 | Randy Floyd | SEAGRAVES, TX, US | 15500 | Pavilion / 204 / 5 |
| 939 | Anthony Noreen | Chicago, IL, US | 14800 | Amazon / 451 / 1 |
| 940 | Kwong Ip | KENNER, LA, US | 14000 | Pavilion / 259 / 1 |
| 941 | Kevin Chan | CHICAGO, IL, US | 14000 | Pavilion / 129 / 3 |
| 942 | Jamie Brown | BIRCHINGTON, , GB | 13800 | Pavilion / 133 / 4 |
| 943 | Dan Kuntzman | Plano, IL, US | 13500 | Pavilion / 161 / 2 |
| 944 | Cliff Goldkind | Potomac, MD, US | 13500 | Pavilion / 219 / 3 |
| 945 | Ari Shin | ANAHEIM, CA, US | 13100 | Amazon / 477 / 2 |
| 946 | Thomas Hueber | Salzburg, , AT | 12300 | Pavilion / 208 / 4 |
| 947 | Torrey Korsog | OSPREY, FL, US | 12000 | Amazon / 468 / 3 |
| 948 | Lucas Picking | North Brunswick, NJ, US | 12000 | Amazon / 412 / 9 |
| 949 | Jeffrey Platt | Dallas, TX, US | 11000 | Pavilion / 158 / 1 |
| 950 | Jonathan Karamalikis | ADELAIDE, , AU | 10900 | Pavilion / 208 / 6 |
| 951 | Kima Kimura | ANCHORAGE, AK, US | 10600 | Amazon / 518 / 3 |
| 952 | Dylan Wilkerson | San Francisco, CA, US | 10100 | Pavilion / 119 / 6 |
| 953 | Scott Cassidy | Dayton, OH, US | 10000 | Pavilion / 149 / 2 |
| 954 | Jonathan Zimmer | Onl Signup-No City, GU, US | 6000 | Pavilion / 112 / 5 |
| 955 | David Pope | NOVATO, CA, US | 3200 | Pavilion / 191 / 3 |
| 956 | Lauren Roberts | Henderson, NV, US | 1 | Pavilion / 146 / 2 |
| 957 | Rachid Amamou | Oyonnax, , CA | 1 | Amazon / 477 / 4 |
| 958 | Jerold Saeman | Hasting, MI, US | 1 | Pavilion / 229 / 3 |
| 959 | Drake Espenlaub | Evansville, IN, US | 1 | Amazon / 519 / 3 |
| 960 | Seth Berger | BERWYN, PA, US | 1 | Amazon / 493 / 2 |