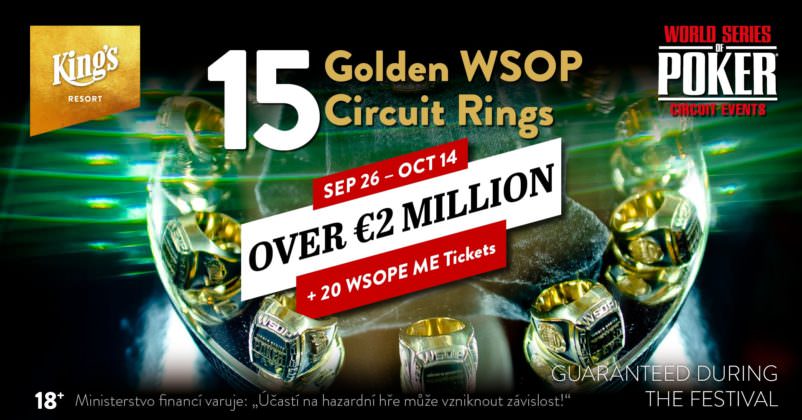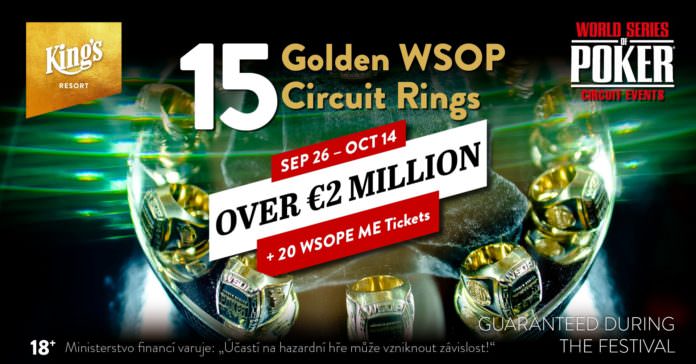 Bevor am 13. Oktober 2019 im King's Resort Rozvadov die World Series of Poker Europe mit 15 Bracelet Events startet, gibt es zuvor noch das World Series of Poker Circuit Fall Edition Festival. Vom 26. September bis 14. Oktober werden dann insgesamt 15 WSOP Circuit Ring Events gespielt. Die Buy-Ins reichen von €250 bis €5.300 und es werden neben den WSOPC-Ringen noch Preisgelder in Höhe von €2.407.000 garantiert. Auf die Spieler wartet ein abwechslungsreicher Turnierplan mit, Texas Hold'em No-Limit, Pot Limit Omaha, THNL 6-Max, Pot Limit Omaha High/Low, Bounty Hunter, Limit Seven Card Stud, Seniors (50 Jahre +), Mix Event (THNL/PLO) oder auch Ladies Event.
Das Highlight des Festivals ist der €1.550+€150 WSOP Circuit Main Event, der vom 11.- 14. Oktober gespielt wird. Hier wird ein Preispool von €1.103.500 (inklusive zehn €10.350 WSOP Europe Main Event Tickets) garantiert. Es gibt eine Startdotation von 50.000 und an den beiden Starttagen Eins werden jeweils 12 Level à 45 Minuten gespielt. Ein Re-Entry ist auch möglich und die Late-Registration ist bis zum Start des dritten Level am Tag 2 geöffnet. Der Champion wird dann erst im Finale (Tag 3) ermittelt. Am Finaltag dauert jeder Level 60 Minuten. 
Für den Main Event Champion und den WSOP Circuit Leaderboard Gewinner gibt es jeweils eine Wild Card für das WSOP Global Casino Championship Event 2020.
Im Rahmen Programm gibt es neben vielen Satellites auch noch 20 Side Events mit Buy-Ins zwischen €115 und €220, bei denen weitere €145.000 garantiert werden.
Von den Highlight Events wird es natürlich auch Livestreams geben. Die Livestream-Schedule folgt noch.
Wer ein Hotelzimmer benötigt findet es hier. Dort findet ihr auch interessante Hotel-Packages.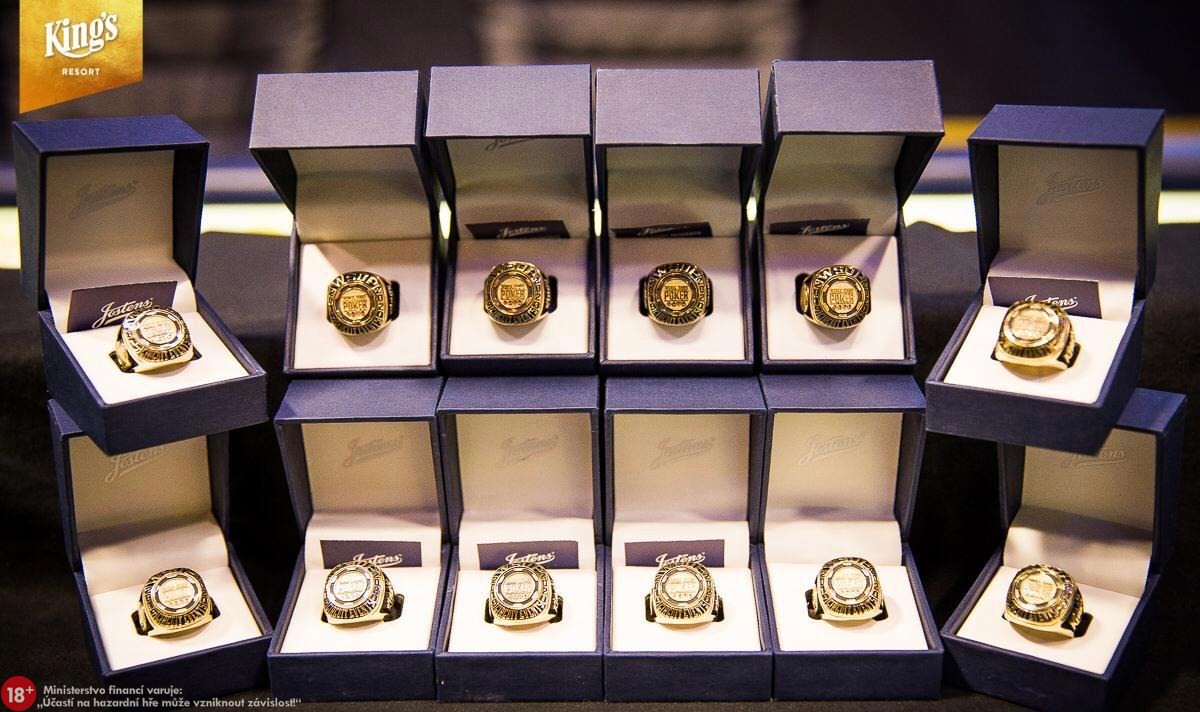 Im King's Resort laufen während des WSOP Circuit Festivals rund um die Uhr heiße Cash Games. Hier geht der Spaß bereits bei Blinds €1/€3 THNL oder €2/€2 PLO und einem Minimum Buy-In von €100 los.
Wer sich näher über das große Angebot des King's informieren möchte findet alles Wichtige auf der Homepage, Facebook,  Instagram oder Twitter.
Weitere Infos gibt es auch auf der WSOP.com Seite.
Hier ist der Turnierplan der WSOP Circuit Fall Edition:
| Datum | Event | Garantie € | Buy-In € | Fee € |
| --- | --- | --- | --- | --- |
| Thu 26.09. 16:00 | Satellite to WSOP Circuit Fall Opener Day 1A | 2.990 EUR | 50 EUR | 5 EUR |
| Thu 26.09. 18:00 | WSOP Circuit Fall Opener - Day 1A [RING][#1] | 220.700 EUR | 270 EUR | 29 EUR |
| Thu 26.09. 20:00 | NLH Daily Turbo Tournament | | 100 EUR | 15 EUR |
| Fri 27.09. 11:00 | Satellite to WSOP Circuit Fall Opener Day 1B | 2.990 EUR | 50 EUR | 5 EUR |
| Fri 27.09. 13:00 | WSOP Circuit Fall Opener - Day 1B [RING][#1] | 220.700 EUR | 270 EUR | 29 EUR |
| Fri 27.09. 15:00 | Satellite to WSOP Circuit Fall Opener Day 1C | 2.990 EUR | 50 EUR | 5 EUR |
| Fri 27.09. 18:00 | WSOP Circuit Fall Opener - Day 1C [RING][#1] | 220.700 EUR | 270 EUR | 29 EUR |
| Fri 27.09. 20:00 | King's Friday Night Tournament | 20.000 EUR | 100 EUR | 15 EUR |
| Sat 28.09. 10:00 | Satellite to WSOP Circuit Fall Opener Day 1D | 4.485 EUR | 50 EUR | 5 EUR |
| Sat 28.09. 12:00 | WSOP Circuit Fall Opener - Day 1D [RING][#1] | 220.700 EUR | 270 EUR | 29 EUR |
| Sat 28.09. 15:00 | Satellite to WSOP Circuit Fall Opener Day 1E | 2.990 EUR | 50 EUR | 5 EUR |
| Sat 28.09. 18:00 | WSOP Circuit Fall Opener - Day 1E [RING][#1] | 220.700 EUR | 270 EUR | 29 EUR |
| Sat 28.09. 20:00 | King's Saturday Night Tournament | 30.000 EUR | 100 EUR | 15 EUR |
| Sun 29.09. 10:00 | WSOP Circuit Fall Opener - Day 1F Fast Flight [RING][#1] | 220.700 EUR | 270 EUR | 29 EUR |
| Sun 29.09. 15:30 | WSOP Circuit Fall Opener - Day 2 [RING][#1] | 220.700 EUR | - | - |
| Sun 29.09. 16:00 | Satellite to WSOP Circuit Lucky 7s Event [RING][#2] - Day 1A | 5.439 EUR | 100 EUR | 15 EUR |
| Sun 29.09. 18:00 | WSOP Circuit Lucky 7s Event [RING][#2] - Day 1A | 110.350 EUR | 707 EUR | 70 EUR |
| Sun 29.09. 20:00 | King's Sunday Night Tournament | 10.000 EUR | 100 EUR | 15 EUR |
| Mon 30.09. 12:00 | NLH Morning Turbo Bounty | | 100 EUR + 100 EUR Bounty | 20 EUR |
| Mon 30.09. 14:00 | WSOP Circuit Fall Opener - Final Day [RING][#1] | 220.700 EUR | - | - |
| Mon 30.09. 16:00 | Satellite to WSOP Circuit Lucky 7s Event [RING][#2] - Day 1B | 5.439 EUR | 100 EUR | 15 EUR |
| Mon 30.09. 18:00 | WSOP Circuit Lucky 7s Event [RING][#2] - Day 1B | 110.350 EUR | 707 EUR | 70 EUR |
| Mon 30.09. 20:00 | NLH Daily Turbo Tournament | | 100 EUR | 15 EUR |
| Tue 01.10. 12:00 | NLH Morning Turbo Freezeout | | 100 EUR | 15 EUR |
| Tue 01.10. 14:00 | WSOP Circuit Lucky 7s Event [RING][#2] - Final Day | 110.350 EUR | - | - |
| Tue 01.10. 17:00 | WSOP Circuit 6-Max NLH [RING][#3] | | 600 EUR | 60 EUR |
| Tue 01.10. 20:00 | NLH Daily Turbo Tournament | | 100 EUR | 15 EUR |
| Wed 02.10. 12:00 | NLH Morning Turbo Bounty | | 100 EUR + 100 EUR Bounty | 20 EUR |
| Wed 02.10. 15:00 | WSOP Circuit Senior Event 50+ [RING][#4] | | 225 EUR | 25 EUR |
| Wed 02.10. 16:00 | Satellite to WSOP Circuit Mini Main Event [RING][#5] Day 1A | 3.750 EUR | 40 EUR | 5 EUR |
| Wed 02.10. 18:00 | WSOP Circuit Mini Main Event [RING][#5] - Day 1A | 551.750 EUR | 225 EUR | 25 EUR |
| Wed 02.10. 20:00 | NLH Daily Turbo Tournament | | 100 EUR | 15 EUR |
| Thu 03.10. 11:00 | Satellite to WSOP Circuit Mini Main Event [RING][#5] Day 1B | 3.750 EUR | 40 EUR | 5 EUR |
| Thu 03.10. 13:00 | WSOP Circuit Mini Main Event [RING][#5] - Day 1B | 551.750 EUR | 225 EUR | 25 EUR |
| Thu 03.10. 15:00 | WSOP Circuit Omaha HI/LO Pot Limit [RING][#6] | | 270 EUR | 30 EUR |
| Thu 03.10. 16:00 | Satellite to WSOP Circuit Mini Main Event [RING][#5] Day 1C | 3.750 EUR | 40 EUR | 5 EUR |
| Thu 03.10. 18:00 | WSOP Circuit Mini Main Event [RING][#5] - Day 1C | 551.750 EUR | 225 EUR | 25 EUR |
| Thu 03.10. 20:00 | NLH Daily Turbo Tournament | | 100 EUR | 15 EUR |
| Fri 04.10. 11:00 | Satellite to WSOP Circuit Mini Main Event [RING][#5] Day 1D | 3.750 EUR | 40 EUR | 5 EUR |
| Fri 04.10. 13:00 | WSOP Circuit Mini Main Event [RING][#5] - Day 1D | 551.750 EUR | 225 EUR | 25 EUR |
| Fri 04.10. 15:00 | WSOP Circuit Bounty Hunter [RING][#7] | | 400 EUR + 200 EUR Bounty | 60 EUR |
| Fri 04.10. 16:00 | Satellite to WSOP Circuit Mini Main Event [RING][#5] Day 1E | 3.750 EUR | 40 EUR | 5 EUR |
| Fri 04.10. 18:00 | WSOP Circuit Mini Main Event [RING][#5] - Day 1E | 551.750 EUR | 225 EUR | 25 EUR |
| Fri 04.10. 21:00 | King's Big Friday Night Tournament | 10.000 EUR | 100 EUR | 15 EUR |
| Sat 05.10. 10:00 | Satellite to WSOP Circuit Mini Main Event [RING][#5] Day 1F | 3.750 EUR | 40 EUR | 5 EUR |
| Sat 05.10. 12:00 | WSOP Circuit Mini Main Event [RING][#5] - Day 1F | 551.750 EUR | 225 EUR | 25 EUR |
| Sat 05.10. 18:00 | WSOP Circuit Mini Main Event [RING][#5] - Day 1G | 551.750 EUR | 225 EUR | 25 EUR |
| Sat 05.10. 21:00 | King's Saturday Night Freezeout | 15.000 EUR | 100 EUR | 15 EUR |
| Sun 06.10. 10:00 | WSOP Circuit Mini Main Event [RING][#5] - Day 1H Turbo | 551.750 EUR | 225 EUR | 25 EUR |
| Sun 06.10. 16:00 | WSOP Circuit Mini Main Event [RING][#5] - Day 2 | 551.750 EUR | - | - |
| Sun 06.10. 17:00 | Satellite to WSOP Circuit Monster Stack [RING][#9] - Day 1A | 5.500 EUR | 80 EUR | 10 EUR |
| Sun 06.10. 18:00 | WSOP Circuit Seven Card Stud Limit [RING][#8] | | 300 EUR | 30 EUR |
| Sun 06.10. 19:00 | WSOP Circuit Monster Stack [RING][#9] - Day 1A | 220.700 EUR | 500 EUR | 50 EUR |
| Sun 06.10. 20:00 | NLH Daily Turbo Tournament | | 100 EUR | 15 EUR |
| Mon 07.10. 14:00 | WSOP Circuit Mini Main Event [RING][#5] - Final Day | 551.750 EUR | - | - |
| Mon 07.10. 16:00 | Satellite to WSOP Circuit Monster Stack [RING][#9] - Day 1B | 5.500 EUR | 80 EUR | 10 EUR |
| Mon 07.10. 18:00 | WSOP Circuit Monster Stack [RING][#9] - Day 1B | 220.700 EUR | 500 EUR | 50 EUR |
| Mon 07.10. 20:00 | NLH Daily Turbo Tournament | | 100 EUR | 15 EUR |
| Tue 08.10. 12:00 | NLH Morning Turbo Bounty | | 100 EUR + 100 EUR Bounty | 20 EUR |
| Tue 08.10. 14:00 | WSOP Circuit NLH/OMAHA Mixed Game [RING][#10] | | 500 EUR | 50 EUR |
| Tue 08.10. 16:00 | Satellite to WSOP Circuit Monster Stack [RING][#9] - Day 1C | 5.500 EUR | 80 EUR | 10 EUR |
| Tue 08.10. 18:00 | WSOP Circuit Monster Stack [RING][#9] - Day 1C | 220.700 EUR | 500 EUR | 50 EUR |
| Tue 08.10. 20:00 | NLH Daily Turbo Tournament | | 100 EUR | 15 EUR |
| Wed 09.10. 14:00 | Satellite to WSOP Circuit Monster Stack [RING][#9] - Day 1D | 8.250 EUR | 80 EUR | 10 EUR |
| Wed 09.10. 15:00 | Satellite to WSOP Circuit PLO Highroller 8-Max Day 1 | 10.000 EUR | 200 EUR | 20 EUR |
| Wed 09.10. 16:00 | WSOP Circuit Monster Stack [RING][#9] - Day 1D | 220.700 EUR | 500 EUR | 50 EUR |
| Wed 09.10. 17:00 | WSOP Circuit PLO Highroller 8-Max [RING][#11] - Day 1 | 100.000 EUR | 1.850 EUR | 150 EUR |
| Wed 09.10. 20:00 | Mega Satellite to WSOP CIRCUIT MAIN EVENT | 17.000 EUR | 200 EUR | 20 EUR |
| Thu 10.10. 12:00 | WSOP Circuit Monster Stack [RING][#9] - Day 2 | 220.700 EUR | 500 EUR | 50 EUR |
| Thu 10.10. 15:00 | Satellite to WSOP Circuit NLH Highroller [RING][#12] | 15.900 EUR | 300 EUR | 30 EUR |
| Thu 10.10. 15:00 | WSOP Circuit PLO Highroller 8-Max [RING][#11] - Final Day | 100.000 EUR | 1.850 EUR | 150 EUR |
| Thu 10.10. 18:00 | WSOP Circuit NLH Highroller [RING][#12] | 100.000 EUR | 5.000 EUR | 300 EUR |
| Thu 10.10. 19:00 | NLH Daily Turbo Tournament | | 100 EUR | 15 EUR |
| Thu 10.10. 20:00 | Giga Satellite to WSOP CIRCUIT MAIN EVENT | 34.000 EUR | 300 EUR | 30 EUR |
| Fri 11.10. 11:00 | Satellite to WSOP CIRCUIT MAIN EVENT - Day 1A | 8.500 EUR | 100 EUR | 10 EUR |
| Fri 11.10. 14:00 | WSOP Circuit Monster Stack [RING][#9] - Final Day | 220.700 EUR | - | - |
| Fri 11.10. 14:00 | WSOP CIRCUIT MAIN EVENT [RING][#13] - DAY 1A | 1.103.500 EUR | 1.550 EUR | 150 EUR |
| Fri 11.10. 16:00 | WSOP Circuit Ladies Event [RING][#14] | | 200 EUR | 20 EUR |
| Fri 11.10. 18:00 | Giga Satellite to WSOP CIRCUIT MAIN EVENT- Day 1B | 34.000 EUR | 300 EUR | 30 EUR |
| Fri 11.10. 20:00 | King's Big Friday Night Tournament | 20.000 EUR | 100 EUR | 15 EUR |
| Sat 12.10. 11:00 | Satellite to WSOP CIRCUIT MAIN EVENT - Day 1B | 8.500 EUR | 100 EUR | 10 EUR |
| Sat 12.10. 14:00 | WSOP CIRCUIT MAIN EVENT [RING][#13] - DAY 1B | 1.103.500 EUR | 1.550 EUR | 150 EUR |
| Sat 12.10. 16:00 | WSOP Circuit NL Holdem Freezeout [RING][#15] | | 400 EUR | 40 EUR |
| Sat 12.10. 19:00 | King's Big Saturday Night Tournament | 30.000 EUR | 100 EUR | 15 EUR |
| Sat 12.10. 21:00 | Satellite to WSOP CIRCUIT MAIN EVENT - Day 2 | | 200 EUR | 20 EUR |
| Sun 13.10. 10:00 | Last Chance Satellite to WSOP CIRCUIT MAIN EVENT | | 200 EUR | 20 EUR |
| Sun 13.10. 14:00 | WSOP CIRCUIT MAIN EVENT [RING][#13] - DAY 2 | 1.103.500 EUR | 1.550 EUR | 150 EUR |
| Sun 13.10. 15:00 | Satellite to WSOP Europe Opener - Day 1A | 3.500 EUR | 60 EUR | 10 EUR |
| Sun 13.10. 18:00 | WSOPE Europe 2019 Opener - Day 1A [BRACELET][EVENT][#1] | 220.700 EUR | 315 EUR | 35 EUR |
| Sun 13.10. 20:00 | King's Sunday Night Tournament | 10.000 EUR | 100 EUR | 15 EUR |
| Mon 14.10. 12:00 | Satellite to Pot Limit Omaha 8-max - Day 1A | 4.400 EUR | 70 EUR | 10 EUR |
| Mon 14.10. 14:00 | WSOP CIRCUIT MAIN EVENT [RING][#13] - FINAL DAY | 1.103.500 EUR | - | - |