Auf PokerStars gab es am Freitag nur zwei Events im High Roller Club, bei denen Preisgelder von $81.000 ausgespielt wurden. Außerdem wurde Tag 2 des $1.050 NLHE Freezeout "The Big 20 Rewind – Year of the EPT" Events und der Tag 1 des $109 NLHE Freezeout "The Big 20 Rewind" Year of the PCA gespielt.
Beim $1.050 NLHE Freezeout "The Big 20 Rewind" 2004 Year of the EPT waren die besten neun von ehemals 219 Entries an den Final Table zurück gekommen um den Löwenanteil des $250.000 großen Preispools unter sich aufzuteilen. Als bester DACH-Spieler hatte der Österreicher "POKERPRO2.0" den Platz 19 für $2.765 belegt. Die Finalisten hatten schon $5.742 sicher und der Sieger sollte $48.687 bekommen. Am Ende konnte sich der Schwede "s1xxten" behaupten und das Turnier für $48.687 gewinnen.
Hier ist das offizielle Ergebnis: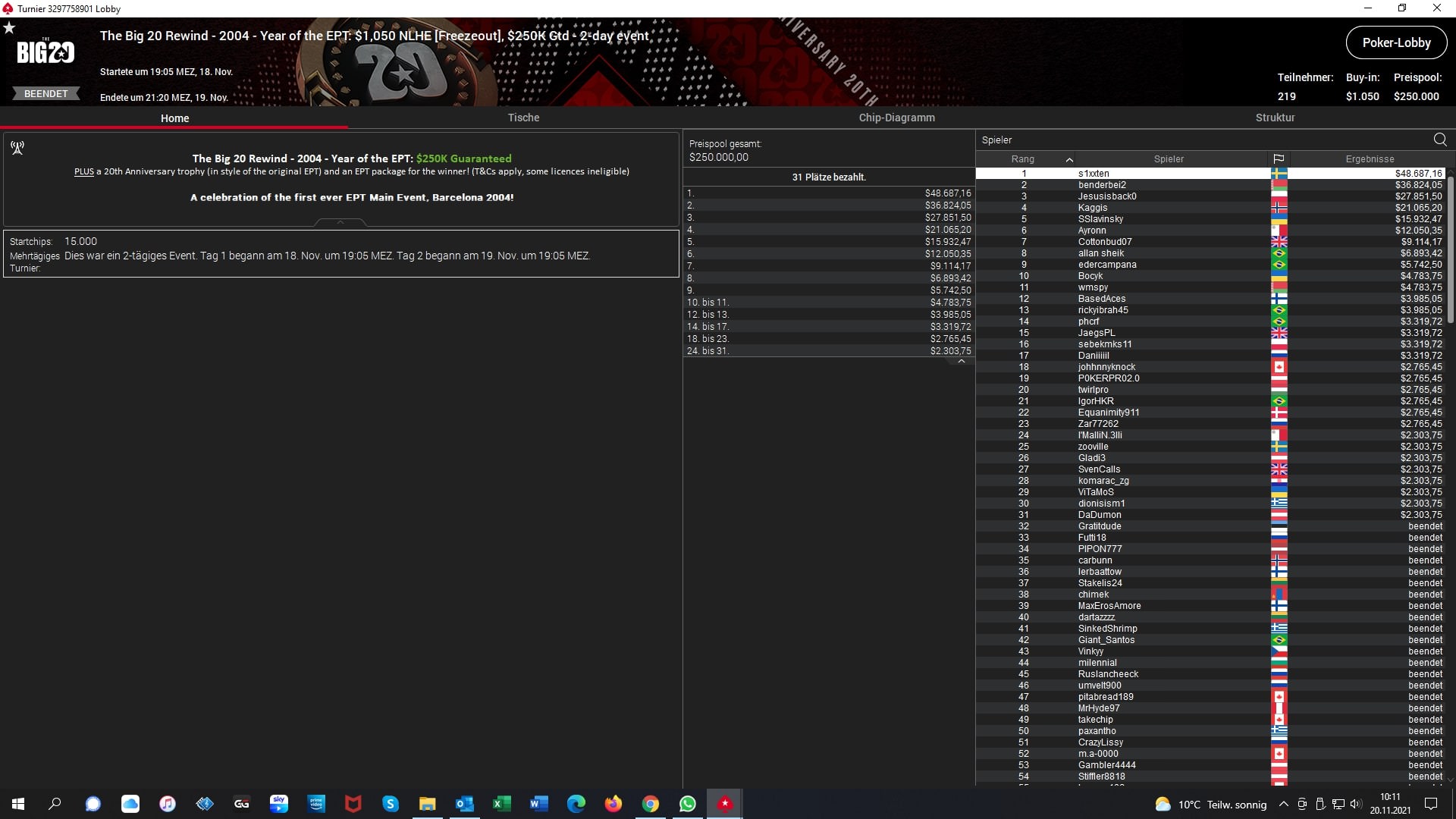 Dann startete noch das $109 NLHE Freezeout "The Big 20 Rewind" 2005 Year of the PCA Turnier. Hier kauften sich 1.243 Online-Grinder ein und so ging es um ein Preisgeld von $124.300. Für das Finale konnten sich nur neun Spieler qualifizieren. Die Teilnehmer vom Finale haben schon $1.560 sicher und der Champion soll $19.526 bekommen. Als Chipleader kommt der Rumäne "sebesQue" an den Final Table. Mit dem Schweizer "Bilak1700" auf Rang 4 hat auch die DACH-Gemeinde noch ein heißes Eisen im Feuer.
Hier ist der Zwischenstand: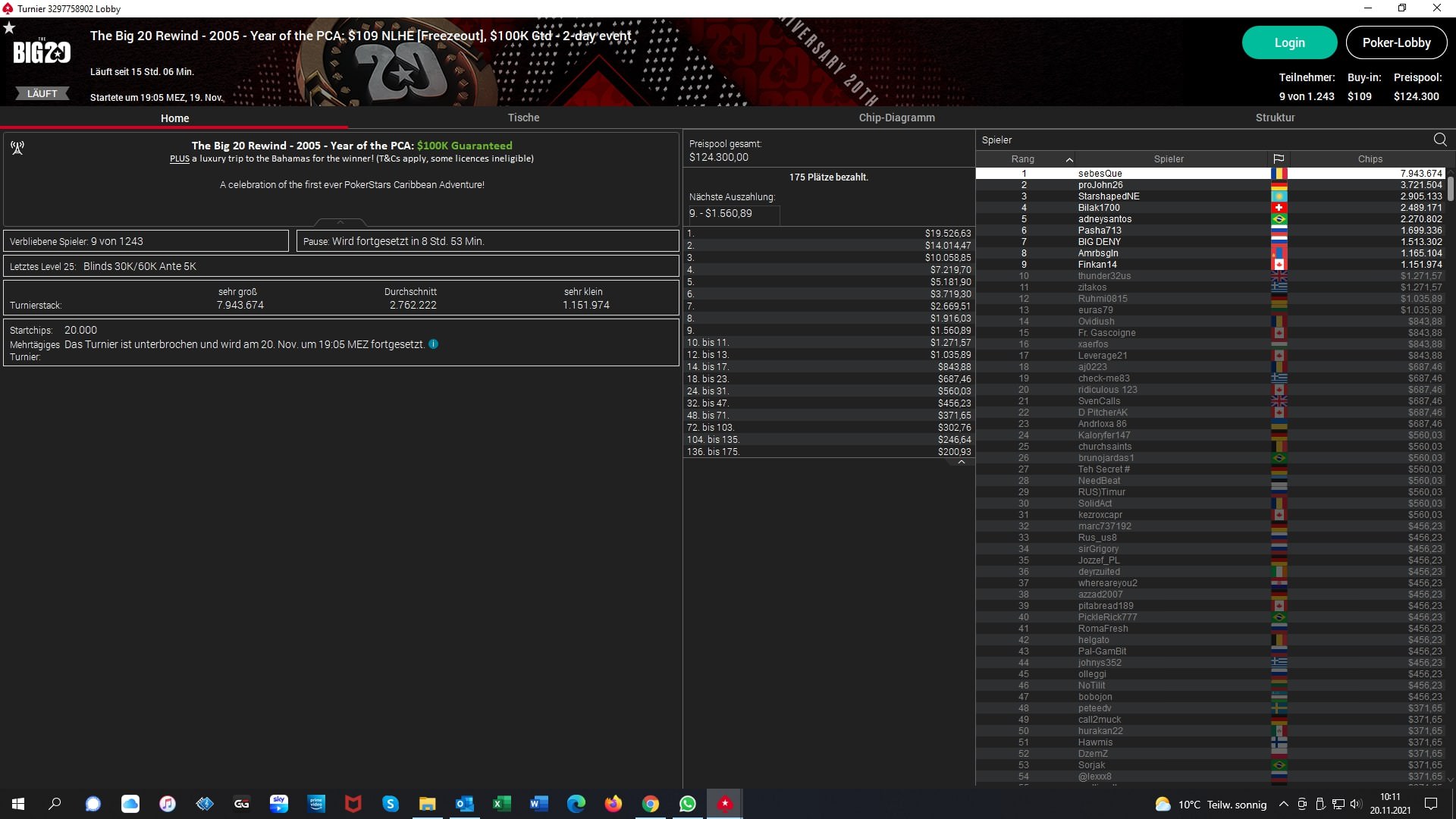 Im PokerStars High Roller Club war es am Freitag sehr ruhig. Nur zwei Turniere wurden gespielt. Das $530 Bounty Builder High Roller lockte nur 132 Entries an und so ging es um $66.000. Den Sieg und $6.144 + $8.999 Bounties schnappte sich der Russe "december349". "alba183183" aus Deutschland wurde Dritter für $4.151 + $1.476 Bounties. "DaRealEgon" (GER) belegte noch Platz 6 für $1.925 + $375 Bounties.
Dann konnte noch "metelindberg" aus Russland das $530 Bounty Builder High Roller Late-Edition Event für $2.840 + $3.687 Bounties gewinnen. Hier belegte Julian "jutrack" Track (GER/AUT) Platz 3 für $1.415 + $250 Bounties.
Hier sind die Ergebnisse vom Freitag: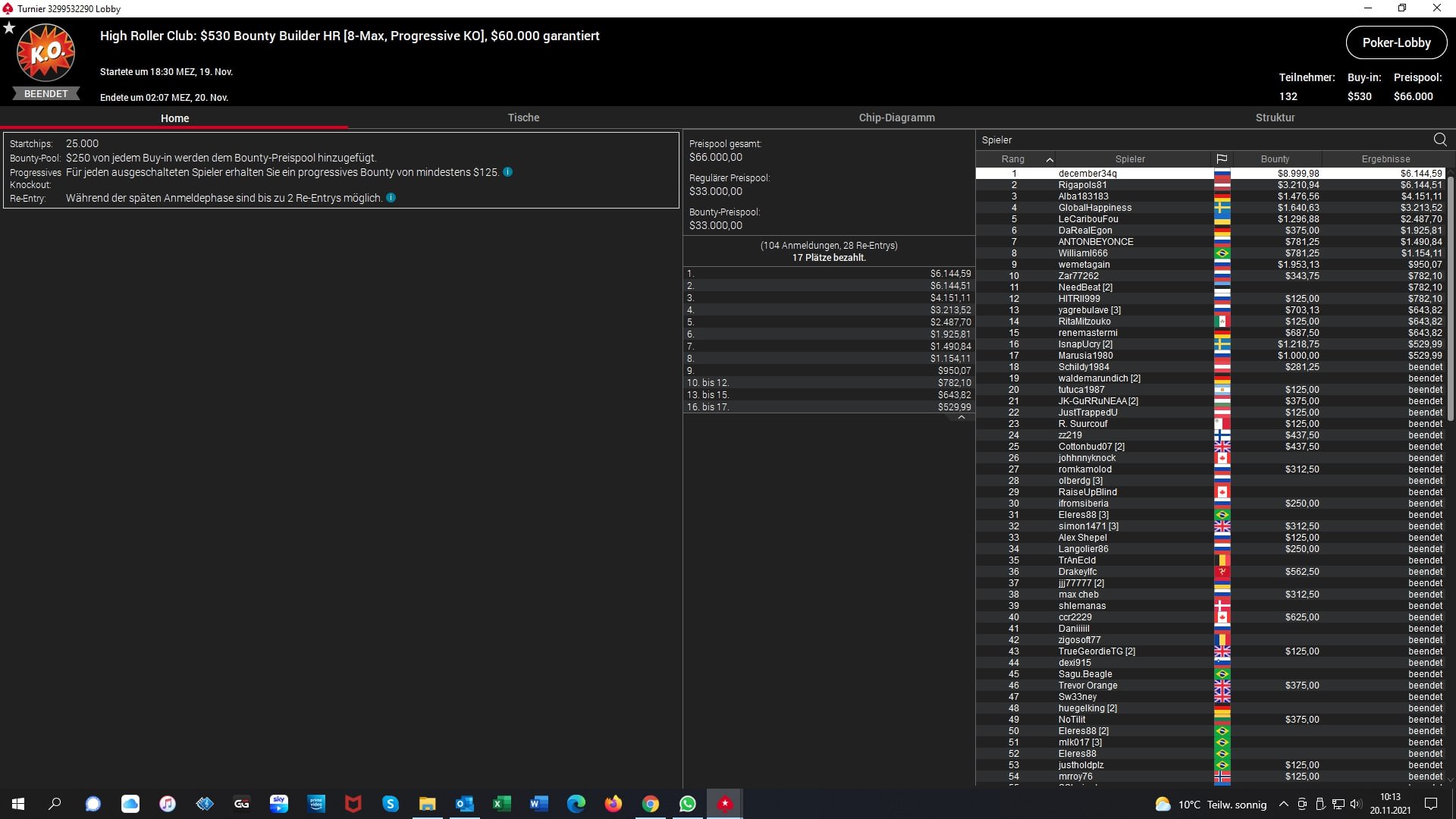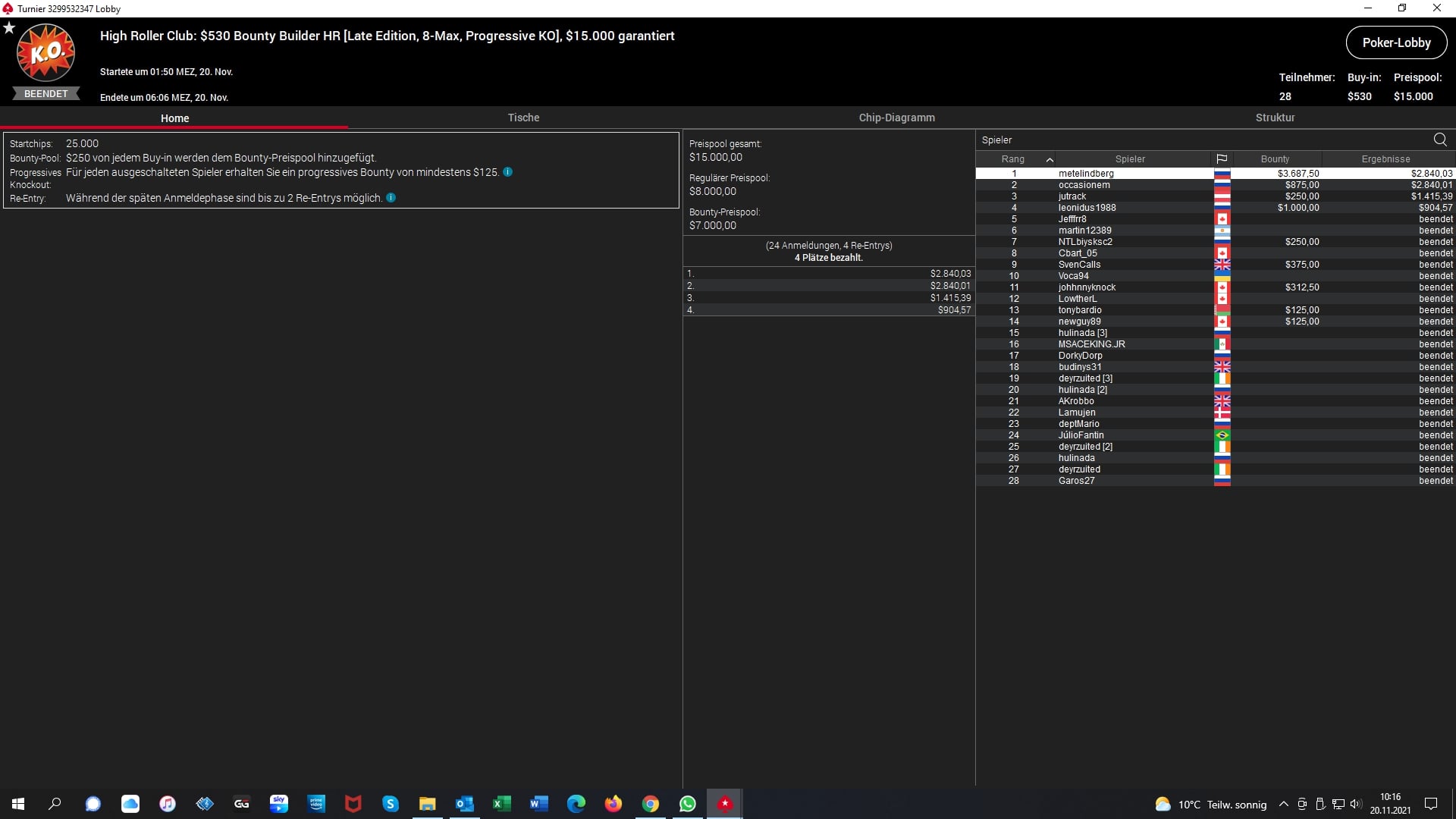 Wenn ihr noch keinen PokerStars Account habt, könnt ihr euch hier registrieren und alle Vorteile genießen. Mit dem Ersteinzahlungs-Bonuscode "THIRTY" bekommt ihr sofort $30 Spielguthaben, oder ihr benutzt bei eurer ersten Einzahlung den Bonuscode "STARS600" und ihr bekommt 100% Deposit Bonus (bis zu $600).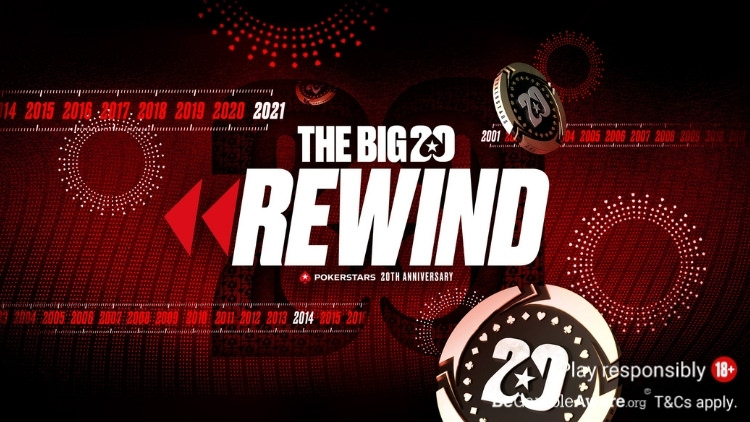 Hier ist der Turnierplan der "The Big 20 Rewind" Series:

Sun 21 November: The Big 20 Rewind – 2006 – Year of the Sunday Million
Buy-in: $215
Start time: $215 (two day event ends on Mon 22 November)
Guarantee: $1,000,000
Prize: Tickets to a major sports event final (held on a Sunday)

Mon 22 November: The Big 20 Rewind – 2007 – Year of EPTLive
Buy-in: Freeroll
Start time: 14:05 ET
Guarantee: $20,000
Prize: Streaming package (gaming station, chair, headset, webcam)

Mon 22 November: The Big 20 Rewind – 2008 – Year of the Turbo Takedown
Buy-in: $30
Start time: 14:30 ET
Guarantee: $100,000
Prize: Electric Car*
* up to the value of $100,000

Tue 23 November: The Big 20 Rewind – 2009 – Year of SCOOP
Buy-in: $109
Start time: 13:05 ET (two day event ends on Wed 24 November)
Guarantee: $300,000
Prize: 20th Anniversary luxury watches for all three winners

Tue 23 November: The Big 20 Rewind – 2009 – Year of SCOOP
Buy-in: $1050
Start time: 13:05 ET (two day event ends on Wed 24 November)
Guarantee: $700,000
Prize: 20th Anniversary luxury watches for all three winners

Tue 23 November: The Big 20 Rewind – 2009 – Year of SCOOP
Buy-in: $10300
Start time: 13:05 ET (two day event ends on Wed 24 November)
Guarantee: $750,000
Prize: 20th Anniversary luxury watches for all three winners

Wed 24 November: The Big 20 Rewind – 2010 – Year of the Big Game
Buy-in: $55
Start time: 13:05 ET (two day event ends on Thu 25 November)
Guarantee: $250,000
Prize: State of the art TV & surround sound system

Thu 25 November: The Big 20 Rewind – 2011 – Year of Home Games
Buy-in: $11
Start time: 13:05 ET
Guarantee: $100,00
Prize: Home Game package – bespoke table & poker set; use of a dealer and chef for one night

Fri 26 November: The Big 20 Rewind – 2012 – Year of Zoom
Buy-in: $11
Start time: 13:05 ET
Guarantee: $125,000
Prize: Tickets to the Monte-Carlo Grand Prix (+ an EPT package)

Sat 27 November: The Big 20 Rewind – 2013 – Year of the PKO
Buy-in: $22
Start time: 13:05 ET (two day event ends on Mon 28 November)
Guarantee: $225,000
Prize: UFC tickets

Sun 28 November: The Big 20 Rewind – 2014 – Year of Spin & Go
Buy-in: $10
Start time: 13:05 ET
Guarantee: $150,000
Prize: Dinner for 3 at 3* Michelin restaurant for winner and two friends*
*up to the value of $5,000

Mon 29 November: The Big 20 Rewind – 2015 – Year of Sports & Casino
Buy-in: $55
Start time: 13:05 ET
Guarantee: $200,000
Prize: Trip to Las Vegas

Tue 30 November: The Big 20 Rewind – 2016 – Year of the USA
Buy-in: $200
Start time: 13:05 ET
Guarantee: $200,000
Prize: Trip to New York
Wed 1 December: The Big 20 Rewind – 2017 – Year of Twitch
Buy-in: $11
Start time: 13:05 ET
Guarantee: $100,000
Prize: Trip to TwitchCon – Amsterdam

Thu 2 December: The Big 20 Rewind – 2018 – Year of the Platinum Pass
Buy-in: $5
Start time: 13:05 ET
Guarantee: $50,000
Prize: $10k in tickets to Year of PSPC tournament for top finishers

Fri 3 December: The Big 20 Rewind – 2019 – Year of the PSPC
Buy-in: $25
Start time: 13:05 ET (two day event ends on Sat 4 December)
Guarantee: $150,000
Prize: Platinum Pass for PSPC 2022

Sat 4 December: The Big 20 Rewind – 2020 – Year of the Arena
Buy-in: $5200
Start time: 13:05 ET (two day event ends on Mon 5 December)
Guarantee: $300,000
Prize: VIP Live arena concert experience – Foo Fighters
Sun 5 December: The Big 20 Finale
Buy-in: $55
Start time: 13:05 ET (three day event ends on Tue 7 December)
Guarantee: $5,000,000