Auf PokerStars gab es am Dienstag nur vier Events im High Roller Club, bei denen Preisgelder von $144.438 ausgespielt wurden. Außerdem wurden das "The Big 20 Rewind – Year of the SCOOP" Event in drei Buy-In Stufen gespielt.
Das Highlight am Dienstag war das $10.300 "The Big 20 Rewind" – Year of SCOOP" High Tier Event. Hier mischten sich auch Jens "Knossi" Knossalla (GER), Frank "Knüppel" Stöckchen (GER) und Felix "xflixx" Schneiders (GER) unter die High Roller. Insgesamt kamen 87 Entries zusammen und elf Spieler schafften es in den Finaltag und gleichzeitig in die Geldränge. Der Min-Cash bringt $21.957 und auf den Sieger warten $207.900. 
Unsere drei Gladiatoren hat zwar sichtlich viel Spaß im Livestream, doch für einen Cash sollte es nicht reichen. Felix "xflixx" Schneider (GER) war der erste der Drei, der seine Platz auf Rang 64 räumen musste. Jens "Knossi" Knossalla (GER) kam nur bis Platz 42 und hatte dann frei. Bei Frank "Knüppel" Söckchen (GER) sah es lange gut aus, doch auf Platz 17 musste auch er sich vor den Geldrängen verabschieden. Mit "Sintoras" (GER – Rang 7) und Thomas "WushuTM" Mühlöcker (AUT – Rang 9) haben wir aber noch zwei heiße Eisen im Feuer.
Hier ist das Livestream Replay: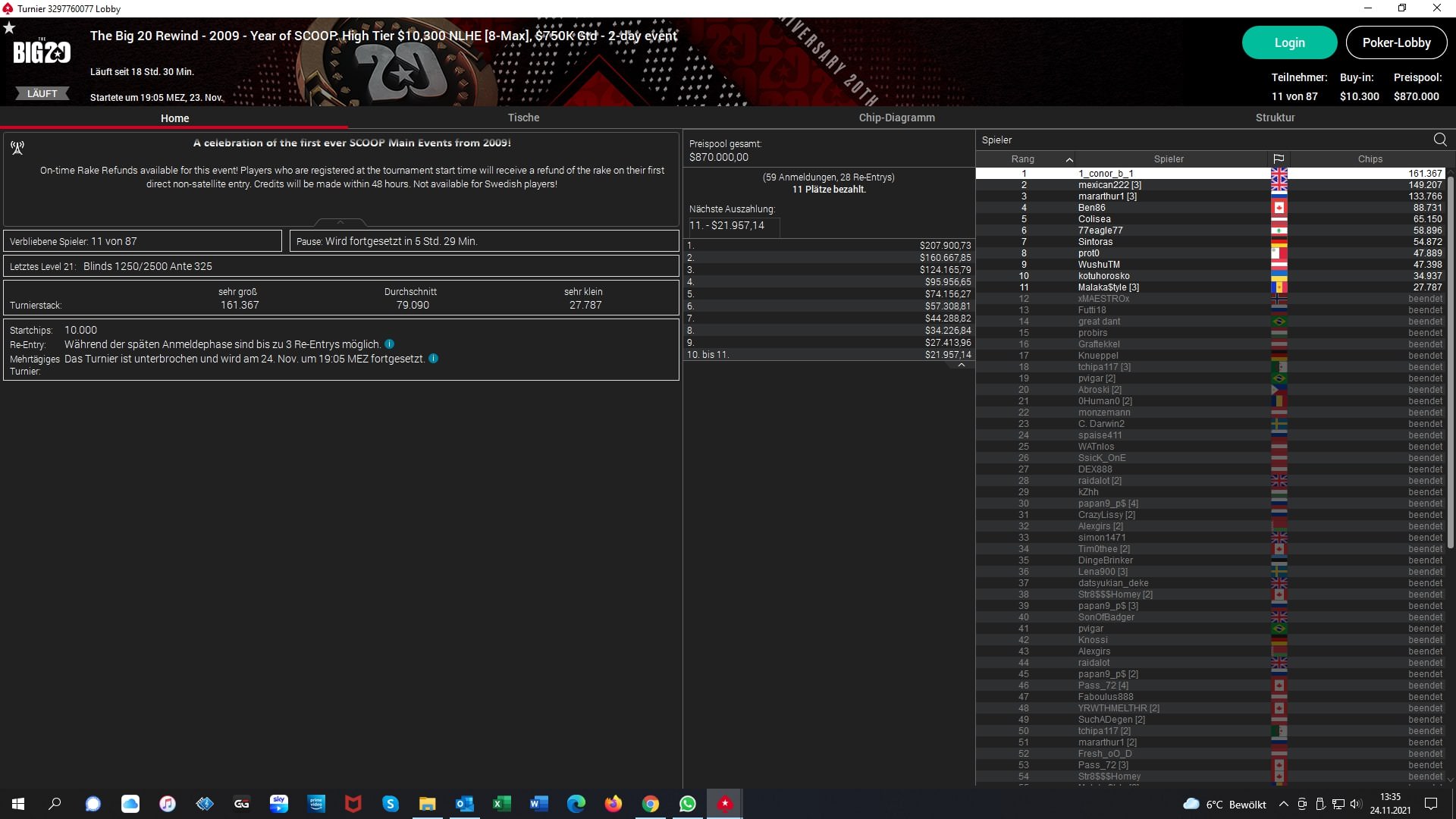 Beim $1.050 "The Big 20 Rewind" Year Of SCOOP Medium Tier gab es 599 Entries und so wurde die Garantiesumme von $700.000 deutlich verpasst. 16 Spieler stehen im Finale und haben schon $6.057 sicher. Der Champion darf sich über $123.185 freuen. Mit "klem90" (Rang 11) und "Manni1822" (Rang 14) sind auch noch zwei Österreicher im Finale dabei.
Das $109 "The Big 20 Rewind" Year Of SCOOP Low Tier lockte 2.635 Online-Grinder an und damit ging es um die Garantiesumme von $300.000. Hier stehen 23 Spieler im Finale und haben schon $1.059 sicher. Für den Sieger sind $43.878 reserviert. Als Chipleader startet der Deutsche "tolstiybry" in den Finaltag. Auch "B0nChance" (AUT – Rang 16) und "saturas66666" (GER – Rang 18) sind noch zwei weitere DACH-Spieler in Finale dabei.
Stefan "mindgamer" Jedlicka gewinnt am Dienstag zwei Turniere im PokerStars High Roller Club!
Er konnte sich beim $215 Fat Tuesday gegen 40 Gegner durchsetzen und $1.455 + $2.487 Bounties abräumen. Wenig später triumphierte er noch beim $530 Daily Supersonic und holte sich weitere $5.517. 
Außerdem gab es noch Siege für "papan9_p" (RUS – $8.499 + $9.875 Bounties) beim $530 Bounty Builder High Roller und für "CalmRevolver" (RUS – $4.792 + $6.093 Bounties) beim $1.050 Daily Cooldown.