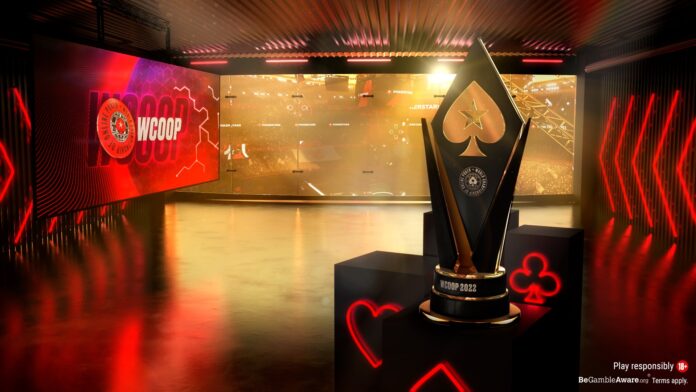 Es sind nur noch knapp drei Wochen bis zur mit Spannung erwarteten 21. Ausgabe der World Championship of Online Poker (WCOOP) und jetzt hat PokerStars endlich den kompletten Spielplan veröffentlicht.
Demnach werden vom 4. Bis zum 28. September insgesamt 104 Event mit einem garantierten Gesamtpreispool in Höhe von $85 Millionen angeboten. Wie gewohnt wird es pro Event eine Low-, eine Mid- und eine High-Variante geben, sodass die Buy-ins zwischen $5,50 und $25.000 liegen.
Neu bei der diesjährigen Ausgabe sind die 12 World Championship Event in verschiedenen Disziplinen, darunter natürlich der NLHE Main Event und der PLO Main Event.
Die Übersicht der World Championship Events:
Sept 4: $5.200 NLHE PKO Championship
Sept 7: $1.050 HORSE Championship
Sept 8: $1.050 Badugi Championship
Sept 11: $5.200 NLHE 6-Max Championship
Sept 12: $2.100 PLO8 Championship
Sept 14: $1.050 Razz Championship
Sept 18: $1.050 Women's Championship
Sept 19: $1.050 8-Game Championship
Sept 20: $10.300 NLHE Heads-Up Championship
Sept 22: $1.050 NL 207 Single Draw Championship
Sept 25: $10.300 NLHE Main Event / Championship
Sept 25: $10.300 PLO Main Event / Championship
Zu allen diesen Turnieren wird es natürlich auch lukrative Satellites für ein Bruchteil des Ziel-Buy-ins geben.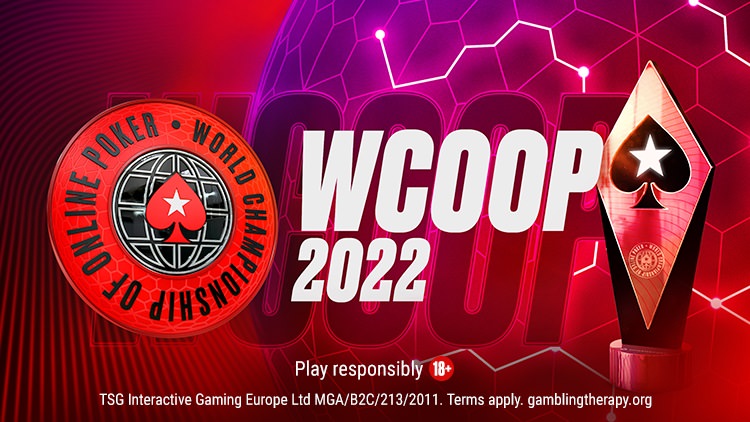 Außerdem wird es auch wieder einige WCOOP-Promotions geben, über die mehr als $250.000 an zusätzlichen Tickets und Preisen ausgeschüttet werden.
Champions Freeoll
Alle Gewinner der WCOOP-Turniere von 2021 spielen in einem speziellen Freeroll um fünf Tickets für den $10.300 WCOOP Main Event.
Player of the Series Leaderboards
Auch der Leaderboard Contest darf in diesem Jahr nicht fehlen. Insgesamt werden hier $100.000 an die Bestplatzierten im Low-, Medium, High- und Overall-Leaderboard ausgeschüttet.
Wie immer gibt es hier ein Punktesystem, dass sich nach den ITM-Platzierungen der einzelnen Turniere richtet.
WCOOP Spin & Gos
In der PokerStars-Lobby findet ihr auch wieder spezielle WCOOP Spin & Gos, über die Tickets im Wert von bis zu $10.300 auf dem Spiel stehen.
WCOOP Fast Track
Etabliert haben sich in den vergangenen Jahren auch die Fast Track Satellites. Das Ziel sind die $10.300 Tickets für den WCOOP Main Event und hier legt PokerStars zusätzlich $100.000 in die Preispools. Die Fast Track Satellites beginnen ebenfalls mit einem Bruchteil des Ziel-Buy-ins.
Wenn ihr noch keinen PokerStars-Account habt, könnt ihr euch hier registrieren und alle Vorteile genießen. Mit dem Ersteinzahlungs-Bonuscode "THIRTY" bekommt ihr sofort $30 Spielguthaben oder ihr benutzt bei eurer ersten Einzahlung den Bonuscode "STARS600" und bekommt 100% Deposit-Bonus (bis zu $600). 

Zum Abschluss hier der komplette Spielplan zur WCOOP 2022:
| Date | Time (ET) | Event |
| --- | --- | --- |
| Sun, 04 Sept | 08:05 | WCOOP 02-L: $5.50 NLHE [WCOOP][Kickoff], $50K Gtd |
| Sun, 04 Sept | 08:05 | WCOOP 02-M: $55 NLHE [WCOOP][Kickoff], $200K Gtd |
| Sun, 04 Sept | 08:05 | WCOOP 02-H: $530 NLHE [WCOOP][Kickoff], $350K Gtd |
| Sun, 04 Sept | 10:05 | WCOOP 03-L: $22 NLHE [PKO,][Sunday][Warm-Up], $175K Gtd |
| Sun, 04 Sept | 10:05 | WCOOP 03-M: $215 NLHE [PKO,][Sunday][Warm-Up], $500K Gtd |
| Sun, 04 Sept | 10:05 | WCOOP 03-H: $2,100 NLHE [PKO,][Sunday][Warm-Up], $500K Gtd |
| Sun, 04 Sept | 12:30 | WCOOP 04-L: $109 NLHE [Sunday][Million], $1M Gtd |
| Sun, 04 Sept | 12:30 | WCOOP 04-M: $1,050 NLHE, $1.25M Gtd |
| Sun, 04 Sept | 12:30 | WCOOP 04-H: $10,300 NLHE [High][Roller], $850K Gtd |
| Sun, 04 Sept | 12:30 | World Championship of PKO NLHE: $5,200 NLHE, $1M Gtd |
| Sun, 04 Sept | 13:30 | WCOOP 05-L: $22 PLO, $50K Gtd |
| Sun, 04 Sept | 13:30 | WCOOP 05-M: $215 PLO, $125K Gtd |
| Sun, 04 Sept | 13:30 | WCOOP 05-H: $2,100 PLO, $250K Gtd |
| Sun, 04 Sept | 15:05 | WCOOP 06-L: $11 NLHE [6-Max], $100K Gtd |
| Sun, 04 Sept | 15:05 | WCOOP 06-M: $109 NLHE [6-Max], $300K Gtd |
| Sun, 04 Sept | 15:05 | WCOOP 06-H: $1,050 NLHE [6-Max], $400K Gtd |
| Sun, 04 Sept | 16:30 | WCOOP 07-L: $5.50 NLHE [Turbo,][PKO,][Sunday][Cooldown], $35K Gtd |
| Sun, 04 Sept | 16:30 | WCOOP 07-M: $55 NLHE [Turbo,][PKO,][Sunday][Cooldown], $200K Gtd |
| Sun, 04 Sept | 16:30 | WCOOP 07-H: $530 NLHE [Turbo,][PKO,][Sunday][Cooldown], $325K Gtd |
| Mon, 05 Sept | 13:05 | WCOOP 08-L: $55 NLHE [PKO], $400K Gtd |
| Mon, 05 Sept | 13:05 | WCOOP 08-M: $530 NLHE [PKO], $500K Gtd |
| Mon, 05 Sept | 13:05 | WCOOP 08-H: $5,200 NLHE [PKO,][High][Roller], $500K Gtd |
| Mon, 05 Sept | 14:15 | WCOOP 09-L: $22 HORSE, $25K Gtd |
| Mon, 05 Sept | 14:15 | WCOOP 09-M: $215 HORSE, $50K Gtd |
| Mon, 05 Sept | 14:15 | WCOOP 09-H: $2,100 HORSE, $75K Gtd |
| Mon, 05 Sept | 15:30 | WCOOP 10-L: $11 NLHE [PKO], $80K Gtd |
| Mon, 05 Sept | 15:30 | WCOOP 10-M: $109 NLHE [PKO], $275K Gtd |
| Mon, 05 Sept | 15:30 | WCOOP 10-H: $1,050 NLHE [PKO], $300K Gtd |
| Tue, 06 Sept | 10:05 | WCOOP 11-L: $5.50 NLHE [PKO], $70K Gtd |
| Tue, 06 Sept | 10:05 | WCOOP 11-M: $55 NLHE [PKO], $300K Gtd |
| Tue, 06 Sept | 10:05 | WCOOP 11-H: $530 NLHE [PKO], $350K Gtd |
| Tue, 06 Sept | 11:30 | WCOOP 12-L: $11 5-Card PLO8 [8-Max], $17.5K Gtd |
| Tue, 06 Sept | 11:30 | WCOOP 12-M: $109 5-Card PLO8 [8-Max], $40K Gtd |
| Tue, 06 Sept | 11:30 | WCOOP 12-H: $1,050 5-Card PLO8 [8-Max], $85K Gtd |
| Tue, 06 Sept | 12:30 | WCOOP 13-L: $109 NLHE [Super][Tuesday], $400K Gtd |
| Tue, 06 Sept | 12:30 | WCOOP 13-M: $1,050 NLHE [Super][Tuesday], $600K Gtd |
| Tue, 06 Sept | 12:30 | WCOOP 13-H: $10,300 NLHE [Super][Tuesday][High][Roller], $650K Gtd |
| Tue, 06 Sept | 13:30 | WCOOP 14-L: $11 NL 2-7 Single Draw, $10K Gtd |
| Tue, 06 Sept | 13:30 | WCOOP 14-M: $109 NL 2-7 Single Draw, $20K Gtd |
| Tue, 06 Sept | 13:30 | WCOOP 14-H: $1,050 NL 2-7 Single Draw, $50K Gtd |
| Tue, 06 Sept | 15:05 | WCOOP 15-L: $22 NLHE [7-Max,][PKO], $200K Gtd |
| Tue, 06 Sept | 15:05 | WCOOP 15-M: $215 NLHE [7-Max,][PKO], $400K Gtd |
| Tue, 06 Sept | 15:05 | WCOOP 15-H: $2,100 NLHE [7-Max,][PKO], $325K Gtd |
| Wed, 07 Sept | 11:30 | WCOOP 16-L: $11 NLHE [Deep][Stack], $100K Gtd |
| Wed, 07 Sept | 11:30 | WCOOP 16-M: $109 NLHE [Deep][Stack], $250K Gtd |
| Wed, 07 Sept | 11:30 | WCOOP 16-H: $1,050 NLHE [Deep][Stack], $200K Gtd |
| Wed, 07 Sept | 12:30 | WCOOP 17-L: $22 NLHE [7-Max], $150K Gtd |
| Wed, 07 Sept | 12:30 | WCOOP 17-M: $215 NLHE [7-Max], $300K Gtd |
| Wed, 07 Sept | 12:30 | WCOOP 17-H: $2,100 NLHE [7-Max], $375K Gtd |
| Wed, 07 Sept | 12:30 | World Championship of HORSE: $1,050, $100K Gtd |
| Wed, 07 Sept | 13:30 | WCOOP 18-L: $11 PLO, $35K Gtd |
| Wed, 07 Sept | 13:30 | WCOOP 18-M: $109 PLO, $100K Gtd |
| Wed, 07 Sept | 13:30 | WCOOP 18-H: $1,050 PLO, $200K Gtd |
| Wed, 07 Sept | 15:05 | WCOOP 19-L: $5.50+R NLHE, $50K Gtd |
| Wed, 07 Sept | 15:05 | WCOOP 19-M: $55+R NLHE, $175K Gtd |
| Wed, 07 Sept | 15:05 | WCOOP 19-H: $530+R NLHE, $200K Gtd |
| Thu, 08 Sept | 10:05 | WCOOP 20-L: $5.50 NLHE, $35K Gtd |
| Thu, 08 Sept | 10:05 | WCOOP 20-M: $55 NLHE, $150K Gtd |
| Thu, 08 Sept | 10:05 | WCOOP 20-H: $530 NLHE, $275K Gtd |
| Thu, 08 Sept | 11:30 | WCOOP 21-L: $11 FLHE [6-Max], $10K Gtd |
| Thu, 08 Sept | 11:30 | WCOOP 21-M: $109 FLHE [6-Max], $20K Gtd |
| Thu, 08 Sept | 11:30 | WCOOP 21-H: $1,050 FLHE [6-Max], $40K Gtd |
| Thu, 08 Sept | 12:30 | WCOOP 22-L: $55 NLHE [PKO,][Thursday][Thrill], $400K Gtd |
| Thu, 08 Sept | 12:30 | WCOOP 22-M: $530 NLHE [PKO,][Thursday][Thrill], $800K Gtd |
| Thu, 08 Sept | 12:30 | WCOOP 22-H: $5,200 NLHE [PKO,][Thursday][Thrill][High][Roller], $650K Gtd |
| Thu, 08 Sept | 12:30 | World Championship of Badugi: $1,050, $50K Gtd |
| Thu, 08 Sept | 13:30 | WCOOP 39-L: $11 Razz, $12.5K Gtd |
| Thu, 08 Sept | 13:30 | WCOOP 39-M: $109 Razz, $35K Gtd |
| Thu, 08 Sept | 13:30 | WCOOP 39-H: $1,050 Razz, $70K Gtd |
| Thu, 08 Sept | 15:05 | WCOOP 24-L: $22 NLHE [6-Max], $80K Gtd |
| Thu, 08 Sept | 15:05 | WCOOP 24-M: $215 NLHE [6-Max], $175K Gtd |
| Thu, 08 Sept | 15:05 | WCOOP 24-H: $2,100 NLHE [6-Max], $250K Gtd |
| Thu, 08 Sept | 16:30 | WCOOP 25-L: $5.50 NLHE [Turbo,][PKO], $30K Gtd |
| Thu, 08 Sept | 16:30 | WCOOP 25-M: $55 NLHE [Turbo,][PKO], $150K Gtd |
| Thu, 08 Sept | 16:30 | WCOOP 25-H: $530 NLHE [Turbo,][PKO], $200K Gtd |
| Sat, 10 Sept | 10:05 | WCOOP 26-L: $5.50 NLHE [Deep][Stack], $50K Gtd |
| Sat, 10 Sept | 10:05 | WCOOP 26-M: $55 NLHE [Deep][Stack], $200K Gtd |
| Sat, 10 Sept | 10:05 | WCOOP 26-H: $530 NLHE [Deep][Stack], $250K Gtd |
| Sat, 10 Sept | 11:30 | WCOOP 27-L: $11 8-Game, $20K Gtd |
| Sat, 10 Sept | 11:30 | WCOOP 27-M: $109 8-Game, $40K Gtd |
| Sat, 10 Sept | 11:30 | WCOOP 27-H: $1,050 8-Game, $75K Gtd |
| Sat, 10 Sept | 12:30 | WCOOP 28-L: $11 NLHE [PKO], $150K Gtd |
| Sat, 10 Sept | 12:30 | WCOOP 28-M: $109 NLHE [PKO], $500K Gtd |
| Sat, 10 Sept | 12:30 | WCOOP 28-H: $1,050 NLHE [PKO], $600K Gtd |
| Sat, 10 Sept | 11:30 | WCOOP 29-L: $11 FLO8 [8-Max], $15K Gtd |
| Sat, 10 Sept | 11:30 | WCOOP 29-M: $109 FLO8 [8-Max], $40K Gtd |
| Sat, 10 Sept | 11:30 | WCOOP 29-H: $1,050 FLO8 [8-Max], $65K Gtd |
| Sat, 10 Sept | 15:05 | WCOOP 30-L: $22 NLHE, $100K Gtd |
| Sat, 10 Sept | 15:05 | WCOOP 30-M: $215 NLHE, $175K Gtd |
| Sat, 10 Sept | 15:05 | WCOOP 30-H: $2,100 NLHE, $250K Gtd |
| Sat, 10 Sept | 16:30 | WCOOP 31-L: $11 NLHE [5-Max,][Turbo,][PKO], $50K Gtd |
| Sat, 10 Sept | 16:30 | WCOOP 31-M: $109 NLHE [5-Max,][Turbo,][PKO], $175K Gtd |
| Sat, 10 Sept | 16:30 | WCOOP 31-H: $1,050 NLHE [5-Max,][Turbo,][PKO], $250K Gtd |
| Sun, 11 Sept | 08:05 | WCOOP 32-L: $11 NLHE [Sunday][Kickoff], $85K Gtd |
| Sun, 11 Sept | 08:05 | WCOOP 32-M: $109 NLHE [Sunday][Kickoff], $250K Gtd |
| Sun, 11 Sept | 08:05 | WCOOP 32-H: $1,050 NLHE [Sunday][Kickoff], $300K Gtd |
| Sun, 11 Sept | 10:05 | WCOOP 33-L: $5.50 NLHE [PKO,][Sunday][Warm-Up], $50K Gtd |
| Sun, 11 Sept | 10:05 | WCOOP 33-M: $55 NLHE [PKO,][Sunday][Warm-Up], $300K Gtd |
| Sun, 11 Sept | 10:05 | WCOOP 33-H: $530 NLHE [PKO,][Sunday][Warm-Up], $500K Gtd |
| Sun, 11 Sept | 12:30 | WCOOP 34-L: $109 NLHE [Sunday][Million], $1.25M Gtd |
| Sun, 11 Sept | 12:30 | WCOOP 34-M: $1,050 NLHE, $1.25M Gtd |
| Sun, 11 Sept | 12:30 | WCOOP 34-H: $10,300 NLHE [High][Roller], $850K Gtd |
| Sun, 11 Sept | 12:30 | World Championship of 6-Max NLHE: $5,200, $750K Gtd |
| Sun, 11 Sept | 13:30 | WCOOP 35-L: $22 5-Card PLO, $50K Gtd |
| Sun, 11 Sept | 13:30 | WCOOP 35-M: $215 5-Card PLO, $100K Gtd |
| Sun, 11 Sept | 13:30 | WCOOP 35-H: $2,100 5-Card PLO, $200K Gtd |
| Sun, 11 Sept | 15:05 | WCOOP 36-L: $11 NLHE [7-Max,][PKO], $85K Gtd |
| Sun, 11 Sept | 15:05 | WCOOP 36-M: $109 NLHE [7-Max,][PKO], $300K Gtd |
| Sun, 11 Sept | 15:05 | WCOOP 36-H: $1,050 NLHE [7-Max,][PKO], $300K Gtd |
| Sun, 11 Sept | 16:30 | WCOOP 37-L: $55 NLHE [Turbo,][PKO,][Sunday][Cooldown], $300K Gtd |
| Sun, 11 Sept | 16:30 | WCOOP 37-M: $530 NLHE [Turbo,][PKO,][Sunday][Cooldown], $400K Gtd |
| Sun, 11 Sept | 16:30 | WCOOP 37-H: $5,200 NLHE [Turbo,][PKO,][Sunday][Cooldown][High][Roller], $400K Gtd |
| Mon, 12 Sept | 12:30 | WCOOP 38-L: $22 NLHE [6-Max,][PKO], $250K Gtd |
| Mon, 12 Sept | 12:30 | WCOOP 38-M: $215 NLHE [6-Max,][PKO], $500K Gtd |
| Mon, 12 Sept | 12:30 | WCOOP 38-H: $2,100 NLHE [6-Max,][PKO], $400K Gtd |
| Mon, 12 Sept | 12:30 | World Championship of PLO8: $1,050, $100K Gtd |
| Mon, 12 Sept | 13:30 | WCOOP 23-L: $11 Stud Hi/Lo, $10K Gtd |
| Mon, 12 Sept | 13:30 | WCOOP 23-M: $109 Stud Hi/Lo, $25K Gtd |
| Mon, 12 Sept | 13:30 | WCOOP 23-H: $1,050 Stud Hi/Lo, $50K Gtd |
| Mon, 12 Sept | 15:05 | WCOOP 40-L: $11 NLHE [7-Max,][PKO], $50K Gtd |
| Mon, 12 Sept | 15:05 | WCOOP 40-M: $109 NLHE [7-Max,][PKO], $175K Gtd |
| Mon, 12 Sept | 15:05 | WCOOP 40-H: $1,050 NLHE [7-Max,][PKO], $200K Gtd |
| Tue, 13 Sept | 10:05 | WCOOP 41-L: $5.50 NLHE [Deep][Stack], $40K Gtd |
| Tue, 13 Sept | 10:05 | WCOOP 41-M: $55 NLHE [Deep][Stack], $175K Gtd |
| Tue, 13 Sept | 10:05 | WCOOP 41-H: $530 NLHE [Deep][Stack], $300K Gtd |
| Tue, 13 Sept | 11:30 | WCOOP 42-L: $11 PLO [PKO], $35K Gtd |
| Tue, 13 Sept | 11:30 | WCOOP 42-M: $109 PLO [PKO], $100K Gtd |
| Tue, 13 Sept | 11:30 | WCOOP 42-H: $1,050 PLO [PKO], $175K Gtd |
| Tue, 13 Sept | 12:30 | WCOOP 43-L: $215 NLHE [Super][Tuesday], $350K Gtd |
| Tue, 13 Sept | 12:30 | WCOOP 43-M: $2,100 NLHE [Super][Tuesday], $400K Gtd |
| Tue, 13 Sept | 12:30 | WCOOP 43-H: $25,000 NLHE [Super][High][Roller], $1M Gtd |
| Tue, 13 Sept | 13:30 | WCOOP 44-L: $22 FL 2-7 Triple Draw, $12.5K Gtd |
| Tue, 13 Sept | 13:30 | WCOOP 44-M: $215 FL 2-7 Triple Draw, $30K Gtd |
| Tue, 13 Sept | 13:30 | WCOOP 44-H: $2,100 FL 2-7 Triple Draw, $65K Gtd |
| Tue, 13 Sept | 15:05 | WCOOP 45-L: $5.50 NLHE [7-Max,][PKO], $30K Gtd |
| Tue, 13 Sept | 15:05 | WCOOP 45-M: $55 NLHE [7-Max,][PKO], $175K Gtd |
| Tue, 13 Sept | 15:05 | WCOOP 45-H: $530 NLHE [7-Max,][PKO], $300K Gtd |
| Wed, 14 Sept | 12:30 | WCOOP 46-L: $55 NLHE [Midweek][Freeze], $150K Gtd |
| Wed, 14 Sept | 12:30 | WCOOP 46-M: $530 NLHE [Midweek][Freeze], $250K Gtd |
| Wed, 14 Sept | 12:30 | WCOOP 46-H: $5,200 NLHE [Midweek][Freeze][High][Roller], $325K Gtd |
| Wed, 14 Sept | 12:30 | World Championship of Razz: $1,050, $75K Gtd |
| Wed, 14 Sept | 13:30 | WCOOP 47-L: $11 FL Badugi [6-Max], $7.5K Gtd |
| Wed, 14 Sept | 13:30 | WCOOP 47-M: $109 FL Badugi [6-Max], $15K Gtd |
| Wed, 14 Sept | 13:30 | WCOOP 47-H: $1,050 FL Badugi [6-Max], $35K Gtd |
| Wed, 14 Sept | 15:05 | WCOOP 48-L: $5.50 NLHE [6-Max], $20K Gtd |
| Wed, 14 Sept | 15:05 | WCOOP 48-M: $55 NLHE [6-Max], $100K Gtd |
| Wed, 14 Sept | 15:05 | WCOOP 48-H: $530 NLHE [6-Max], $175K Gtd |
| Thu, 15 Sept | 10:05 | WCOOP 49-L: $11 NLHE, $75K Gtd |
| Thu, 15 Sept | 10:05 | WCOOP 49-M: $109 NLHE, $200K Gtd |
| Thu, 15 Sept | 10:05 | WCOOP 49-H: $1,050 NLHE, $225K Gtd |
| Thu, 15 Sept | 11:30 | WCOOP 50-L: $22 PLO8, $30K Gtd |
| Thu, 15 Sept | 11:30 | WCOOP 50-M: $215 PLO8, $80K Gtd |
| Thu, 15 Sept | 11:30 | WCOOP 50-H: $2,100 PLO8, $150K Gtd |
| Thu, 15 Sept | 12:30 | WCOOP 51-L: $22 NLHE [PKO,][Thursday][Thrill], $150K Gtd |
| Thu, 15 Sept | 12:30 | WCOOP 51-M: $215 NLHE [PKO,][Thursday][Thrill], $400K Gtd |
| Thu, 15 Sept | 12:30 | WCOOP 51-H: $2,100 NLHE [PKO,][Thursday][Thrill], $650K Gtd |
| Thu, 15 Sept | 13:30 | WCOOP 52-L: $109 8-Game, $50K Gtd |
| Thu, 15 Sept | 13:30 | WCOOP 52-M: $1,050 8-Game, $100K Gtd |
| Thu, 15 Sept | 13:30 | WCOOP 52-H: $10,300 8-Game [High][Roller], $350K Gtd |
| Thu, 15 Sept | 15:05 | WCOOP 53-L: $55 NLHE [6-Max], $150K Gtd |
| Thu, 15 Sept | 15:05 | WCOOP 53-M: $530 NLHE [6-Max], $200K Gtd |
| Thu, 15 Sept | 15:05 | WCOOP 53-H: $5,200 NLHE [6-Max,][High][Roller], $375K Gtd |
| Thu, 15 Sept | 16:30 | WCOOP 54-L: $11 NLHE [Turbo,][PKO], $100K Gtd |
| Thu, 15 Sept | 16:30 | WCOOP 54-M: $109 NLHE [Turbo,][PKO], $250K Gtd |
| Thu, 15 Sept | 16:30 | WCOOP 54-H: $1,050 NLHE [Turbo,][PKO], $275K Gtd |
| Sat, 17 Sept | 10:05 | WCOOP 55-L: $22 NLHE [Deep][Stack], $125K Gtd |
| Sat, 17 Sept | 10:05 | WCOOP 55-M: $215 NLHE [Deep][Stack], $300K Gtd |
| Sat, 17 Sept | 10:05 | WCOOP 55-H: $2,100 NLHE [Deep][Stack], $200K Gtd |
| Sat, 17 Sept | 11:30 | WCOOP 56-L: $55 PLO, $50K Gtd |
| Sat, 17 Sept | 11:30 | WCOOP 56-M: $530 PLO, $100K Gtd |
| Sat, 17 Sept | 11:30 | WCOOP 56-H: $5,200 PLO, $300K Gtd |
| Sat, 17 Sept | 12:30 | WCOOP 57-L: $5.50 NLHE [PKO], $70K Gtd |
| Sat, 17 Sept | 12:30 | WCOOP 57-M: $55 NLHE [PKO], $350K Gtd |
| Sat, 17 Sept | 12:30 | WCOOP 57-H: $530 NLHE [PKO], $400K Gtd |
| Sat, 17 Sept | 13:30 | WCOOP 58-L: $11 NL 5-Card Draw, $12.5K Gtd |
| Sat, 17 Sept | 13:30 | WCOOP 58-M: $109 NL 5-Card Draw, $20K Gtd |
| Sat, 17 Sept | 13:30 | WCOOP 58-H: $1,050 NL 5-Card Draw, $35K Gtd |
| Sat, 17 Sept | 15:05 | WCOOP 59-L: $11 NLHE [4-Max,][PKO], $80K Gtd |
| Sat, 17 Sept | 15:05 | WCOOP 59-M: $109 NLHE [4-Max,][PKO], $175K Gtd |
| Sat, 17 Sept | 15:05 | WCOOP 59-H: $1,050 NLHE [4-Max,][PKO], $150K Gtd |
| Sat, 17 Sept | 16:30 | WCOOP 60-L: $22 NLHE [Turbo], $100K Gtd |
| Sat, 17 Sept | 16:30 | WCOOP 60-M: $215 NLHE [Turbo], $200K Gtd |
| Sat, 17 Sept | 16:30 | WCOOP 60-H: $2,100 NLHE [Turbo], $250K Gtd |
| Sun, 18 Sept | 08:05 | WCOOP 61-L: $5.50 NLHE [PKO], $60K Gtd |
| Sun, 18 Sept | 08:05 | WCOOP 61-M: $55 NLHE [PKO], $250K Gtd |
| Sun, 18 Sept | 08:05 | WCOOP 61-H: $530 NLHE [PKO], $300K Gtd |
| Sun, 18 Sept | 10:05 | WCOOP 62-L: $22 NLHE [Sunday][Warm-Up], $175K Gtd |
| Sun, 18 Sept | 10:05 | WCOOP 62-M: $215 NLHE [Sunday][Warm-Up], $500K Gtd |
| Sun, 18 Sept | 10:05 | WCOOP 62-H: $2,100 NLHE [Sunday][Warm-Up], $500K Gtd |
| Sun, 18 Sept | 12:30 | WCOOP 63-L: $55 NLHE [PKO,][Mini][Sunday][Million], $600K Gtd |
| Sun, 18 Sept | 12:30 | WCOOP 63-M: $530 NLHE [PKO,][Sunday][Million], $1M Gtd |
| Sun, 18 Sept | 12:30 | WCOOP 63-H: $5,200 NLHE [PKO,][Titans], $650K Gtd |
| Sun, 18 Sept | 12:30 | World Championship, Women's Event: $530 NLHE $65K Gtd |
| Sun, 18 Sept | 13:30 | WCOOP 64-L: $22 NLO8 [PKO], $50K Gtd |
| Sun, 18 Sept | 13:30 | WCOOP 64-M: $215 NLO8 [PKO], $80K Gtd |
| Sun, 18 Sept | 13:30 | WCOOP 64-H: $2,100 NLO8 [PKO], $150K Gtd |
| Sun, 18 Sept | 15:05 | WCOOP 65-L: $22 NLHE [6-Max], $100K Gtd |
| Sun, 18 Sept | 15:05 | WCOOP 65-M: $215 NLHE [6-Max], $250K Gtd |
| Sun, 18 Sept | 15:05 | WCOOP 65-H: $2,100 NLHE [6-Max], $275K Gtd |
| Sun, 18 Sept | 16:30 | WCOOP 66-L: $5.50 NLHE [7-Max,][Turbo,][PKO,][Sunday][Cooldown], $40K Gtd |
| Sun, 18 Sept | 16:30 | WCOOP 66-M: $55 NLHE [7-Max,][Turbo,][PKO,][Sunday][Cooldown], $250K Gtd |
| Sun, 18 Sept | 16:30 | WCOOP 66-H: $530 NLHE [7-Max,][Turbo,][PKO,][Sunday][Cooldown], $350K Gtd |
| Mon, 19 Sept | 12:30 | WCOOP 67-L: $55 NLHE, $500K Gtd |
| Mon, 19 Sept | 12:30 | WCOOP 67-M: $530 NLHE, $650K Gtd |
| Mon, 19 Sept | 12:30 | WCOOP 67-H: $5,200 NLHE, $700K Gtd |
| Mon, 19 Sept | 12:30 | World Championship of 8-Game: $2,100, $100K Gtd |
| Mon, 19 Sept | 13:30 | WCOOP 68-L: $11 6+ Hold'em [6-Max], $20K Gtd |
| Mon, 19 Sept | 13:30 | WCOOP 68-M: $109 6+ Hold'em [6-Max], $25K Gtd |
| Mon, 19 Sept | 13:30 | WCOOP 68-H: $1,050 6+ Hold'em [6-Max], $35K Gtd |
| Mon, 19 Sept | 15:05 | WCOOP 69-L: $11 NLHE, $60K Gtd |
| Mon, 19 Sept | 15:05 | WCOOP 69-M: $109 NLHE, $200K Gtd |
| Mon, 19 Sept | 15:05 | WCOOP 69-H: $1,050 NLHE, $225K Gtd |
| Mon, 19 Sept | 16:30 | WCOOP 70-L: $5.50 NLHE [7-Max,][PKO], $40K Gtd |
| Mon, 19 Sept | 16:30 | WCOOP 70-M: $55 NLHE [7-Max,][PKO], $200K Gtd |
| Mon, 19 Sept | 16:30 | WCOOP 70-H: $530 NLHE [7-Max,][PKO], $300K Gtd |
| Tue, 20 Sept | 11:30 | WCOOP 71-L: $5.50 PLO8, $15K Gtd |
| Tue, 20 Sept | 11:30 | WCOOP 71-M: $55 PLO8, $50K Gtd |
| Tue, 20 Sept | 11:30 | WCOOP 71-H: $530 PLO8, $100K Gtd |
| Tue, 20 Sept | 12:30 | WCOOP 72-L: $22 NLHE [Super][Tuesday], $100K Gtd |
| Tue, 20 Sept | 12:30 | WCOOP 72-M: $215 NLHE [Super][Tuesday], $275K Gtd |
| Tue, 20 Sept | 12:30 | WCOOP 72-H: $2,100 NLHE [Super][Tuesday], $500K Gtd |
| Tue, 20 Sept | 13:05 | World Championship of Heads-Up NLHE: $5,200, $200K Gtd |
| Tue, 20 Sept | 15:05 | WCOOP 73-L: $11 NLHE [6-Max,][PKO], $50K Gtd |
| Tue, 20 Sept | 15:05 | WCOOP 73-M: $109 NLHE [6-Max,][PKO], $175K Gtd |
| Tue, 20 Sept | 15:05 | WCOOP 73-H: $1,050 NLHE [6-Max,][PKO], $400K Gtd |
| Wed, 21 Sept | 11:30 | WCOOP 74-L: $11 HORSE, $12.5K Gtd |
| Wed, 21 Sept | 11:30 | WCOOP 74-M: $109 HORSE, $30K Gtd |
| Wed, 21 Sept | 11:30 | WCOOP 74-H: $1,050 HORSE, $60K Gtd |
| Wed, 21 Sept | 12:30 | WCOOP 75-L: $11 NLHE [PKO], $150K Gtd |
| Wed, 21 Sept | 12:30 | WCOOP 75-M: $109 NLHE [PKO], $500K Gtd |
| Wed, 21 Sept | 12:30 | WCOOP 75-H: $1,050 NLHE [PKO], $600K Gtd |
| Wed, 21 Sept | 13:30 | WCOOP 76-L: $22 5-Card NLO8, $30K Gtd |
| Wed, 21 Sept | 13:30 | WCOOP 76-M: $215 5-Card NLO8, $75K Gtd |
| Wed, 21 Sept | 13:30 | WCOOP 76-H: $2,100 5-Card NLO8, $175K Gtd |
| Wed, 21 Sept | 16:30 | WCOOP 77-L: $11 NLHE [4-Max], $60K Gtd |
| Wed, 21 Sept | 16:30 | WCOOP 77-M: $109 NLHE [4-Max], $150K Gtd |
| Wed, 21 Sept | 16:30 | WCOOP 77-H: $1,050 NLHE [4-Max], $200K Gtd |
| Thu, 22 Sept | 10:05 | WCOOP 78-L: $11 NLHE [6-Max], $75K Gtd |
| Thu, 22 Sept | 10:05 | WCOOP 78-M: $109 NLHE [6-Max], $225 Gtd |
| Thu, 22 Sept | 10:05 | WCOOP 78-H: $1,050 NLHE [6-Max], $250K Gtd |
| Thu, 22 Sept | 11:30 | WCOOP 79-L: $5.50 PLO [PKO], $20K Gtd |
| Thu, 22 Sept | 11:30 | WCOOP 79-M: $55 PLO [PKO], $85K Gtd |
| Thu, 22 Sept | 11:30 | WCOOP 79-H: $530 PLO [PKO], $175K Gtd |
| Thu, 22 Sept | 12:30 | WCOOP 80-L: $109 NLHE [PKO,][Thursday][Thrill], $400K Gtd |
| Thu, 22 Sept | 12:30 | WCOOP 80-M: $1,050 NLHE [PKO,][Thursday][Thrill], $600K Gtd |
| Thu, 22 Sept | 12:30 | WCOOP 80-H: $10,300 NLHE [PKO,][Thursday][Thrill][High][Roller], $650K Gtd |
| Thu, 22 Sept | 12:30 | World Championship of NL 2-7 Single Draw: $1,050, $65K Gtd |
| Thu, 22 Sept | 13:30 | WCOOP 81-L: $22 8-Game [8-Max], $25K Gtd |
| Thu, 22 Sept | 13:30 | WCOOP 81-M: $215 8-Game [8-Max], $40K Gtd |
| Thu, 22 Sept | 13:30 | WCOOP 81-H: $2,100 8-Game [8-Max], $80K Gtd |
| Thu, 22 Sept | 15:05 | WCOOP 82-L: $22 NLHE, $85K Gtd |
| Thu, 22 Sept | 15:05 | WCOOP 82-M: $215 NLHE, $200K Gtd |
| Thu, 22 Sept | 15:05 | WCOOP 82-H: $2,100 NLHE, $300K Gtd |
| Thu, 22 Sept | 16:30 | WCOOP 83-L: $11 NLHE [7-Max,][Turbo,][PKO], $50K Gtd |
| Thu, 22 Sept | 16:30 | WCOOP 83-M: $109 NLHE [7-Max,][Turbo,][PKO], $200K Gtd |
| Thu, 22 Sept | 16:30 | WCOOP 83-H: $1,050 NLHE [7-Max,][Turbo,][PKO], $250K Gtd |
| Sat, 24 Sept | 10:05 | WCOOP 84-L: $11 NLHE [Deep][Stack], $75K Gtd |
| Sat, 24 Sept | 10:05 | WCOOP 84-M: $109 NLHE [Deep][Stack], $200K Gtd |
| Sat, 24 Sept | 10:05 | WCOOP 84-H: $1,050 NLHE [Deep][Stack], $175K Gtd |
| Sat, 24 Sept | 11:30 | WCOOP 85-L: $11 Stud, $7.5K Gtd |
| Sat, 24 Sept | 11:30 | WCOOP 85-M: $109 Stud, $25K Gtd |
| Sat, 24 Sept | 11:30 | WCOOP 85-H: $1,050 Stud, $60K Gtd |
| Sat, 24 Sept | 12:30 | WCOOP 86-L: $22 NLHE [PKO], $275K Gtd |
| Sat, 24 Sept | 12:30 | WCOOP 86-M: $215 NLHE [PKO], $600K Gtd |
| Sat, 24 Sept | 12:30 | WCOOP 86-H: $2,100 NLHE [PKO], $400K Gtd |
| Sat, 24 Sept | 13:30 | WCOOP 87-L: $11 NLO8, $20K Gtd |
| Sat, 24 Sept | 13:30 | WCOOP 87-M: $109 NLO8, $40K Gtd |
| Sat, 24 Sept | 13:30 | WCOOP 87-H: $1,050 NLO8, $100K Gtd |
| Sat, 24 Sept | 15:05 | WCOOP 88-L: $11 NLHE [6-Max,][Turbo], $60K Gtd |
| Sat, 24 Sept | 15:05 | WCOOP 88-M: $109 NLHE [6-Max,][Turbo], $150K Gtd |
| Sat, 24 Sept | 15:05 | WCOOP 88-H: $1,050 NLHE [6-Max,][Turbo], $200K Gtd |
| Sat, 24 Sept | 16:30 | WCOOP 89-L: $22 NLHE [Turbo,][PKO], $100K Gtd |
| Sat, 24 Sept | 16:30 | WCOOP 89-M: $215 NLHE [Turbo,][PKO], $225K Gtd |
| Sat, 24 Sept | 16:30 | WCOOP 89-H: $2,100 NLHE [Turbo,][PKO], $250K Gtd |
| Sun, 25 Sept | 08:05 | WCOOP 90-L: $5.50 NLHE [Sunday][Kickoff], $50K Gtd |
| Sun, 25 Sept | 08:05 | WCOOP 90-M: $55 NLHE [Sunday][Kickoff], $200K Gtd |
| Sun, 25 Sept | 08:05 | WCOOP 90-H: $530 NLHE [Sunday][Kickoff], $400K Gtd |
| Sun, 25 Sept | 10:05 | WCOOP 91-L: $22 NLHE [PKO,][Sunday][Warm-Up], $200K Gtd |
| Sun, 25 Sept | 10:05 | WCOOP 91-M: $215 NLHE [PKO,][Sunday][Warm-Up], $600K Gtd |
| Sun, 25 Sept | 10:05 | WCOOP 91-H: $2,100 NLHE [PKO,][Sunday][Warm-Up], $600K Gtd |
| Sun, 25 Sept | 12:30 | WCOOP 92-L: $109 NLHE [NLHE][Main][Event], $2.5M Gtd |
| Sun, 25 Sept | 12:30 | WCOOP 92-M: $1,050 NLHE [NLHE][Main][Event], $4M Gtd |
| Sun, 25 Sept | 12:30 | WCOOP 92-H: World Championship of NLHE: $10,300 Main Event, $6M Gtd |
| Sun, 25 Sept | 13:30 | WCOOP 93-L: $5.50 NLHE [PKO,][Womens][Event], $3K Gtd |
| Sun, 25 Sept | 13:30 | WCOOP 93-M: $22 NLHE [PKO,][Womens][Event], $10K Gtd |
| Sun, 25 Sept | 13:30 | WCOOP 93-H: $109 NLHE [PKO,][Womens][Event], $25K Gtd |
| Sun, 25 Sept | 15:05 | WCOOP 94-L: $109 PLO [PLO][Main][Event], $250K Gtd |
| Sun, 25 Sept | 15:05 | WCOOP 94-M: $1,050 PLO [PLO][Main][Event], $600K Gtd |
| Sun, 25 Sept | 15:05 | WCOOP 94-H: World Championship of PLO: $10,300 Main Event, $1M Gtd |
| Sun, 25 Sept | 16:30 | WCOOP 95-L: $11 NLHE [7-Max,][Turbo,][PKO,][Sunday][Cooldown], $85K Gtd |
| Sun, 25 Sept | 16:30 | WCOOP 95-M: $109 NLHE [7-Max,][Turbo,][PKO,][Sunday][Cooldown], $350K Gtd |
| Sun, 25 Sept | 16:30 | WCOOP 95-H: $1,050 NLHE [7-Max,][Turbo,][PKO,][Sunday][Cooldown], $400K Gtd |
| Mon, 26 Sept | 12:30 | WCOOP 96-L: $11 NLHE [PKO,][Series][Saver], $175K Gtd |
| Mon, 26 Sept | 12:30 | WCOOP 96-M: $109 NLHE [PKO,][Series][Saver], $700K Gtd |
| Mon, 26 Sept | 12:30 | WCOOP 96-H: $1,050 NLHE [PKO,][Series][Saver], $1M Gtd |
| Mon, 26 Sept | 13:30 | WCOOP 01-L: $5.50 NLHE [Phase][2], $500K Gtd |
| Mon, 26 Sept | 13:30 | WCOOP 01-M: $22 NLHE [Phase][2], $600K Gtd |
| Mon, 26 Sept | 13:30 | WCOOP 01-H: $109 NLHE [Phase][2], $1M Gtd |
| Mon, 26 Sept | 15:05 | WCOOP 97-L: $55 NLHE [Turbo][ME][2nd][Chance], $250K Gtd |
| Mon, 26 Sept | 15:05 | WCOOP 97-M: $530 NLHE [Turbo][ME][2nd][Chance], $300K Gtd |
| Mon, 26 Sept | 15:05 | WCOOP 97-H: $5,200 NLHE [Turbo][ME][2nd][Chance], $400K Gtd |
| Mon, 26 Sept | 16:30 | WCOOP 98-L: $11 NLHE [Turbo], $50K Gtd |
| Mon, 26 Sept | 16:30 | WCOOP 98-M: $109 NLHE [Turbo], $175K Gtd |
| Mon, 26 Sept | 16:30 | WCOOP 98-H: $1,050 NLHE [Turbo], $200K Gtd |
| Tue, 27 Sept | 12:30 | WCOOP 99-L: $22 NLHE [Super][Tuesday], $100K Gtd |
| Tue, 27 Sept | 12:30 | WCOOP 99-M: $215 NLHE [Super][Tuesday], $250K Gtd |
| Tue, 27 Sept | 12:30 | WCOOP 99-H: $2,100 NLHE [Super][Tuesday], $400K Gtd |
| Tue, 27 Sept | 13:30 | WCOOP 100-L: $11 NLHE/PLO [6-Max], $20K Gtd |
| Tue, 27 Sept | 13:30 | WCOOP 100-M: $109 NLHE/PLO [6-Max], $60K Gtd |
| Tue, 27 Sept | 13:30 | WCOOP 100-H: $1,050 NLHE/PLO [6-Max], $85K Gtd |
| Tue, 27 Sept | 15:05 | WCOOP 101-L: $5.50 NLHE [Heads-Up,][Turbo,][Progressive][Total][KO,][Zoom], $60K Gtd |
| Tue, 27 Sept | 15:05 | WCOOP 101-M: $55 NLHE [Heads-Up,][Turbo,][Progressive][Total][KO,][Zoom], $200K Gtd |
| Tue, 27 Sept | 15:05 | WCOOP 101-H: $530 NLHE [Heads-Up,][Turbo,][Progressive][Total][KO,][Zoom], $250K Gtd |
| Wed, 28 Sept | 13:05 | WCOOP 102-L: $55 NLHE [Final][Freeze], $150K Gtd |
| Wed, 28 Sept | 13:05 | WCOOP 102-M: $530 NLHE [Final][Freeze], $200K Gtd |
| Wed, 28 Sept | 13:05 | WCOOP 102-H: $5,200 NLHE [Final][Freeze], $400K Gtd |
| Wed, 28 Sept | 14:15 | WCOOP 103-L: $11 PLO, $30K Gtd |
| Wed, 28 Sept | 14:15 | WCOOP 103-M: $109 PLO, $85K Gtd |
| Wed, 28 Sept | 14:15 | WCOOP 103-H: $1,050 PLO, $175K Gtd |
| Wed, 28 Sept | 15:30 | WCOOP 104-L: $5.50 NLHE [7-Max,][Hyper-Turbo,][PKO,][Series][Wrap-Up], $40K Gtd |
| Wed, 28 Sept | 15:30 | WCOOP 104-M: $55 NLHE [7-Max,][Hyper-Turbo,][PKO,][Series][Wrap-Up], $125K Gtd |
| Wed, 28 Sept | 15:30 | WCOOP 104-H: $530 NLHE [7-Max,][Hyper-Turbo,][PKO,][Series][Wrap-Up], $125K Gtd |