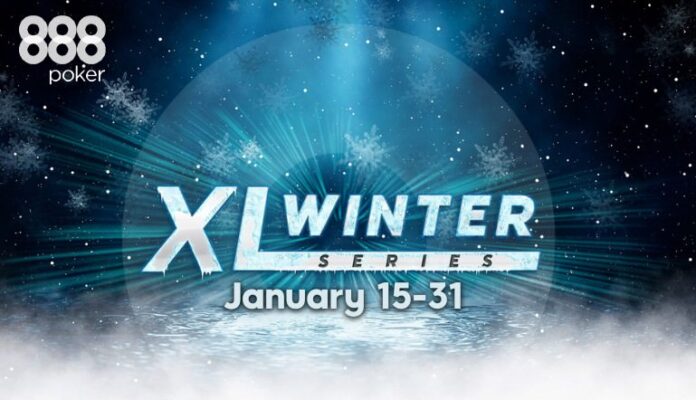 Vom 15.- 31. Januar 2023 findet auf 888poker wieder die XL Winter Series statt. Im Rahmen des Online-Festivals werden über $2,5 Millionen ausgespielt, im Blickpunkt stehen der $250 Main Event mit $500.000 garantiert und das $160 Mystery Bounty mit $200.000 garantiert.
Insgesamt bietet der Spielplan zur XL Winter Series 28 Events, dazu kommen zahlreiche Special Editions zu den Daily Tournaments. Bis auf wenige Ausnahmen liegen die Buy-ins zwischen $5,50 und $55 und sind somit für die meisten Spieler erschwinglich.
Dress warm to avoid coolers! XL Winter Series is back January 15-31:

💰 $2,000,000 in total guaranteed prizes
✈️ $500,000 guaranteed multi-flight Main Event
🛰️ Chances to qualify for free every day

Full schedule and info: https://t.co/vLcm0uD7XI
T&Cs: https://t.co/pPuEqVapOW pic.twitter.com/E2tgLzAwLJ

— 888poker (@888poker) January 9, 2023
Für den $250 Main Event werden ab dem 25. Januar mehrere Starttage angeboten, ehe am 30. Januar Spieltag 2 und am 31. Januar der Final Table gespielt werden.
Beim $160 Mystery Bounty beginnen die Starttage am 19. Januar, die Entscheidung um den Sieg fällt am 2. Spieltag, der für den 23. Januar terminiert ist.
Die High Roller kommen am 29. Januar beim $2.100 Super High Roller $100.000 GTD sowie am 21. und 28. Januar beim $1.050 High Roller mit jeweils $35.000 GTD auf ihre Kosten.
Natürlich werden rund um die Uhr auch etliche Satellites angeboten, inklusive die XL Winter Series Freerolls.
Wer noch keinen 888poker-Account besitzt, kann sich hier registrieren. Für Neuanmeldungen gibt es zur Begrüßung €20 gratis (Keine Einzahlung erforderlich)!
Der komplette Spielplan:
| Datum | Start | Event | Buy-In | GTD |
| --- | --- | --- | --- | --- |
| So, 15. Jan | 17:00 | XL Winter – Sunday Big Shot 33 | $33 | $12.000 |
| So, 15. Jan | 18:00 | XL Winter – Sunday Mystery Bounty 11 | $11 | $15.000 |
| So, 15. Jan | 19:15 | XL Winter – Mystery Bounty 8.80 | $8.80 | $6.000 |
| So, 15. Jan | 19:30 | XL Winter #01 – Mystery Bounty Mini Opening | $55 | $50.000 |
| So, 15. Jan | 20:00 | XL Winter – Sunday Mystery Bounty 22 | $22 | $25.000 |
| So, 15. Jan | 20:00 | XL Winter – Sunday Mystery Bounty 5.5 | $5.50 | $10.000 |
| So, 15. Jan | 20:00 | XL Winter #02 – Mystery Bounty Opening | $109 | $120.000 |
| So, 15. Jan | 20:30 | XL Winter #03 – Mystery Bounty HR Opening | $525 | $50.000 |
| Mo, 16. Jan | 17:00 | XL Winter – Big Shot 33 | $33 | $7.500 |
| Mo, 16. Jan | 18:00 | XL Winter – Mystery Bounty 11 | $11 | $10.000 |
| Mo, 16. Jan | 19:15 | XL Winter – Mystery Bounty 8.80 | $8.80 | $6.000 |
| Mo, 16. Jan | 19:30 | XL Winter – Mystery Bounty 55 | $55 | $15.000 |
| Mo, 16. Jan | 20:00 | XL Winter – Mystery Bounty 22 | $22 | $12.000 |
| Mo, 16. Jan | 20:00 | XL Winter – Mystery Bounty 5.50 | $5.50 | $6.000 |
| Mo, 16. Jan | 20:00 | XL Winter #04 – PKO 8-Max | $109 | $20.000 |
| Mo, 16. Jan | 20:30 | XL Winter #05 – PKO 8-Max Mini | $11 | $5.000 |
| Di, 17. Jan | 17:00 | XL Winter – Big Shot 33 | $33 | $7.500 |
| Di, 17. Jan | 18:00 | XL Winter – Mystery Bounty 11 | $11 | $10.000 |
| Di, 17. Jan | 19:15 | XL Winter – Mystery Bounty 8.80 | $8.80 | $6.000 |
| Di, 17. Jan | 19:30 | XL Winter – Mystery Bounty 55 | $55 | $15.000 |
| Di, 17. Jan | 20:00 | XL Winter – Mystery Bounty 22 | $22 | $12.000 |
| Di, 17. Jan | 20:00 | XL Winter – Mystery Bounty 5.50 | $5.50 | $6.000 |
| Di, 17. Jan | 20:00 | XL Winter #06 – Mystery Bounty Turbo Deep | $320 | $30.000 |
| Di, 17. Jan | 20:30 | XL Winter – Mystery Bounty 109 | $109 | $12.000 |
| Di, 17. Jan | 20:30 | XL Winter #07 – Mystery Bounty Turbo Deep Mini | $33 | $12.000 |
| Mi, 18. Jan | 17:00 | XL Winter – Big Shot 33 | $33 | $7.500 |
| Mi, 18. Jan | 18:00 | XL Winter – Mystery Bounty 11 | $11 | $10.000 |
| Mi, 18. Jan | 19:15 | XL Winter – Mystery Bounty 8.80 | $8.80 | $6.000 |
| Mi, 18. Jan | 19:30 | XL Winter – Mystery Bounty 55 | $55 | $15.000 |
| Mi, 18. Jan | 20:00 | XL Winter – Mystery Bounty 22 | $22 | $12.000 |
| Mi, 18. Jan | 20:00 | XL Winter – Mystery Bounty 5.50 | $5.50 | $6.000 |
| Mi, 18. Jan | 20:00 | XL Winter #08 – 6-Max | $109 | $15.000 |
| Mi, 18. Jan | 20:30 | XL Winter #09 – 6-Max Mini | $33 | $7.500 |
| Do, 19. Jan | 17:00 | XL Winter – Big Shot 33 | $33 | $7.500 |
| Do, 19. Jan | 18:00 | XL Winter – Mystery Bounty 11 | $11 | $10.000 |
| Do, 19. Jan | 19:15 | XL Winter – Mystery Bounty 8.80 | $8.80 | $6.000 |
| Do, 19. Jan | 20:00 | XL Winter – Mystery Bounty 22 | $22 | $12.000 |
| Do, 19. Jan | 20:00 | XL Winter – Mystery Bounty 5.50 | $5.50 | $6.000 |
| Do, 19. Jan | 20:00 | XL Winter #10 – Mystery Bounty | $55 | $20.000 |
| Do, 19. Jan | 20:30 | XL Winter – Mystery Bounty 109 | $109 | $12.000 |
| Do, 19. Jan | 20:30 | XL Winter #11 – Mystery Bounty Mini | $5.50 | $5.000 |
| Do, 19. Jan | TBD | XL Winter #19 – Mystery Bounty 8-Max* | $160 | $200.000 |
| Fr, 20. Jan | 17:00 | XL Winter – Big Shot 33 | $33 | $7.500 |
| Fr, 20. Jan | 18:00 | XL Winter – Mystery Bounty 11 | $11 | $10.000 |
| Fr, 20. Jan | 19:15 | XL Winter – Mystery Bounty 8.80 | $8.80 | $6.000 |
| Fr, 20. Jan | 19:30 | XL Winter – Mystery Bounty 55 | $55 | $15.000 |
| Fr, 20. Jan | 20:00 | XL Winter – Mystery Bounty 5.50 | $5.50 | $6.000 |
| Fr, 20. Jan | 20:00 | XL Winter – Mystery Bounty 22 | $22 | $12.000 |
| Fr, 20. Jan | 20:30 | XL Winter – Mystery Bounty 109 | $109 | $12.000 |
| Fr, 20. Jan | TBD | XL Winter #19 – Mystery Bounty 8-Max* | $160 | $200.000 |
| Sa, 21. Jan | 17:00 | XL Winter – Big Shot 33 | $33 | $7.500 |
| Sa, 21. Jan | 18:00 | XL Winter – Mystery Bounty 11 | $11 | $10.000 |
| Sa, 21. Jan | 19:15 | XL Winter – Mystery Bounty 8.80 | $8.80 | $6.000 |
| Sa, 21. Jan | 19:30 | XL Winter – Mystery Bounty 55 | $55 | $15.000 |
| Sa, 21. Jan | 20:00 | XL Winter – Mystery Bounty 22 | $22 | $12.000 |
| Sa, 21. Jan | 20:00 | XL Winter – Mystery Bounty 5.50 | $5.50 | $6.000 |
| Sa, 21. Jan | 20:00 | XL Winter #12 – High Roller | $1.050 | $35.000 |
| Sa, 21. Jan | 20:30 | XL Winter – Mystery Bounty 109 | $109 | $12.000 |
| Sa, 21. Jan | TBD | XL Winter #19 – Mystery Bounty 8-Max* | $160 | $200.000 |
| So, 22. Jan | 17:00 | XL Winter – Sunday Big Shot 33 | $33 | $12.000 |
| So, 22. Jan | 18:00 | XL Winter – Sunday Mystery Bounty 11 | $11 | $15.000 |
| So, 22. Jan | 19:15 | XL Winter – Mystery Bounty 8.80 | $8.80 | $6.000 |
| So, 22. Jan | 19:30 | XL Winter – Sunday Mystery Bounty 55 | $55 | $40.000 |
| So, 22. Jan | 19:30 | XL Winter #13 – Mystery Bounty Mini 8-Max | $11 | $20.000 |
| So, 22. Jan | 20:00 | XL Winter – Sunday Mystery Bounty 22 | $22 | $25.000 |
| So, 22. Jan | 20:00 | XL Winter – Sunday Mystery Bounty 5.5 | $5.50 | $10.000 |
| So, 22. Jan | 20:30 | XL Winter #14 – Mystery Bounty HR 8-Max | $525 | $45.000 |
| So, 22. Jan | TBD | XL Winter #19 – Mystery Bounty 8-Max* | $160 | $200.000 |
| Mo, 23. Jan | 17:00 | XL Winter – Big Shot 33 | $33 | $7.500 |
| Mo, 23. Jan | 18:00 | XL Winter – Mystery Bounty 11 | $11 | $10.000 |
| Mo, 23. Jan | 19:15 | XL Winter – Mystery Bounty 8.80 | $8.80 | $6.000 |
| Mo, 23. Jan | 19:30 | XL Winter – Mystery Bounty 55 | $55 | $15.000 |
| Mo, 23. Jan | 20:00 | XL Winter – Mystery Bounty 22 | $22 | $12.000 |
| Mo, 23. Jan | 20:00 | XL Winter – Mystery Bounty 5.50 | $5.50 | $6.000 |
| Mo, 23. Jan | 20:00 | XL Winter #15 – PKO | $109 | $20.000 |
| Mo, 23. Jan | 20:30 | XL Winter #16 – PKO Mini | $11 | $5.000 |
| Mo, 23. Jan | 21:00 | XL Winter #17 – Mystery Bounty 8-Max (Day 2) | – | $200.000 |
| Di, 24. Jan | 17:00 | XL Winter – Big Shot 33 | $33 | $7.500 |
| Di, 24. Jan | 18:00 | XL Winter – Mystery Bounty 11 | $11 | $10.000 |
| Di, 24. Jan | 19:15 | XL Winter – Mystery Bounty 8.80 | $8.80 | $6.000 |
| Di, 24. Jan | 19:30 | XL Winter – Mystery Bounty 55 | $55 | $15.000 |
| Di, 24. Jan | 20:00 | XL Winter – Mystery Bounty 22 | $22 | $12.000 |
| Di, 24. Jan | 20:00 | XL Winter – Mystery Bounty 5.50 | $5.50 | $6.000 |
| Di, 24. Jan | 20:00 | XL Winter #18 – Mystery Bounty | $320 | $30.000 |
| Di, 24. Jan | 20:30 | XL Winter – Mystery Bounty 109 | $109 | $12.000 |
| Di, 24. Jan | 20:30 | XL Winter #19 – Mystery Bounty Mini | $33 | $12.000 |
| Mi, 25. Jan | 17:00 | XL Winter – Big Shot 33 | $33 | $7.500 |
| Mi, 25. Jan | 18:00 | XL Winter – Mystery Bounty 11 | $11 | $10.000 |
| Mi, 25. Jan | 19:15 | XL Winter – Mystery Bounty 8.80 | $8.80 | $6.000 |
| Mi, 25. Jan | 19:30 | XL Winter – Mystery Bounty 55 | $55 | $15.000 |
| Mi, 25. Jan | 20:00 | XL Winter – Mystery Bounty 22 | $22 | $12.000 |
| Mi, 25. Jan | 20:00 | XL Winter – Mystery Bounty 5.50 | $5.50 | $6.000 |
| Mi, 25. Jan | 20:00 | XL Winter #20 – Super KO 8-Max | $109 | $15.000 |
| Mi, 25. Jan | 20:30 | XL Winter #21 – Super KO 8-Max Mini | $33 | $7.500 |
| Mi, 25. Jan | TBD | XL Winter #28 – Main Event** | $250 | $500.000 |
| Do, 26. Jan | 17:00 | XL Winter – Big Shot 33 | $33 | $7.500 |
| Do, 26. Jan | 18:00 | XL Winter – Mystery Bounty 11 | $11 | $10.000 |
| Do, 26. Jan | 19:15 | XL Winter – Mystery Bounty 8.80 | $8.80 | $6.000 |
| Do, 26. Jan | 19:30 | XL Winter – Mystery Bounty 55 | $55 | $15.000 |
| Do, 26. Jan | 20:00 | XL Winter – Mystery Bounty 22 | $22 | $12.000 |
| Do, 26. Jan | 20:00 | XL Winter – Mystery Bounty 5.50 | $5.50 | $6.000 |
| Do, 26. Jan | 20:00 | XL Winter #22 – PKO 6-Max | $320 | $20.000 |
| Do, 26. Jan | 20:30 | XL Winter #23 – PKO 6-Max Mini | $33 | $7.500 |
| Do, 26. Jan | TBD | XL Winter #28 – Main Event** | $250 | $500.000 |
| Fr, 27. Jan | 17:00 | XL Winter – Big Shot 33 | $33 | $7.500 |
| Fr, 27. Jan | 18:00 | XL Winter – Mystery Bounty 11 | $11 | $10.000 |
| Fr, 27. Jan | 19:15 | XL Winter – Mystery Bounty 8.80 | $8.80 | $6.000 |
| Fr, 27. Jan | 19:30 | XL Winter – Mystery Bounty 55 | $55 | $15.000 |
| Fr, 27. Jan | 20:00 | XL Winter – Mystery Bounty 22 | $22 | $12.000 |
| Fr, 27. Jan | 20:00 | XL Winter – Mystery Bounty 5.50 | $5.50 | $6.000 |
| Fr, 27. Jan | 20:30 | XL Winter – Mystery Bounty 109 | $109 | $12.000 |
| Fr, 27. Jan | TBD | XL Winter #28 – Main Event** | $250 | $500.000 |
| Sa, 28. Jan | 17:00 | XL Winter – Big Shot 33 | $33 | $7.500 |
| Sa, 28. Jan | 18:00 | XL Winter – Mystery Bounty 11 | $11 | $10.000 |
| Sa, 28. Jan | 19:15 | XL Winter – Mystery Bounty 8.80 | $8.80 | $6.000 |
| Sa, 28. Jan | 19:30 | XL Winter – Mystery Bounty 55 | $55 | $15.000 |
| Sa, 28. Jan | 20:00 | XL Winter – Mystery Bounty 22 | $22 | $12.000 |
| Sa, 28. Jan | 20:00 | XL Winter – Mystery Bounty 5.50 | $5.50 | $6.000 |
| Sa, 28. Jan | 20:00 | XL Winter #24 – High Roller 8-Max | $1.050 | $35.000 |
| Sa, 28. Jan | 20:30 | XL Winter – Mystery Bounty 109 | $109 | $12.000 |
| Sa, 28. Jan | TBD | XL Winter #28 – Main Event** | $250 | $500.000 |
| So, 29. Jan | 17:00 | XL Winter – Sunday Big Shot 33 | $33 | $12.000 |
| So, 29. Jan | 18:00 | XL Winter – Sunday Mystery Bounty 11 | $11 | $15.000 |
| So, 29. Jan | 19:15 | XL Winter – Mystery Bounty 8.80 | $8.80 | $6.000 |
| So, 29. Jan | 19:30 | XL Winter #25 – Mystery Bounty 8-Max | $55 | $50.000 |
| So, 29. Jan | 20:00 | XL Winter – Sunday Mystery Bounty 22 | $22 | $25.000 |
| So, 29. Jan | 20:00 | XL Winter – Sunday Mystery Bounty 5.5 | $5.50 | $10.000 |
| So, 29. Jan | 20:00 | XL Winter #26 – Super High Roller 6-Max | $2.100 | $100.000 |
| So, 29. Jan | 20:30 | XL Winter #27 – Mystery Bounty 8-Max Mini | $22 | $25.000 |
| So, 29. Jan | TBD | XL Winter #28 – Main Event** | $250 | $500.000 |
| Mo, 30. Jan | 17:00 | XL Winter – Big Shot 33 | $33 | $7.500 |
| Mo, 30. Jan | 18:00 | XL Winter – Mystery Bounty 11 | $11 | $10.000 |
| Mo, 30. Jan | 19:15 | XL Winter – Mystery Bounty 8.80 | $8.80 | $6.000 |
| Mo, 30. Jan | 19:30 | XL Winter – Mystery Bounty 55 | $55 | $15.000 |
| Mo, 30. Jan | 20:00 | XL Winter – Mystery Bounty 22 | $22 | $12.000 |
| Mo, 30. Jan | 20:00 | XL Winter – Mystery Bounty 5.50 | $5.50 | $6.000 |
| Mo, 30. Jan | 20:30 | XL Winter – Mystery Bounty 109 | $109 | $12.000 |
| Mo, 30. Jan | TBD | XL Winter #28 – Main Event** | $250 | $500.000 |
| Mo, 30. Jan | 21:00 | XL Winter #28 – Main Event (Day 2) | – | $500.000 |
| Di, 31. Jan | 20:00 | XL Winter #28 – Main Event (FT) | – | $500.000 |