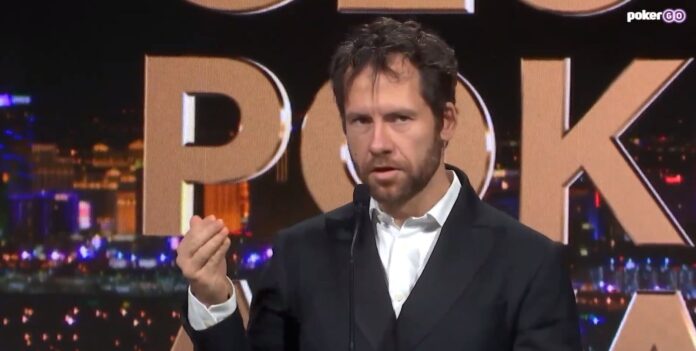 In der vergangenen Nacht wurden im ARIA von Las Vegas zum vierten Mal die Global Poker Awards verliehen.
Geehrt wurden die Personen, die im Jahr 2022 durch besondere Leistungen auf sich aufmerksam machten.
Allerdings ist das Attribut "Global" nicht ganz zutreffend, denn bis auf den Preis für den härtesten Gegner und den PGT-POY, die der Brite Stephen Chidwick erhielt, wurden nur US-Amerikaner ausgezeichnet.
Leider hat es in der Kategorie "Fans Choice: Fave Live Stream" nicht für die King's Resort Livestreams gereicht. Hier ging die Trophy an Hustler Casino Live.
Als bester Spieler wurde Stephen Song ausgezeichnet, der zugleich der erfolgreichste Spieler im mittleren und hohen Buy-In-Bereich war.
Congrats to @songstephen11 for winning both GPI Player of the Year and Mid-Major Player of the Year!

Song accepted both awards tonight at the @gpi Global Poker awards.

📺 – Watch the Global Poker Awards live here: https://t.co/iQ0ekfOLRp pic.twitter.com/vWNlTfutFj

— PokerGO (@PokerGO) March 4, 2023
Die beste Turnierleistung zeigte laut Jury Dan Cates bei der 50k Poker Players Championship, was ihn zu einer munteren Dankesrede veranlasste.
Dan "@JungleManDan" Cates took down the @gpi Global Poker Award for Final Table Performance for his win in the 2022 @WSOP Poker Players Championship!

📺 – Watch the Global Poker Awards here: https://t.co/iQ0ekfPjGX pic.twitter.com/4KWNYnMUgh

— PokerGO (@PokerGO) March 4, 2023
Und auch Robbi Jade Lew durfte nicht fehlen. Sie spielte mit Garrett Adelstein definitiv die Hand, die man von diesem Pokerjahr nicht mehr vergessen wird.
Robbie Jade Lew (@RobbiJadeLew) accepted the award for Fans Choice: Best Hand at the @gpi Global Poker Awards for her wild J4o hand!

📺 – Watch the Global Poker Awards live here: https://t.co/iQ0ekfPjGX pic.twitter.com/jTkP7nZgPh

— PokerGO (@PokerGO) March 4, 2023
Und hier die Gesamtübersicht über alle Preisträger:
| | |
| --- | --- |
| Category | Winner |
| GPI Poker Player of the Year | Stephen Song |
| GPI Female Player of the Year | Cherish Andrews |
| GPI Mid-Major Player of the Year | Stephen Song |
| PGT Player of the Year | Stephen Chidwick |
| GPI Breakout Player | Angela Jordison |
| Best Final Table Performance | Daniel Cates – WSOP $50k Poker Players Championship |
| Poker ICON | Gabe Kaplan |
| Players' Choice for Toughest Opponent | Stephen Chidwick |
| Comeback Player | Phil Ivey |
| Best Twitter Personality | Will Jaffe |
| Charitable Initiative  | The Star Entertainment Group for raising funds for the Currumbin Wildlife Hospital on behalf of Shane Warne |
| Best Streamer | Kevin Martin |
| Best Vlogger | Ethan Yau |
| Rising Star in Content Creation | Caitlin Comeskey |
| Best Industry Person | Jack Effel – WSOP |
| Best Tournament Director | Ray Pulford – Wynn Las Vegas |
| Best Event | WPT World Championship at Wynn Las Vegas |
| Best Mid-Major Tour/Festival | RUNGOOD Poker Series |
| Best Broadcaster | James Hartigan  |
| Best Podcast | Only Friends Podcast – Matt Berkey, Melissa Schubert, Landon Tice, and others for Solve4Why |
| Best Media Content: Written | Jennifer Shahade – "How Becoming a Poker Pro Helped Me Accept a Personal Tragedy" for The Wall Street Journal |
| Best Media Content: Video | Gregory Liow – "Poker vlogger who doesn't understand that the voice over is done in post" |
| Best Media Content: Photo | Hayley Hochstetler – "Glantz Pulls Million Dollar Bounty" for PokerNews |
| Fans Choice: Poker Personality | Ethan Yau |
| Fans Choice: Best Hand | Wild J4 vs 89 hand between Robbie Jade Lew and Garrett Adelstein |
| Fans Choice: Best Trophy | WSOP Main Event Bracelet |
| Fans Choice: Fave Live Stream | Hustler Casino Live |