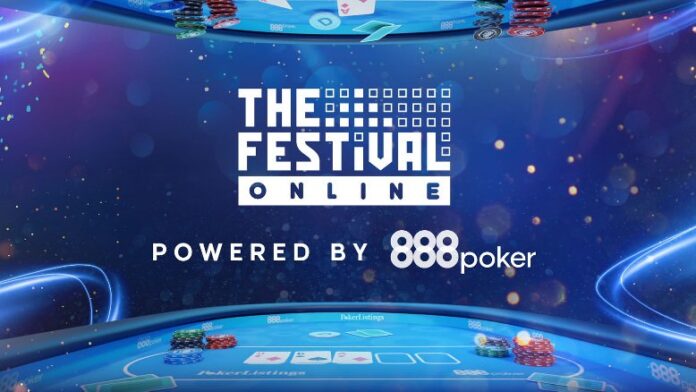 Vom 19. März bis zum 13. April hat 888poker eine Major-Series im Angebot: Das The Festival Online kommt mit einer langen Reihe an Turniertagen mit insgesamt $1.000.000 an Preisgeldgarantien.
Highlight wird das Multiflight Main Event mit $215 Buy-In und $200.000 Garantie, das von 06. April an die Spieler ins Turnier auflädt.
Zudem lassen mehrere Mystery Bounty Turniere die Herzen mit zufälligen Bounty-Beträgen höher schlagen.
Das geht direkt zum Festivalstart mit dem $109 Mystery Bounty Opening Event mit $100.000 Garantie los. 
Auch PLO-Spieler werden beim The Festival Online auf ihre Kosten kommen. Es gibt eine ganze Reihe an Turnieren mit vier Karten – darunter ebenfalls ein Mystery Bounty.
Auf Twitch werden drei Entscheidungen von Turnieren auf dem Kanal von 888 übertragen: Am 20.03. das $100K GTD Mystery Bounty Opening Event, am 28.03. das $150K Texas PKO 8-Max und am 11.04. das $200K Main Event.
Die volle Schedule:
Day

Tour Name

Buy in

Time (GMT)

GTD

Sunday 19.3

The Festival Online –

PLO Mystery Bounty Opening Event

$55

18:30

$5,000

The Festival Online –

Mystery Bounty Opening Event

$109

19:00

$100,000

The Festival Online –

Mystery Bounty Mini

Opening Event

$22

19:00

$25,000

The Festival Online –

Mystery Bounty High Roller

Opening Event

$525

19:30

$40,000

Tuesday 21.3

The Festival Online –

PLO R&A

$55

18:30

$4,000

The Festival Online –

Snap 6-Max

$33

19:00

$5,000

Thursday 23.3

The Festival Online –

Mystery Bounty 8-Max

$55

18:30

$20,000

The Festival Online –

PKO Turbo Deepstack

$109

19:00

$15,000

The Festival Online –

Texas PKO Day 1

$160

19:00

–

The Festival Online –

Texas PKO Day 1

$160

21:00

–

Friday 24.3

The Festival Online –

Texas PKO Day 1

$160

17:00

–

The Festival Online –

Texas PKO Day 1

$160

19:00

–

The Festival Online –

Texas PKO Day 1 Turbo

$160

21:00

– 

Saturday 25.3

The Festival Online –

Texas PKO Day 1

$160

17:00

–

The Festival Online –

Texas PKO Day 1

$160

19:00

–

The Festival Online –

Texas PKO Day 1 Turbo

$160

21:00

–

Sunday 26.3

The Festival Online –

Texas PKO 8-Max Day 1

$160

15:00

–

The Festival Online –

Texas PKO 8-Max Day 1

$160

17:00

–

The Festival Online –

Micro PLO 8-Max

$11

17:00

$3,000

The Festival Online –

PKO 8-max

$22

19:00

$12,000

The Festival Online –

Texas PKO 8-Max Day 1

$160

19:00

–

The Festival Online –

High Roller PKO 8-Max

$525

19:30

$40,000

The Festival Online –

Texas PKO 8-Max Day 1 Turbo

$160

21:00

–

The Festival Online –

Texas PKO 8-Max Day 1 Hyper

$160

22:30

–

Monday 27.3

The Festival Online –

Texas PKO Day 1 Turbo

$160

14:00

–

The Festival Online –

Texas PKO Day 1 Turbo

$160

15:30

–

The Festival Online –

Texas PKO Day 1 Turbo

$160

17:00

– 

The Festival Online –

Texas PKO Day 1 Hyper

$160

18:00

– 

The Festival Online –

Texas PKO Day 2

–

20:00

$150,000

Tuesday 28.3

The Festival Online –

PLO 6-Max

$55

18:30

$2,000

The Festival Online –

Mystery Bounty

$22

19:00

$15,000

The Festival Online –

Texas PKO 8-Max Final Table stream

–

19:00

–

Thursday 30.3

The Festival Online –

Texas Super KO

$109

17:00

$12,000

The Festival Online –

Texas Low Roller

$22

17:30

$10,000

Sunday 2.4

The Festival Online –

 Sunday Big Shot 11

$11

17:00

$15,000

The Festival Online –

Sunday Big Shot 109

$109

19:00

$100,000

The Festival Online –

PLO R&A Low Roller

$22

19:00

$3,000

The Festival Online –

Sunday High Roller

$525

19:30

$40,000

Tuesday 4.4

The Festival Online –

Mystery Bounty 6-Max

$55

18:30

$18,000

The Festival Online –

Mini Mystery Bounty 6-Max

$22

19:00

$15,000

Thursday 6.4

The Festival Online –

PKO 8-Max

$109

17:00

$12,000

The Festival Online –

Mini PKO 8-Max

$22

17:30

$10,000

The Festival Online –

Main Event Day 1

$215

19:00

–

The Festival Online –

Main Event Day 1 Turbo

$215

21:00

–

Friday 7.4

The Festival Online –

Main Event Day 1

$215

17:00

–

The Festival Online –

Main Event Day 1

$215

19:00

–

The Festival Online –

Main Event Day 1 Turbo

$215

21:00

–

Saturday 8.4

The Festival Online –

Main Event Day 1

$215

17:00

–

The Festival Online –

Main Event Day 1

$215

19:00

–

The Festival Online –

Main Event Day 1 Turbo

$215

21:00

–

Sunday 9.4

The Festival Online –

Main Event Day 1

$215

15:00

–

The Festival Online –

Main Event Day 1

$215

17:00

–

The Festival Online –

Micro Mystery Bounty Closing

$55

17:00

$5,000

The Festival Online –

Main Event Day 1

$215

19:00

–

The Festival Online –

Mini Mystery Bounty Closing

$22

19:00

$25,000

The Festival Online –

High roller PKO Closing

$525

19:30

$40,000

The Festival Online –

Main Event Day 1 Turbo

$215

21:00

–

The Festival Online –

Main Event Day 1 Hyper

$215

22:30

–

Monday 10.4

The Festival Online –

Main Event Day 1 Turbo

$215

14:00

–

The Festival Online –

Main Event Day 1 Turbo

$215

15:30

–

The Festival Online –

Main Event Day 1 Turbo

$215

17:00

–

The Festival Online –

Main Event Day 1 Hyper

$215

18:00

–

The Festival Online –

Main Event Day 2 (ITM)

–

20:00

$200,000

Tuesday 11.4

The Festival Online –

Main Event –

Final Table stream

–

19:00

–

Thursday 13.4

The Festival Online –

Afterparty

$109

19:30

$15,000