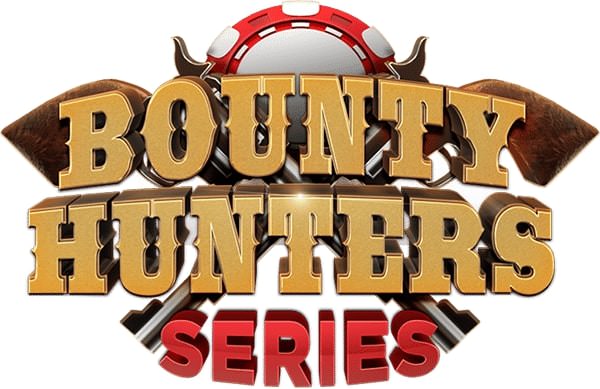 Vom 09. April bis 02. Mai 2023 läuft auf GGPoker die Bounty Hunters Series 2023 mit unglaublichen $50.000.000 garantiert.
Im Programm gibt es mehr als 1.000 Turniere in vier Wochen und die Buy-Ins bewegen sich zwischen $5.40 und $1.050. 
Neben normalen Knockout Bounty Events und Progressive Knockout Bounty Turnieren gibt es auch die beliebten Mystery Bounty Tournaments.
Hier sollte für jeden Geschmack etwas dabei sein.
Highlights:
6 Showdown Events with the Biggest Prizes and Top Bounties
4/9: $105 Secret Bounty Opener – $1M with $100K Top Bounty
4/16: $525 High Noon Omaholic HR – $250K
4/17: $25 Mystery Bounty Mini Main – $1.5M with $100K Top Bounty
4/23: $15 Sunday Hundred Grand Special Edition – $200K
4/23: $50 Global MILLION$ Bounty [Final][Stage] $1M
5/1: $210 Mystery Bounty Main Event – $5M with $500K Top Bounty
Alle weiteren Informationen zur Bounty Builder Series 2023 gibt es hier.
Wer noch beinen Account bei GGPoker hat, kann sich hier registrieren. Mit dem Welcome Bonus Code "HGP2020" erhaltet ihr bis zu $600 Bonus.
Hier ist der vollständige Turnierplan:
| DATE | DAY | UTC | EVENT | BUY-IN | GTD |
| --- | --- | --- | --- | --- | --- |
| April 9 | Sun | 12:30 | Sunday Blast-Off $215 | $215 | $50,000 |
| April 9 | Sun | 12:30 | Mini Blast-Off $25 | $25 | $50,000 |
| April 9 | Sun | 13:15 | Ultra Deepstack Bounty Turbo $54 | $54 | $50,000 |
| April 9 | Sun | 13:15 | Ultra Deepstack Bounty Turbo $5.40 | $5 | $25,000 |
| April 9 | Sun | 14:00 | Battle of Marathon $320 | $320 | $125,000 |
| April 9 | Sun | 14:00 | Battle of Marathon $32.10 | $32 | $100,000 |
| April 9 | Sun | 14:30 | Sunday Bounty Superstack HR $840 | $840 | $100,000 |
| April 9 | Sun | 14:30 | Sunday Bounty Superstack $85.50 | $86 | $125,000 |
| April 9 | Sun | 15:00 | Sunday Grand Prix $150 [Bounty][Edition] | $150 | $200,000 |
| April 9 | Sun | 15:00 | GGMasters Sunday Bounty $25 | $25 | $100,000 |
| April 9 | Sun | 15:30 | Sunday Forty Stack $44 | $44 | $125,000 |
| April 9 | Sun | 15:40 | Sunday Omaholic Forty Stack $44 | $44 | $20,000 |
| April 9 | Sun | 16:30 | Bounty Hunters Sunday Main Event $54, $500K GTD | $54 | $500,000 |
| April 9 | Sun | 17:30 | Sunday Big Game $215 | $215 | $325,000 |
| April 9 | Sun | 17:40 | Sunday Big Game Omaholic $215 | $215 | $40,000 |
| April 9 | Sun | 18:00 | SECRET BOUNTY Opener $105 – $100K Top Bounty | $105 | $1,000,000 |
| April 9 | Sun | 18:30 | GGMasters Bounty Special Edition $320 | $320 | $400,000 |
| April 9 | Sun | 18:30 | Bounty King Jr $32.10 | $32 | $150,000 |
| April 9 | Sun | 19:30 | Big Antes Bounty $108 | $108 | $100,000 |
| April 9 | Sun | 19:40 | Big Antes Omaholic $108 | $108 | $20,000 |
| April 9 | Sun | 20:40 | Bounty Hunters HR Encore $525 | $525 | $75,000 |
| April 9 | Sun | 20:40 | Bounty Hunters Sunday Encore $54 | $54 | $100,000 |
| April 9 | Sun | 21:00 | Sunday Heater Special Edition $215 | $215 | $125,000 |
| April 9 | Sun | 21:00 | Sunday Heater Special Edition $25 | $25 | $60,000 |
| April 9 | Sun | 21:10 | Sunday Omaholic Heater $215 | $215 | $20,000 |
| April 9 | Sun | 21:10 | Sunday Omaholic Heater $25 | $25 | $15,000 |
| April 9 | Sun | 21:30 | MYSTERY BOUNTY Mini Main – $100K Top Bounty [Stage][1] | $25 | $1,500,000 |
| April 9 | Sun | 22:00 | SUPER SIX HR $630 | $630 | $40,000 |
| April 9 | Sun | 22:00 | SUPER SIX $64.50 | $65 | $50,000 |
| April 9 | Sun | 23:30 | Last Call $215 | $215 | $60,000 |
| April 9 | Sun | 23:30 | Last Call $25 | $25 | $20,000 |
| April 9 | Sun | 23:30 | MYSTERY BOUNTY Mini Main – $100K Top Bounty [Stage][1] | $25 | $1,500,000 |
| April 10 | Mon | 00:00 | Midnight Madness $85.50 [Bounty][Edition] | $86 | $40,000 |
| April 10 | Mon | 00:00 | Mini Midnight Madness $8.55 [Bounty][Edition] | $9 | $10,000 |
| April 10 | Mon | 01:30 | MYSTERY BOUNTY Mini Main – $100K Top Bounty [Stage][1] | $25 | $1,500,000 |
| April 10 | Mon | 03:30 | MYSTERY BOUNTY Mini Main – $100K Top Bounty [Stage][1] | $25 | $1,500,000 |
| April 10 | Mon | 05:30 | MYSTERY BOUNTY Mini Main – $100K Top Bounty [Stage][1] | $25 | $1,500,000 |
| April 10 | Mon | 07:30 | MYSTERY BOUNTY Mini Main – $100K Top Bounty [Stage][1] | $25 | $1,500,000 |
| April 10 | Mon | 09:30 | MYSTERY BOUNTY Mini Main – $100K Top Bounty [Stage][1] | $25 | $1,500,000 |
| April 10 | Mon | 11:30 | MYSTERY BOUNTY Mini Main – $100K Top Bounty [Stage][1] | $25 | $1,500,000 |
| April 10 | Mon | 12:30 | Bounty Blast-Off $88 | $88 | $20,000 |
| April 10 | Mon | 12:30 | Mini Blast-Off $8.80 | $9 | $25,000 |
| April 10 | Mon | 13:15 | Ultra Deepstack Bounty Turbo $54 | $54 | $25,000 |
| April 10 | Mon | 13:15 | Ultra Deepstack Bounty Turbo $5.40 | $5 | $15,000 |
| April 10 | Mon | 13:30 | Bounty Hunters 6-Max Special $108 | $108 | $10,000 |
| April 10 | Mon | 13:30 | Bounty Hunters 6-Max Special $10.80 | $11 | $25,000 |
| April 10 | Mon | 13:30 | MYSTERY BOUNTY Mini Main – $100K Top Bounty [Stage][1] | $25 | $1,500,000 |
| April 10 | Mon | 14:30 | Bounty Superstack $85.50 | $86 | $40,000 |
| April 10 | Mon | 14:30 | Bounty Superstack $8.55 | $9 | $40,000 |
| April 10 | Mon | 15:00 | Bounty Warm-Up $250 | $250 | $50,000 |
| April 10 | Mon | 15:00 | GGMasters Bounty Warm-Up Special Edition $25 | $25 | $60,000 |
| April 10 | Mon | 15:30 | Bounty Forty Stack HR $444 | $444 | $50,000 |
| April 10 | Mon | 15:30 | Bounty Forty Stack $44 | $44 | $60,000 |
| April 10 | Mon | 15:30 | MYSTERY BOUNTY Mini Main – $100K Top Bounty [Stage][1] | $25 | $1,500,000 |
| April 10 | Mon | 15:40 | Omaholic Forty Stack $44 | $44 | $10,000 |
| April 10 | Mon | 16:30 | Bounty Hunters HR $525 [6-Max] | $525 | $200,000 |
| April 10 | Mon | 16:30 | Bounty Hunters Daily Main $54 [6-Max] | $54 | $175,000 |
| April 10 | Mon | 16:30 | Bounty Hunters Mini Main $5.40 [6-Max] | $5 | $30,000 |
| April 10 | Mon | 17:30 | Big Game $215 | $215 | $125,000 |
| April 10 | Mon | 17:30 | Mini Big Game $21.60 | $22 | $60,000 |
| April 10 | Mon | 17:30 | MYSTERY BOUNTY Mini Main – $100K Top Bounty [Stage][1] | $25 | $1,500,000 |
| April 10 | Mon | 17:40 | Big Game Omaholic $215 | $215 | $12,500 |
| April 10 | Mon | 17:40 | Mini Big Game Omaholic $21.60 | $22 | $10,000 |
| April 10 | Mon | 18:30 | Bounty King Special Edition $320 | $320 | $50,000 |
| April 10 | Mon | 18:30 | Bounty King Jr $32.10 | $32 | $70,000 |
| April 10 | Mon | 19:00 | GGMasters Bounty Special Edition $25 | $25 | $45,000 |
| April 10 | Mon | 19:30 | Big Antes Bounty $108 | $108 | $40,000 |
| April 10 | Mon | 19:30 | Big Antes Bounty $15 | $15 | $25,000 |
| April 10 | Mon | 19:30 | MYSTERY BOUNTY Mini Main – $100K Top Bounty [Stage][1] | $25 | $1,500,000 |
| April 10 | Mon | 20:30 | Bounty Hunters HR Encore $525 | $525 | $25,000 |
| April 10 | Mon | 20:30 | Bounty Hunters Encore $54 | $54 | $30,000 |
| April 10 | Mon | 21:00 | Daily Heater Special Edition $215 | $215 | $30,000 |
| April 10 | Mon | 21:00 | GGMasters Bounty Turbo Special Edition $25 | $25 | $25,000 |
| April 10 | Mon | 21:30 | MYSTERY BOUNTY Mini Main – $100K Top Bounty [Stage][1] | $25 | $1,500,000 |
| April 10 | Mon | 22:00 | SUPER SIX $64.50 | $65 | $25,000 |
| April 10 | Mon | 23:30 | Last Call $215 | $215 | $18,000 |
| April 10 | Mon | 23:30 | Last Call $25 | $25 | $12,500 |
| April 10 | Mon | 23:30 | MYSTERY BOUNTY Mini Main – $100K Top Bounty [Stage][1] | $25 | $1,500,000 |
| April 11 | Tue | 00:00 | Midnight Madness $85.50 [Bounty][Edition] | $86 | $15,000 |
| April 11 | Tue | 00:00 | Mini Midnight Madness $8.55 [Bounty][Edition] | $9 | $8,000 |
| April 11 | Tue | 01:30 | MYSTERY BOUNTY Mini Main – $100K Top Bounty [Stage][1] | $25 | $1,500,000 |
| April 11 | Tue | 03:30 | MYSTERY BOUNTY Mini Main – $100K Top Bounty [Stage][1] | $25 | $1,500,000 |
| April 11 | Tue | 05:30 | MYSTERY BOUNTY Mini Main – $100K Top Bounty [Stage][1] | $25 | $1,500,000 |
| April 11 | Tue | 07:30 | MYSTERY BOUNTY Mini Main – $100K Top Bounty [Stage][1] | $25 | $1,500,000 |
| April 11 | Tue | 09:30 | MYSTERY BOUNTY Mini Main – $100K Top Bounty [Stage][1] | $25 | $1,500,000 |
| April 11 | Tue | 11:30 | MYSTERY BOUNTY Mini Main – $100K Top Bounty [Stage][1] | $25 | $1,500,000 |
| April 11 | Tue | 12:30 | Bounty Blast-Off $88 | $88 | $20,000 |
| April 11 | Tue | 12:30 | Mini Blast-Off $8.80 | $9 | $25,000 |
| April 11 | Tue | 13:15 | Ultra Deepstack Bounty Turbo $54 | $54 | $25,000 |
| April 11 | Tue | 13:15 | Ultra Deepstack Bounty Turbo $5.40 | $5 | $15,000 |
| April 11 | Tue | 13:30 | Bounty Hunters 6-Max Special $108 | $108 | $10,000 |
| April 11 | Tue | 13:30 | Bounty Hunters 6-Max Special $10.80 | $11 | $25,000 |
| April 11 | Tue | 13:30 | MYSTERY BOUNTY Mini Main – $100K Top Bounty [Stage][1] | $25 | $1,500,000 |
| April 11 | Tue | 14:30 | Bounty Superstack $85.50 | $86 | $40,000 |
| April 11 | Tue | 14:30 | Bounty Superstack $8.55 | $9 | $40,000 |
| April 11 | Tue | 15:00 | Bounty Warm-Up $250 | $250 | $50,000 |
| April 11 | Tue | 15:00 | GGMasters Bounty Warm-Up Special Edition $25 | $25 | $60,000 |
| April 11 | Tue | 15:30 | Bounty Forty Stack HR $444 | $444 | $50,000 |
| April 11 | Tue | 15:30 | Bounty Forty Stack $44 | $44 | $60,000 |
| April 11 | Tue | 15:30 | MYSTERY BOUNTY Mini Main – $100K Top Bounty [Stage][1] | $25 | $1,500,000 |
| April 11 | Tue | 15:40 | Omaholic Forty Stack $44 | $44 | $10,000 |
| April 11 | Tue | 16:30 | Bounty Hunters HR $525 [Deepstack] | $525 | $200,000 |
| April 11 | Tue | 16:30 | Bounty Hunters Daily Main $54 [Deepstack] | $54 | $175,000 |
| April 11 | Tue | 16:30 | Bounty Hunters Mini Main $5.40 [Deepstack] | $5 | $30,000 |
| April 11 | Tue | 17:30 | Big Game $215 | $215 | $125,000 |
| April 11 | Tue | 17:30 | Mini Big Game $21.60 | $22 | $60,000 |
| April 11 | Tue | 17:30 | MYSTERY BOUNTY Mini Main – $100K Top Bounty [Stage][1] | $25 | $1,500,000 |
| April 11 | Tue | 17:40 | Big Game Omaholic $215 | $215 | $12,500 |
| April 11 | Tue | 17:40 | Mini Big Game Omaholic $21.60 | $22 | $10,000 |
| April 11 | Tue | 18:30 | Bounty King Special Edition $320 | $320 | $50,000 |
| April 11 | Tue | 18:30 | Bounty King Jr $32.10 | $32 | $70,000 |
| April 11 | Tue | 19:00 | GGMasters Bounty Special Edition $25 | $25 | $45,000 |
| April 11 | Tue | 19:30 | Big Antes Bounty $108 | $108 | $40,000 |
| April 11 | Tue | 19:30 | Big Antes Bounty $15 | $15 | $25,000 |
| April 11 | Tue | 19:30 | MYSTERY BOUNTY Mini Main – $100K Top Bounty [Stage][1] | $25 | $1,500,000 |
| April 11 | Tue | 20:30 | Bounty Hunters HR Encore $525 | $525 | $25,000 |
| April 11 | Tue | 20:30 | Bounty Hunters Encore $54 | $54 | $30,000 |
| April 11 | Tue | 21:00 | Daily Heater Special Edition $215 | $215 | $30,000 |
| April 11 | Tue | 21:00 | GGMasters Bounty Turbo Special Edition $25 | $25 | $25,000 |
| April 11 | Tue | 21:30 | MYSTERY BOUNTY Mini Main – $100K Top Bounty [Stage][1] | $25 | $1,500,000 |
| April 11 | Tue | 22:00 | SUPER SIX $64.50 | $65 | $25,000 |
| April 11 | Tue | 23:30 | Last Call $215 | $215 | $18,000 |
| April 11 | Tue | 23:30 | Last Call $25 | $25 | $12,500 |
| April 11 | Tue | 23:30 | MYSTERY BOUNTY Mini Main – $100K Top Bounty [Stage][1] | $25 | $1,500,000 |
| April 12 | Wed | 00:00 | Midnight Madness $85.50 [Bounty][Edition] | $86 | $15,000 |
| April 12 | Wed | 00:00 | Mini Midnight Madness $8.55 [Bounty][Edition] | $9 | $8,000 |
| April 12 | Wed | 01:30 | MYSTERY BOUNTY Mini Main – $100K Top Bounty [Stage][1] | $25 | $1,500,000 |
| April 12 | Wed | 03:30 | MYSTERY BOUNTY Mini Main – $100K Top Bounty [Stage][1] | $25 | $1,500,000 |
| April 12 | Wed | 05:30 | MYSTERY BOUNTY Mini Main – $100K Top Bounty [Stage][1] | $25 | $1,500,000 |
| April 12 | Wed | 07:30 | MYSTERY BOUNTY Mini Main – $100K Top Bounty [Stage][1] | $25 | $1,500,000 |
| April 12 | Wed | 09:30 | MYSTERY BOUNTY Mini Main – $100K Top Bounty [Stage][1] | $25 | $1,500,000 |
| April 12 | Wed | 11:30 | MYSTERY BOUNTY Mini Main – $100K Top Bounty [Stage][1] | $25 | $1,500,000 |
| April 12 | Wed | 12:30 | Bounty Blast-Off $88 | $88 | $20,000 |
| April 12 | Wed | 12:30 | Mini Blast-Off $8.80 | $9 | $25,000 |
| April 12 | Wed | 13:15 | Ultra Deepstack Bounty Turbo $54 | $54 | $25,000 |
| April 12 | Wed | 13:15 | Ultra Deepstack Bounty Turbo $5.40 | $5 | $15,000 |
| April 12 | Wed | 13:30 | Bounty Hunters 6-Max Special $108 | $108 | $10,000 |
| April 12 | Wed | 13:30 | Bounty Hunters 6-Max Special $10.80 | $11 | $25,000 |
| April 12 | Wed | 13:30 | MYSTERY BOUNTY Mini Main – $100K Top Bounty [Stage][1] | $25 | $1,500,000 |
| April 12 | Wed | 14:30 | Bounty Superstack $85.50 | $86 | $40,000 |
| April 12 | Wed | 14:30 | Bounty Superstack $8.55 | $9 | $40,000 |
| April 12 | Wed | 15:00 | Bounty Warm-Up $250 | $250 | $50,000 |
| April 12 | Wed | 15:00 | GGMasters Bounty Warm-Up Special Edition $25 | $25 | $60,000 |
| April 12 | Wed | 15:30 | Bounty Forty Stack HR $444 | $444 | $30,000 |
| April 12 | Wed | 15:30 | Bounty Forty Stack $44 | $44 | $60,000 |
| April 12 | Wed | 15:30 | MYSTERY BOUNTY Mini Main – $100K Top Bounty [Stage][1] | $25 | $1,500,000 |
| April 12 | Wed | 15:40 | Omaholic Forty Stack $44 | $44 | $10,000 |
| April 12 | Wed | 16:30 | Bounty Hunters HR $525 [Double][Stack] | $525 | $150,000 |
| April 12 | Wed | 16:30 | Bounty Hunters Daily Main $54 [Double][Stack] | $54 | $175,000 |
| April 12 | Wed | 16:30 | Bounty Hunters Mini Main $5.40 [Double][Stack] | $5 | $30,000 |
| April 12 | Wed | 17:30 | Big Game $215 | $215 | $100,000 |
| April 12 | Wed | 17:30 | Mini Big Game $21.60 | $22 | $60,000 |
| April 12 | Wed | 17:30 | MYSTERY BOUNTY Mini Main – $100K Top Bounty [Stage][1] | $25 | $1,500,000 |
| April 12 | Wed | 17:40 | Big Game Omaholic $215 | $215 | $12,500 |
| April 12 | Wed | 17:40 | Mini Big Game Omaholic $21.60 | $22 | $10,000 |
| April 12 | Wed | 18:30 | Bounty King Special Edition $320 | $320 | $40,000 |
| April 12 | Wed | 18:30 | Bounty King Jr $32.10 | $32 | $70,000 |
| April 12 | Wed | 19:00 | GGMasters Bounty Special Edition $25 | $25 | $45,000 |
| April 12 | Wed | 19:30 | Big Antes Bounty $108 | $108 | $40,000 |
| April 12 | Wed | 19:30 | Big Antes Bounty $15 | $15 | $25,000 |
| April 12 | Wed | 19:30 | MYSTERY BOUNTY Mini Main – $100K Top Bounty [Stage][1] | $25 | $1,500,000 |
| April 12 | Wed | 20:30 | Bounty Hunters HR Encore $525 | $525 | $25,000 |
| April 12 | Wed | 20:30 | Bounty Hunters Encore $54 | $54 | $30,000 |
| April 12 | Wed | 21:00 | Daily Heater Special Edition $215 | $215 | $30,000 |
| April 12 | Wed | 21:00 | GGMasters Bounty Turbo Special Edition $25 | $25 | $25,000 |
| April 12 | Wed | 21:30 | MYSTERY BOUNTY Mini Main – $100K Top Bounty [Stage][1] | $25 | $1,500,000 |
| April 12 | Wed | 22:00 | SUPER SIX $64.50 | $65 | $25,000 |
| April 12 | Wed | 23:30 | Last Call $215 | $215 | $18,000 |
| April 12 | Wed | 23:30 | Last Call $25 | $25 | $12,500 |
| April 12 | Wed | 23:30 | MYSTERY BOUNTY Mini Main – $100K Top Bounty [Stage][1] | $25 | $1,500,000 |
| April 13 | Thu | 00:00 | Midnight Madness $85.50 [Bounty][Edition] | $86 | $15,000 |
| April 13 | Thu | 00:00 | Mini Midnight Madness $8.55 [Bounty][Edition] | $9 | $8,000 |
| April 13 | Thu | 01:30 | MYSTERY BOUNTY Mini Main – $100K Top Bounty [Stage][1] | $25 | $1,500,000 |
| April 13 | Thu | 03:30 | MYSTERY BOUNTY Mini Main – $100K Top Bounty [Stage][1] | $25 | $1,500,000 |
| April 13 | Thu | 05:30 | MYSTERY BOUNTY Mini Main – $100K Top Bounty [Stage][1] | $25 | $1,500,000 |
| April 13 | Thu | 07:30 | MYSTERY BOUNTY Mini Main – $100K Top Bounty [Stage][1] | $25 | $1,500,000 |
| April 13 | Thu | 09:30 | MYSTERY BOUNTY Mini Main – $100K Top Bounty [Stage][1] | $25 | $1,500,000 |
| April 13 | Thu | 11:30 | MYSTERY BOUNTY Mini Main – $100K Top Bounty [Stage][1] | $25 | $1,500,000 |
| April 13 | Thu | 12:30 | Bounty Blast-Off $88 | $88 | $20,000 |
| April 13 | Thu | 12:30 | Mini Blast-Off $8.80 | $9 | $25,000 |
| April 13 | Thu | 12:30 | Global MILLION$ Bounty Edition, $1M GTD [Stage][1] | $50 | $1,000,000 |
| April 13 | Thu | 13:15 | Ultra Deepstack Bounty Turbo $54 | $54 | $25,000 |
| April 13 | Thu | 13:15 | Ultra Deepstack Bounty Turbo $5.40 | $5 | $15,000 |
| April 13 | Thu | 13:30 | Bounty Hunters 6-Max Special $108 | $108 | $10,000 |
| April 13 | Thu | 13:30 | Bounty Hunters 6-Max Special $10.80 | $11 | $25,000 |
| April 13 | Thu | 13:30 | MYSTERY BOUNTY Mini Main – $100K Top Bounty [Stage][1] | $25 | $1,500,000 |
| April 13 | Thu | 14:30 | Bounty Superstack $85.50 | $86 | $40,000 |
| April 13 | Thu | 14:30 | Bounty Superstack $8.55 | $9 | $40,000 |
| April 13 | Thu | 15:00 | Bounty Warm-Up $250 | $250 | $50,000 |
| April 13 | Thu | 15:00 | GGMasters Bounty Warm-Up Special Edition $25 | $25 | $60,000 |
| April 13 | Thu | 15:30 | Bounty Forty Stack HR $444 | $444 | $50,000 |
| April 13 | Thu | 15:30 | Bounty Forty Stack $44 | $44 | $60,000 |
| April 13 | Thu | 15:30 | MYSTERY BOUNTY Mini Main – $100K Top Bounty [Stage][1] | $25 | $1,500,000 |
| April 13 | Thu | 15:40 | Omaholic Forty Stack $44 | $44 | $10,000 |
| April 13 | Thu | 16:30 | Bounty Hunters HR $525 [Classic] | $525 | $200,000 |
| April 13 | Thu | 16:30 | Bounty Hunters Daily Main $54 [Classic] | $54 | $175,000 |
| April 13 | Thu | 16:30 | Bounty Hunters Mini Main $5.40 [Classic] | $5 | $30,000 |
| April 13 | Thu | 17:30 | Big Game $215 | $215 | $125,000 |
| April 13 | Thu | 17:30 | Mini Big Game $21.60 | $22 | $60,000 |
| April 13 | Thu | 17:30 | MYSTERY BOUNTY Mini Main – $100K Top Bounty [Stage][1] | $25 | $1,500,000 |
| April 13 | Thu | 17:40 | Big Game Omaholic $215 | $215 | $12,500 |
| April 13 | Thu | 17:40 | Mini Big Game Omaholic $21.60 | $22 | $10,000 |
| April 13 | Thu | 18:30 | Bounty King Special Edition $320 | $320 | $50,000 |
| April 13 | Thu | 18:30 | Bounty King Jr $32.10 | $32 | $70,000 |
| April 13 | Thu | 18:30 | Global MILLION$ Bounty Edition, $1M GTD [Stage][1] | $50 | $1,000,000 |
| April 13 | Thu | 19:00 | GGMasters Bounty Special Edition $25 | $25 | $45,000 |
| April 13 | Thu | 19:30 | Big Antes Bounty $108 | $108 | $40,000 |
| April 13 | Thu | 19:30 | Big Antes Bounty $15 | $15 | $25,000 |
| April 13 | Thu | 19:30 | MYSTERY BOUNTY Mini Main – $100K Top Bounty [Stage][1] | $25 | $1,500,000 |
| April 13 | Thu | 20:30 | Bounty Hunters HR Encore $525 | $525 | $25,000 |
| April 13 | Thu | 20:30 | Bounty Hunters Encore $54 | $54 | $30,000 |
| April 13 | Thu | 21:00 | Daily Heater Special Edition $215 | $215 | $30,000 |
| April 13 | Thu | 21:00 | GGMasters Bounty Turbo Special Edition $25 | $25 | $25,000 |
| April 13 | Thu | 21:30 | MYSTERY BOUNTY Mini Main – $100K Top Bounty [Stage][1] | $25 | $1,500,000 |
| April 13 | Thu | 22:00 | SUPER SIX $64.50 | $65 | $25,000 |
| April 13 | Thu | 23:30 | Last Call $215 | $215 | $18,000 |
| April 13 | Thu | 23:30 | Last Call $25 | $25 | $12,500 |
| April 13 | Thu | 23:30 | MYSTERY BOUNTY Mini Main – $100K Top Bounty [Stage][1] | $25 | $1,500,000 |
| April 14 | Fri | 00:00 | Midnight Madness $85.50 [Bounty][Edition] | $86 | $15,000 |
| April 14 | Fri | 00:00 | Mini Midnight Madness $8.55 [Bounty][Edition] | $9 | $8,000 |
| April 14 | Fri | 01:30 | MYSTERY BOUNTY Mini Main – $100K Top Bounty [Stage][1] | $25 | $1,500,000 |
| April 14 | Fri | 03:30 | MYSTERY BOUNTY Mini Main – $100K Top Bounty [Stage][1] | $25 | $1,500,000 |
| April 14 | Fri | 05:30 | MYSTERY BOUNTY Mini Main – $100K Top Bounty [Stage][1] | $25 | $1,500,000 |
| April 14 | Fri | 07:30 | MYSTERY BOUNTY Mini Main – $100K Top Bounty [Stage][1] | $25 | $1,500,000 |
| April 14 | Fri | 09:30 | MYSTERY BOUNTY Mini Main – $100K Top Bounty [Stage][1] | $25 | $1,500,000 |
| April 14 | Fri | 11:30 | MYSTERY BOUNTY Mini Main – $100K Top Bounty [Stage][1] | $25 | $1,500,000 |
| April 14 | Fri | 12:30 | Bounty Blast-Off $88 | $88 | $20,000 |
| April 14 | Fri | 12:30 | Mini Blast-Off $8.80 | $9 | $25,000 |
| April 14 | Fri | 12:30 | Global MILLION$ Bounty Edition, $1M GTD [Stage][1] | $50 | $1,000,000 |
| April 14 | Fri | 13:15 | Ultra Deepstack Bounty Turbo $54 | $54 | $25,000 |
| April 14 | Fri | 13:15 | Ultra Deepstack Bounty Turbo $5.40 | $5 | $15,000 |
| April 14 | Fri | 13:30 | Bounty Hunters 6-Max Special $108 | $108 | $10,000 |
| April 14 | Fri | 13:30 | Bounty Hunters 6-Max Special $10.80 | $11 | $25,000 |
| April 14 | Fri | 13:30 | MYSTERY BOUNTY Mini Main – $100K Top Bounty [Stage][1] | $25 | $1,500,000 |
| April 14 | Fri | 14:30 | Bounty Superstack $85.50 | $86 | $40,000 |
| April 14 | Fri | 14:30 | Bounty Superstack $8.55 | $9 | $40,000 |
| April 14 | Fri | 15:00 | Bounty Warm-Up $250 | $250 | $50,000 |
| April 14 | Fri | 15:00 | GGMasters Bounty Warm-Up Special Edition $25 | $25 | $60,000 |
| April 14 | Fri | 15:30 | Bounty Forty Stack HR $444 | $444 | $25,000 |
| April 14 | Fri | 15:30 | Bounty Forty Stack $44 | $44 | $60,000 |
| April 14 | Fri | 15:30 | MYSTERY BOUNTY Mini Main – $100K Top Bounty [Stage][1] | $25 | $1,500,000 |
| April 14 | Fri | 15:40 | Omaholic Forty Stack $44 | $44 | $10,000 |
| April 14 | Fri | 16:30 | Bounty Hunters HR $525 [Ultradeep] | $525 | $125,000 |
| April 14 | Fri | 16:30 | Bounty Hunters Daily Main $54 [Ultradeep] | $54 | $150,000 |
| April 14 | Fri | 16:30 | Bounty Hunters Mini Main $5.40 [Ultradeep] | $5 | $30,000 |
| April 14 | Fri | 17:30 | Big Game $215 | $215 | $75,000 |
| April 14 | Fri | 17:30 | Mini Big Game $21.60 | $22 | $60,000 |
| April 14 | Fri | 17:30 | MYSTERY BOUNTY Mini Main – $100K Top Bounty [Stage][1] | $25 | $1,500,000 |
| April 14 | Fri | 17:40 | Big Game Omaholic $215 | $215 | $10,000 |
| April 14 | Fri | 17:40 | Mini Big Game Omaholic $21.60 | $22 | $10,000 |
| April 14 | Fri | 18:30 | Bounty King Special Edition $320 | $320 | $25,000 |
| April 14 | Fri | 18:30 | Bounty King Jr $32.10 | $32 | $70,000 |
| April 14 | Fri | 18:30 | Global MILLION$ Bounty Edition, $1M GTD [Stage][1] | $50 | $1,000,000 |
| April 14 | Fri | 19:00 | GGMasters Bounty Special Edition $25 | $25 | $45,000 |
| April 14 | Fri | 19:30 | Big Antes Bounty $108 | $108 | $25,000 |
| April 14 | Fri | 19:30 | Big Antes Bounty $15 | $15 | $25,000 |
| April 14 | Fri | 19:30 | MYSTERY BOUNTY Mini Main – $100K Top Bounty [Stage][1] | $25 | $1,500,000 |
| April 14 | Fri | 20:30 | Bounty Hunters HR Encore $525 | $525 | $20,000 |
| April 14 | Fri | 20:30 | Bounty Hunters Encore $54 | $54 | $25,000 |
| April 14 | Fri | 21:00 | Daily Heater Special Edition $215 | $215 | $25,000 |
| April 14 | Fri | 21:00 | GGMasters Bounty Turbo Special Edition $25 | $25 | $25,000 |
| April 14 | Fri | 21:30 | MYSTERY BOUNTY Mini Main – $100K Top Bounty [Stage][1] | $25 | $1,500,000 |
| April 14 | Fri | 22:00 | SUPER SIX $64.50 | $65 | $25,000 |
| April 14 | Fri | 23:30 | Last Call $215 | $215 | $15,000 |
| April 14 | Fri | 23:30 | Last Call $25 | $25 | $12,500 |
| April 14 | Fri | 23:30 | MYSTERY BOUNTY Mini Main – $100K Top Bounty [Stage][1] | $25 | $1,500,000 |
| April 15 | Sat | 00:00 | Midnight Madness $85.50 [Bounty][Edition] | $86 | $12,000 |
| April 15 | Sat | 00:00 | Mini Midnight Madness $8.55 [Bounty][Edition] | $9 | $8,000 |
| April 15 | Sat | 00:30 | Global MILLION$ Bounty Edition, $1M GTD [Stage][1] | $50 | $1,000,000 |
| April 15 | Sat | 01:30 | MYSTERY BOUNTY Mini Main – $100K Top Bounty [Stage][1] | $25 | $1,500,000 |
| April 15 | Sat | 03:30 | MYSTERY BOUNTY Mini Main – $100K Top Bounty [Stage][1] | $25 | $1,500,000 |
| April 15 | Sat | 05:30 | MYSTERY BOUNTY Mini Main – $100K Top Bounty [Stage][1] | $25 | $1,500,000 |
| April 15 | Sat | 06:30 | Global MILLION$ Bounty Edition, $1M GTD [Stage][1] | $50 | $1,000,000 |
| April 15 | Sat | 07:30 | MYSTERY BOUNTY Mini Main – $100K Top Bounty [Stage][1] | $25 | $1,500,000 |
| April 15 | Sat | 09:30 | MYSTERY BOUNTY Mini Main – $100K Top Bounty [Stage][1] | $25 | $1,500,000 |
| April 15 | Sat | 11:30 | MYSTERY BOUNTY Mini Main – $100K Top Bounty [Stage][1] | $25 | $1,500,000 |
| April 15 | Sat | 12:30 | Bounty Blast-Off $88 | $88 | $20,000 |
| April 15 | Sat | 12:30 | Mini Blast-Off $8.80 | $9 | $25,000 |
| April 15 | Sat | 12:30 | Global MILLION$ Bounty Edition, $1M GTD [Stage][1] | $50 | $1,000,000 |
| April 15 | Sat | 13:15 | Ultra Deepstack Bounty Turbo $54 | $54 | $25,000 |
| April 15 | Sat | 13:15 | Ultra Deepstack Bounty Turbo $5.40 | $5 | $15,000 |
| April 15 | Sat | 13:30 | Bounty Hunters 6-Max Special $108 | $108 | $10,000 |
| April 15 | Sat | 13:30 | Bounty Hunters 6-Max Special $10.80 | $11 | $25,000 |
| April 15 | Sat | 13:30 | MYSTERY BOUNTY Mini Main – $100K Top Bounty [Stage][1] | $25 | $1,500,000 |
| April 15 | Sat | 14:30 | Bounty Superstack $85.50 | $86 | $40,000 |
| April 15 | Sat | 14:30 | Bounty Superstack $8.55 | $9 | $40,000 |
| April 15 | Sat | 15:00 | Bounty Warm-Up $250 | $250 | $50,000 |
| April 15 | Sat | 15:00 | GGMasters Bounty Warm-Up Special Edition $25 | $25 | $60,000 |
| April 15 | Sat | 15:30 | Bounty Forty Stack HR $444 | $444 | $40,000 |
| April 15 | Sat | 15:30 | Bounty Forty Stack $44 | $44 | $60,000 |
| April 15 | Sat | 15:30 | MYSTERY BOUNTY Mini Main – $100K Top Bounty [Stage][1] | $25 | $1,500,000 |
| April 15 | Sat | 15:40 | Omaholic Forty Stack $44 | $44 | $10,000 |
| April 15 | Sat | 16:30 | Bounty Hunters HR $525 [Big][Bounties] | $525 | $150,000 |
| April 15 | Sat | 16:30 | Bounty Hunters Daily Main $54 [Big][Bounties] | $54 | $175,000 |
| April 15 | Sat | 16:30 | Bounty Hunters Mini Main $5.40 [Big][Bounties] | $5 | $30,000 |
| April 15 | Sat | 17:30 | Mini Big Game $21.60 | $22 | $60,000 |
| April 15 | Sat | 17:30 | MYSTERY BOUNTY Mini Main – $100K Top Bounty [Stage][1] | $25 | $1,500,000 |
| April 15 | Sat | 17:40 | Big Game Omaholic $215 | $215 | $10,000 |
| April 15 | Sat | 17:40 | Mini Big Game Omaholic $21.60 | $22 | $10,000 |
| April 15 | Sat | 18:30 | Bounty King Special Edition $320 | $320 | $40,000 |
| April 15 | Sat | 18:30 | Bounty King Jr $32.10 | $32 | $70,000 |
| April 15 | Sat | 18:30 | Global MILLION$ Bounty Edition, $1M GTD [Stage][1] | $50 | $1,000,000 |
| April 15 | Sat | 19:00 | GGMasters Bounty Special Edition $25 | $25 | $45,000 |
| April 15 | Sat | 19:30 | Big Antes Bounty $108 | $108 | $25,000 |
| April 15 | Sat | 19:30 | Big Antes Bounty $15 | $15 | $25,000 |
| April 15 | Sat | 19:30 | MYSTERY BOUNTY Mini Main – $100K Top Bounty [Stage][1] | $25 | $1,500,000 |
| April 15 | Sat | 20:30 | Bounty Hunters HR Encore $525 | $525 | $20,000 |
| April 15 | Sat | 20:30 | Bounty Hunters Encore $54 | $54 | $25,000 |
| April 15 | Sat | 21:00 | Daily Heater Special Edition $215 | $215 | $25,000 |
| April 15 | Sat | 21:00 | GGMasters Bounty Turbo Special Edition $25 | $25 | $25,000 |
| April 15 | Sat | 21:30 | MYSTERY BOUNTY Mini Main – $100K Top Bounty [Stage][1] | $25 | $1,500,000 |
| April 15 | Sat | 22:00 | SUPER SIX $64.50 | $65 | $25,000 |
| April 15 | Sat | 23:30 | Last Call $215 | $215 | $15,000 |
| April 15 | Sat | 23:30 | Last Call $25 | $25 | $12,500 |
| April 15 | Sat | 23:30 | MYSTERY BOUNTY Mini Main – $100K Top Bounty [Stage][1] | $25 | $1,500,000 |
| April 16 | Sun | 00:00 | Midnight Madness $85.50 [Bounty][Edition] | $86 | $12,000 |
| April 16 | Sun | 00:00 | Mini Midnight Madness $8.55 [Bounty][Edition] | $9 | $8,000 |
| April 16 | Sun | 00:30 | Global MILLION$ Bounty Edition, $1M GTD [Stage][1] | $50 | $1,000,000 |
| April 16 | Sun | 01:30 | MYSTERY BOUNTY Mini Main – $100K Top Bounty [Stage][1] | $25 | $1,500,000 |
| April 16 | Sun | 03:30 | MYSTERY BOUNTY Mini Main – $100K Top Bounty [Stage][1] | $25 | $1,500,000 |
| April 16 | Sun | 05:30 | MYSTERY BOUNTY Mini Main – $100K Top Bounty [Stage][1] | $25 | $1,500,000 |
| April 16 | Sun | 06:30 | Global MILLION$ Bounty Edition, $1M GTD [Stage][1] | $50 | $1,000,000 |
| April 16 | Sun | 07:30 | MYSTERY BOUNTY Mini Main – $100K Top Bounty [Stage][1] | $25 | $1,500,000 |
| April 16 | Sun | 09:30 | MYSTERY BOUNTY Mini Main – $100K Top Bounty [Stage][1] | $25 | $1,500,000 |
| April 16 | Sun | 11:30 | MYSTERY BOUNTY Mini Main – $100K Top Bounty [Stage][1] | $25 | $1,500,000 |
| April 16 | Sun | 11:30 | MYSTERY BOUNTY Main Event – $500K Top Bounty [Stage][1] | $210 | $5,000,000 |
| April 16 | Sun | 12:30 | Sunday Blast-Off $215 | $215 | $50,000 |
| April 16 | Sun | 12:30 | Mini Blast-Off $25 | $25 | $50,000 |
| April 16 | Sun | 12:30 | Global MILLION$ Bounty Edition, $1M GTD [Stage][1] | $50 | $1,000,000 |
| April 16 | Sun | 13:15 | Ultra Deepstack Bounty Turbo $54 | $54 | $50,000 |
| April 16 | Sun | 13:15 | Ultra Deepstack Bounty Turbo $5.40 | $5 | $25,000 |
| April 16 | Sun | 13:30 | MYSTERY BOUNTY Mini Main – $100K Top Bounty [Stage][1] | $25 | $1,500,000 |
| April 16 | Sun | 14:00 | Battle of Marathon $320 | $320 | $125,000 |
| April 16 | Sun | 14:00 | Battle of Marathon $32.10 | $32 | $100,000 |
| April 16 | Sun | 14:30 | Sunday Bounty Superstack HR $840 | $840 | $100,000 |
| April 16 | Sun | 14:30 | Sunday Bounty Superstack $85.50 | $86 | $125,000 |
| April 16 | Sun | 15:00 | Sunday Grand Prix $150 [Bounty][Edition] | $150 | $200,000 |
| April 16 | Sun | 15:00 | GGMasters Sunday Bounty $25 | $25 | $100,000 |
| April 16 | Sun | 15:30 | Sunday Forty Stack $44 | $44 | $125,000 |
| April 16 | Sun | 15:30 | MYSTERY BOUNTY Mini Main – $100K Top Bounty [Stage][1] | $25 | $1,500,000 |
| April 16 | Sun | 15:30 | MYSTERY BOUNTY Main Event – $500K Top Bounty [Stage][1] | $210 | $5,000,000 |
| April 16 | Sun | 15:40 | Sunday Omaholic Forty Stack $44 | $44 | $20,000 |
| April 16 | Sun | 16:30 | Bounty Hunters HR Main Event $525, $1M GTD | $525 | $1,000,000 |
| April 16 | Sun | 16:30 | Bounty Hunters Sunday Main Event $54, $500K GTD | $54 | $500,000 |
| April 16 | Sun | 17:30 | Sunday Big Game $215 | $215 | $325,000 |
| April 16 | Sun | 17:30 | MYSTERY BOUNTY Mini Main – $100K Top Bounty [Stage][1] | $25 | $1,500,000 |
| April 16 | Sun | 17:40 | Sunday Big Game Omaholic $215 | $215 | $40,000 |
| April 16 | Sun | 18:00 | High Noon Omaholic HR $525 | $525 | $250,000 |
| April 16 | Sun | 18:30 | GGMasters Bounty Special Edition $320 | $320 | $400,000 |
| April 16 | Sun | 18:30 | Bounty King Jr $32.10 | $32 | $150,000 |
| April 16 | Sun | 18:30 | Global MILLION$ Bounty Edition, $1M GTD [Stage][1] | $50 | $1,000,000 |
| April 16 | Sun | 19:00 | Sunday High Rollers Main Event $1,050 [Bounty][Edition] | $1,050 | $400,000 |
| April 16 | Sun | 19:10 | Sunday Omaholic Main Event $1,050 [Bounty][Edition] | $1,050 | $100,000 |
| April 16 | Sun | 19:30 | Big Antes Bounty $108 | $108 | $100,000 |
| April 16 | Sun | 19:30 | MYSTERY BOUNTY Mini Main – $100K Top Bounty [Stage][1] | $25 | $1,500,000 |
| April 16 | Sun | 19:30 | MYSTERY BOUNTY Main Event – $500K Top Bounty [Stage][1] | $210 | $5,000,000 |
| April 16 | Sun | 19:40 | Big Antes Omaholic $108 | $108 | $20,000 |
| April 16 | Sun | 20:40 | Bounty Hunters HR Encore $525 | $525 | $75,000 |
| April 16 | Sun | 20:40 | Bounty Hunters Sunday Encore $54 | $54 | $100,000 |
| April 16 | Sun | 21:00 | Sunday Heater Special Edition $215 | $215 | $125,000 |
| April 16 | Sun | 21:00 | Sunday Heater Special Edition $25 | $25 | $60,000 |
| April 16 | Sun | 21:10 | Sunday Omaholic Heater $215 | $215 | $20,000 |
| April 16 | Sun | 21:10 | Sunday Omaholic Heater $25 | $25 | $15,000 |
| April 16 | Sun | 21:30 | MYSTERY BOUNTY Mini Main – $100K Top Bounty [Stage][1] | $25 | $1,500,000 |
| April 16 | Sun | 22:00 | SUPER SIX HR $630 | $630 | $40,000 |
| April 16 | Sun | 22:00 | SUPER SIX $64.50 | $65 | $50,000 |
| April 16 | Sun | 23:30 | Last Call $215 | $215 | $60,000 |
| April 16 | Sun | 23:30 | Last Call $25 | $25 | $20,000 |
| April 16 | Sun | 23:30 | MYSTERY BOUNTY Mini Main – $100K Top Bounty [Stage][1] | $25 | $1,500,000 |
| April 16 | Sun | 23:30 | MYSTERY BOUNTY Main Event – $500K Top Bounty [Stage][1] | $210 | $5,000,000 |
| April 17 | Mon | 00:00 | Midnight Madness $85.50 [Bounty][Edition] | $86 | $40,000 |
| April 17 | Mon | 00:00 | Mini Midnight Madness $8.55 [Bounty][Edition] | $9 | $10,000 |
| April 17 | Mon | 00:30 | Global MILLION$ Bounty Edition, $1M GTD [Stage][1] | $50 | $1,000,000 |
| April 17 | Mon | 01:30 | MYSTERY BOUNTY Mini Main – $100K Top Bounty [Stage][1] | $25 | $1,500,000 |
| April 17 | Mon | 03:30 | MYSTERY BOUNTY Mini Main – $100K Top Bounty [Stage][1] | $25 | $1,500,000 |
| April 17 | Mon | 05:30 | MYSTERY BOUNTY Mini Main – $100K Top Bounty [Stage][1] | $25 | $1,500,000 |
| April 17 | Mon | 06:30 | Global MILLION$ Bounty Edition, $1M GTD [Stage][1] | $50 | $1,000,000 |
| April 17 | Mon | 07:30 | MYSTERY BOUNTY Mini Main – $100K Top Bounty [Stage][1] | $25 | $1,500,000 |
| April 17 | Mon | 09:30 | MYSTERY BOUNTY Mini Main – $100K Top Bounty [Stage][1] | $25 | $1,500,000 |
| April 17 | Mon | 11:30 | MYSTERY BOUNTY Mini Main – $100K Top Bounty [Stage][1] | $25 | $1,500,000 |
| April 17 | Mon | 11:30 | MYSTERY BOUNTY Main Event – $500K Top Bounty [Stage][1] | $210 | $5,000,000 |
| April 17 | Mon | 12:30 | Bounty Blast-Off $88 | $88 | $20,000 |
| April 17 | Mon | 12:30 | Mini Blast-Off $8.80 | $9 | $25,000 |
| April 17 | Mon | 12:30 | Global MILLION$ Bounty Edition, $1M GTD [Stage][1] | $50 | $1,000,000 |
| April 17 | Mon | 13:15 | Ultra Deepstack Bounty Turbo $54 | $54 | $25,000 |
| April 17 | Mon | 13:15 | Ultra Deepstack Bounty Turbo $5.40 | $5 | $15,000 |
| April 17 | Mon | 13:30 | Bounty Hunters 6-Max Special $108 | $108 | $10,000 |
| April 17 | Mon | 13:30 | Bounty Hunters 6-Max Special $10.80 | $11 | $25,000 |
| April 17 | Mon | 13:30 | MYSTERY BOUNTY Mini Main – $100K Top Bounty [Stage][1] | $25 | $1,500,000 |
| April 17 | Mon | 14:30 | Bounty Superstack $85.50 | $86 | $40,000 |
| April 17 | Mon | 14:30 | Bounty Superstack $8.55 | $9 | $40,000 |
| April 17 | Mon | 15:00 | Bounty Warm-Up $250 | $250 | $50,000 |
| April 17 | Mon | 15:00 | GGMasters Bounty Warm-Up Special Edition $25 | $25 | $60,000 |
| April 17 | Mon | 15:30 | Bounty Forty Stack HR $444 | $444 | $50,000 |
| April 17 | Mon | 15:30 | Bounty Forty Stack $44 | $44 | $60,000 |
| April 17 | Mon | 15:30 | MYSTERY BOUNTY Mini Main – $100K Top [Last][Chance] | $25 | $1,500,000 |
| April 17 | Mon | 15:30 | MYSTERY BOUNTY Main Event – $500K Top Bounty [Stage][1] | $210 | $5,000,000 |
| April 17 | Mon | 15:40 | Omaholic Forty Stack $44 | $44 | $10,000 |
| April 17 | Mon | 16:30 | Bounty Hunters HR $525 [6-Max] | $525 | $200,000 |
| April 17 | Mon | 16:30 | Bounty Hunters Daily Main $54 [6-Max] | $54 | $175,000 |
| April 17 | Mon | 16:30 | Bounty Hunters Mini Main $5.40 [6-Max] | $5 | $30,000 |
| April 17 | Mon | 16:30 | MYSTERY BOUNTY Mini Main – $100K Top [Last][Minute] | $25 | $1,500,000 |
| April 17 | Mon | 16:30 | Global MILLION$ Bounty Edition, $1M GTD [Stage][1] | $50 | $1,000,000 |
| April 17 | Mon | 17:30 | Big Game $215 | $215 | $125,000 |
| April 17 | Mon | 17:30 | Mini Big Game $21.60 | $22 | $60,000 |
| April 17 | Mon | 17:40 | Big Game Omaholic $215 | $215 | $12,500 |
| April 17 | Mon | 17:40 | Mini Big Game Omaholic $21.60 | $22 | $10,000 |
| April 17 | Mon | 18:30 | Bounty King Special Edition $320 | $320 | $50,000 |
| April 17 | Mon | 18:30 | Bounty King Jr $32.10 | $32 | $70,000 |
| April 17 | Mon | 18:30 | MYSTERY BOUNTY Mini Main – $100K Top Bounty [Final] | $25 | $1,500,000 |
| April 17 | Mon | 18:40 | Global MILLION$ Bounty Edition, $1M GTD [Stage][1] | $50 | $1,000,000 |
| April 17 | Mon | 19:00 | GGMasters Bounty Special Edition $25 | $25 | $45,000 |
| April 17 | Mon | 19:30 | Big Antes Bounty $108 | $108 | $40,000 |
| April 17 | Mon | 19:30 | Big Antes Bounty $15 | $15 | $25,000 |
| April 17 | Mon | 19:30 | MYSTERY BOUNTY Main Event – $500K Top Bounty [Stage][1] | $210 | $5,000,000 |
| April 17 | Mon | 20:30 | Bounty Hunters HR Encore $525 | $525 | $25,000 |
| April 17 | Mon | 20:30 | Bounty Hunters Encore $54 | $54 | $30,000 |
| April 17 | Mon | 20:30 | Global MILLION$ Bounty Edition, $1M GTD [Stage][1] | $50 | $1,000,000 |
| April 17 | Mon | 21:00 | Daily Heater Special Edition $215 | $215 | $30,000 |
| April 17 | Mon | 21:00 | GGMasters Bounty Turbo Special Edition $25 | $25 | $25,000 |
| April 17 | Mon | 22:00 | SUPER SIX $64.50 | $65 | $25,000 |
| April 17 | Mon | 22:30 | Global MILLION$ Bounty Edition, $1M GTD [Stage][1] | $50 | $1,000,000 |
| April 17 | Mon | 23:30 | Last Call $215 | $215 | $18,000 |
| April 17 | Mon | 23:30 | Last Call $25 | $25 | $12,500 |
| April 17 | Mon | 23:30 | MYSTERY BOUNTY Main Event – $500K Top Bounty [Stage][1] | $210 | $5,000,000 |
| April 18 | Tue | 00:00 | Midnight Madness $85.50 [Bounty][Edition] | $86 | $15,000 |
| April 18 | Tue | 00:00 | Mini Midnight Madness $8.55 [Bounty][Edition] | $9 | $8,000 |
| April 18 | Tue | 00:30 | Global MILLION$ Bounty Edition, $1M GTD [Stage][1] | $50 | $1,000,000 |
| April 18 | Tue | 02:30 | Global MILLION$ Bounty Edition, $1M GTD [Stage][1] | $50 | $1,000,000 |
| April 18 | Tue | 04:30 | Global MILLION$ Bounty Edition, $1M GTD [Stage][1] | $50 | $1,000,000 |
| April 18 | Tue | 06:30 | Global MILLION$ Bounty Edition, $1M GTD [Stage][1] | $50 | $1,000,000 |
| April 18 | Tue | 08:30 | Global MILLION$ Bounty Edition, $1M GTD [Stage][1] | $50 | $1,000,000 |
| April 18 | Tue | 10:30 | Global MILLION$ Bounty Edition, $1M GTD [Stage][1] | $50 | $1,000,000 |
| April 18 | Tue | 11:30 | MYSTERY BOUNTY Main Event – $500K Top Bounty [Stage][1] | $210 | $5,000,000 |
| April 18 | Tue | 12:30 | Bounty Blast-Off $88 | $88 | $20,000 |
| April 18 | Tue | 12:30 | Mini Blast-Off $8.80 | $9 | $25,000 |
| April 18 | Tue | 12:30 | Global MILLION$ Bounty Edition, $1M GTD [Stage][1] | $50 | $1,000,000 |
| April 18 | Tue | 13:15 | Ultra Deepstack Bounty Turbo $54 | $54 | $25,000 |
| April 18 | Tue | 13:15 | Ultra Deepstack Bounty Turbo $5.40 | $5 | $15,000 |
| April 18 | Tue | 13:30 | Bounty Hunters 6-Max Special $108 | $108 | $10,000 |
| April 18 | Tue | 13:30 | Bounty Hunters 6-Max Special $10.80 | $11 | $25,000 |
| April 18 | Tue | 14:30 | Bounty Superstack $85.50 | $86 | $40,000 |
| April 18 | Tue | 14:30 | Bounty Superstack $8.55 | $9 | $40,000 |
| April 18 | Tue | 14:30 | Global MILLION$ Bounty Edition, $1M GTD [Stage][1] | $50 | $1,000,000 |
| April 18 | Tue | 15:00 | Bounty Warm-Up $250 | $250 | $50,000 |
| April 18 | Tue | 15:00 | GGMasters Bounty Warm-Up Special Edition $25 | $25 | $60,000 |
| April 18 | Tue | 15:30 | Bounty Forty Stack HR $444 | $444 | $50,000 |
| April 18 | Tue | 15:30 | Bounty Forty Stack $44 | $44 | $60,000 |
| April 18 | Tue | 15:30 | MYSTERY BOUNTY Main Event – $500K Top Bounty [Stage][1] | $210 | $5,000,000 |
| April 18 | Tue | 15:40 | Omaholic Forty Stack $44 | $44 | $10,000 |
| April 18 | Tue | 16:30 | Bounty Hunters HR $525 [Deepstack] | $525 | $200,000 |
| April 18 | Tue | 16:30 | Bounty Hunters Daily Main $54 [Deepstack] | $54 | $175,000 |
| April 18 | Tue | 16:30 | Bounty Hunters Mini Main $5.40 [Deepstack] | $5 | $30,000 |
| April 18 | Tue | 16:30 | Global MILLION$ Bounty Edition, $1M GTD [Stage][1] | $50 | $1,000,000 |
| April 18 | Tue | 17:30 | Big Game $215 | $215 | $125,000 |
| April 18 | Tue | 17:30 | Mini Big Game $21.60 | $22 | $60,000 |
| April 18 | Tue | 17:40 | Big Game Omaholic $215 | $215 | $12,500 |
| April 18 | Tue | 17:40 | Mini Big Game Omaholic $21.60 | $22 | $10,000 |
| April 18 | Tue | 18:30 | Bounty King Special Edition $320 | $320 | $50,000 |
| April 18 | Tue | 18:30 | Bounty King Jr $32.10 | $32 | $70,000 |
| April 18 | Tue | 18:30 | Global MILLION$ Bounty Edition, $1M GTD [Stage][1] | $50 | $1,000,000 |
| April 18 | Tue | 19:00 | GGMasters Bounty Special Edition $25 | $25 | $45,000 |
| April 18 | Tue | 19:30 | Big Antes Bounty $108 | $108 | $40,000 |
| April 18 | Tue | 19:30 | Big Antes Bounty $15 | $15 | $25,000 |
| April 18 | Tue | 19:30 | MYSTERY BOUNTY Main Event – $500K Top Bounty [Stage][1] | $210 | $5,000,000 |
| April 18 | Tue | 20:30 | Bounty Hunters HR Encore $525 | $525 | $25,000 |
| April 18 | Tue | 20:30 | Bounty Hunters Encore $54 | $54 | $30,000 |
| April 18 | Tue | 20:30 | Global MILLION$ Bounty Edition, $1M GTD [Stage][1] | $50 | $1,000,000 |
| April 18 | Tue | 21:00 | Daily Heater Special Edition $215 | $215 | $30,000 |
| April 18 | Tue | 21:00 | GGMasters Bounty Turbo Special Edition $25 | $25 | $25,000 |
| April 18 | Tue | 22:00 | SUPER SIX $64.50 | $65 | $25,000 |
| April 18 | Tue | 22:30 | Global MILLION$ Bounty Edition, $1M GTD [Stage][1] | $50 | $1,000,000 |
| April 18 | Tue | 23:30 | Last Call $215 | $215 | $18,000 |
| April 18 | Tue | 23:30 | Last Call $25 | $25 | $12,500 |
| April 18 | Tue | 23:30 | MYSTERY BOUNTY Main Event – $500K Top Bounty [Stage][1] | $210 | $5,000,000 |
| April 19 | Wed | 00:00 | Midnight Madness $85.50 [Bounty][Edition] | $86 | $15,000 |
| April 19 | Wed | 00:00 | Mini Midnight Madness $8.55 [Bounty][Edition] | $9 | $8,000 |
| April 19 | Wed | 00:30 | Global MILLION$ Bounty Edition, $1M GTD [Stage][1] | $50 | $1,000,000 |
| April 19 | Wed | 02:30 | Global MILLION$ Bounty Edition, $1M GTD [Stage][1] | $50 | $1,000,000 |
| April 19 | Wed | 04:30 | Global MILLION$ Bounty Edition, $1M GTD [Stage][1] | $50 | $1,000,000 |
| April 19 | Wed | 06:30 | Global MILLION$ Bounty Edition, $1M GTD [Stage][1] | $50 | $1,000,000 |
| April 19 | Wed | 08:30 | Global MILLION$ Bounty Edition, $1M GTD [Stage][1] | $50 | $1,000,000 |
| April 19 | Wed | 10:30 | Global MILLION$ Bounty Edition, $1M GTD [Stage][1] | $50 | $1,000,000 |
| April 19 | Wed | 11:30 | MYSTERY BOUNTY Main Event – $500K Top Bounty [Stage][1] | $210 | $5,000,000 |
| April 19 | Wed | 12:30 | Bounty Blast-Off $88 | $88 | $20,000 |
| April 19 | Wed | 12:30 | Mini Blast-Off $8.80 | $9 | $25,000 |
| April 19 | Wed | 12:30 | Global MILLION$ Bounty Edition, $1M GTD [Stage][1] | $50 | $1,000,000 |
| April 19 | Wed | 13:15 | Ultra Deepstack Bounty Turbo $54 | $54 | $25,000 |
| April 19 | Wed | 13:15 | Ultra Deepstack Bounty Turbo $5.40 | $5 | $15,000 |
| April 19 | Wed | 13:30 | Bounty Hunters 6-Max Special $108 | $108 | $10,000 |
| April 19 | Wed | 13:30 | Bounty Hunters 6-Max Special $10.80 | $11 | $25,000 |
| April 19 | Wed | 14:30 | Bounty Superstack $85.50 | $86 | $40,000 |
| April 19 | Wed | 14:30 | Bounty Superstack $8.55 | $9 | $40,000 |
| April 19 | Wed | 14:30 | Global MILLION$ Bounty Edition, $1M GTD [Stage][1] | $50 | $1,000,000 |
| April 19 | Wed | 15:00 | Bounty Warm-Up $250 | $250 | $50,000 |
| April 19 | Wed | 15:00 | GGMasters Bounty Warm-Up Special Edition $25 | $25 | $60,000 |
| April 19 | Wed | 15:30 | Bounty Forty Stack HR $444 | $444 | $30,000 |
| April 19 | Wed | 15:30 | Bounty Forty Stack $44 | $44 | $60,000 |
| April 19 | Wed | 15:30 | MYSTERY BOUNTY Main Event – $500K Top Bounty [Stage][1] | $210 | $5,000,000 |
| April 19 | Wed | 15:40 | Omaholic Forty Stack $44 | $44 | $10,000 |
| April 19 | Wed | 16:30 | Bounty Hunters HR $525 [Double][Stack] | $525 | $150,000 |
| April 19 | Wed | 16:30 | Bounty Hunters Daily Main $54 [Double][Stack] | $54 | $175,000 |
| April 19 | Wed | 16:30 | Bounty Hunters Mini Main $5.40 [Double][Stack] | $5 | $30,000 |
| April 19 | Wed | 16:30 | Global MILLION$ Bounty Edition, $1M GTD [Stage][1] | $50 | $1,000,000 |
| April 19 | Wed | 17:30 | Big Game $215 | $215 | $100,000 |
| April 19 | Wed | 17:30 | Mini Big Game $21.60 | $22 | $60,000 |
| April 19 | Wed | 17:40 | Big Game Omaholic $215 | $215 | $12,500 |
| April 19 | Wed | 17:40 | Mini Big Game Omaholic $21.60 | $22 | $10,000 |
| April 19 | Wed | 18:30 | Bounty King Special Edition $320 | $320 | $40,000 |
| April 19 | Wed | 18:30 | Bounty King Jr $32.10 | $32 | $70,000 |
| April 19 | Wed | 18:30 | Global MILLION$ Bounty Edition, $1M GTD [Stage][1] | $50 | $1,000,000 |
| April 19 | Wed | 19:00 | GGMasters Bounty Special Edition $25 | $25 | $45,000 |
| April 19 | Wed | 19:30 | Big Antes Bounty $108 | $108 | $40,000 |
| April 19 | Wed | 19:30 | Big Antes Bounty $15 | $15 | $25,000 |
| April 19 | Wed | 19:30 | MYSTERY BOUNTY Main Event – $500K Top Bounty [Stage][1] | $210 | $5,000,000 |
| April 19 | Wed | 20:30 | Bounty Hunters HR Encore $525 | $525 | $25,000 |
| April 19 | Wed | 20:30 | Bounty Hunters Encore $54 | $54 | $30,000 |
| April 19 | Wed | 20:30 | Global MILLION$ Bounty Edition, $1M GTD [Stage][1] | $50 | $1,000,000 |
| April 19 | Wed | 21:00 | Daily Heater Special Edition $215 | $215 | $30,000 |
| April 19 | Wed | 21:00 | GGMasters Bounty Turbo Special Edition $25 | $25 | $25,000 |
| April 19 | Wed | 22:00 | SUPER SIX $64.50 | $65 | $25,000 |
| April 19 | Wed | 22:30 | Global MILLION$ Bounty Edition, $1M GTD [Stage][1] | $50 | $1,000,000 |
| April 19 | Wed | 23:30 | Last Call $215 | $215 | $18,000 |
| April 19 | Wed | 23:30 | Last Call $25 | $25 | $12,500 |
| April 19 | Wed | 23:30 | MYSTERY BOUNTY Main Event – $500K Top Bounty [Stage][1] | $210 | $5,000,000 |
| April 20 | Thu | 00:00 | Midnight Madness $85.50 [Bounty][Edition] | $86 | $15,000 |
| April 20 | Thu | 00:00 | Mini Midnight Madness $8.55 [Bounty][Edition] | $9 | $8,000 |
| April 20 | Thu | 00:30 | Global MILLION$ Bounty Edition, $1M GTD [Stage][1] | $50 | $1,000,000 |
| April 20 | Thu | 02:30 | Global MILLION$ Bounty Edition, $1M GTD [Stage][1] | $50 | $1,000,000 |
| April 20 | Thu | 02:30 | MYSTERY BOUNTY Main Event – $500K Top Bounty [Stage][1] | $210 | $5,000,000 |
| April 20 | Thu | 04:30 | Global MILLION$ Bounty Edition, $1M GTD [Stage][1] | $50 | $1,000,000 |
| April 20 | Thu | 05:30 | MYSTERY BOUNTY Main Event – $500K Top Bounty [Stage][1] | $210 | $5,000,000 |
| April 20 | Thu | 06:30 | Global MILLION$ Bounty Edition, $1M GTD [Stage][1] | $50 | $1,000,000 |
| April 20 | Thu | 08:30 | Global MILLION$ Bounty Edition, $1M GTD [Stage][1] | $50 | $1,000,000 |
| April 20 | Thu | 08:30 | MYSTERY BOUNTY Main Event – $500K Top Bounty [Stage][1] | $210 | $5,000,000 |
| April 20 | Thu | 10:30 | Global MILLION$ Bounty Edition, $1M GTD [Stage][1] | $50 | $1,000,000 |
| April 20 | Thu | 11:30 | MYSTERY BOUNTY Main Event – $500K Top Bounty [Stage][1] | $210 | $5,000,000 |
| April 20 | Thu | 12:30 | Bounty Blast-Off $88 | $88 | $20,000 |
| April 20 | Thu | 12:30 | Mini Blast-Off $8.80 | $9 | $25,000 |
| April 20 | Thu | 12:30 | Global MILLION$ Bounty Edition, $1M GTD [Stage][1] | $50 | $1,000,000 |
| April 20 | Thu | 13:15 | Ultra Deepstack Bounty Turbo $54 | $54 | $25,000 |
| April 20 | Thu | 13:15 | Ultra Deepstack Bounty Turbo $5.40 | $5 | $15,000 |
| April 20 | Thu | 13:30 | Bounty Hunters 6-Max Special $108 | $108 | $10,000 |
| April 20 | Thu | 13:30 | Bounty Hunters 6-Max Special $10.80 | $11 | $25,000 |
| April 20 | Thu | 14:30 | Bounty Superstack $85.50 | $86 | $40,000 |
| April 20 | Thu | 14:30 | Bounty Superstack $8.55 | $9 | $40,000 |
| April 20 | Thu | 14:30 | Global MILLION$ Bounty Edition, $1M GTD [Stage][1] | $50 | $1,000,000 |
| April 20 | Thu | 14:30 | MYSTERY BOUNTY Main Event – $500K Top Bounty [Stage][1] | $210 | $5,000,000 |
| April 20 | Thu | 15:00 | Bounty Warm-Up $250 | $250 | $50,000 |
| April 20 | Thu | 15:00 | GGMasters Bounty Warm-Up Special Edition $25 | $25 | $60,000 |
| April 20 | Thu | 15:30 | Bounty Forty Stack HR $444 | $444 | $50,000 |
| April 20 | Thu | 15:30 | Bounty Forty Stack $44 | $44 | $60,000 |
| April 20 | Thu | 15:40 | Omaholic Forty Stack $44 | $44 | $10,000 |
| April 20 | Thu | 16:30 | Bounty Hunters HR $525 [Classic] | $525 | $200,000 |
| April 20 | Thu | 16:30 | Bounty Hunters Daily Main $54 [Classic] | $54 | $175,000 |
| April 20 | Thu | 16:30 | Bounty Hunters Mini Main $5.40 [Classic] | $5 | $30,000 |
| April 20 | Thu | 16:30 | Global MILLION$ Bounty Edition, $1M GTD [Stage][1] | $50 | $1,000,000 |
| April 20 | Thu | 17:30 | Big Game $215 | $215 | $125,000 |
| April 20 | Thu | 17:30 | Mini Big Game $21.60 | $22 | $60,000 |
| April 20 | Thu | 17:30 | MYSTERY BOUNTY Main Event – $500K Top Bounty [Stage][1] | $210 | $5,000,000 |
| April 20 | Thu | 17:40 | Big Game Omaholic $215 | $215 | $12,500 |
| April 20 | Thu | 17:40 | Mini Big Game Omaholic $21.60 | $22 | $10,000 |
| April 20 | Thu | 18:30 | Bounty King Special Edition $320 | $320 | $50,000 |
| April 20 | Thu | 18:30 | Bounty King Jr $32.10 | $32 | $70,000 |
| April 20 | Thu | 18:30 | Global MILLION$ Bounty Edition, $1M GTD [Stage][1] | $50 | $1,000,000 |
| April 20 | Thu | 19:00 | GGMasters Bounty Special Edition $25 | $25 | $45,000 |
| April 20 | Thu | 19:30 | Big Antes Bounty $108 | $108 | $40,000 |
| April 20 | Thu | 19:30 | Big Antes Bounty $15 | $15 | $25,000 |
| April 20 | Thu | 20:30 | Bounty Hunters HR Encore $525 | $525 | $25,000 |
| April 20 | Thu | 20:30 | Bounty Hunters Encore $54 | $54 | $30,000 |
| April 20 | Thu | 20:30 | Global MILLION$ Bounty Edition, $1M GTD [Stage][1] | $50 | $1,000,000 |
| April 20 | Thu | 20:30 | MYSTERY BOUNTY Main Event – $500K Top Bounty [Stage][1] | $210 | $5,000,000 |
| April 20 | Thu | 21:00 | Daily Heater Special Edition $215 | $215 | $30,000 |
| April 20 | Thu | 21:00 | GGMasters Bounty Turbo Special Edition $25 | $25 | $25,000 |
| April 20 | Thu | 22:00 | SUPER SIX $64.50 | $65 | $25,000 |
| April 20 | Thu | 22:30 | Global MILLION$ Bounty Edition, $1M GTD [Stage][1] | $50 | $1,000,000 |
| April 20 | Thu | 23:30 | Last Call $215 | $215 | $18,000 |
| April 20 | Thu | 23:30 | Last Call $25 | $25 | $12,500 |
| April 20 | Thu | 23:30 | MYSTERY BOUNTY Main Event – $500K Top Bounty [Stage][1] | $210 | $5,000,000 |
| April 21 | Fri | 00:00 | Midnight Madness $85.50 [Bounty][Edition] | $86 | $15,000 |
| April 21 | Fri | 00:00 | Mini Midnight Madness $8.55 [Bounty][Edition] | $9 | $8,000 |
| April 21 | Fri | 00:30 | Global MILLION$ Bounty Edition, $1M GTD [Stage][1] | $50 | $1,000,000 |
| April 21 | Fri | 02:30 | Global MILLION$ Bounty Edition, $1M GTD [Stage][1] | $50 | $1,000,000 |
| April 21 | Fri | 02:30 | MYSTERY BOUNTY Main Event – $500K Top Bounty [Stage][1] | $210 | $5,000,000 |
| April 21 | Fri | 04:30 | Global MILLION$ Bounty Edition, $1M GTD [Stage][1] | $50 | $1,000,000 |
| April 21 | Fri | 05:30 | MYSTERY BOUNTY Main Event – $500K Top Bounty [Stage][1] | $210 | $5,000,000 |
| April 21 | Fri | 06:30 | Global MILLION$ Bounty Edition, $1M GTD [Stage][1] | $50 | $1,000,000 |
| April 21 | Fri | 08:30 | Global MILLION$ Bounty Edition, $1M GTD [Stage][1] | $50 | $1,000,000 |
| April 21 | Fri | 08:30 | MYSTERY BOUNTY Main Event – $500K Top Bounty [Stage][1] | $210 | $5,000,000 |
| April 21 | Fri | 10:30 | Global MILLION$ Bounty Edition, $1M GTD [Stage][1] | $50 | $1,000,000 |
| April 21 | Fri | 11:30 | MYSTERY BOUNTY Main Event – $500K Top Bounty [Stage][1] | $210 | $5,000,000 |
| April 21 | Fri | 12:30 | Bounty Blast-Off $88 | $88 | $20,000 |
| April 21 | Fri | 12:30 | Mini Blast-Off $8.80 | $9 | $25,000 |
| April 21 | Fri | 12:30 | Global MILLION$ Bounty Edition, $1M GTD [Stage][1] | $50 | $1,000,000 |
| April 21 | Fri | 13:15 | Ultra Deepstack Bounty Turbo $54 | $54 | $25,000 |
| April 21 | Fri | 13:15 | Ultra Deepstack Bounty Turbo $5.40 | $5 | $15,000 |
| April 21 | Fri | 13:30 | Bounty Hunters 6-Max Special $108 | $108 | $10,000 |
| April 21 | Fri | 13:30 | Bounty Hunters 6-Max Special $10.80 | $11 | $25,000 |
| April 21 | Fri | 14:30 | Bounty Superstack $85.50 | $86 | $40,000 |
| April 21 | Fri | 14:30 | Bounty Superstack $8.55 | $9 | $40,000 |
| April 21 | Fri | 14:30 | Global MILLION$ Bounty Edition, $1M GTD [Stage][1] | $50 | $1,000,000 |
| April 21 | Fri | 14:30 | MYSTERY BOUNTY Main Event – $500K Top Bounty [Stage][1] | $210 | $5,000,000 |
| April 21 | Fri | 15:00 | Bounty Warm-Up $250 | $250 | $50,000 |
| April 21 | Fri | 15:00 | GGMasters Bounty Warm-Up Special Edition $25 | $25 | $60,000 |
| April 21 | Fri | 15:30 | Bounty Forty Stack HR $444 | $444 | $25,000 |
| April 21 | Fri | 15:30 | Bounty Forty Stack $44 | $44 | $60,000 |
| April 21 | Fri | 15:40 | Omaholic Forty Stack $44 | $44 | $10,000 |
| April 21 | Fri | 16:30 | Bounty Hunters HR $525 [Ultradeep] | $525 | $125,000 |
| April 21 | Fri | 16:30 | Bounty Hunters Daily Main $54 [Ultradeep] | $54 | $150,000 |
| April 21 | Fri | 16:30 | Bounty Hunters Mini Main $5.40 [Ultradeep] | $5 | $30,000 |
| April 21 | Fri | 16:30 | Global MILLION$ Bounty Edition, $1M GTD [Stage][1] | $50 | $1,000,000 |
| April 21 | Fri | 17:30 | Big Game $215 | $215 | $75,000 |
| April 21 | Fri | 17:30 | Mini Big Game $21.60 | $22 | $60,000 |
| April 21 | Fri | 17:30 | MYSTERY BOUNTY Main Event – $500K Top Bounty [Stage][1] | $210 | $5,000,000 |
| April 21 | Fri | 17:40 | Big Game Omaholic $215 | $215 | $10,000 |
| April 21 | Fri | 17:40 | Mini Big Game Omaholic $21.60 | $22 | $10,000 |
| April 21 | Fri | 18:30 | Bounty King Special Edition $320 | $320 | $25,000 |
| April 21 | Fri | 18:30 | Bounty King Jr $32.10 | $32 | $70,000 |
| April 21 | Fri | 18:30 | Global MILLION$ Bounty Edition, $1M GTD [Stage][1] | $50 | $1,000,000 |
| April 21 | Fri | 19:00 | GGMasters Bounty Special Edition $25 | $25 | $45,000 |
| April 21 | Fri | 19:30 | Big Antes Bounty $108 | $108 | $25,000 |
| April 21 | Fri | 19:30 | Big Antes Bounty $15 | $15 | $25,000 |
| April 21 | Fri | 20:30 | Bounty Hunters HR Encore $525 | $525 | $20,000 |
| April 21 | Fri | 20:30 | Bounty Hunters Encore $54 | $54 | $25,000 |
| April 21 | Fri | 20:30 | Global MILLION$ Bounty Edition, $1M GTD [Stage][1] | $50 | $1,000,000 |
| April 21 | Fri | 20:30 | MYSTERY BOUNTY Main Event – $500K Top Bounty [Stage][1] | $210 | $5,000,000 |
| April 21 | Fri | 21:00 | Daily Heater Special Edition $215 | $215 | $25,000 |
| April 21 | Fri | 21:00 | GGMasters Bounty Turbo Special Edition $25 | $25 | $25,000 |
| April 21 | Fri | 22:00 | SUPER SIX $64.50 | $65 | $25,000 |
| April 21 | Fri | 22:30 | Global MILLION$ Bounty Edition, $1M GTD [Stage][1] | $50 | $1,000,000 |
| April 21 | Fri | 23:30 | Last Call $215 | $215 | $15,000 |
| April 21 | Fri | 23:30 | Last Call $25 | $25 | $12,500 |
| April 21 | Fri | 23:30 | MYSTERY BOUNTY Main Event – $500K Top Bounty [Stage][1] | $210 | $5,000,000 |
| April 22 | Sat | 00:00 | Midnight Madness $85.50 [Bounty][Edition] | $86 | $12,000 |
| April 22 | Sat | 00:00 | Mini Midnight Madness $8.55 [Bounty][Edition] | $9 | $8,000 |
| April 22 | Sat | 00:30 | Global MILLION$ Bounty Edition, $1M GTD [Stage][1] | $50 | $1,000,000 |
| April 22 | Sat | 02:30 | Global MILLION$ Bounty Edition, $1M GTD [Stage][1] | $50 | $1,000,000 |
| April 22 | Sat | 02:30 | MYSTERY BOUNTY Main Event – $500K Top Bounty [Stage][1] | $210 | $5,000,000 |
| April 22 | Sat | 04:30 | Global MILLION$ Bounty Edition, $1M GTD [Stage][1] | $50 | $1,000,000 |
| April 22 | Sat | 05:30 | MYSTERY BOUNTY Main Event – $500K Top Bounty [Stage][1] | $210 | $5,000,000 |
| April 22 | Sat | 06:30 | Global MILLION$ Bounty Edition, $1M GTD [Stage][1] | $50 | $1,000,000 |
| April 22 | Sat | 08:30 | Global MILLION$ Bounty Edition, $1M GTD [Stage][1] | $50 | $1,000,000 |
| April 22 | Sat | 08:30 | MYSTERY BOUNTY Main Event – $500K Top Bounty [Stage][1] | $210 | $5,000,000 |
| April 22 | Sat | 10:30 | Global MILLION$ Bounty Edition, $1M GTD [Stage][1] | $50 | $1,000,000 |
| April 22 | Sat | 11:30 | MYSTERY BOUNTY Main Event – $500K Top Bounty [Stage][1] | $210 | $5,000,000 |
| April 22 | Sat | 12:30 | Bounty Blast-Off $88 | $88 | $20,000 |
| April 22 | Sat | 12:30 | Mini Blast-Off $8.80 | $9 | $25,000 |
| April 22 | Sat | 12:30 | Global MILLION$ Bounty Edition, $1M GTD [Stage][1] | $50 | $1,000,000 |
| April 22 | Sat | 13:15 | Ultra Deepstack Bounty Turbo $54 | $54 | $25,000 |
| April 22 | Sat | 13:15 | Ultra Deepstack Bounty Turbo $5.40 | $5 | $15,000 |
| April 22 | Sat | 13:30 | Bounty Hunters 6-Max Special $108 | $108 | $10,000 |
| April 22 | Sat | 13:30 | Bounty Hunters 6-Max Special $10.80 | $11 | $25,000 |
| April 22 | Sat | 14:30 | Bounty Superstack $85.50 | $86 | $40,000 |
| April 22 | Sat | 14:30 | Bounty Superstack $8.55 | $9 | $40,000 |
| April 22 | Sat | 14:30 | Global MILLION$ Bounty Edition, $1M GTD [Stage][1] | $50 | $1,000,000 |
| April 22 | Sat | 14:30 | MYSTERY BOUNTY Main Event – $500K Top Bounty [Stage][1] | $210 | $5,000,000 |
| April 22 | Sat | 15:00 | Bounty Warm-Up $250 | $250 | $50,000 |
| April 22 | Sat | 15:00 | GGMasters Bounty Warm-Up Special Edition $25 | $25 | $60,000 |
| April 22 | Sat | 15:30 | Bounty Forty Stack HR $444 | $444 | $40,000 |
| April 22 | Sat | 15:30 | Bounty Forty Stack $44 | $44 | $60,000 |
| April 22 | Sat | 15:40 | Omaholic Forty Stack $44 | $44 | $10,000 |
| April 22 | Sat | 16:30 | Bounty Hunters HR $525 [Big][Bounties] | $525 | $150,000 |
| April 22 | Sat | 16:30 | Bounty Hunters Daily Main $54 [Big][Bounties] | $54 | $175,000 |
| April 22 | Sat | 16:30 | Bounty Hunters Mini Main $5.40 [Big][Bounties] | $5 | $30,000 |
| April 22 | Sat | 16:30 | Global MILLION$ Bounty Edition, $1M GTD [Stage][1] | $50 | $1,000,000 |
| April 22 | Sat | 17:30 | Mini Big Game $21.60 | $22 | $60,000 |
| April 22 | Sat | 17:30 | MYSTERY BOUNTY Main Event – $500K Top Bounty [Stage][1] | $210 | $5,000,000 |
| April 22 | Sat | 17:40 | Big Game Omaholic $215 | $215 | $10,000 |
| April 22 | Sat | 17:40 | Mini Big Game Omaholic $21.60 | $22 | $10,000 |
| April 22 | Sat | 18:30 | Bounty King Special Edition $320 | $320 | $40,000 |
| April 22 | Sat | 18:30 | Bounty King Jr $32.10 | $32 | $70,000 |
| April 22 | Sat | 18:30 | Global MILLION$ Bounty Edition, $1M GTD [Stage][1] | $50 | $1,000,000 |
| April 22 | Sat | 19:00 | GGMasters Bounty Special Edition $25 | $25 | $45,000 |
| April 22 | Sat | 19:30 | Big Antes Bounty $108 | $108 | $25,000 |
| April 22 | Sat | 19:30 | Big Antes Bounty $15 | $15 | $25,000 |
| April 22 | Sat | 20:30 | Bounty Hunters HR Encore $525 | $525 | $20,000 |
| April 22 | Sat | 20:30 | Bounty Hunters Encore $54 | $54 | $25,000 |
| April 22 | Sat | 20:30 | Global MILLION$ Bounty Edition, $1M GTD [Stage][1] | $50 | $1,000,000 |
| April 22 | Sat | 20:30 | MYSTERY BOUNTY Main Event – $500K Top Bounty [Stage][1] | $210 | $5,000,000 |
| April 22 | Sat | 21:00 | Daily Heater Special Edition $215 | $215 | $25,000 |
| April 22 | Sat | 21:00 | GGMasters Bounty Turbo Special Edition $25 | $25 | $25,000 |
| April 22 | Sat | 22:00 | SUPER SIX $64.50 | $65 | $25,000 |
| April 22 | Sat | 22:30 | Global MILLION$ Bounty Edition, $1M GTD [Stage][1] | $50 | $1,000,000 |
| April 22 | Sat | 23:30 | Last Call $215 | $215 | $15,000 |
| April 22 | Sat | 23:30 | Last Call $25 | $25 | $12,500 |
| April 22 | Sat | 23:30 | MYSTERY BOUNTY Main Event – $500K Top Bounty [Stage][1] | $210 | $5,000,000 |
| April 23 | Sun | 00:00 | Midnight Madness $85.50 [Bounty][Edition] | $86 | $12,000 |
| April 23 | Sun | 00:00 | Mini Midnight Madness $8.55 [Bounty][Edition] | $9 | $8,000 |
| April 23 | Sun | 00:30 | Global MILLION$ Bounty Edition, $1M GTD [Stage][1] | $50 | $1,000,000 |
| April 23 | Sun | 02:30 | Global MILLION$ Bounty Edition, $1M GTD [Stage][1] | $50 | $1,000,000 |
| April 23 | Sun | 02:30 | MYSTERY BOUNTY Main Event – $500K Top Bounty [Stage][1] | $210 | $5,000,000 |
| April 23 | Sun | 04:30 | Global MILLION$ Bounty Edition, $1M GTD [Stage][1] | $50 | $1,000,000 |
| April 23 | Sun | 05:30 | MYSTERY BOUNTY Main Event – $500K Top Bounty [Stage][1] | $210 | $5,000,000 |
| April 23 | Sun | 06:30 | Global MILLION$ Bounty Edition, $1M GTD [Stage][1] | $50 | $1,000,000 |
| April 23 | Sun | 08:30 | Global MILLION$ Bounty Edition, $1M GTD [Stage][1] | $50 | $1,000,000 |
| April 23 | Sun | 08:30 | MYSTERY BOUNTY Main Event – $500K Top Bounty [Stage][1] | $210 | $5,000,000 |
| April 23 | Sun | 10:30 | Global MILLION$ Bounty Edition, $1M GTD [Stage][1] | $50 | $1,000,000 |
| April 23 | Sun | 11:30 | MYSTERY BOUNTY Main Event – $500K Top Bounty [Stage][1] | $210 | $5,000,000 |
| April 23 | Sun | 12:30 | Sunday Blast-Off $215 | $215 | $50,000 |
| April 23 | Sun | 12:30 | Mini Blast-Off $25 | $25 | $50,000 |
| April 23 | Sun | 12:30 | Global MILLION$ Bounty Edition, $1M GTD [Stage][1] | $50 | $1,000,000 |
| April 23 | Sun | 13:15 | Ultra Deepstack Bounty Turbo $54 | $54 | $50,000 |
| April 23 | Sun | 13:15 | Ultra Deepstack Bounty Turbo $5.40 | $5 | $25,000 |
| April 23 | Sun | 14:00 | Battle of Marathon $320 | $320 | $125,000 |
| April 23 | Sun | 14:00 | Battle of Marathon $32.10 | $32 | $100,000 |
| April 23 | Sun | 14:30 | Sunday Bounty Superstack HR $840 | $840 | $100,000 |
| April 23 | Sun | 14:30 | Sunday Bounty Superstack $85.50 | $86 | $125,000 |
| April 23 | Sun | 14:30 | Global MILLION$ Bounty Edition, $1M GTD [Stage][1] | $50 | $1,000,000 |
| April 23 | Sun | 14:30 | MYSTERY BOUNTY Main Event – $500K Top Bounty [Stage][1] | $210 | $5,000,000 |
| April 23 | Sun | 15:00 | Sunday Grand Prix $150 [Bounty][Edition] | $150 | $200,000 |
| April 23 | Sun | 15:00 | GGMasters Sunday Bounty $25 | $25 | $100,000 |
| April 23 | Sun | 15:30 | Sunday Forty Stack $44 | $44 | $125,000 |
| April 23 | Sun | 15:40 | Sunday Omaholic Forty Stack $44 | $44 | $20,000 |
| April 23 | Sun | 16:30 | Bounty Hunters HR Main Event $525, $1M GTD | $525 | $1,000,000 |
| April 23 | Sun | 16:30 | Bounty Hunters Sunday Main Event $54, $500K GTD | $54 | $500,000 |
| April 23 | Sun | 16:30 | Global MILLION$ Bounty Edition, $1M GTD [Stage][1] | $50 | $1,000,000 |
| April 23 | Sun | 17:30 | Sunday Big Game $215 | $215 | $325,000 |
| April 23 | Sun | 17:30 | MYSTERY BOUNTY Main Event – $500K Top Bounty [Stage][1] | $210 | $5,000,000 |
| April 23 | Sun | 17:40 | Sunday Big Game Omaholic $215 | $215 | $40,000 |
| April 23 | Sun | 18:00 | Sunday Hundred Grand Special Edition $15 | $15 | $200,000 |
| April 23 | Sun | 18:00 | Global MILLION$ Bounty Edition, $1M GTD [Last][Chance] | $50 | $1,000,000 |
| April 23 | Sun | 18:30 | GGMasters Bounty Special Edition $320 | $320 | $400,000 |
| April 23 | Sun | 18:30 | Bounty King Jr $32.10 | $32 | $150,000 |
| April 23 | Sun | 19:00 | Sunday High Rollers Main Event $1,050 [Bounty][Edition] | $1,050 | $400,000 |
| April 23 | Sun | 19:00 | Global MILLION$ Bounty Edition, $1M GTD [Last][Minute] | $50 | $1,000,000 |
| April 23 | Sun | 19:10 | Sunday Omaholic Main Event $1,050 [Bounty][Edition] | $1,050 | $100,000 |
| April 23 | Sun | 19:30 | Big Antes Bounty $108 | $108 | $100,000 |
| April 23 | Sun | 19:40 | Big Antes Omaholic $108 | $108 | $20,000 |
| April 23 | Sun | 20:30 | Global MILLION$ Bounty Edition, $1M GTD [Final][Stage] | $50 | $1,000,000 |
| April 23 | Sun | 20:30 | MYSTERY BOUNTY Main Event – $500K Top Bounty [Stage][1] | $210 | $5,000,000 |
| April 23 | Sun | 20:40 | Bounty Hunters HR Encore $525 | $525 | $75,000 |
| April 23 | Sun | 20:40 | Bounty Hunters Sunday Encore $54 | $54 | $100,000 |
| April 23 | Sun | 21:00 | Sunday Heater Special Edition $215 | $215 | $125,000 |
| April 23 | Sun | 21:00 | Sunday Heater Special Edition $25 | $25 | $60,000 |
| April 23 | Sun | 21:10 | Sunday Omaholic Heater $215 | $215 | $20,000 |
| April 23 | Sun | 21:10 | Sunday Omaholic Heater $25 | $25 | $15,000 |
| April 23 | Sun | 22:00 | SUPER SIX HR $630 | $630 | $40,000 |
| April 23 | Sun | 22:00 | SUPER SIX $64.50 | $65 | $50,000 |
| April 23 | Sun | 23:30 | Last Call $215 | $215 | $60,000 |
| April 23 | Sun | 23:30 | Last Call $25 | $25 | $20,000 |
| April 23 | Sun | 23:30 | MYSTERY BOUNTY Main Event – $500K Top Bounty [Stage][1] | $210 | $5,000,000 |
| April 24 | Mon | 00:00 | Midnight Madness $85.50 [Bounty][Edition] | $86 | $40,000 |
| April 24 | Mon | 00:00 | Mini Midnight Madness $8.55 [Bounty][Edition] | $9 | $10,000 |
| April 24 | Mon | 02:30 | MYSTERY BOUNTY Main Event – $500K Top Bounty [Stage][1] | $210 | $5,000,000 |
| April 24 | Mon | 05:30 | MYSTERY BOUNTY Main Event – $500K Top Bounty [Stage][1] | $210 | $5,000,000 |
| April 24 | Mon | 08:30 | MYSTERY BOUNTY Main Event – $500K Top Bounty [Stage][1] | $210 | $5,000,000 |
| April 24 | Mon | 11:30 | MYSTERY BOUNTY Main Event – $500K Top Bounty [Stage][1] | $210 | $5,000,000 |
| April 24 | Mon | 12:30 | Bounty Blast-Off $88 | $88 | $20,000 |
| April 24 | Mon | 12:30 | Mini Blast-Off $8.80 | $9 | $25,000 |
| April 24 | Mon | 13:15 | Ultra Deepstack Bounty Turbo $54 | $54 | $25,000 |
| April 24 | Mon | 13:15 | Ultra Deepstack Bounty Turbo $5.40 | $5 | $15,000 |
| April 24 | Mon | 13:30 | Bounty Hunters 6-Max Special $108 | $108 | $10,000 |
| April 24 | Mon | 13:30 | Bounty Hunters 6-Max Special $10.80 | $11 | $25,000 |
| April 24 | Mon | 14:30 | Bounty Superstack $85.50 | $86 | $40,000 |
| April 24 | Mon | 14:30 | Bounty Superstack $8.55 | $9 | $40,000 |
| April 24 | Mon | 14:30 | MYSTERY BOUNTY Main Event – $500K Top Bounty [Stage][1] | $210 | $5,000,000 |
| April 24 | Mon | 15:00 | Bounty Warm-Up $250 | $250 | $50,000 |
| April 24 | Mon | 15:00 | GGMasters Bounty Warm-Up Special Edition $25 | $25 | $60,000 |
| April 24 | Mon | 15:30 | Bounty Forty Stack HR $444 | $444 | $50,000 |
| April 24 | Mon | 15:30 | Bounty Forty Stack $44 | $44 | $60,000 |
| April 24 | Mon | 15:40 | Omaholic Forty Stack $44 | $44 | $10,000 |
| April 24 | Mon | 16:30 | Bounty Hunters HR $525 [6-Max] | $525 | $200,000 |
| April 24 | Mon | 16:30 | Bounty Hunters Daily Main $54 [6-Max] | $54 | $175,000 |
| April 24 | Mon | 16:30 | Bounty Hunters Mini Main $5.40 [6-Max] | $5 | $30,000 |
| April 24 | Mon | 17:30 | Big Game $215 | $215 | $125,000 |
| April 24 | Mon | 17:30 | Mini Big Game $21.60 | $22 | $60,000 |
| April 24 | Mon | 17:30 | MYSTERY BOUNTY Main Event – $500K Top Bounty [Stage][1] | $210 | $5,000,000 |
| April 24 | Mon | 17:40 | Big Game Omaholic $215 | $215 | $12,500 |
| April 24 | Mon | 17:40 | Mini Big Game Omaholic $21.60 | $22 | $10,000 |
| April 24 | Mon | 18:30 | Bounty King Special Edition $320 | $320 | $50,000 |
| April 24 | Mon | 18:30 | Bounty King Jr $32.10 | $32 | $70,000 |
| April 24 | Mon | 19:00 | GGMasters Bounty Special Edition $25 | $25 | $45,000 |
| April 24 | Mon | 19:30 | Big Antes Bounty $108 | $108 | $40,000 |
| April 24 | Mon | 19:30 | Big Antes Bounty $15 | $15 | $25,000 |
| April 24 | Mon | 20:30 | Bounty Hunters HR Encore $525 | $525 | $25,000 |
| April 24 | Mon | 20:30 | Bounty Hunters Encore $54 | $54 | $30,000 |
| April 24 | Mon | 20:30 | MYSTERY BOUNTY Main Event – $500K Top Bounty [Stage][1] | $210 | $5,000,000 |
| April 24 | Mon | 21:00 | Daily Heater Special Edition $215 | $215 | $30,000 |
| April 24 | Mon | 21:00 | GGMasters Bounty Turbo Special Edition $25 | $25 | $25,000 |
| April 24 | Mon | 22:00 | SUPER SIX $64.50 | $65 | $25,000 |
| April 24 | Mon | 23:30 | Last Call $215 | $215 | $18,000 |
| April 24 | Mon | 23:30 | Last Call $25 | $25 | $12,500 |
| April 24 | Mon | 23:30 | MYSTERY BOUNTY Main Event – $500K Top Bounty [Stage][1] | $210 | $5,000,000 |
| April 25 | Tue | 00:00 | Midnight Madness $85.50 [Bounty][Edition] | $86 | $15,000 |
| April 25 | Tue | 00:00 | Mini Midnight Madness $8.55 [Bounty][Edition] | $9 | $8,000 |
| April 25 | Tue | 02:30 | MYSTERY BOUNTY Main Event – $500K Top Bounty [Stage][1] | $210 | $5,000,000 |
| April 25 | Tue | 05:30 | MYSTERY BOUNTY Main Event – $500K Top Bounty [Stage][1] | $210 | $5,000,000 |
| April 25 | Tue | 08:30 | MYSTERY BOUNTY Main Event – $500K Top Bounty [Stage][1] | $210 | $5,000,000 |
| April 25 | Tue | 11:30 | MYSTERY BOUNTY Main Event – $500K Top Bounty [Stage][1] | $210 | $5,000,000 |
| April 25 | Tue | 12:30 | Bounty Blast-Off $88 | $88 | $20,000 |
| April 25 | Tue | 12:30 | Mini Blast-Off $8.80 | $9 | $25,000 |
| April 25 | Tue | 13:15 | Ultra Deepstack Bounty Turbo $54 | $54 | $25,000 |
| April 25 | Tue | 13:15 | Ultra Deepstack Bounty Turbo $5.40 | $5 | $15,000 |
| April 25 | Tue | 13:30 | Bounty Hunters 6-Max Special $108 | $108 | $10,000 |
| April 25 | Tue | 13:30 | Bounty Hunters 6-Max Special $10.80 | $11 | $25,000 |
| April 25 | Tue | 14:30 | Bounty Superstack $85.50 | $86 | $40,000 |
| April 25 | Tue | 14:30 | Bounty Superstack $8.55 | $9 | $40,000 |
| April 25 | Tue | 14:30 | MYSTERY BOUNTY Main Event – $500K Top Bounty [Stage][1] | $210 | $5,000,000 |
| April 25 | Tue | 15:00 | Bounty Warm-Up $250 | $250 | $50,000 |
| April 25 | Tue | 15:00 | GGMasters Bounty Warm-Up Special Edition $25 | $25 | $60,000 |
| April 25 | Tue | 15:30 | Bounty Forty Stack HR $444 | $444 | $50,000 |
| April 25 | Tue | 15:30 | Bounty Forty Stack $44 | $44 | $60,000 |
| April 25 | Tue | 15:40 | Omaholic Forty Stack $44 | $44 | $10,000 |
| April 25 | Tue | 16:30 | Bounty Hunters HR $525 [Deepstack] | $525 | $200,000 |
| April 25 | Tue | 16:30 | Bounty Hunters Daily Main $54 [Deepstack] | $54 | $175,000 |
| April 25 | Tue | 16:30 | Bounty Hunters Mini Main $5.40 [Deepstack] | $5 | $30,000 |
| April 25 | Tue | 17:30 | Big Game $215 | $215 | $125,000 |
| April 25 | Tue | 17:30 | Mini Big Game $21.60 | $22 | $60,000 |
| April 25 | Tue | 17:30 | MYSTERY BOUNTY Main Event – $500K Top Bounty [Stage][1] | $210 | $5,000,000 |
| April 25 | Tue | 17:40 | Big Game Omaholic $215 | $215 | $12,500 |
| April 25 | Tue | 17:40 | Mini Big Game Omaholic $21.60 | $22 | $10,000 |
| April 25 | Tue | 18:30 | Bounty King Special Edition $320 | $320 | $50,000 |
| April 25 | Tue | 18:30 | Bounty King Jr $32.10 | $32 | $70,000 |
| April 25 | Tue | 19:00 | GGMasters Bounty Special Edition $25 | $25 | $45,000 |
| April 25 | Tue | 19:30 | Big Antes Bounty $108 | $108 | $40,000 |
| April 25 | Tue | 19:30 | Big Antes Bounty $15 | $15 | $25,000 |
| April 25 | Tue | 20:30 | Bounty Hunters HR Encore $525 | $525 | $25,000 |
| April 25 | Tue | 20:30 | Bounty Hunters Encore $54 | $54 | $30,000 |
| April 25 | Tue | 20:30 | MYSTERY BOUNTY Main Event – $500K Top Bounty [Stage][1] | $210 | $5,000,000 |
| April 25 | Tue | 21:00 | Daily Heater Special Edition $215 | $215 | $30,000 |
| April 25 | Tue | 21:00 | GGMasters Bounty Turbo Special Edition $25 | $25 | $25,000 |
| April 25 | Tue | 22:00 | SUPER SIX $64.50 | $65 | $25,000 |
| April 25 | Tue | 23:30 | Last Call $215 | $215 | $18,000 |
| April 25 | Tue | 23:30 | Last Call $25 | $25 | $12,500 |
| April 25 | Tue | 23:30 | MYSTERY BOUNTY Main Event – $500K Top Bounty [Stage][1] | $210 | $5,000,000 |
| April 26 | Wed | 00:00 | Midnight Madness $85.50 [Bounty][Edition] | $86 | $15,000 |
| April 26 | Wed | 00:00 | Mini Midnight Madness $8.55 [Bounty][Edition] | $9 | $8,000 |
| April 26 | Wed | 02:30 | MYSTERY BOUNTY Main Event – $500K Top Bounty [Stage][1] | $210 | $5,000,000 |
| April 26 | Wed | 05:30 | MYSTERY BOUNTY Main Event – $500K Top Bounty [Stage][1] | $210 | $5,000,000 |
| April 26 | Wed | 08:30 | MYSTERY BOUNTY Main Event – $500K Top Bounty [Stage][1] | $210 | $5,000,000 |
| April 26 | Wed | 11:30 | MYSTERY BOUNTY Main Event – $500K Top Bounty [Stage][1] | $210 | $5,000,000 |
| April 26 | Wed | 12:30 | Bounty Blast-Off $88 | $88 | $20,000 |
| April 26 | Wed | 12:30 | Mini Blast-Off $8.80 | $9 | $25,000 |
| April 26 | Wed | 13:15 | Ultra Deepstack Bounty Turbo $54 | $54 | $25,000 |
| April 26 | Wed | 13:15 | Ultra Deepstack Bounty Turbo $5.40 | $5 | $15,000 |
| April 26 | Wed | 13:30 | Bounty Hunters 6-Max Special $108 | $108 | $10,000 |
| April 26 | Wed | 13:30 | Bounty Hunters 6-Max Special $10.80 | $11 | $25,000 |
| April 26 | Wed | 14:30 | Bounty Superstack $85.50 | $86 | $40,000 |
| April 26 | Wed | 14:30 | Bounty Superstack $8.55 | $9 | $40,000 |
| April 26 | Wed | 14:30 | MYSTERY BOUNTY Main Event – $500K Top Bounty [Stage][1] | $210 | $5,000,000 |
| April 26 | Wed | 15:00 | Bounty Warm-Up $250 | $250 | $50,000 |
| April 26 | Wed | 15:00 | GGMasters Bounty Warm-Up Special Edition $25 | $25 | $60,000 |
| April 26 | Wed | 15:30 | Bounty Forty Stack HR $444 | $444 | $30,000 |
| April 26 | Wed | 15:30 | Bounty Forty Stack $44 | $44 | $60,000 |
| April 26 | Wed | 15:40 | Omaholic Forty Stack $44 | $44 | $10,000 |
| April 26 | Wed | 16:30 | Bounty Hunters HR $525 [Double][Stack] | $525 | $150,000 |
| April 26 | Wed | 16:30 | Bounty Hunters Daily Main $54 [Double][Stack] | $54 | $175,000 |
| April 26 | Wed | 16:30 | Bounty Hunters Mini Main $5.40 [Double][Stack] | $5 | $30,000 |
| April 26 | Wed | 17:30 | Big Game $215 | $215 | $100,000 |
| April 26 | Wed | 17:30 | Mini Big Game $21.60 | $22 | $60,000 |
| April 26 | Wed | 17:30 | MYSTERY BOUNTY Main Event – $500K Top Bounty [Stage][1] | $210 | $5,000,000 |
| April 26 | Wed | 17:40 | Big Game Omaholic $215 | $215 | $12,500 |
| April 26 | Wed | 17:40 | Mini Big Game Omaholic $21.60 | $22 | $10,000 |
| April 26 | Wed | 18:30 | Bounty King Special Edition $320 | $320 | $40,000 |
| April 26 | Wed | 18:30 | Bounty King Jr $32.10 | $32 | $70,000 |
| April 26 | Wed | 19:00 | GGMasters Bounty Special Edition $25 | $25 | $45,000 |
| April 26 | Wed | 19:30 | Big Antes Bounty $108 | $108 | $40,000 |
| April 26 | Wed | 19:30 | Big Antes Bounty $15 | $15 | $25,000 |
| April 26 | Wed | 20:30 | Bounty Hunters HR Encore $525 | $525 | $25,000 |
| April 26 | Wed | 20:30 | Bounty Hunters Encore $54 | $54 | $30,000 |
| April 26 | Wed | 20:30 | MYSTERY BOUNTY Main Event – $500K Top Bounty [Stage][1] | $210 | $5,000,000 |
| April 26 | Wed | 21:00 | Daily Heater Special Edition $215 | $215 | $30,000 |
| April 26 | Wed | 21:00 | GGMasters Bounty Turbo Special Edition $25 | $25 | $25,000 |
| April 26 | Wed | 22:00 | SUPER SIX $64.50 | $65 | $25,000 |
| April 26 | Wed | 23:30 | Last Call $215 | $215 | $18,000 |
| April 26 | Wed | 23:30 | Last Call $25 | $25 | $12,500 |
| April 26 | Wed | 23:30 | MYSTERY BOUNTY Main Event – $500K Top Bounty [Stage][1] | $210 | $5,000,000 |
| April 27 | Thu | 00:00 | Midnight Madness $85.50 [Bounty][Edition] | $86 | $15,000 |
| April 27 | Thu | 00:00 | Mini Midnight Madness $8.55 [Bounty][Edition] | $9 | $8,000 |
| April 27 | Thu | 02:30 | MYSTERY BOUNTY Main Event – $500K Top Bounty [Stage][1] | $210 | $5,000,000 |
| April 27 | Thu | 05:30 | MYSTERY BOUNTY Main Event – $500K Top Bounty [Stage][1] | $210 | $5,000,000 |
| April 27 | Thu | 08:30 | MYSTERY BOUNTY Main Event – $500K Top Bounty [Stage][1] | $210 | $5,000,000 |
| April 27 | Thu | 11:30 | MYSTERY BOUNTY Main Event – $500K Top Bounty [Stage][1] | $210 | $5,000,000 |
| April 27 | Thu | 12:30 | Bounty Blast-Off $88 | $88 | $20,000 |
| April 27 | Thu | 12:30 | Mini Blast-Off $8.80 | $9 | $25,000 |
| April 27 | Thu | 13:15 | Ultra Deepstack Bounty Turbo $54 | $54 | $25,000 |
| April 27 | Thu | 13:15 | Ultra Deepstack Bounty Turbo $5.40 | $5 | $15,000 |
| April 27 | Thu | 13:30 | Bounty Hunters 6-Max Special $108 | $108 | $10,000 |
| April 27 | Thu | 13:30 | Bounty Hunters 6-Max Special $10.80 | $11 | $25,000 |
| April 27 | Thu | 14:30 | Bounty Superstack $85.50 | $86 | $40,000 |
| April 27 | Thu | 14:30 | Bounty Superstack $8.55 | $9 | $40,000 |
| April 27 | Thu | 14:30 | MYSTERY BOUNTY Main Event – $500K Top Bounty [Stage][1] | $210 | $5,000,000 |
| April 27 | Thu | 15:00 | Bounty Warm-Up $250 | $250 | $50,000 |
| April 27 | Thu | 15:00 | GGMasters Bounty Warm-Up Special Edition $25 | $25 | $60,000 |
| April 27 | Thu | 15:30 | Bounty Forty Stack HR $444 | $444 | $50,000 |
| April 27 | Thu | 15:30 | Bounty Forty Stack $44 | $44 | $60,000 |
| April 27 | Thu | 15:40 | Omaholic Forty Stack $44 | $44 | $10,000 |
| April 27 | Thu | 16:30 | Bounty Hunters HR $525 [Classic] | $525 | $200,000 |
| April 27 | Thu | 16:30 | Bounty Hunters Daily Main $54 [Classic] | $54 | $175,000 |
| April 27 | Thu | 16:30 | Bounty Hunters Mini Main $5.40 [Classic] | $5 | $30,000 |
| April 27 | Thu | 17:30 | Big Game $215 | $215 | $125,000 |
| April 27 | Thu | 17:30 | Mini Big Game $21.60 | $22 | $60,000 |
| April 27 | Thu | 17:30 | MYSTERY BOUNTY Main Event – $500K Top Bounty [Stage][1] | $210 | $5,000,000 |
| April 27 | Thu | 17:40 | Big Game Omaholic $215 | $215 | $12,500 |
| April 27 | Thu | 17:40 | Mini Big Game Omaholic $21.60 | $22 | $10,000 |
| April 27 | Thu | 18:30 | Bounty King Special Edition $320 | $320 | $50,000 |
| April 27 | Thu | 18:30 | Bounty King Jr $32.10 | $32 | $70,000 |
| April 27 | Thu | 19:00 | GGMasters Bounty Special Edition $25 | $25 | $45,000 |
| April 27 | Thu | 19:30 | Big Antes Bounty $108 | $108 | $40,000 |
| April 27 | Thu | 19:30 | Big Antes Bounty $15 | $15 | $25,000 |
| April 27 | Thu | 20:30 | Bounty Hunters HR Encore $525 | $525 | $25,000 |
| April 27 | Thu | 20:30 | Bounty Hunters Encore $54 | $54 | $30,000 |
| April 27 | Thu | 20:30 | MYSTERY BOUNTY Main Event – $500K Top Bounty [Stage][1] | $210 | $5,000,000 |
| April 27 | Thu | 21:00 | Daily Heater Special Edition $215 | $215 | $30,000 |
| April 27 | Thu | 21:00 | GGMasters Bounty Turbo Special Edition $25 | $25 | $25,000 |
| April 27 | Thu | 22:00 | SUPER SIX $64.50 | $65 | $25,000 |
| April 27 | Thu | 23:30 | Last Call $215 | $215 | $18,000 |
| April 27 | Thu | 23:30 | Last Call $25 | $25 | $12,500 |
| April 27 | Thu | 23:30 | MYSTERY BOUNTY Main Event – $500K Top Bounty [Stage][1] | $210 | $5,000,000 |
| April 28 | Fri | 00:00 | Midnight Madness $85.50 [Bounty][Edition] | $86 | $15,000 |
| April 28 | Fri | 00:00 | Mini Midnight Madness $8.55 [Bounty][Edition] | $9 | $8,000 |
| April 28 | Fri | 02:30 | MYSTERY BOUNTY Main Event – $500K Top Bounty [Stage][1] | $210 | $5,000,000 |
| April 28 | Fri | 05:30 | MYSTERY BOUNTY Main Event – $500K Top Bounty [Stage][1] | $210 | $5,000,000 |
| April 28 | Fri | 08:30 | MYSTERY BOUNTY Main Event – $500K Top Bounty [Stage][1] | $210 | $5,000,000 |
| April 28 | Fri | 11:30 | MYSTERY BOUNTY Main Event – $500K Top Bounty [Stage][1] | $210 | $5,000,000 |
| April 28 | Fri | 12:30 | Bounty Blast-Off $88 | $88 | $20,000 |
| April 28 | Fri | 12:30 | Mini Blast-Off $8.80 | $9 | $25,000 |
| April 28 | Fri | 13:15 | Ultra Deepstack Bounty Turbo $54 | $54 | $25,000 |
| April 28 | Fri | 13:15 | Ultra Deepstack Bounty Turbo $5.40 | $5 | $15,000 |
| April 28 | Fri | 13:30 | Bounty Hunters 6-Max Special $108 | $108 | $10,000 |
| April 28 | Fri | 13:30 | Bounty Hunters 6-Max Special $10.80 | $11 | $25,000 |
| April 28 | Fri | 14:30 | Bounty Superstack $85.50 | $86 | $40,000 |
| April 28 | Fri | 14:30 | Bounty Superstack $8.55 | $9 | $40,000 |
| April 28 | Fri | 14:30 | MYSTERY BOUNTY Main Event – $500K Top Bounty [Stage][1] | $210 | $5,000,000 |
| April 28 | Fri | 15:00 | Bounty Warm-Up $250 | $250 | $50,000 |
| April 28 | Fri | 15:00 | GGMasters Bounty Warm-Up Special Edition $25 | $25 | $60,000 |
| April 28 | Fri | 15:30 | Bounty Forty Stack HR $444 | $444 | $25,000 |
| April 28 | Fri | 15:30 | Bounty Forty Stack $44 | $44 | $60,000 |
| April 28 | Fri | 15:40 | Omaholic Forty Stack $44 | $44 | $10,000 |
| April 28 | Fri | 16:30 | Bounty Hunters HR $525 [Ultradeep] | $525 | $125,000 |
| April 28 | Fri | 16:30 | Bounty Hunters Daily Main $54 [Ultradeep] | $54 | $150,000 |
| April 28 | Fri | 16:30 | Bounty Hunters Mini Main $5.40 [Ultradeep] | $5 | $30,000 |
| April 28 | Fri | 17:30 | Big Game $215 | $215 | $75,000 |
| April 28 | Fri | 17:30 | Mini Big Game $21.60 | $22 | $60,000 |
| April 28 | Fri | 17:30 | MYSTERY BOUNTY Main Event – $500K Top Bounty [Stage][1] | $210 | $5,000,000 |
| April 28 | Fri | 17:40 | Big Game Omaholic $215 | $215 | $10,000 |
| April 28 | Fri | 17:40 | Mini Big Game Omaholic $21.60 | $22 | $10,000 |
| April 28 | Fri | 18:30 | Bounty King Special Edition $320 | $320 | $25,000 |
| April 28 | Fri | 18:30 | Bounty King Jr $32.10 | $32 | $70,000 |
| April 28 | Fri | 19:00 | GGMasters Bounty Special Edition $25 | $25 | $45,000 |
| April 28 | Fri | 19:30 | Big Antes Bounty $108 | $108 | $25,000 |
| April 28 | Fri | 19:30 | Big Antes Bounty $15 | $15 | $25,000 |
| April 28 | Fri | 20:30 | Bounty Hunters HR Encore $525 | $525 | $20,000 |
| April 28 | Fri | 20:30 | Bounty Hunters Encore $54 | $54 | $25,000 |
| April 28 | Fri | 20:30 | MYSTERY BOUNTY Main Event – $500K Top Bounty [Stage][1] | $210 | $5,000,000 |
| April 28 | Fri | 21:00 | Daily Heater Special Edition $215 | $215 | $25,000 |
| April 28 | Fri | 21:00 | GGMasters Bounty Turbo Special Edition $25 | $25 | $25,000 |
| April 28 | Fri | 22:00 | SUPER SIX $64.50 | $65 | $25,000 |
| April 28 | Fri | 23:30 | Last Call $215 | $215 | $15,000 |
| April 28 | Fri | 23:30 | Last Call $25 | $25 | $12,500 |
| April 28 | Fri | 23:30 | MYSTERY BOUNTY Main Event – $500K Top Bounty [Stage][1] | $210 | $5,000,000 |
| April 29 | Sat | 00:00 | Midnight Madness $85.50 [Bounty][Edition] | $86 | $12,000 |
| April 29 | Sat | 00:00 | Mini Midnight Madness $8.55 [Bounty][Edition] | $9 | $8,000 |
| April 29 | Sat | 02:30 | MYSTERY BOUNTY Main Event – $500K Top Bounty [Stage][1] | $210 | $5,000,000 |
| April 29 | Sat | 05:30 | MYSTERY BOUNTY Main Event – $500K Top Bounty [Stage][1] | $210 | $5,000,000 |
| April 29 | Sat | 08:30 | MYSTERY BOUNTY Main Event – $500K Top Bounty [Stage][1] | $210 | $5,000,000 |
| April 29 | Sat | 11:30 | MYSTERY BOUNTY Main Event – $500K Top Bounty [Stage][1] | $210 | $5,000,000 |
| April 29 | Sat | 12:30 | Bounty Blast-Off $88 | $88 | $20,000 |
| April 29 | Sat | 12:30 | Mini Blast-Off $8.80 | $9 | $25,000 |
| April 29 | Sat | 13:15 | Ultra Deepstack Bounty Turbo $54 | $54 | $25,000 |
| April 29 | Sat | 13:15 | Ultra Deepstack Bounty Turbo $5.40 | $5 | $15,000 |
| April 29 | Sat | 13:30 | Bounty Hunters 6-Max Special $108 | $108 | $10,000 |
| April 29 | Sat | 13:30 | Bounty Hunters 6-Max Special $10.80 | $11 | $25,000 |
| April 29 | Sat | 14:30 | Bounty Superstack $85.50 | $86 | $40,000 |
| April 29 | Sat | 14:30 | Bounty Superstack $8.55 | $9 | $40,000 |
| April 29 | Sat | 14:30 | MYSTERY BOUNTY Main Event – $500K Top Bounty [Stage][1] | $210 | $5,000,000 |
| April 29 | Sat | 15:00 | Bounty Warm-Up $250 | $250 | $50,000 |
| April 29 | Sat | 15:00 | GGMasters Bounty Warm-Up Special Edition $25 | $25 | $60,000 |
| April 29 | Sat | 15:30 | Bounty Forty Stack HR $444 | $444 | $40,000 |
| April 29 | Sat | 15:30 | Bounty Forty Stack $44 | $44 | $60,000 |
| April 29 | Sat | 15:40 | Omaholic Forty Stack $44 | $44 | $10,000 |
| April 29 | Sat | 16:30 | Bounty Hunters HR $525 [Big][Bounties] | $525 | $150,000 |
| April 29 | Sat | 16:30 | Bounty Hunters Daily Main $54 [Big][Bounties] | $54 | $175,000 |
| April 29 | Sat | 16:30 | Bounty Hunters Mini Main $5.40 [Big][Bounties] | $5 | $30,000 |
| April 29 | Sat | 17:30 | Mini Big Game $21.60 | $22 | $60,000 |
| April 29 | Sat | 17:30 | MYSTERY BOUNTY Main Event – $500K Top Bounty [Stage][1] | $210 | $5,000,000 |
| April 29 | Sat | 17:40 | Big Game Omaholic $215 | $215 | $10,000 |
| April 29 | Sat | 17:40 | Mini Big Game Omaholic $21.60 | $22 | $10,000 |
| April 29 | Sat | 18:30 | Bounty King Special Edition $320 | $320 | $40,000 |
| April 29 | Sat | 18:30 | Bounty King Jr $32.10 | $32 | $70,000 |
| April 29 | Sat | 19:00 | GGMasters Bounty Special Edition $25 | $25 | $45,000 |
| April 29 | Sat | 19:30 | Big Antes Bounty $108 | $108 | $25,000 |
| April 29 | Sat | 19:30 | Big Antes Bounty $15 | $15 | $25,000 |
| April 29 | Sat | 20:30 | Bounty Hunters HR Encore $525 | $525 | $20,000 |
| April 29 | Sat | 20:30 | Bounty Hunters Encore $54 | $54 | $25,000 |
| April 29 | Sat | 20:30 | MYSTERY BOUNTY Main Event – $500K Top Bounty [Stage][1] | $210 | $5,000,000 |
| April 29 | Sat | 21:00 | Daily Heater Special Edition $215 | $215 | $25,000 |
| April 29 | Sat | 21:00 | GGMasters Bounty Turbo Special Edition $25 | $25 | $25,000 |
| April 29 | Sat | 22:00 | SUPER SIX $64.50 | $65 | $25,000 |
| April 29 | Sat | 23:30 | Last Call $215 | $215 | $15,000 |
| April 29 | Sat | 23:30 | Last Call $25 | $25 | $12,500 |
| April 29 | Sat | 23:30 | MYSTERY BOUNTY Main Event – $500K Top Bounty [Stage][1] | $210 | $5,000,000 |
| April 30 | Sun | 00:00 | Midnight Madness $85.50 [Bounty][Edition] | $86 | $12,000 |
| April 30 | Sun | 00:00 | Mini Midnight Madness $8.55 [Bounty][Edition] | $9 | $8,000 |
| April 30 | Sun | 02:30 | MYSTERY BOUNTY Main Event – $500K Top Bounty [Stage][1] | $210 | $5,000,000 |
| April 30 | Sun | 05:30 | MYSTERY BOUNTY Main Event – $500K Top Bounty [Stage][1] | $210 | $5,000,000 |
| April 30 | Sun | 08:30 | MYSTERY BOUNTY Main Event – $500K Top Bounty [Stage][1] | $210 | $5,000,000 |
| April 30 | Sun | 11:30 | MYSTERY BOUNTY Main Event – $500K Top Bounty [Stage][1] | $210 | $5,000,000 |
| April 30 | Sun | 12:30 | Sunday Blast-Off $215 | $215 | $50,000 |
| April 30 | Sun | 12:30 | Mini Blast-Off $25 | $25 | $50,000 |
| April 30 | Sun | 13:15 | Ultra Deepstack Bounty Turbo $54 | $54 | $50,000 |
| April 30 | Sun | 13:15 | Ultra Deepstack Bounty Turbo $5.40 | $5 | $25,000 |
| April 30 | Sun | 14:00 | Battle of Marathon $320 | $320 | $125,000 |
| April 30 | Sun | 14:00 | Battle of Marathon $32.10 | $32 | $100,000 |
| April 30 | Sun | 14:30 | Sunday Bounty Superstack HR $840 | $840 | $100,000 |
| April 30 | Sun | 14:30 | Sunday Bounty Superstack $85.50 | $86 | $125,000 |
| April 30 | Sun | 14:30 | MYSTERY BOUNTY Main Event – $500K Top Bounty [Stage][1] | $210 | $5,000,000 |
| April 30 | Sun | 15:00 | Sunday Grand Prix $150 [Bounty][Edition] | $150 | $200,000 |
| April 30 | Sun | 15:00 | GGMasters Sunday Bounty $25 | $25 | $100,000 |
| April 30 | Sun | 15:30 | Sunday Forty Stack $44 | $44 | $125,000 |
| April 30 | Sun | 15:40 | Sunday Omaholic Forty Stack $44 | $44 | $20,000 |
| April 30 | Sun | 16:30 | Bounty Hunters HR Main Event $525, $1M GTD | $525 | $1,000,000 |
| April 30 | Sun | 16:30 | Bounty Hunters Sunday Main Event $54, $500K GTD | $54 | $500,000 |
| April 30 | Sun | 17:30 | Sunday Big Game $215 | $215 | $325,000 |
| April 30 | Sun | 17:30 | MYSTERY BOUNTY Main Event – $500K Top Bounty [Stage][1] | $210 | $5,000,000 |
| April 30 | Sun | 17:40 | Sunday Big Game Omaholic $215 | $215 | $40,000 |
| April 30 | Sun | 18:30 | GGMasters Bounty Special Edition $320 | $320 | $400,000 |
| April 30 | Sun | 18:30 | Bounty King Jr $32.10 | $32 | $150,000 |
| April 30 | Sun | 19:00 | Sunday High Rollers Main Event $1,050 [Bounty][Edition] | $1,050 | $400,000 |
| April 30 | Sun | 19:10 | Sunday Omaholic Main Event $1,050 [Bounty][Edition] | $1,050 | $100,000 |
| April 30 | Sun | 19:30 | Big Antes Bounty $108 | $108 | $100,000 |
| April 30 | Sun | 19:40 | Big Antes Omaholic $108 | $108 | $20,000 |
| April 30 | Sun | 20:30 | MYSTERY BOUNTY Main Event – $500K Top Bounty [Stage][1] | $210 | $5,000,000 |
| April 30 | Sun | 20:40 | Bounty Hunters HR Encore $525 | $525 | $75,000 |
| April 30 | Sun | 20:40 | Bounty Hunters Sunday Encore $54 | $54 | $100,000 |
| April 30 | Sun | 21:00 | Sunday Heater Special Edition $215 | $215 | $125,000 |
| April 30 | Sun | 21:00 | Sunday Heater Special Edition $25 | $25 | $60,000 |
| April 30 | Sun | 21:10 | Sunday Omaholic Heater $215 | $215 | $20,000 |
| April 30 | Sun | 21:10 | Sunday Omaholic Heater $25 | $25 | $15,000 |
| April 30 | Sun | 22:00 | SUPER SIX HR $630 | $630 | $40,000 |
| April 30 | Sun | 22:00 | SUPER SIX $64.50 | $65 | $50,000 |
| April 30 | Sun | 23:30 | Last Call $215 | $215 | $60,000 |
| April 30 | Sun | 23:30 | Last Call $25 | $25 | $20,000 |
| April 30 | Sun | 23:30 | MYSTERY BOUNTY Main Event – $500K Top Bounty [Stage][1] | $210 | $5,000,000 |
| May 1 | Mon | 00:00 | Midnight Madness $85.50 [Bounty][Edition] | $86 | $40,000 |
| May 1 | Mon | 00:00 | Mini Midnight Madness $8.55 [Bounty][Edition] | $9 | $10,000 |
| May 1 | Mon | 02:30 | MYSTERY BOUNTY Main Event – $500K Top Bounty [Stage][1] | $210 | $5,000,000 |
| May 1 | Mon | 05:30 | MYSTERY BOUNTY Main Event – $500K Top Bounty [Stage][1] | $210 | $5,000,000 |
| May 1 | Mon | 08:30 | MYSTERY BOUNTY Main Event – $500K Top Bounty [Stage][1] | $210 | $5,000,000 |
| May 1 | Mon | 10:30 | MYSTERY BOUNTY Main Event – $500K Top Bounty [Stage][1] | $210 | $5,000,000 |
| May 1 | Mon | 12:30 | Bounty Blast-Off $88 | $88 | $20,000 |
| May 1 | Mon | 12:30 | Mini Blast-Off $8.80 | $9 | $25,000 |
| May 1 | Mon | 12:30 | MYSTERY BOUNTY Main Event – $500K Top Bounty [Stage][1] | $210 | $5,000,000 |
| May 1 | Mon | 13:15 | Ultra Deepstack Bounty Turbo $54 | $54 | $25,000 |
| May 1 | Mon | 13:15 | Ultra Deepstack Bounty Turbo $5.40 | $5 | $15,000 |
| May 1 | Mon | 13:30 | Bounty Hunters 6-Max Special $108 | $108 | $10,000 |
| May 1 | Mon | 13:30 | Bounty Hunters 6-Max Special $10.80 | $11 | $25,000 |
| May 1 | Mon | 14:30 | Bounty Superstack $85.50 | $86 | $40,000 |
| May 1 | Mon | 14:30 | Bounty Superstack $8.55 | $9 | $40,000 |
| May 1 | Mon | 14:30 | MYSTERY BOUNTY Main Event – $500K Top Bounty [Stage][1] | $210 | $5,000,000 |
| May 1 | Mon | 15:00 | Bounty Warm-Up $250 | $250 | $50,000 |
| May 1 | Mon | 15:00 | GGMasters Bounty Warm-Up Special Edition $25 | $25 | $60,000 |
| May 1 | Mon | 15:30 | Bounty Forty Stack HR $444 | $444 | $50,000 |
| May 1 | Mon | 15:30 | Bounty Forty Stack $44 | $44 | $60,000 |
| May 1 | Mon | 15:40 | Omaholic Forty Stack $44 | $44 | $10,000 |
| May 1 | Mon | 16:00 | MYSTERY BOUNTY Main Event – $500K Top [Last][Chance] | $210 | $5,000,000 |
| May 1 | Mon | 16:30 | Bounty Hunters HR $525 [6-Max] | $525 | $200,000 |
| May 1 | Mon | 16:30 | Bounty Hunters Daily Main $54 [6-Max] | $54 | $175,000 |
| May 1 | Mon | 16:30 | Bounty Hunters Mini Main $5.40 [6-Max] | $5 | $30,000 |
| May 1 | Mon | 17:00 | MYSTERY BOUNTY Main Event – $500K Top [Last][Minute] | $210 | $5,000,000 |
| May 1 | Mon | 17:30 | Big Game $215 | $215 | $125,000 |
| May 1 | Mon | 17:30 | Mini Big Game $21.60 | $22 | $60,000 |
| May 1 | Mon | 17:40 | Big Game Omaholic $215 | $215 | $12,500 |
| May 1 | Mon | 17:40 | Mini Big Game Omaholic $21.60 | $22 | $10,000 |
| May 1 | Mon | 18:30 | Bounty King Special Edition $320 | $320 | $50,000 |
| May 1 | Mon | 18:30 | Bounty King Jr $32.10 | $32 | $70,000 |
| May 1 | Mon | 18:30 | MYSTERY BOUNTY Main Event – $500K Top Bounty [Final] | $210 | $5,000,000 |
| May 1 | Mon | 19:00 | GGMasters Bounty Special Edition $25 | $25 | $45,000 |
| May 1 | Mon | 19:30 | Big Antes Bounty $108 | $108 | $40,000 |
| May 1 | Mon | 19:30 | Big Antes Bounty $15 | $15 | $25,000 |
| May 1 | Mon | 20:30 | Bounty Hunters HR Encore $525 | $525 | $25,000 |
| May 1 | Mon | 20:30 | Bounty Hunters Encore $54 | $54 | $30,000 |
| May 1 | Mon | 21:00 | Daily Heater Special Edition $215 | $215 | $30,000 |
| May 1 | Mon | 21:00 | GGMasters Bounty Turbo Special Edition $25 | $25 | $25,000 |
| May 1 | Mon | 22:00 | SUPER SIX $64.50 | $65 | $25,000 |
| May 1 | Mon | 23:30 | Last Call $215 | $215 | $18,000 |
| May 1 | Mon | 23:30 | Last Call $25 | $25 | $12,500 |
| May 2 | Tue | 00:00 | Midnight Madness $85.50 [Bounty][Edition] | $86 | $15,000 |
| May 2 | Tue | 00:00 | Mini Midnight Madness $8.55 [Bounty][Edition] | $9 | $8,000 |