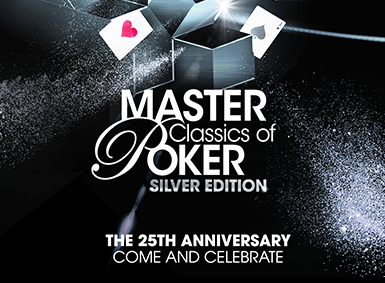 Bei unserem Master Classics of Poker Facebook Gewinnspiel hattet ihr die Chance mit einem "Like" auf ein gratis Turnier-Ticket für das Master Classics of Poker Side Event am 20. November im Wert von €550. Gestern fand die Verlosung statt und der Gewinner, besser gesagt die glückliche Gewinnerin steht nun fest. Nach Amsterdam fahren und das Turnier spielen darf Felisa Westermann!
Wir sagen Herzlichen Glückwunsch an die Gewinnerin und wünschen viel Erfolg beim Turnier in der niederländischen Metropole. Auch bei den zahlreichen anderen Teilnehmern möchten wir uns noch einmal bedanken, vielleicht habt ihr beim nächsten Mal ja mehr Glück.
Heute geht die Jubiläumsausgabe im Amsterdamer Holland Casino schon los. Bereits zum 25. Mal steigt die beliebte Turnierserie. Auf dem Programm stehen 25 spannende Events mit Buy-Ins zwischen €100 und €25.000.
Absolutes Highlight des 15-tägigen Poker Festivals ist natürlich das €4.000 + €250 Main Event, das am 18. November ab 14.00 Uhr mit Tag 1A beginnt. Spannend wird es allerdings schon am Vortag, wenn am 17. November das €25.000 + € 250 High Roller Event ansteht.
Wie schon in den letzten Jahren werden wir auch dieses Jahr ausführlich von den Turnieren berichten.
Master Classics of Poker Turnierplaner
| DATE | LOCATION | START TIME | DESCRIPTION | AVAILABLE | BUY-IN | ENTRY FEE |
| --- | --- | --- | --- | --- | --- | --- |
| thu 27 october 2016 | Amsterdam | 20:00 | SATELLITE MCOP NLH €1000 0N THE 23TH OF NOV. | Available | €100 | €10 |
| mon 31 october 2016 | Amsterdam | 20:00 | STEP 1 SATELLITE MCOP MAIN EVENT | Available | €50 | €10 |
| thu 03 november 2016 | Amsterdam | 20:00 | SATELLITE MCOP NLH €750 ON THE 20TH OF NOV. | Available | €50 | €10 |
| sat 05 november 2016 | Breda | 16:00 | STEP 1 Satellite Main Event MCOP | Available | €50 | €10 |
| sun 06 november 2016 | Breda | 16:00 | STEP 1 Satellite Main Event MCOP | Available | €50 | €10 |
| mon 07 november 2016 | Amsterdam | 20:00 | STEP 1 SATELLITE MCOP MAIN EVENT | Available | €50 | €10 |
| wed 09 november 2016 | Utrecht | 20:00 | STEP 1 satellite MCOP Main Event | Available | €50 | €10 |
Turnierkalender der Master Classics of Poker Amsterdam
| DATE | LOCATION | START TIME | DESCRIPTION | AVAILABLE | BUY-IN | ENTRY FEE |
| --- | --- | --- | --- | --- | --- | --- |
| sat 12 november 2016 | Amsterdam | 16:00 | #1 MCOP Step 2 Satellite Main Event 1A | Available | €700 | €70 |
| sat 12 november 2016 | Amsterdam | 20:00 | #2 MCOP Satellite Main Event Single Re-entry | Available | €250 | €25 |
| sun 13 november 2016 | Amsterdam | 16:00 | #3 MCOP Warm Up Single Re-entry | Available | €250 | €25 |
| sun 13 november 2016 | Amsterdam | 20:00 | #4 MCOP Satellite Main Event Unl. Rebuys+Add-on | Available | €250 | €25 |
| mon 14 november 2016 | Amsterdam | 16:00 | #5 MCOP Satellite Silver Edition Unl. Rebuys+ Add- | Available | €100 | €10 |
| mon 14 november 2016 | Amsterdam | 20:00 | #6 MCOP Satellite Main Event Single Re-entry | Available | €250 | €25 |
| tue 15 november 2016 | Amsterdam | 16:00 | #7 MCOP Silver Edition Freeze- out | Available | €1250 | €80 |
| tue 15 november 2016 | Amsterdam | 20:00 | #8 MCOP Satellite Main Event Unl. Rebuys+Add-on | Available | €250 | €25 |
| wed 16 november 2016 | Amsterdam | 14:00 | #9 MCOP Team Event 100 teams of 2 players Freeze-o | Available | €500 | €50 |
| wed 16 november 2016 | Amsterdam | 14:00 | #10 MCOP 5-Card Omaha Pot Limit 8 MAX Unl.Rebuy+Ad | Available | €250 | €25 |
| thu 17 november 2016 | Amsterdam | 13:00 | #11 MCOP Satellite Main Event Unl.Rebuys+Add-on | Available | €250 | €25 |
| thu 17 november 2016 | Amsterdam | 14:00 | #12 MCOP Super High Roller Re-entry | Available | €25.000 | €250 |
| fri 18 november 2016 | Amsterdam | 14:00 | #13a MCOP Main Event Single Re-entry Day 1A | Available | €4000 | €250 |
| fri 18 november 2016 | Amsterdam | 18:00 | #14 MCOP Satellite €1500 Event Unl. Rebuys+Add-on | Available | €100 | €10 |
| sat 19 november 2016 | Amsterdam | 14:00 | #15 MCOP Satellite High Roller Re-entry | Available | €500 | €50 |
| sat 19 november 2016 | Amsterdam | 16:00 | #16 MCOP €1500 Event Single Re-entry | Available | €1500 | €90 |
| sun 20 november 2016 | Amsterdam | 14:00 | #17 MCOP High Roller 8 MAX Re-entry | Available | €10.000 | €250 |
| sun 20 november 2016 | Amsterdam | 18:00 | #18 MCOP NLH €500 Speed Freeze-out | Available | €500 | €50 |
| mon 21 november 2016 | Amsterdam | 14:00 | #19 MCOP Satellite Main event Unl. Rebuy+ Add-on | Available | €250 | €25 |
| mon 21 november 2016 | Amsterdam | 18:00 | #20 MCOP NLH 8 MAX Freeze-out | Available | €700 | €70 |
| tue 22 november 2016 | Amsterdam | 14:00 | #13b MCOP Main Event Single Re-entry Day 1B | Available | €4000 | €250 |
| tue 22 november 2016 | Amsterdam | 18:00 | #21 MCOP €500 BOUNTY Freeze-out | Available | €500 value bounty €200 | €50 |
| wed 23 november 2016 | Amsterdam | 16:00 | #22 MCOP NLH €1000 Freeze-out | Available | €1000 | €80 |
| thu 24 november 2016 | Amsterdam | 14:00 | #23 MCOP PLO Single Re-entry | Available | €600 | €60 |
| fri 25 november 2016 | Amsterdam | 14:00 | #24 MCOP NLH €750 Single Re-entry | Available | €750 | €75 |
| sat 26 november 2016 | Amsterdam | 14:00 | #25 MCOP €500 BOUNTY Freeze-out | Available | €500 value bounty €250 | €50 |