Nach vielen dürftigen Teilnehmerzahlen bei den letzten Events kann man bei PokerStars aufatmen.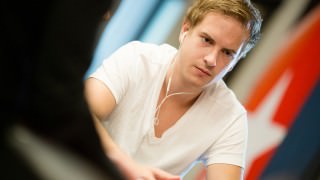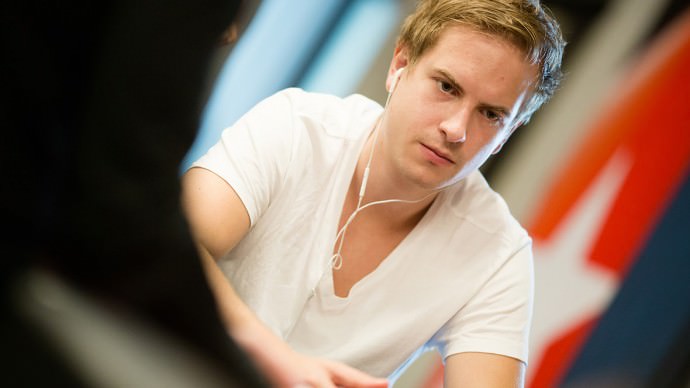 Die "sichere Bank" Barcelona funktioniert auch dieses Jahr, denn bei der €1.100 PokerStars National Championship meldeten sich bereits an Tag 1A über 1.000 Spieler an.
Da für den heutigen Tag 1B bereits über 1.500 Anmeldungen vorliegen, darf mit einem riesigen Feld gerechnet werden, dass die Preisgeldgarantie von 4 Millionen sicher knacken wird.
Star des Tages war bei diesem eher kleinen Turnier der King of the Swings, Viktor Blom, der allerdings zu den vielen Ausfällen des Tages zählte.
Zudem waren einige ehemalige EPT-Sieger im Feld, wie der Pole Sebastian Malec, Jan Bendik oder Michael Tureniec, die alle den Sprung in Tag 2 schafften.
Auch einige deutschsprachige Spieler sind noch dabei, am besten schnitt Hans Homner ab, der sich unter den ersten 50 platzieren konnte.
€1.100 PokerStars National Championship, Stand nach Tag 1A
Guido Pezzotta    Italy            411000
Brian Kaufman Esposito    Uruguay    PokerStars qualifier        386500
Omar Lakhdari    France            382000
Shabtai Koren    Israel            353500
Dan Wald    Sweden    PokerStars player        336000
Angel Blanco    Spain            316500
Parker Talbot    Canada    PokerStars qualifier        299000
Hans Sybrandi    Netherlands    PokerStars qualifier        290800
Per Emanuelsson    Sweden            279000
Daniel Lopez Ruiz    Spain            276000
Sergio Fernandez Bernal    Spain            268500
Andrius Kaziukonis    Lithuania            262500
Jose Alvarez    Spain    PokerStars player        257000
Victor Guillaume Pahon    France    Live satellite winner        256000
Halim Tutku Kara    Denmark            249000
Felipe Costa    Brazil    PokerStars player        248000
Andrey Demidov    Russia            243000
Manuel Chico Lopez    Spain            241500
Lucas Monnier    France            238000
Igor Dubinskyy    Ukraine    PokerStars player        233500
Mykhailo Gutyi    Ukraine    PokerStars qualifier        232000
Domien Fierens    Belgium            229500
Carlo Savinelli    Italy            229500
Vasyl Zabrodskyy    Ukraine            229000
Jonathan Nissen    Denmark            226000
Emilius Maria Blauwhoff    Netherlands            226000
Jonathan Bussieres    Canada    PokerStars qualifier        220000
Kontis Miltiadis    Greece    PokerStars qualifier    Re-Entered    218000
Anatoly Chen    Russia    Live satellite winner        214000
Frederico Spilimbergo Volpe    Brazil    PokerStars player    Re-Entered    212000
Juan Santos Dominguez    Spain    PokerStars qualifier        211500
Joep Raemaekers    UK    PokerStars player        207000
Anton Vinokurov    Russia    PokerStars player        205000
Shalom Turgeman    Israel            202500
Fernando Campomar Concha    Spain            201500
Carlos Del Vigo Gonzalez    UK    Live satellite winner        200000
Oleksandr Shcherbak    Ukraine            200000
Igor Signaevsky    Russia            195000
Rafael Rojano Ramos    Spain        Re-Entered    194000
Ruben Jimenez Hernandez    Spain            189000
Jacek Pustuła    Poland            186500
Hans Homner    Germany            181000
Mathijs Mulder    Netherlands    PokerStars qualifier    Re-Entered    180000
Sebastian Malec    Poland    PokerStars qualifier        180000
Moshe Ory Refaelowitz    Israel            180000
Sergio Martinez    Spain            178500
Thi Xoa Nguyen    France            177000
Alexandre Fradin    France            176500
Parharm Ahoor    France    Live satellite winner        176000
Dzmitry Rabotkin    Belarus            175500
Tamas Konya    Hungary    PokerStars player        175000
Komil Ruzaev    Russia    Live satellite winner        172000
Benjamin Ane    France            172000
David Petrzelka    Czech Republic            171000
Clement Richard    France    PokerStars player        168500
Arezki Mameche    France            168000
Daniel Mayoral    Spain            166000
Joshua Baxter Palmer    USA            165500
Antonius Krijn    Netherlands    PokerStars player        163500
Andre De Oliveira Sa    Brazil    PokerStars player        163000
Didier Obigand    France            163000
Basem Hamed    Jordan            163000
Ladislao Dalfo Batlle    Spain    PokerStars qualifier        158000
Corey Kempson    Australia    PokerStars player        157500
Fritz Arvid Nygren    Sweden            156500
Daniel Horst Peche    Germany    PokerStars qualifier        155500
Paolo Bonfanti    Italy            155500
Joni Nyman    Finland    PokerStars player        153500
Matthias Hofling    Germany    PokerStars player        151000
Ville Blomqvist    Finland            150500
Patrice Chamarre    France            150000
Johnny Hansen    Denmark            149000
Philip Trannerup    Denmark    PokerStars qualifier        146500
Kim Hemmingsen    Denmark    Live satellite winner        146500
Pawel Brzeski    Poland    PokerStars qualifier        146000
Manuel Zapf    Germany    PokerStars qualifier        145000
Tuukka Meklin    Finland    PokerStars player        145000
Leoonardo Baena    Brazil    PokerStars player        145000
Alessio Sardone    Italy            144500
Thiago Napoleao Gilioli    Brazil    PokerStars player        144500
Casey Kastle    Slovenia            144000
Marcello Miniucchi    Italy            144000
Pablo Bajona Garcia    Spain    PokerStars qualifier        143500
Laura Gallardo Ribot    Spain            143500
Daniele Vesco    Italy            143000
Fabrice Manel    France            142000
Alecsandru Valentin Nita    Spain            140500
Richard Baxter    USA            140500
Felipe Boianovsky    Brazil    PokerStars player        139500
Raul Martinez    Spain            138000
Petar Kalev    Bulgaria            138000
Kalle Keski Opas    Finland            136000
Gabor Szabo    Hungary            135500
Shawn Buchanan    Canada    PokerStars player        135500
Sebastian Delorean    Romania    PokerStars player        134500
Javier Martinez    Spain            134000
Paul Van Oort    Netherlands            133500
Ondrej Pulec    Czech Republic            132500
Petru Tarlev    Portugal            132500
David Algarra Vidana    Spain    PokerStars qualifier        132500
Alberto Tendero    Spain    PokerStars qualifier        131500
Philip Goetz Majgaard    Denmark            131000
Kevin Naegelen    France            130500
Konstantin Farber    Germany    PokerStars qualifier    Re-Entered    130000
Jasper Meijer Van Putten    Netherlands    PokerStars player        126000
Kyriakos Mitsopoulos    Greece    PokerStars qualifier        124500
Manuel Martinez    Spain    PokerStars qualifier        124000
Pasquale Braco    Italy    PokerStars qualifier        123500
Andre Difelice    Canada    PokerStars player        123000
Guilerme Ksyvickis    Brazil    PokerStars player        122500
Vladimir Lappo    Belarus    PokerStars player        121500
Friedrich Meyer    Germany    PokerStars player        118000
Marc Pie    Spain            118000
Luis Alberto De Marco    Spain            117500
Emile Schiff    Netherlands    PokerStars player        117500
Andreas Fantis    Cyprus            117500
Vitor Peixoto Moreira    Brazil    PokerStars player        117000
Eric Rabut    France    PokerStars player        116500
Renaud Lejal    France            116000
Nuno Chiou    Portugal            116000
Jasmin Sertovic    Netherlands    PokerStars qualifier        115500
Marc-Benjamin Tusch    Germany    PokerStars qualifier        115000
Vinicius Moraes Scarpini    Brazil    PokerStars player        114000
Petrus Jacobus Schouten    Netherlands            114000
Jani Suni    Finland            113500
Ferran Corominas    Spain            113000
Jan Bendik    Slovakia            112500
Martin Klaeser    Germany            112500
Ezequiel Lebed    Argentina    PokerStars qualifier        112000
Steven Watts    UK            112000
Avraham Shavit    Israel            110500
Steven Green    Australia            110000
Ivan Grigorev    Russia            110000
Gheorghe Caplescu    Romania            110000
Ivano Massazzi    Italy            109500
Bruno Brunieri Boucas    Brazil    PokerStars player        107000
Siarhei Chudapal    Belarus    PokerStars qualifier        106500
Terry James Nichols    USA            106000
Sergio Alonso Camunas    Spain            105500
Marius Gicovanu    Romania    PokerStars qualifier        105500
Zsolt Pentek    Hungary    PokerStars qualifier        104500
Robert Escribano Dominguez    Spain            104500
Patryk Poterek    Poland    PokerStars player        104000
Marcelo Caceres    Argentina            104000
Aleksandar Tomovic    Serbia            103000
Raja Sekhar    USA            102500
Maxim Klopotok    Ukraine    PokerStars qualifier        102000
Simone Cosentini    Italy            100000
Tor Nyronning    Norway    PokerStars player        99000
Andrey Kotelnikov    Russia    PokerStars qualifier        98000
Claus Vall    Denmark            97500
Philipp Kiefel    Germany            97000
Bartlomiej Swieboda    Poland            95500
Juan Campayo Hernandez    Spain    PokerStars qualifier        95000
Peter Vu    UK            92500
Hidde Aldenkamp    Netherlands            92500
Marti Roca De Torres    Spain            92000
Alessandro Luciani    Italy            89500
Jonathan Therme    France            89000
Alejandro Vazquez Gomez    Spain            88500
Caroline Facius    Sweden            88000
Pedro Cairat    Spain    PokerStars qualifier        87500
Alexandre Reard    France            85500
Lautaro Guerra Cabrerizo    Spain            85500
Georgy Tsikaridze    Russia            84500
Alexander Petriw    UK            84500
Carlos Chang    Taiwan            83500
Denize Stephane    France            82000
Gael Ruiz    France            81500
Andreas Eugster    Switzerland    PokerStars player        81000
Niko Palonen    Finland            80000
Samuel Tape Okou    France            80000
Daniel Ericson    Sweden    PokerStars player        79500
Oleksandr Trokhymenko    Ukraine    PokerStars player        79500
Adam Owen    UK    PokerStars player    Re-Entered    79000
Kaspars Renga    Latvia    PokerStars qualifier        76500
Jimmy Guerrero    France            76000
Martin Wendt    Germany    PokerStars qualifier        76000
Adil Elmazli    Belgium    Live satellite winner        75500
Simon Abou Zaki    Ireland            74500
Georges Sultanem    France            73500
Tarik Bouhidour    Denmark    PokerStars qualifier        73000
Christopher Andler    Sweden    PokerStars player        73000
Abdelkarim El Haddouti    Spain            73000
Nadir Molinari    Switzerland            72500
Carlos Saez Alfonsea    Spain            72500
Angel Cobo    Spain    PokerStars qualifier        71500
Andrea Faiazza    Spain    PokerStars player        71500
Juan Bastida Perez    Spain    PokerStars qualifier        71000
Diogo Veiga    Portugal            70500
Farid Chati    Morocco            69000
Jakub Senk    Czech Republic    PokerStars qualifier        68000
Vitor Moreira    Portugal            66000
Michael Tureniec    Sweden    PokerStars player        66000
Jeff Kirsch    Luxembourg            65500
Allan Udeajah    Germany    PokerStars player        65500
Ovidiu Barna    Romania            65000
Ruben Martin Hernandez    Spain            65000
Abdelhakim Zoufri    Netherlands            65000
David Gonzalez Delgado    Spain    PokerStars qualifier        64000
Felipe Da Costa    Brazil    PokerStars player        64000
Paolo Tonin    Italy            64000
Vincenzo Mollo    Italy            63500
Fouad Bourhani    France            63000
Andres Carrillo Luna    Colombia            63000
Jeremy Palvini    France            62000
Van Thach Vu    Russia        Re-Entered    61500
Domenico Ferraro    Italy            61500
Slaven Popov    Bulgaria    PokerStars qualifier        61000
Joachim Bau Larsen    Denmark        Re-Entered    61000
Rimantas Rusys    Lithuania    PokerStars qualifier        60000
Fabiano Kovalski    Brazil    PokerStars player        60000
Igor Kasyanov    Russia    PokerStars qualifier        59500
Nedelcho Karakolev    Bulgaria            59000
Jose Bordas Neriz    Spain            58900
Mario Francesco Gritti    Italy            58500
Ange Bensnainou    France    Live satellite winner        58500
Antonio Starace    Italy            58500
Jordi Rivelles Sansano    Spain            57500
Daniel Quintana    Spain            57000
Cadric Yves Sevrin    Belgium            57000
Pamela Fawaz    Lebanon            57000
Dimas Blanco    Spain            57000
Daniel Melten    Germany    PokerStars player        56500
Santeri Vaelikoski    Finland    Live satellite winner        55500
Sebastien Novalet    Belgium    PokerStars qualifier    Re-Entered    55500
Georgios Efthymiadis    Greece            55000
Luiz Orrico    Italy    PokerStars player        54000
Deividas Kvaselis    Lithuania    PokerStars qualifier        54000
Andres Gonzalez    Spain    PokerStars player        53500
Thierry Navarro    France            53000
Santiago Lopez Barros    Portugal            53000
Andrea Salvatore    Italy            53000
Eduard Munoz Martin    Spain    PokerStars player        53000
Joao Vieira    Portugal    PokerStars player        53000
Srdjan Patkovic    Sweden    PokerStars player        52000
Aliaksandr Posled    Russia            52000
Francisco Benitez    Uruguay    PokerStars player        52000
Rasmus Agerskov    Denmark    PokerStars qualifier        51500
Vincent Verdickt    Belgium            50000
David Xarau    Spain        Re-Entered    50000
Franco Cardu    Italy            49500
Sandro Injiashvili    Israel        Re-Entered    49000
Ruben Cortes Esteban    Spain    PokerStars qualifier        48500
Antonio Rodriguez Jimenez    Spain    PokerStars qualifier        48500
Haviv Almog    Israel            48500
Leo Oliva    Canada            44500
Benny Kneepkens    Netherlands            41500
Michał Ozimek    Poland    PokerStars player        41000
Joni Palonen    Finland            40500
Guillaume Diaz    France            40000
Mateusz Dziewonski    Poland            40000
Andrea Pacenti    Italy            39500
Mauricio Salazar Sanchez    Colombia    PokerStars qualifier        39500
Pim Gieles    Netherlands    PokerStars qualifier        39500
Matas Cimbolas    Lithuania    PokerStars player        39000
Simeon Spasov    Bulgaria    PokerStars qualifier        38500
Karl Nydahl    Sweden            38000
Ignacio Barcenas Romera    Spain    PokerStars player        37500
Sergey Zybin    Russia    PokerStars qualifier        36500
Oscar Mas Pons    Spain            35500
Sergii Lukashkin    Ukraine    Live satellite winner        35000
Moreno Elias    Spain            34500
Pavlo Kolinkovskyi    Ukraine    PokerStars player        33500
Sakari Setala    Finland            33000
Yonnas Jahren    Norway            32500
Luciana Manolea    Romania    PokerStars qualifier        32500
Martin Urbanek    Czech Republic            32000
Mihail Ghinea    Romania            31500
Antoine Haddad    Lebanon        Re-Entered    31000
Peter Henriksen    Denmark            30000
Viktor Jensen    Sweden            29500
Philippe Lestrade    Belgium            29000
Adrian Cardona Olmos    Spain            23500
Boris Kuzmanovic    Croatia    PokerStars player        19500
Vitaly Tevis    Russia            17000