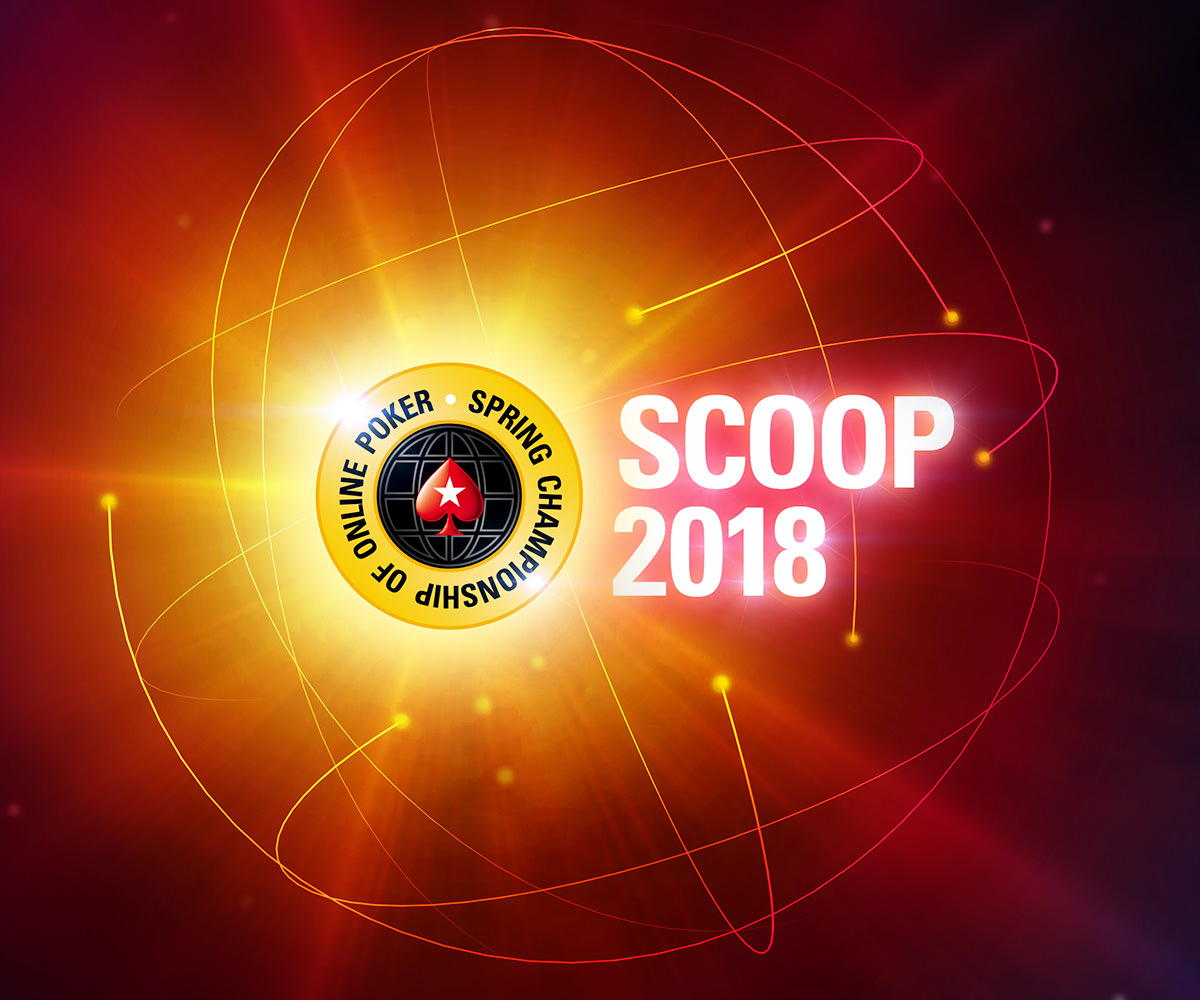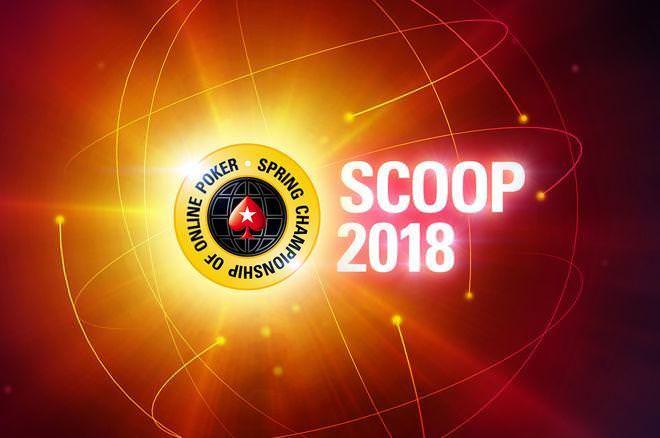 Bereits zum 10. Mal veranstaltet PokerStars die Spring Championship of Online Poker (SCOOP) und vom 6. bis 21. Mai dürfen sich Spieler auf einen unglaublichen garantierten Preispool in Höhe von $65 Millionen freuen. Besonders eindrucksvoll ist, dass PokerStars jeden SCOOP Tag mindestens ein Event mit einem garantierten Preispool von $1.000.000 anbieten wird.
Dieses Online Poker Festival startet am 06.Mai und bis zum 21. Mai werden in Summe 183 Turniere mit Buy-ins zwischen $2,20 bis stolzen $25.000 angeboten. Bei der SCOOP im Vorjahr lag die GTD bei "nur" $55 Millionen und durch den großen Andrang bei den Events kamen am Ende über $93 Millionen an ausbezahlten Turniergeldern zustande.
Außerdem warten fünf $30.000 Platinum Pässe für das 2019 Players No-Limit Hold'em Chamionship auf die Gewinner des High, Medium und Low Main Events. Der Sieger beim SCOOP Leaderboard erhält auch so ein Package und der Gewinner der All-in Shootout Challenge spielt auch beim Mega Freeroll auf den Bahamas im Januar 2019 mit.
Die Highlights der SCOOP 2018 sind mit Sicherheit die High Roller Events am 9. Mai. Für ein Buy-in von $215 bzw. $2.100 werden jeweils $1.000.000 im Preispool garantiert, beim teueren High Roller Event mit einem Buy-in von $25.000 warten sogar mindestens $2.5 Millionen auf die Spieler.
Außerdem wir dein spezielles "10 Years of SCOOP" Freeroll veranstaltet. Jeder Spieler der in den letzten 10 Jahren an einem SCOOP Turnier teilgenommen hat, erhält ein Ticket für dieses $50.000 Freeroll, Start ist am Samstag um 12:00 Uhr ET.
Die drei Main Events starten am Sonntag den 20. Mai und es warten in Summe unglaubliche $10,5 Millionen an garantierten Preispools auf die Spieler. Auf PokerStars laufen bereits die diversen SCOOP Qualifier, falls ihr noch kein Konto bei PokerStars besitzt, könnt ihr euch eines über diesen LINK anlegen.
Anbei eine Übersicht aller SCOOP 2018 Turniere:
| | | | |
| --- | --- | --- | --- |
| Date | Time (EST) | Event | Guarantee |
| Varies | Varies | SCOOP-01-L – $2.20 NLHE [Phase][1] | $150,000 |
| | | SCOOP-01-M – $22 NLHE [Phase][1] | $1 million |
| | | SCOOP-01-H – $215 NLHE [Phase][1] | $1.5 million |
| Sun. May 6 | 08:00 | SCOOP-02-L – $11 NLHE [8-Max,][Mini][Sunday][Kickoff][SE] | $100,000 |
| | 08:00 | SCOOP-02-M – $109 NLHE [8-Max,][Sunday][Kickoff][SE] | $250,000 |
| | 08:00 | SCOOP-02-H – $1,050 NLHE [8-Max] | $500,000 |
| | | | |
| | 10:30 | SCOOP-03-L – $22 NLHE [Progressive][KO] | $250,000 |
| | 10:30 | SCOOP-03-M – $215 NLHE [Progressive][KO,][Sunday][Warm-Up][SE] | $750,000 |
| | 10:30 | SCOOP-03-H – $2,100 NLHE [Progressive][KO] | $1 million |
| | | | |
| | 13:00 | SCOOP-04-L – $22 NLHE [Mini][Sunday][Million][SE] | $200,000 |
| | 13:00 | SCOOP-04-M – $215 NLHE [Sunday][Million][SE] | $1 million |
| | 13:00 | SCOOP-04-H – $2,100 NLHE | $1 million |
| | | | |
| | 15:00 | SCOOP-05-L – $22 PLO [6-Max] | $100,000 |
| | 15:00 | SCOOP-05-M – $215 PLO [6-Max] | $250,000 |
| | 15:00 | SCOOP-05-H – $2,100 PLO [6-Max] | $500,000 |
| | | | |
| | 16:30 | SCOOP-06-L – $11 NLHE [6-Max] | $50,000 |
| | 16:30 | SCOOP-06-M – $109 NLHE [6-Max] | $200,000 |
| | 16:30 | SCOOP-06-H – $1,050 NLHE [6-Max] | $400,000 |
| | | | |
| Mon. May 7 | 11:00 | SCOOP-07-L – $22 NLO8 [6-Max,][Progressive][KO] | $50,000 |
| | 11:00 | SCOOP-07-M – $215 NLO8 [6-Max,][Progressive][KO] | $100,000 |
| | 11:00 | SCOOP-07-H – $2,100 NLO8 [6-Max,][Progressive][KO] | $200,000 |
| | | | |
| | 13:00 | SCOOP-08-L – $11 NLHE [8-Max,][Progressive][KO] | $150,000 |
| | 13:00 | SCOOP-08-M – $109 NLHE [8-Max,][Progressive][KO] | $400,000 |
| | 13:00 | SCOOP-08-H – $1,050 NLHE [8-Max,][Progressive][KO] | $1 million |
| | | | |
| | 15:00 | SCOOP-09-L – $11 HORSE | $30,000 |
| | 15:00 | SCOOP-09-M – $109 HORSE | $75,000 |
| | 15:00 | SCOOP-09-H – $1,050 HORSE | $150,000 |
| | | | |
| Tues. May 8 | 11:00 | SCOOP-10-L – $22 Razz | $35,000 |
| | 11:00 | SCOOP-10-M – $215 Razz | $75,000 |
| | 11:00 | SCOOP-10-H – $2,100 Razz | $150,000 |
| | | | |
| | 13:00 | SCOOP-11-L – $11 NLHE | $100,000 |
| | 13:00 | SCOOP-11-M – $109 NLHE [Mini][Super][Tuesday][SE] | $350,000 |
| | 13:00 | SCOOP-11-H – $1,050 NLHE [Super][Tuesday][SE] | $1 million |
| | | | |
| | 16:00 | SCOOP-12-L – $5.50 NLHE [6-Max,][Progressive][KO,][Win][the][Button] | $50,000 |
| | 16:00 | SCOOP-12-M – $55 NLHE [6-Max,][Progressive][KO,][Win][the][Button] | $200,000 |
| | 16:00 | SCOOP-12-H – $530 NLHE [6-Max,][Progressive][KO,][Win][the][Button] | $400,000 |
| | | | |
| Wed. May 9 | 11:00 | SCOOP-13-L – $22 Triple Draw | $30,000 |
| | 11:00 | SCOOP-13-M – $215 Triple Draw | $60,000 |
| | 11:00 | SCOOP-13-H – $2,100 Triple Draw | $175,000 |
| | | | |
| | 13:00 | SCOOP-14-L – $215 NLHE [8-Max,][High][Roller] | $1 million |
| | 13:00 | SCOOP-14-M – $2,100 NLHE [8-Max,][High][Roller] | $1 million |
| | 13:00 | SCOOP-14-H – $25,000 NLHE [8-Max,][High][Roller] | $2.5 million |
| | | | |
| | 15:00 | SCOOP-15-L – $5.50+R PLO [6-Max] | $50,000 |
| | 15:00 | SCOOP-15-M – $55+R PLO [6-Max] | $100,000 |
| | 15:00 | SCOOP-15-H – $530+R PLO [6-Max] | $250,000 |
| | | | |
| | 16:30 | SCOOP-16-L – $55 NLHE [6-Max,][Turbo,][High][Roller] | $150,000 |
| | 16:30 | SCOOP-16-M – $530 NLHE [6-Max,][Turbo,][High][Roller] | $300,000 |
| | 16:30 | SCOOP-16-H – $5,200 NLHE [6-Max,][Turbo,][High][Roller] | $500,000 |
| | | | |
| Thurs. May 10 | 11:00 | SCOOP-17-L – $22 FLHE [6-Max] | $25,000 |
| | 11:00 | SCOOP-17-M – $215 FLHE [6-Max] | $50,000 |
| | 11:00 | SCOOP-17-H – $2,100 FLHE [6-Max] | $150,000 |
| | | | |
| | 13:00 | SCOOP-18-L – $11 NLHE [Progressive][KO] | $150,000 |
| | 13:00 | SCOOP-18-M – $109 NLHE [Progressive][KO,][Mini][Thursday][Thrill][SE] | $500,000 |
| | 13:00 | SCOOP-18-H – $1,050 NLHE [Progressive][KO,][Thursday][Thrill][SE] | $1 million |
| | | | |
| | 16:00 | SCOOP-19-L – $22 NLHE [6-Max] | $100,000 |
| | 16:00 | SCOOP-19-M – $215 NLHE [6-Max] | $250,000 |
| | 16:00 | SCOOP-19-H – $2,100 NLHE [6-Max] | $500,000 |
| | | | |
| Fri. May 11 | 11:00 | SCOOP-20-L – $11 PLO8 [8-Max] | $25,000 |
| | 11:00 | SCOOP-20-M – $109 PLO8 [8-Max] | $75,000 |
| | 11:00 | SCOOP-20-H – $1,050 PLO8 [8-Max] | $150,000 |
| | | | |
| | 13:00 | SCOOP-21-L – $22 NLHE | $150,000 |
| | 13:00 | SCOOP-21-M – $215 NLHE | $400,000 |
| | 13:00 | SCOOP-21-H – $2,100 NLHE | $1 million |
| | | | |
| | 15:30 | SCOOP-22-L – $22 NLHE [6-Max,][Shootout] | $50,000 |
| | 15:30 | SCOOP-22-M – $215 NLHE [6-Max,][Shootout] | $150,000 |
| | 15:30 | SCOOP-22-H – $2,100 NLHE [6-Max,][Shootout] | $300,000 |
| | | | |
| | 17:30 | SCOOP-23-L – $5.50 5-Card NLO [6-Max,][Turbo] | $20,000 |
| | 17:30 | SCOOP-23-M – $55 5-Card NLO [6-Max,][Turbo] | $50,000 |
| | 17:30 | SCOOP-23-H – $530 5-Card NLO [6-Max,][Turbo] | $150,000 |
| | | | |
| Sat. May 12 | 11:00 | SCOOP-24-L – $22 8-Game | $40,000 |
| | 11:00 | SCOOP-24-M – $215 8-Game | $100,000 |
| | 11:00 | SCOOP-24-H – $2,100 8-Game | $250,000 |
| | | | |
| | 13:00 | SCOOP-25-L – $5.50+R NLHE | $125,000 |
| | 13:00 | SCOOP-25-M – $55+R NLHE | $250,000 |
| | 13:00 | SCOOP-25-H – $530+R NLHE | $400,000 |
| | | | |
| | 14:30 | SCOOP-26-L – $11 FLO8 [8-Max] | $25,000 |
| | 14:30 | SCOOP-26-M – $109 FLO8 [8-Max] | $50,000 |
| | 14:30 | SCOOP-26-H – $1,050 FLO8 [8-Max] | $125,000 |
| | | | |
| | 16:00 | SCOOP-27-L – $11 NLHE [6-Max,][Progressive][KO,][Turbo] | $125,000 |
| | 16:00 | SCOOP-27-M – $109 NLHE [6-Max,][Progressive][KO,][Turbo] | $350,000 |
| | 16:00 | SCOOP-27-H – $1,050 NLHE [6-Max,][Progressive][KO,][Turbo] | $1 million |
| | | | |
| Sun. May 13 | 05:00 | SCOOP-28-L – $5.50 NLHE | $30,000 |
| | 05:00 | SCOOP-28-M – $55 NLHE | $100,000 |
| | 05:00 | SCOOP-28-H – $530 NLHE | $200,000 |
| | | | |
| | 08:00 | SCOOP-29-L – $11 NLHE [8-Max,][Progressive][KO,][Mini][Sunday][Kickoff][SE] | $75,000 |
| | 08:00 | SCOOP-29-M – $109 NLHE [8-Max,][Progressive][KO,][Sunday][Kickoff][SE] | $250,000 |
| | 08:00 | SCOOP-29-H – $1,050 NLHE [8-Max,][Progressive][KO] | $500,000 |
| | | | |
| | 10:30 | SCOOP-30-L – $22 NLHE [6-Max] | $150,000 |
| | 10:30 | SCOOP-30-M – $215 NLHE [6-Max,][Sunday][Warm-Up][SE] | $500,000 |
| | 10:30 | SCOOP-30-H – $2,100 NLHE [6-Max] | $ 1 million |
| | | | |
| | 13:00 | SCOOP-31-L – $5.50 NLHE | $50,000 |
| | 13:00 | SCOOP-31-M – $55 NLHE [Mini][Sunday][Million][SE] | $250,000 |
| | 13:00 | SCOOP-31-H – $530 NLHE [Sunday][Million][SE] | $1 million |
| | | | |
| | 15:00 | SCOOP-32-L – $109 PLO [6-Max,][High][Roller] | $200,000 |
| | 15:00 | SCOOP-32-M – $1,050 PLO [6-Max,][High][Roller] | $500,000 |
| | 15:00 | SCOOP-32-H – $10,300 PLO [6-Max,][High][Roller] | $1 million |
| | | | |
| Mon. May 14 | 11:00 | SCOOP-33-L – $11 Stud8 | $20,000 |
| | 11:00 | SCOOP-33-M – $109 Stud8 | $50,000 |
| | 11:00 | SCOOP-33-H – $1,050 Stud8 | $150,000 |
| | | | |
| | 13:00 | SCOOP-34-L – $5.50 NLHE [6-Max,][Progressive][KO] | $75,000 |
| | 13:00 | SCOOP-34-M – $55 NLHE [6-Max,][Progressive][KO] | $250,000 |
| | 13:00 | SCOOP-34-H – $530 NLHE [6-Max,][Progressive][KO] | $1 million |
| | | | |
| | 15:00 | SCOOP-35-L – $11 5-Card NLO8 [6-Max] | $40,000 |
| | 15:00 | SCOOP-35-M – $109 5-Card NLO8 [6-Max] | $100,000 |
| | 15:00 | SCOOP-35-H – $1,050 5-Card NLO8 [6-Max] | $200,000 |
| | | | |
| Tues. May 15 | 10:00 | SCOOP-36-L – $5.50 NLHE [Deep][Stacks] | $50,000 |
| | 10:00 | SCOOP-36-M – $55 NLHE [Deep][Stacks] | $200,000 |
| | 10:00 | SCOOP-36-H – $530 NLHE [Deep][Stacks] | $400,000 |
| | | | |
| | 13:00 | SCOOP-37-L – $22 NLHE [8-Max] | $150,000 |
| | 13:00 | SCOOP-37-M – $215 NLHE [8-Max,][Mini][Super][Tuesday][SE] | $400,000 |
| | 13:00 | SCOOP-37-H – $2,100 NLHE [8-Max,][Super][Tuesday][SE] | $1 million |
| | | | |
| | 15:00 | SCOOP-38-L – $5.50 PLO [4-Max,][Progressive][KO] | $50,000 |
| | 15:00 | SCOOP-38-M – $55 PLO [4-Max,][Progressive][KO] | $100,000 |
| | 15:00 | SCOOP-38-H – $530 PLO [4-Max,][Progressive][KO] | $200,000 |
| | | | |
| Wed. May 16 | 11:00 | SCOOP-39-L – $11 NLO8 [6-Max] | $25,000 |
| | 11:00 | SCOOP-39-M – $109 NLO8 [6-Max] | $75,000 |
| | 11:00 | SCOOP-39-H – $1,050 NLO8 [6-Max] | $175,000 |
| | | | |
| | 13:00 | SCOOP-40-L – $55 NLHE [8-Max,][High][Roller] | $200,000 |
| | 13:00 | SCOOP-40-M – $530 NLHE [8-Max,][High][Roller] | $500,000 |
| | 13:00 | SCOOP-40-H – $5,200 NLHE [8-Max,][High][Roller] | $1 million |
| | | | |
| | 14:30 | SCOOP-41-L – $22 HORSE | $30,000 |
| | 14:30 | SCOOP-41-M – $215 HORSE | $75,000 |
| | 14:30 | SCOOP-41-H – $2,100 HORSE | $200,000 |
| | | | |
| | 16:00 | SCOOP-42-L – $22 NLHE [Heads-Up] | $40,960 |
| | 16:00 | SCOOP-42-M – $215 NLHE [Heads-Up] | $102,400 |
| | 16:00 | SCOOP-42-H – $2,100 NLHE [Heads-Up] | $256,000 |
| | | | |
| | 19:00 | SCOOP-43-L – $11 NLHE | $50,000 |
| | 19:00 | SCOOP-43-M – $109 NLHE | $150,000 |
| | 19:00 | SCOOP-43-H – $1,050 NLHE | $300,000 |
| | | | |
| Thurs. May 17 | 10:00 | SCOOP-44-L – $5.50 NLHE [6-Max] | $50,000 |
| | 10:00 | SCOOP-44-M – $55 NLHE [6-Max] | $150,000 |
| | 10:00 | SCOOP-44-H – $530 NLHE [6-Max] | $350,000 |
| | | | |
| | 13:00 | SCOOP-45-L – $22 NLHE [8-Max,][Progressive][KO], $200K Gtd | $200,000 |
| | 13:00 | SCOOP-45-M – $215 NLHE [8-Max,][Progressive][KO,][Mini][Thursday][Thrill][SE] | $500,000 |
| | 13:00 | SCOOP-45-H – $2,100 NLHE [8-Max,][Progressive][KO,][Thursday][Thrill][SE] | $1 million |
| | | | |
| | 15:00 | SCOOP-46-L – $5.50 8-Game | $10,000 |
| | 15:00 | SCOOP-46-M – $55 8-Game | $40,000 |
| | 15:00 | SCOOP-46-H – $530 8-Game | $100,000 |
| | | | |
| Fri. May 18 | 09:00 | SCOOP-47-L – $5.50 NLHE [8-Max] | $30,000 |
| | 09:00 | SCOOP-47-M – $55 NLHE [8-Max] | $100,000 |
| | 09:00 | SCOOP-47-H – $530 NLHE [8-Max] | $200,000 |
| | | | |
| | 11:00 | SCOOP-48-L – $22 PLO [6-Max,][Win][the][Button] | $75,000 |
| | 11:00 | SCOOP-48-M – $215 PLO [6-Max,][Win][the][Button] | $150,000 |
| | 11:00 | SCOOP-48-H – $2,100 PLO [6-Max,][Win][the][Button] | $400,000 |
| | | | |
| | 13:00 | SCOOP-49-L – $11 NLHE | $60,000 |
| | 13:00 | SCOOP-49-M – $109 NLHE | $200,000 |
| | 13:00 | SCOOP-49-H – $1,050 NLHE | $1 million |
| | | | |
| | 14:30 | SCOOP-50-L – $11 FL Badugi | $15,000 |
| | 14:30 | SCOOP-50-M – $109 FL Badugi | $30,000 |
| | 14:30 | SCOOP-50-H – $1,050 FL Badugi | $60,000 |
| | | | |
| | 16:00 | SCOOP-51-L – $5.50 NLHE [3-Max,][Progressive][KO,][Zoom,][Turbo] | $75,000 |
| | 16:00 | SCOOP-51-M – $55 NLHE [3-Max,][Progressive][KO,][Zoom,][Turbo] | $250,000 |
| | 16:00 | SCOOP-51-H – $530 NLHE [3-Max,][Progressive][KO,][Zoom,][Turbo] | $500,000 |
| | | | |
| Sat. May 19 | 11:00 | SCOOP-52-L – $11 Stud | $15,000 |
| | 11:00 | SCOOP-52-M – $109 Stud | $30,000 |
| | 11:00 | SCOOP-52-H – $1,050 Stud | $60,000 |
| | | | |
| | 13:00 | SCOOP-53-L – $5.50 NLHE [8-Max,][Progressive][KO,][Win][the][Button] | $100,000 |
| | 13:00 | SCOOP-53-M – $55 NLHE [8-Max,][Progressive][KO,][Win][the][Button] | $300,000 |
| | 13:00 | SCOOP-53-H – $530 NLHE [8-Max,][Progressive][KO,][Win][the][Button] | $1 million |
| | | | |
| | 15:00 | SCOOP-54-L – $22 NLHE [4-Max] | $100,000 |
| | 15:00 | SCOOP-54-M – $215 NLHE [4-Max] | $250,000 |
| | 15:00 | SCOOP-54-H – $2,100 NLHE [4-Max] | $500,000 |
| | | | |
| | 16:30 | SCOOP-55-L – $5.50 NLO8 [8-Max] | $20,000 |
| | 16:30 | SCOOP-55-M – $55 NLO8 [8-Max] | $60,000 |
| | 16:30 | SCOOP-55-H – $530 NLO8 [8-Max] | $125,000 |
| | | | |
| Sun. May 20 | 08:00 | SCOOP-56-L – $5.50 NLHE [Mini][Sunday][Kickoff][SE] | $50,000 |
| | 08:00 | SCOOP-56-M – $55 NLHE [Sunday][Kickoff][SE] | $175,000 |
| | 08:00 | SCOOP-56-H – $530 NLHE | $400,000 |
| | | | |
| | 11:00 | SCOOP-57-L – $22 NLHE [8-Max] | $200,000 |
| | 11:00 | SCOOP-57-M – $215 NLHE [8-Max,][Sunday][Warm-Up][SE] | $500,000 |
| | 11:00 | SCOOP-57-H – $2,100 NLHE [8-Max] | $1 million |
| | | | |
| | 12:30 | SCOOP-01-L – $2.20 NLHE [Phase][2] | $150,000 |
| | 12:30 | SCOOP-01-M – $22 NLHE [Phase][2] | $1 million |
| | 12:30 | SCOOP-01-H – $215 NLHE [Phase][2] | $1.5 million |
| | | | |
| | 14:00 | SCOOP-58-L – $109 NLHE [Main][Event] | $1.5 million |
| | 14:00 | SCOOP-58-M – $1,050 NLHE [Main][Event] | $4 million |
| | 14:00 | SCOOP-58-H – $10,300 NLHE [Main][Event] | $5 million |
| | | | |
| | 15:30 | SCOOP-59-L – $11 PLO8 [6-Max] | $30,000 |
| | 15:30 | SCOOP-59-M – $109 PLO8 [6-Max] | $100,000 |
| | 15:30 | SCOOP-59-H – $1,050 PLO8 [6-Max] | $250,000 |
| | | | |
| | 17:00 | SCOOP-60-L – $11 NLHE [Progressive][KO,][Turbo] | $125,000 |
| | 17:00 | SCOOP-60-M – $109 NLHE [Progressive][KO,][Turbo] | $400,000 |
| | 17:00 | SCOOP-60-H – $1,050 NLHE [Progressive][KO,][Turbo] | $1 million |
| | | | |
| Mon. May 21 | 13:00 | SCOOP-61-L – $11 NLHE [8-Max,][Progressive][KO,][Wrap-Up] | $200,000 |
| | 13:00 | SCOOP-61-M – $109 NLHE [8-Max,][Progressive][KO,][Wrap-Up] | $500,000 |
| | 13:00 | SCOOP-61-H – $1,050 NLHE [8-Max,][Progressive][KO,][Wrap-Up] | $1 million |