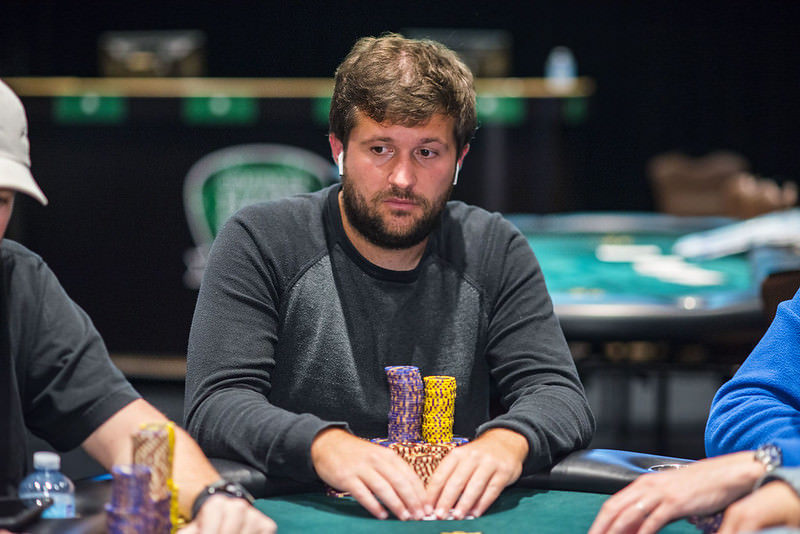 Die WPT Saison XVII neigt sich langsam aber sicher dem Ende entgegen. Nach dem aktuell stattfindenden WPT Showdown im Seminole Hard Rock Casino folgen noch zwei WPT Turniere (das WPT Choctaw & die WPT Aria Summer Championship), bevor die Saison 2018/19 mit dem Baccarat Crystal WPT Tournament of Champions am 1. Juni in Las Vegas beendet wird.
In Hollywood Florida wird bei dem WPT $3.500 SHR Showdown der 17. Sieger der laufenden Saison ausgespielt. Gestern fand Tag 3 des gut besetzten Turniers statt, bei dem noch 90 Spieler der einst 1.360 Entries an die Tische zurückkehren durften. Bis zum Ende des Tages wurde das Spielerfeld bis auf 18 Teilnehmer dezimiert, wobei es den einen oder anderen Hochkaräter wie z.B Erik Seidel, Darren Elias, Will Failla oder Niall Farrell aus dem Turnier schoss.
Einen bärenstarken Tag erwischte der US-Amerikaner Chad Eveslage (Bild oben), der mit gut 20% aller Chips die Führung erobern konnte.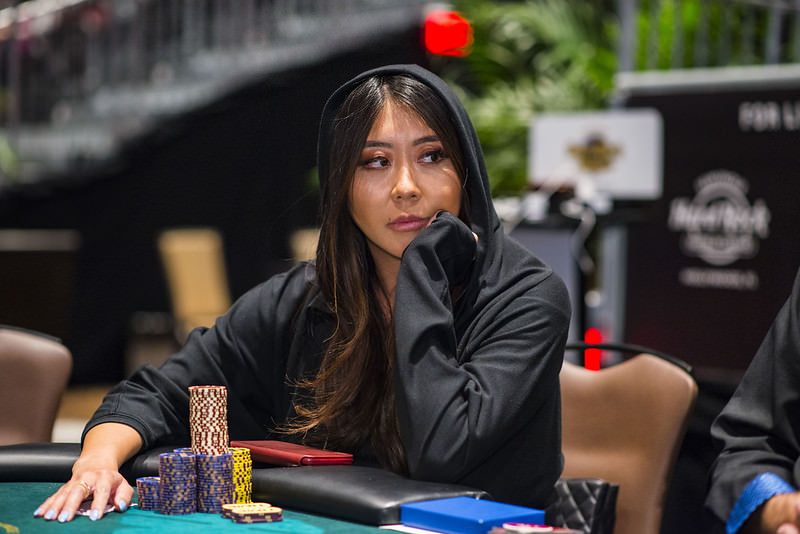 Erster Verfolger des Führenden ist der ehemalige WPT-Champ James Carroll, der als Zweitplatzierter bereits über fünf Millionen Chips Rückstand hat. Unter den Big Stack befindet sich auch Maria Ho, die sich an Tag 3 bis auf Rang fünf vorarbeiten konnte. Für die Überraschung des Tages sorgte NFL Hall of Famer Richard Seymour, der jedoch heute zu Tag 4 als Shortstack zurückkehren wird.
WPT Seminole Hard Rock Poker Showdown – Ergebnisse nach Tag 3
Entries: 1.360
Preispool: $4.352.000
Chad Eveslage
10,760,000
James Carroll
5,250,000
Jason Marshman
4,700,000
Jerry Robinson
4,400,000
Maria Ho
4,175,000
Danny Qutami
4,085,000
Ryan D'Angelo
3,900,000
Vladimir Vasilyev
3,185,000
Dan Chalifour
2,935,000
Ami Alibay
2,720,000
Jerry Wong
2,045,000
Taylor Black
1,460,000
Eric Afriat
1,040,000
Ari Dinov
975,000
Brett Murray
845,000
Dien Le
680,000
Richard Seymour
660,000
Victor Figueroa
550,000
Bisherige Payouts
| | | |
| --- | --- | --- |
|   | 1 | $715,175 |
|   | 2 | $465,120 |
|   | 3 | $344,960 |
|   | 4 | $257,815 |
|   | 5 | $194,610 |
|   | 6 | $148,380 |
|   | 7 | $114,285 |
|   | 8 | $88,930 |
|   | 9 | $69,920 |
|   | 10 | $69,920 |
|   | 11 | $55,550 |
|   | 12 | $55,550 |
|   | 13 | $44,600 |
|   | 14 | $44,600 |
| | 15 | $36,195 |
| | 16 | $36,195 |
| | 17 | $29,690 |
| | 18 | $29,690 |
| Keith Ferrera | 19 | $29,690 |
| Timothy Banks | 20 | $29,690 |
| Antonios Roungeris | 21 | $24,625 |
| Martin Raus | 22 | $24,625 |
| Steve Firestone | 23 | $24,625 |
| Truyen Nguyen | 24 | $24,625 |
| Joe Elpayaa | 25 | $20,650 |
| Anthony Hu | 26 | $20,650 |
| Kevin Andriamahefa | 27 | $20,650 |
| Aaron Duczak | 28 | $20,650 |
| Tam Cao | 29 | $20,650 |
| Vlad Revniaga | 30 | $20,650 |
| Will Failla | 31 | $20,650 |
| Dave Farah | 32 | $20,650 |
| Christopher Gilkey | 33 | $17,510 |
| Aaron Klausman | 34 | $17,510 |
| Erik Seidel | 35 | $17,510 |
| Jonathan Akiba | 36 | $17,510 |
| Michael Azzaro | 37 | $17,510 |
| Jony Farah | 38 | $17,510 |
| A.J. Nimer | 39 | $17,510 |
| Deric Williams | 40 | $17,510 |
| Michael Moreno | 41 | $15,015 |
| Jorge Morales | 42 | $15,015 |
| Joelle Guarino | 43 | $15,015 |
| Kou Vang | 44 | $15,015 |
| John Gravagna | 45 | $15,015 |
| Jared Hemingway | 46 | $15,015 |
| Richard Bai | 47 | $15,015 |
| John Miller | 48 | $15,015 |
| Samm Wiggins | 49 | $13,025 |
| Andrew Peplinski | 50 | $13,025 |
| Kevin Garosshen | 51 | $13,025 |
| Sulabh Choudhury | 52 | $13,025 |
| Aaron Mermelstein | 53 | $13,025 |
| Barry Pevner | 54 | $13,025 |
| Niall Farrell | 55 | $13,025 |
| Kyle Chang | 56 | $13,025 |
| Robert Mizrachi | 57 | $11,425 |
| Nick Palma | 58 | $11,425 |
| Jacob Wojtuniecki | 59 | $11,425 |
| Justin Young | 60 | $11,425 |
| Patrick Serda | 61 | $11,425 |
| Mario De La Puente | 62 | $11,425 |
| Shawn Nguyen | 63 | $11,425 |
| Seth Davies | 64 | $11,425 |
| Shankar Pillai | 65 | $10,145 |
| Aaron Massey | 66 | $10,145 |
| Ryan Hughes | 67 | $10,145 |
| Nigel Murray | 68 | $10,145 |
| Brett Apter | 69 | $10,145 |
| Uri Kadosh | 70 | $10,145 |
| Michael Vanderwoude | 71 | $10,145 |
| John Roveto | 72 | $10,145 |
| Andrew Dudley | 73 | $9,110 |
| Ian Matakis | 74 | $9,110 |
| Jorge Martinez | 75 | $9,110 |
| Kenneth Fagioli | 76 | $9,110 |
| Julio Rodriguez | 77 | $9,110 |
| Vic Adams | 78 | $9,110 |
| Amir Turkzadeh | 79 | $9,110 |
| Mark Dube | 80 | $9,110 |
| Harrison Gimbel | 81 | $8,285 |
| Jason Wandling | 82 | $8,285 |
| Jeffrey Silverstein | 83 | $8,285 |
| Jeffrey Chang | 84 | $8,285 |
| Nizar Dajani | 85 | $8,285 |
| Frank Stepuchin | 86 | $8,285 |
| Matthew Leecy | 87 | $8,285 |
| Emmanuel Ojeda | 88 | $8,285 |
| Darren Elias | 89 | $8,285 |
| Matthew Wantman | 90 | $7,620 |
| Justin Zaki | 91 | $7,620 |
| Michael Scoma | 92 | $7,620 |
| Zyad Qasem | 93 | $7,620 |
| Steven Forman | 94 | $7,620 |
| Thai Ha | 95 | $7,620 |
| Anthony Zinno | 96 | $7,620 |
| Michael Dyer | 97 | $7,620 |
| Elia Ahmadian | 98 | $7,620 |
| Harvey Vandeven | 99 | $7,100 |
| Ory Hen | 100 | $7,100 |
| Joseph McArthur | 101 | $7,100 |
| Artem Zverkhovskyy | 102 | $7,100 |
| Faraz Jaka | 103 | $7,100 |
| Theodore Prystal | 104 | $7,100 |
| Cameron Mitchell | 105 | $7,100 |
| Michael Newman | 106 | $7,100 |
| Jacob Toole | 107 | $7,100 |
| Robert Black | 108 | $7,100 |
| Alexandre Sako | 109 | $7,100 |
| Aaron Kweskin | 110 | $7,100 |
| Marcus Stein | 111 | $7,100 |
| Victor Ramdin | 112 | $7,100 |
| Evan Teitelbaum | 113 | $7,100 |
| Ryan Yu | 114 | $7,100 |
| Richard Lowe | 115 | $7,100 |
| Frank Russo | 116 | $7,100 |
| Glenn Fishbein | 117 | $6,695 |
| Tyler Patterson | 118 | $6,695 |
| Esther Foley | 119 | $6,695 |
| Paul Snead | 120 | $6,695 |
| George Wolff | 121 | $6,695 |
| David ODB Baker | 122 | $6,695 |
| Ubaid Habib | 123 | $6,695 |
| Michael Tureniec | 124 | $6,695 |
| Scotty Nguyen | 125 | $6,695 |
| Cody Bell | 126 | $6,695 |
| David McGowan | 127 | $6,695 |
| Ping Liu | 128 | $6,695 |
| Robert Capote | 129 | $6,695 |
| Steven Rosen | 130 | $6,695 |
| Scott Robbins | 131 | $6,695 |
| Dylan Wilkerson | 132 | $6,695 |
| Sam Panzica | 133 | $6,695 |
| Dylan Linde | 134 | $6,695 |
| Thomas Gabriel | 135 | $6,395 |
| Ofer Peleg | 136 | $6,395 |
| Kenny Nguyen | 137 | $6,395 |
| Ravi Raghavan | 138 | $6,395 |
| Brian Hastings | 139 | $6,395 |
| Matthew Waxman | 140 | $6,395 |
| Kevin Ho | 141 | $6,395 |
| Christopher Brown | 142 | $6,395 |
| Neil Blumenfield | 143 | $6,395 |
| Charles Odenz | 144 | $6,395 |
| Gavin O'Rourke | 145 | $6,395 |
| Hongkong Nguyen | 146 | $6,395 |
| Nick Yunis | 147 | $6,395 |
| Aron Dermer | 148 | $6,395 |
| Ira Friedman | 149 | $6,395 |
| Michael Maresca | 150 | $6,395 |
| Vlad Mezheritsky | 151 | $6,395 |
| Justin Adams | 152 | $6,395 |
| Brian Nerney | 153 | $6,185 |
| Brandon Caputo | 154 | $6,185 |
| Patrick Clarke | 155 | $6,185 |
| Kevin Wright | 156 | $6,185 |
| Austin Srur | 157 | $6,185 |
| Steve Wolansky | 158 | $6,185 |
| Andrew Crookston | 159 | $6,185 |
| Billy Pilossoph | 160 | $6,185 |
| Adrian Turner | 161 | $6,185 |
| A.J. Gambino | 162 | $6,185 |
| Bryan Lewis | 163 | $6,185 |
| Tony Utnage | 164 | $6,185 |
| Javier Zarco | 165 | $6,185 |
| Brandon Shane | 166 | $6,185 |
| Edward McNamara | 167 | $6,185 |
| Greg Jennings | 168 | $6,185 |
| Jessica Dawley | 169 | $6,185 |
| Ryan Olisar | 170 | $6,185 |
Quelle / Bildquelle: WPT.com