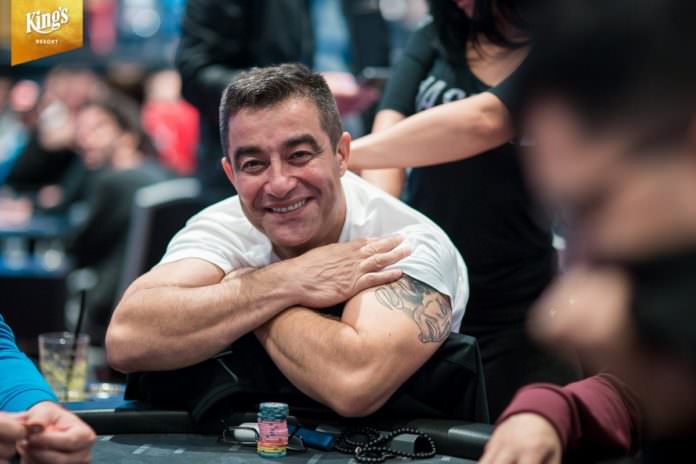 Es ist soweit: Das 11. Main Event in der Geschichte der World Series of Poker Europe (WSOPE) ist gestartet. Wieder wird ein Stück Pokergeschichte im King's Resort Rozvadov geschrieben. Die ganz großen Namen setzten sich nach 2 Turnierwochen in Tschechien im €10.000+€350 Main Event an den Tisch, um in die Fußstapfen von Spielern wie Annette Obrestad, John Juanda, Kevin MacPhee oder Phil Hellmuth zu treten. Und nicht nur große Pokerpersönlichkeiten waren im Pokerroom des King's zu sehen, denn nach 7 gespielten 90-minütigen Blindleveln gab es auch große Chipstacks einzutüten: Am meisten zu tun, hatten am Tagesende die Chipleader Alex Foxen, Anton Morgenstern und Oleh Okhotskyi.
Viele freie Stühle zum Start / Rekordbeteiligung am Tagesende
Als die Spieler zum "Shuffle Up and Deal" ihre Starting Stacks von 100.000 Chips an den Tischen in Empfang nahmen, hatten sie zunächst viel Platz um sich herum. Etwas über 50 Teilnehmer waren zum regulären Start erschienen und spielten zunächst überall short-handed. Doch nach und nach füllten sich die Tische, und am Tagesende stand verzeichnete das King's mit 194 Total Entries (190 Entries + 4 Re-Entries) einen neuen Teilnehmerrekord an Tag 1A. Aufgrund der deepen Tablestakes und der langen Blindlevel und der bis nach Level 12 (Tag 2) geöffneten Late-Registration, konnten es die Akteure gemächlich angehen lassen – dennoch schafften es einige Spieler große Mengen an Chips zu akkumulieren.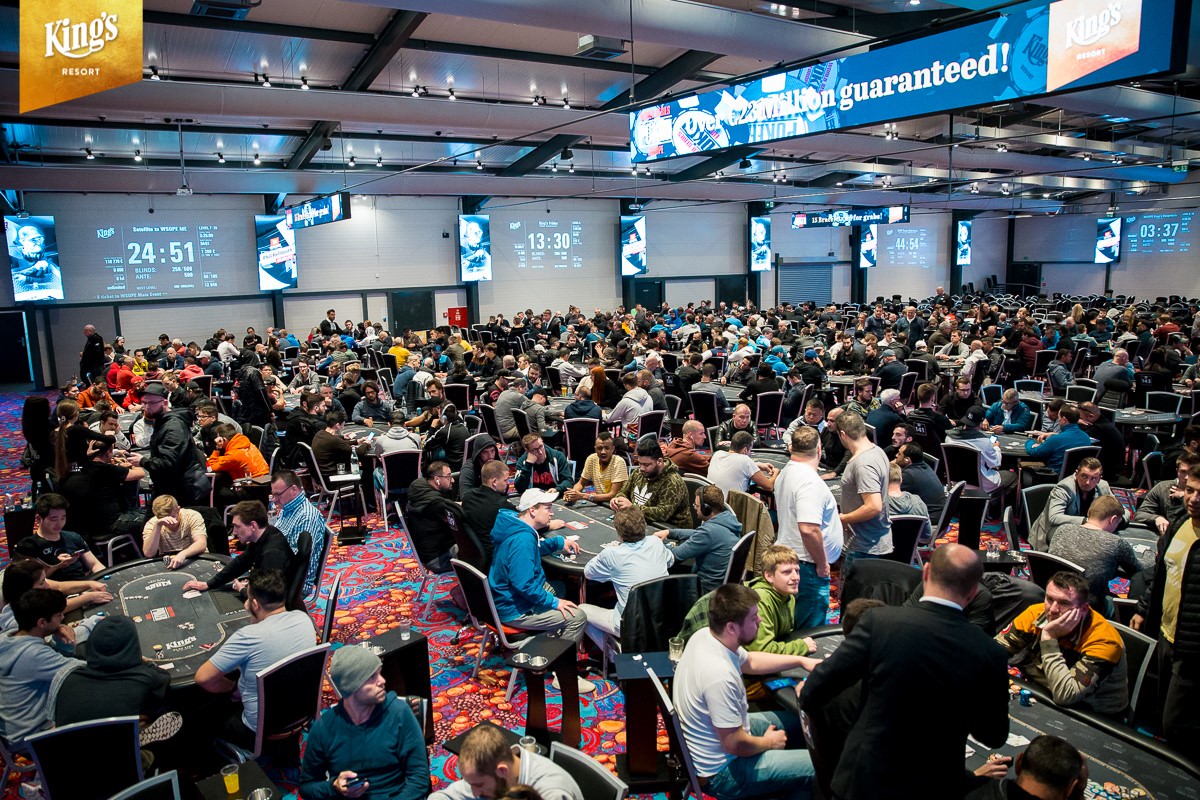 Anton Morgenstern und Alex Foxen tüten die meisten Chips ein
Die ambitioniertesten Chipssammler nach 7 Leveln waren Oleh Okhotskiy aus der Ukraine (433.900), Anton Morgenstern aus Deutschland (460.000) und Alex Foxen aus den USA (537.200). Foxen, der ein Regular unter den Super High Rollern ist, steht zwar in den WSOP Annalen mit einem Ring gelistet (WSOPC 2012 in New Orleans) und kann ganz aktuell auf einen Final Table bei der WSOPE in Rozvadov im 25k Platinum High Roller (6. Platz, €95.962) und mehrere WPT-Erfolge zurückblicken, aber ein WSOP-Bracelet fehlt noch in der Sammlung des US-Amerikaners. Mit fast 300 BB (bei Blinds von 800/1.600-1.600) startet auch Anton Morgenstern als zweiter im Tag 1A Chipcount komfortabel am Sonntag um 12:00 Uhr in Tag 2. Der PLO Spezialist (mit Titeln von den Aussie Millions und der PSPC) setzte ein erstes Ausrufezeichen im ersten von zwei Main Event Flights.
Deutsche und internationale Stars qualifizieren sich für Tag 2
27 DACH-Spieler haben Chips am Freitag eintüten können. Neben Morgenstern  durfte Ahmad Achegsei aus Deutschland die meistens Jetons (428.500) verpacken. Ebenfalls sehr gut mit von der Partie sind seine Landsmänner Michael Hasenberg (381.200), Thomas Hammerl (360.900) und Nicolas Sievers (345.200). Weitere bekannte Spieler, die bereits sicher an Tag 2 mit dabei sein werden, sind u.a. Shaun Deeb (345.300), Örpen Kisacikoglu (350.200), Online-Ass Gianluca Speranza (317.600), Andreas Eiler (287.700), Sebastian Pauli (176.200), Harry Casagrande (149.100), Titelverteidiger Jack Sinclair (148.000), Viktor "Isildur1" Blom (128.700), Dominik Nitsche (120.600), Ole Schemion (117.700), Ana Marquez (103.300), WSOP-Bracelet-Winner Christopher Frank (83.400) oder Weltmeister Hossein Ensan (90.000).
Bust-Outs: Phil Hellmuth couldn't dodge Bullets, Baby!
Natürlich gab es auch prominente Bust-Outs. Aus deutscher Sicht mussten z.B. Philipp "philbort" Gruissem, Leonard Maue, Daniel Pidun und Rainer Kempe ihre Plätze räumen. Der aktuelle 250k SHR Champion aus WSOPE Event #4, James Chen, konnte sich in einem Preflop Set-up von Queens vs. Kings nicht von seinen Damen trennen, und musste das dann anschließend von seinen Chips. Ebenfalls in eine gute Starthand, nämlich mit Assen die beste, lief der 15-fache Rekord-WSOP-Sieger Phil Hellmuth. Der Exzentriker, der für seine markanten Sprüche, aber auch für seine Reading Abilities bekannt ist, konnte die Bulletts am Freitag nicht dodgen und landete an den Rails. 
So geht es weiter im Main Event:
Genau wie für PokerBrat Hellmuth steht für alle noch nicht qualifizierten Spieler am Samstag um 12:00 Tag 1B des €10.350 Main Events auf dem Schedule, eher es am Sonntag zur selben Tageszeit in Tag 2 geht. An beiden kommenden Spieltagen ist die Late-Registration bis zum Ende des 12. Levels geöffnet. Wir dürfe also bis zum Sonntagabend gespannt sein, wer noch in das Geschehen beim Höhepunkt in Rozvadov eingreift.
Die Chipcounts im WSOPE Main Event (Event #14) nach Tag 1A:
| | |
| --- | --- |
| Entries | 190 |
| Re-Entries | 4 |
| Total | 194 |
| Left | 113 |
| First name | Last name | Nationality | Chip count |
| --- | --- | --- | --- |
| William Alexander | Foxen | United States | 537200 |
| Anton | Morgenstern | Germany | 460000 |
| Oleh | Okhotskyi | Ukraine | 433900 |
| Ahmad Qais | Achegsei | Germany | 428500 |
| Vlada | Stojanovic | Serbia | 422200 |
| Aleksandr | Chernikov | Russian Federation | 416800 |
| Paulius | Vaitiekunas | Lithuania | 397100 |
| Kasparas | Klezys | Lithuania | 395800 |
| Michael Daniel | Hasenbepg | Germany | 381200 |
| Thomas | Hammerl | Germany | 360900 |
| Jorma Kalevi | Nuutinen | Finland | 360300 |
| Orpen | Kisacikoglu | Turkey | 350200 |
| Shaun Kristopher | Deeb | United States | 345300 |
| Nicolas | Sievers | Germany | 345200 |
| Daan Gerardus | Mulders | Netherlands | 319600 |
| Gianluca | Speranza | Italy | 317600 |
| Raz | Alon | Israel | 300300 |
| Marius Alexandru | Gicovanu | Romania | 298400 |
| Andreas | Eiler | Germany | 287700 |
| Ngoc Minh | Hoang | Czech Republic | 286700 |
| Mateusz | Moolhuizen | Netherlands | 262800 |
| Norbert Ferenc | Mosonyi | Hungary | 260600 |
| Mateusz Roman | Chrobak | Poland | 257300 |
| Charbel | Salloum | Lebanon | 255200 |
| Artur | Rudziankov | Belarus | 237100 |
| Enrico | Camosci | Italy | 235000 |
| Adi | Rajkovic | Austria | 234600 |
| Julien Joseph Rene | Martini | France | 220000 |
| Tomas | Knespl | Czech Republic | 213200 |
| Alexandros | Kolonias | Greece | 207400 |
| Anthony | Zinno | United States | 204900 |
| Ashot | Oganesian | Russian Federation | 202500 |
| Phillip | Hui | United States | 200200 |
| Roland | Israelashvili | United States | 197700 |
| Michael | Sklenicka | Czech Republic | 193700 |
| Vadzim | Lipauka | Belarus | 190500 |
| Andrej | Imrich | Slovakia | 189500 |
| Christian | Rudolph | Germany | 189300 |
| Karl-Theodor | Schoepf | Germany | 188400 |
| Jan | Bednar | Czech Republic | 186600 |
| Aslan | Kalmaz | Turkey | 182900 |
| Andrej | Desset | Slovakia | 178800 |
| Kristoffer Skipper | Rasmussen | Denmark | 178000 |
| Tomas | Hajek | Czech Republic | 177900 |
| Sebastian | Pauli | Germany | 176200 |
| Stanislaw | Miadzel | Poland | 171600 |
| Per Klas Roland | Reevcrona | Sweden | 171200 |
| Davidi Jacob | Kitai | Belgium | 170800 |
| Erich | Kollmann | Austria | 169800 |
| Jans | Arends | Netherlands | 165100 |
| Daniel Gai | Pidun | Germany | 160800 |
| Fabian | Gumz | Germany | 160300 |
| Petr | Kubenka | Czech Republic | 159300 |
| Vangelis | Kaimakamis | Greece | 157400 |
| Roberto | Morra | Italy | 156000 |
| Quan | Zhou | China | 155500 |
| Valerii | Lubenets | Ukraine | 154700 |
| Armand | Muratoglu | France | 154300 |
| Harald | Casagrande | Austria | 149100 |
| Jack David | Sinclair | United Kingdom | 148000 |
| Naor | Slobodskoy | Israel | 145800 |
| Jakub | Oliva | Czech Republic | 145200 |
| Mark Paul | Berman | United Kingdom | 142600 |
| Peter | Ralbovsky | Slovakia | 137500 |
| Harry Nicholas | Ross | United Kingdom | 137200 |
| Carl Viktor | Blom | Sweden | 128700 |
| Heinz | Traut | Germany | 127000 |
| Andrei | Konopelko | Belarus | 122600 |
| Dominik | Nitsche | Germany | 120600 |
| Ole | Schemion | Germany | 117700 |
| Jiri | Horacek | Czech Republic | 116100 |
| Julian Alexander | Selinger | Germany | 114100 |
| Stephane Georges Jean | Pernot | France | 113500 |
| Claas Eyke | Segebrecht | Germany | 109800 |
| Leonard Oliver | Maue | Germany | 106000 |
| Lior Moshe | Padoba | Israel | 105300 |
| Ana Laura | Marquez Esteban | Spain | 103300 |
| Manfred | Mairvongrasspeinten | Italy | 102000 |
| Vazha | Kometiani | Georgia | 98300 |
| David Michael | Baker | United States | 97100 |
| Maxim | Lykov | Russian Federation | 95000 |
| Robert Michael Joseph | Campbell | Australia | 90000 |
| Antonio | Mdreira De Andrade Dos Santos | Brazil | 90000 |
| Hossein | Ensan | Germany | 90000 |
| Besmir | Hodaj | Albania | 89700 |
| Christopher Robin | Frank | Germany | 83400 |
| Julian Simon | Thomas | Germany | 83000 |
| Jozsef | Liszkovics | Romania | 82100 |
| Anh | Do | Czech Republic | 80500 |
| Peter | Kissel | Germany | 80400 |
| Sasa | Lalos | Austria | 77500 |
| Iulian Alin | Chirculeanu | Romania | 77400 |
| Elias | Abou Saleh | Lebanon | 76600 |
| Nick Christian | Korts | Germany | 72000 |
| Aymon | Hata | United Kingdom | 65000 |
| Bahadir | Hatipoglu | Turkey | 65000 |
| Giorgii | Skhulukhiia | Russian Federation | 59200 |
| Ron | Nissim | Israel | 54600 |
| Rinat | Tulepbergenov | Kazakhstan | 48600 |
| Alexander William | Keating | United States | 48000 |
| Robert Einar Hatle | Kaggerud | Norway | 47500 |
| Lorenzo | Valentini | Italy | 46800 |
| Jakob | Madsen | Denmark | 46700 |
| Adrian | Mateos Diaz | Spain | 45300 |
| Mykola | Lakatosh | Ukraine | 45000 |
| Dash Daymon Dean | Dudley | United States | 36700 |
| Jacob Thomas | Baumgartner | United States | 34600 |
| Laszlo | Bujtas | Hungary | 33300 |
| Niklas Marcus | Warlich | Germany | 33000 |
| Ryan Thomas | Riess | United States | 24200 |
| Roman | Nakonechnyi | Ukraine | 20200 |
| Espen Uhlen | Joerstad | Norway | 17800 |
| Yakov | Bar El | Israel | 11000 |