Eine echte Sensation gibt es von der World Championship Of Online Poker (WCOOP) 2023 auf PokerStars zu vermelden, wo ein Spieler offenbar nicht zu stoppen ist.
Der Brite Benny "RunGodLike" Glaser schnappte sich bei Event 68-M, einem $530 NLHE, seinen bereits sechsten (!) Titel bei dieser WCOOP und stellte damit einen neuen Rekord auf.
I DID A THING.
My 6th #WCOOP title of this series. A new WCOOP record 🏆
My 24th COOP title overall.
Genuinely beyond absurd. This one was a big one too.
I'm incredibly happy and grateful.
And thanks for all the love this series, everyone ❤️ pic.twitter.com/fkpEUgz0lx

— Benny Glaser (@BennyGlaser) September 26, 2023
Er konnte es selbst nicht fassen und meinte, das sei auf jeden Fall mehr als absurd.
Als Belohnung kassierte Glaser knapp $56.000 Preisgeld und dürfte auch auf dem Leaderboard kaum noch zu stoppen sein.
Hier das Ergebnis des Turniers: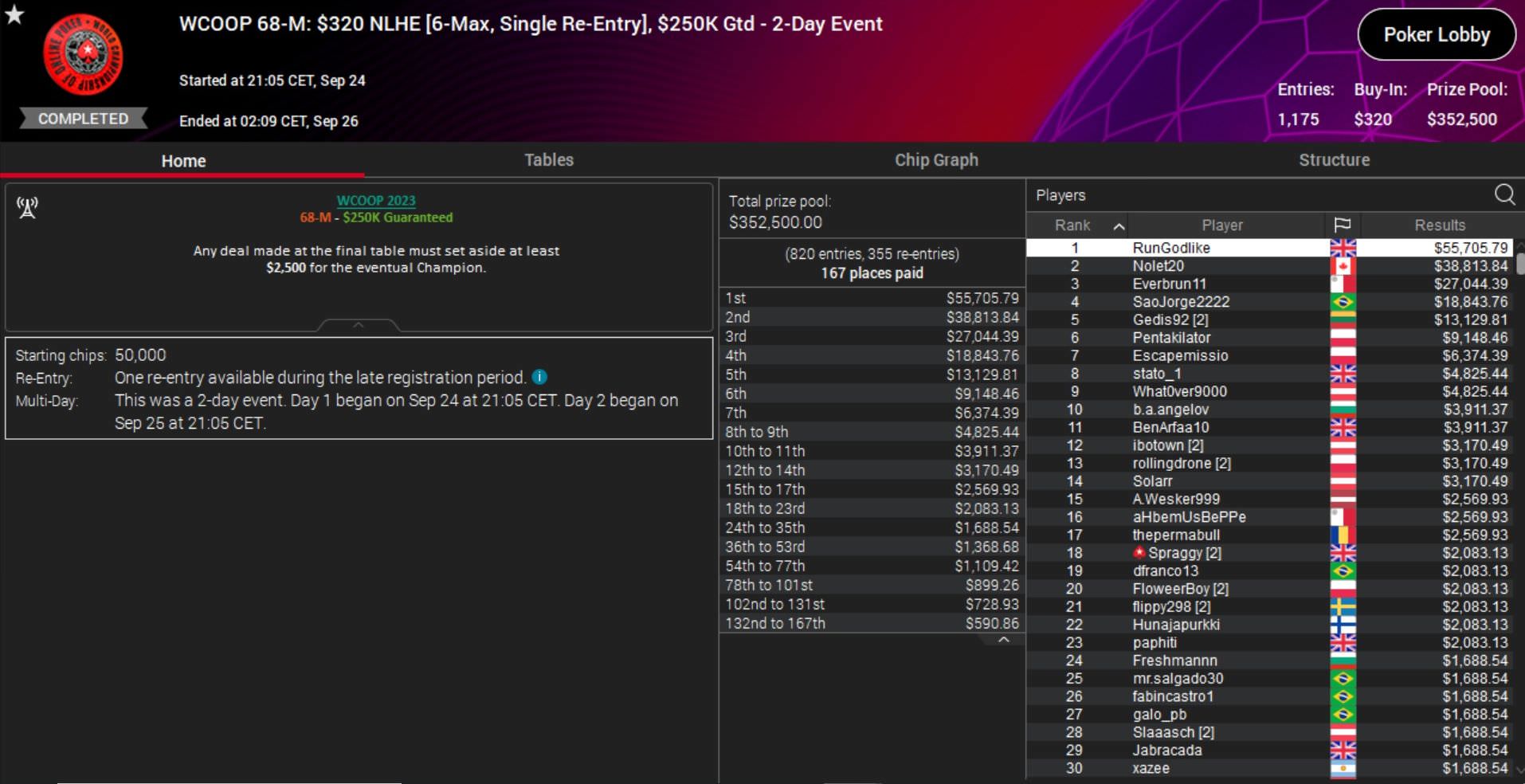 Für die DACH-Community gab es durch Daniel "SmilleThHero" Smiljkovic einen Sieg bei einem Side Event, dem $530 Bounty Builder, bei dem er rund $24.600 Preisgeld abräumte.
Knapp am WCOOP-Sieg vorbei schrammten zwei andere Spieler, die sich aber mit hohen Cashes trösten konnten.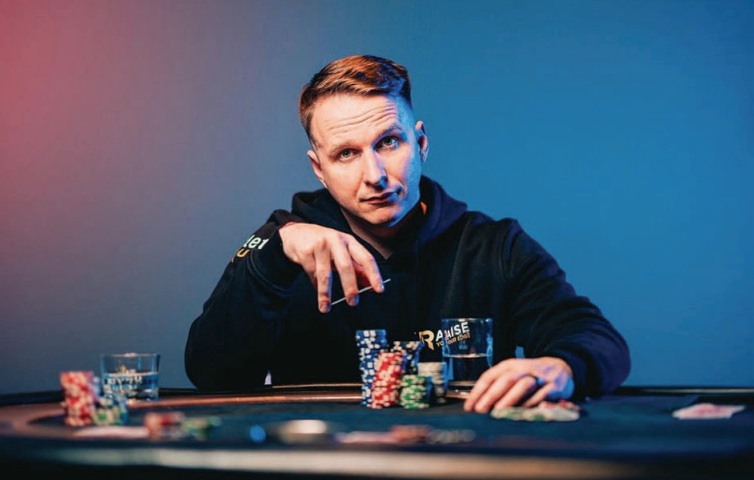 Ben "bencb" Rolle scheiterte bei Event 66-H, dem $5.200 Titans, nur am Bulgaren "AchoBogdanov", was ihm rund $80.000 einbrachte.
Und "POKERPR02.0" kam bei Event 65-H ebenfalls dem Sieg sehr nahe, musste sich am Ende aber mit Platz 3 und rund $60.000 begnügen.
Hier die Ergebnisse von gestern:
Wenn ihr noch keinen PokerStars-Account habt, könnt ihr euch hier registrieren.
| | | | |
| --- | --- | --- | --- |
| 26. Sep | Tue | 10:05 | WCOOP 74-L: $5.50 NLHE [Single][Day], $37.5K Gtd |
| 26. Sep | Tue | 10:05 | WCOOP 74-M: $55 NLHE [Single][Day], $175K Gtd |
| 26. Sep | Tue | 10:05 | WCOOP 74-H: $530 NLHE [Single][Day], $275K Gtd |
| 26. Sep | Tue | 11:30 | WCOOP 75-L: $5.50 PLO8, $10K Gtd |
| 26. Sep | Tue | 11:30 | WCOOP 75-M: $55 PLO8, $40K Gtd |
| 26. Sep | Tue | 11:30 | WCOOP 75-H: $530 PLO8, $80K Gtd |
| 26. Sep | Tue | 12:30 | WCOOP 76-L: $215 NLHE [Super][Tuesday], $350K Gtd |
| 26. Sep | Tue | 12:30 | WCOOP 76-M: $2,100 NLHE [Super][Tuesday], $450K Gtd |
| 26. Sep | Tue | 12:30 | WCOOP 76-H: $25,000 NLHE [Super][High][Roller], $1M Gtd |
| 26. Sep | Tue | 13:30 | WCOOP 77-L: $22 FL 2-7 Triple Draw, $12.5K Gtd |
| 26. Sep | Tue | 13:30 | WCOOP 77-M: $215 FL 2-7 Triple Draw, $27.5K Gtd |
| 26. Sep | Tue | 13:30 | WCOOP 77-H: $2,100 FL 2-7 Triple Draw, $55K Gtd |
| 26. Sep | Tue | 15:05 | WCOOP 78-L: $11 NLHE [6-Max,][Progressive][KO,][Freezeout], $50K Gtd |
| 26. Sep | Tue | 15:05 | WCOOP 78-M: $109 NLHE [6-Max,][Progressive][KO,][Freezeout], $175K Gtd |
| 26. Sep | Tue | 15:05 | WCOOP 78-H: $1,050 NLHE [6-Max,][Progressive][KO], $350K Gtd |
| 27. Sep | Wed | 11:30 | WCOOP 79-L: $11 HORSE, $10K Gtd |
| 27. Sep | Wed | 11:30 | WCOOP 79-M: $109 HORSE, $30K Gtd |
| 27. Sep | Wed | 11:30 | WCOOP 79-H: $1,050 HORSE, $45K Gtd |
| 27. Sep | Wed | 12:30 | WCOOP 80-L: $11 NLHE [Progressive][KO], $115K Gtd |
| 27. Sep | Wed | 12:30 | WCOOP 80-M: $109 NLHE [Progressive][KO], $400K Gtd |
| 27. Sep | Wed | 12:30 | WCOOP 80-H: $1,050 NLHE [Progressive][KO], $400K Gtd |
| 27. Sep | Wed | 13:30 | WCOOP 81-L: $22 5-Card PLO, $40K Gtd |
| 27. Sep | Wed | 13:30 | WCOOP 81-M: $109 5-Card PLO, $50K Gtd |
| 27. Sep | Wed | 13:30 | WCOOP 81-H: $530 5-Card PLO, $80K Gtd |
| 27. Sep | Wed | 15:05 | WCOOP 82-L: $5.50 NLHE [Turbo,][Progressive][KO,][Freezeout], $25K Gtd |
| 27. Sep | Wed | 15:05 | WCOOP 82-M: $55 NLHE [Turbo,][Progressive][KO,][Freezeout], $140K Gtd |
| 27. Sep | Wed | 15:05 | WCOOP 82-H: $530 NLHE [Turbo,][Progressive][KO,][Freezeout], $200K Gtd |
| 27. Sep | Wed | 16:30 | WCOOP 83-L: $11 NLHE [4-Max], $40K Gtd |
| 27. Sep | Wed | 16:30 | WCOOP 83-M: $109 NLHE [4-Max], $125K Gtd |
| 27. Sep | Wed | 16:30 | WCOOP 83-H: $1,050 NLHE [4-Max], $150K Gtd |
| 28. Sep | Thu | 10:05 | WCOOP 84-L: $11 NLHE [6-Max,][Deep][Stack], $60K Gtd |
| 28. Sep | Thu | 10:05 | WCOOP 84-M: $109 NLHE [6-Max,][Deep][Stack], $225K Gtd |
| 28. Sep | Thu | 10:05 | WCOOP 84-H: $1,050 NLHE [6-Max,][Deep][Stack], $250K Gtd |
| 28. Sep | Thu | 11:30 | WCOOP 85-L: $5.50 PLO [Progressive][KO], $17.5K Gtd |
| 28. Sep | Thu | 11:30 | WCOOP 85-M: $55 PLO [Progressive][KO], $65K Gtd |
| 28. Sep | Thu | 11:30 | WCOOP 85-H: $530 PLO [Progressive][KO], $135K Gtd |
| 28. Sep | Thu | 12:30 | WCOOP 86-L: $109 NLHE [Progressive][KO,][Thursday][Thrill,][Single][Re-Entry], $300K Gtd |
| 28. Sep | Thu | 12:30 | WCOOP 86-M: $1,050 NLHE [Progressive][KO,][Thursday][Thrill,][Single][Re-Entry], $575K Gtd |
| 28. Sep | Thu | 12:30 | WCOOP 86-H: $10,300 NLHE [Progressive][KO,][Thursday][Thrill][High][Roller], $700K Gtd |
| 28. Sep | Thu | 12:30 | World Championship of NL 2-7 Single Draw: $1,050, $60K Gtd |
| 28. Sep | Thu | 13:30 | WCOOP 87-L: $22 8-Game [8-Max], $20K Gtd |
| 28. Sep | Thu | 13:30 | WCOOP 87-M: $215 8-Game [8-Max], $40K Gtd |
| 28. Sep | Thu | 13:30 | WCOOP 87-H: $2,100 8-Game [8-Max], $85K Gtd |
| 28. Sep | Thu | 15:05 | WCOOP 88-L: $33 NLHE [Freezeout], $80K Gtd |
| 28. Sep | Thu | 15:05 | WCOOP 88-M: $320 NLHE [Freezeout], $175K Gtd |
| 28. Sep | Thu | 15:05 | WCOOP 88-H: $3,150 NLHE, $250K Gtd |
| 28. Sep | Thu | 16:30 | WCOOP 89-L: $11 NLHE [7-Max,][Turbo,][Progressive][KO,][Single][Re-Entry], $40K Gtd |
| 28. Sep | Thu | 16:30 | WCOOP 89-M: $109 NLHE [7-Max,][Turbo,][Progressive][KO,][Single][Re-Entry], $160K Gtd |
| 28. Sep | Thu | 16:30 | WCOOP 89-H: $1,050 NLHE [7-Max,][Turbo,][Progressive][KO,][Single][Re-Entry], $225K Gtd |
| 30. Sep | Sat | 10:05 | WCOOP 90-L: $11 NLHE [Deep][Stack], $50K Gtd |
| 30. Sep | Sat | 10:05 | WCOOP 90-M: $109 NLHE [Deep][Stack], $150K Gtd |
| 30. Sep | Sat | 10:05 | WCOOP 90-H: $1,050 NLHE [Deep][Stack], $165K Gtd |
| 30. Sep | Sat | 11:30 | WCOOP 91-L: $11 Stud, $5K Gtd |
| 30. Sep | Sat | 11:30 | WCOOP 91-M: $109 Stud, $16.5K Gtd |
| 30. Sep | Sat | 11:30 | WCOOP 91-H: $1,050 Stud, $40K Gtd |
| 30. Sep | Sat | 12:30 | WCOOP 92-L: $33 NLHE [Progressive][KO], $250K Gtd |
| 30. Sep | Sat | 12:30 | WCOOP 92-M: $320 NLHE [Progressive][KO], $500K Gtd |
| 30. Sep | Sat | 12:30 | WCOOP 92-H: $3,150 NLHE [Progressive][KO], $350K Gtd |
| 30. Sep | Sat | 12:30 | World Championship, Women's Event: $215 NLHE $35K Gtd |
| 30. Sep | Sat | 13:30 | WCOOP 93-L: $11 NLO8, $15K Gtd |
| 30. Sep | Sat | 13:30 | WCOOP 93-M: $109 NLO8, $35K Gtd |
| 30. Sep | Sat | 13:30 | WCOOP 93-H: $1,050 NLO8, $75K Gtd |
| 30. Sep | Sat | 15:05 | WCOOP 94-L: $11 NLHE [6-Max,][Turbo], $60K Gtd |
| 30. Sep | Sat | 15:05 | WCOOP 94-M: $109 NLHE [6-Max,][Turbo], $160K Gtd |
| 30. Sep | Sat | 15:05 | WCOOP 94-H: $1,050 NLHE [6-Max,][Turbo], $185K Gtd |
| 30. Sep | Sat | 16:30 | WCOOP 95-L: $22 NLHE [Turbo,][Progressive][KO,][Freezeout], $80K Gtd |
| 30. Sep | Sat | 16:30 | WCOOP 95-M: $215 NLHE [Turbo,][Progressive][KO,][Freezeout], $180K Gtd |
| 30. Sep | Sat | 16:30 | WCOOP 95-H: $2,100 NLHE [Turbo,][Progressive][KO], $225K Gtd |
| 01. Okt | Sun | 08:05 | WCOOP 96-L: $5.50 NLHE [Sunday][Kickoff], $45K Gtd |
| 01. Okt | Sun | 08:05 | WCOOP 96-M: $55 NLHE [Sunday][Kickoff], $185K Gtd |
| 01. Okt | Sun | 08:05 | WCOOP 96-H: $530 NLHE [Sunday][Kickoff], $350K Gtd |
| 01. Okt | Sun | 10:05 | WCOOP 97-L: $22 NLHE [Progressive][KO,][Sunday][Warm-Up,][Freezeout], $200K Gtd |
| 01. Okt | Sun | 10:05 | WCOOP 97-M: $215 NLHE [Progressive][KO,][Sunday][Warm-Up,][Freezeout], $500K Gtd |
| 01. Okt | Sun | 10:05 | WCOOP 97-H: $2,100 NLHE [Progressive][KO,][Sunday][Warm-Up,][Freezeout], $500K Gtd |
| 01. Okt | Sun | 12:30 | WCOOP 98-L: $109 NLHE [NLHE][Main][Event], $2.5M Gtd |
| 01. Okt | Sun | 12:30 | WCOOP 98-M: $1,050 NLHE [NLHE][Main][Event], $4M Gtd |
| 01. Okt | Sun | 12:30 | WCOOP 98-H: World Championship of NLHE: $10,300 Main Event, $6M Gtd |
| 01. Okt | Sun | 13:30 | WCOOP 99-L: $5.50 NLHE [Progressive][KO,][Womens][Event], $2.5K Gtd |
| 01. Okt | Sun | 13:30 | WCOOP 99-M: $22 NLHE [Progressive][KO,][Womens][Event], $7.5K Gtd |
| 01. Okt | Sun | 13:30 | WCOOP 99-H: $109 NLHE [Progressive][KO,][Womens][Event], $15K Gtd |
| 01. Okt | Sun | 15:05 | WCOOP 100-L: $109 PLO [PLO][Main][Event], $200K Gtd |
| 01. Okt | Sun | 15:05 | WCOOP 100-M: $1,050 PLO [PLO][Main][Event], $500K Gtd |
| 01. Okt | Sun | 15:05 | WCOOP 100-H: World Championship of PLO: $10,300 Main Event, $750K Gtd |
| 01. Okt | Sun | 16:30 | WCOOP 101-L: $11 NLHE [7-Max,][Turbo,][Progressive][KO,][Sunday][Cooldown,][Freezeout], $70K Gtd |
| 01. Okt | Sun | 16:30 | WCOOP 101-M: $109 NLHE [7-Max,][Turbo,][Progressive][KO,][Sunday][Cooldown,][Freezeout], $275K Gtd |
| 01. Okt | Sun | 16:30 | WCOOP 101-H: $1,050 NLHE [7-Max,][Turbo,][Progressive][KO,][Sunday][Cooldown,][Freezeout], $300K Gtd |
| 02. Okt | Mon | 12:30 | WCOOP 102-L: $11 NLHE [Progressive][KO,][Series][Saver], $165K Gtd |
| 02. Okt | Mon | 12:30 | WCOOP 102-M: $109 NLHE [Progressive][KO,][Series][Saver], $700K Gtd |
| 02. Okt | Mon | 12:30 | WCOOP 102-H: $1,050 NLHE [Progressive][KO,][Series][Saver], $1M Gtd |
| 02. Okt | Mon | 13:30 | WCOOP 01-L: $5.50 NLHE [Phase][2], $400K Gtd |
| 02. Okt | Mon | 13:30 | WCOOP 01-M: $22 NLHE [Phase][2], $500K Gtd |
| 02. Okt | Mon | 13:30 | WCOOP 01-H: $109 NLHE [Phase][2], $1M Gtd |
| 02. Okt | Mon | 15:05 | WCOOP 103-L: $55 NLHE [Turbo][ME][2nd][Chance], $225K Gtd |
| 02. Okt | Mon | 15:05 | WCOOP 103-M: $530 NLHE [Turbo][ME][2nd][Chance], $350K Gtd |
| 02. Okt | Mon | 15:05 | WCOOP 103-H: $5,200 NLHE [Turbo][ME][2nd][Chance], $450K Gtd |
| 02. Okt | Mon | 16:30 | WCOOP 104-L: $11 NLHE [Turbo,][Freezeout], $50K Gtd |
| 02. Okt | Mon | 16:30 | WCOOP 104-M: $109 NLHE [Turbo,][Freezeout], $175K Gtd |
| 02. Okt | Mon | 16:30 | WCOOP 104-H: $1,050 NLHE [Turbo,][Freezeout], $200K Gtd |
| 03. Okt | Tue | 12:30 | WCOOP 105-L: $33 NLHE [Super][Tuesday], $100K Gtd |
| 03. Okt | Tue | 12:30 | WCOOP 105-M: $215 NLHE [Super][Tuesday], $225K Gtd |
| 03. Okt | Tue | 12:30 | WCOOP 105-H: $1,050 NLHE [Super][Tuesday], $300K Gtd |
| 03. Okt | Tue | 13:30 | WCOOP 106-L: $5.50 NLHE/PLO [6-Max], $15K Gtd |
| 03. Okt | Tue | 13:30 | WCOOP 106-M: $55 NLHE/PLO [6-Max], $60K Gtd |
| 03. Okt | Tue | 13:30 | WCOOP 106-H: $530 NLHE/PLO [6-Max], $85K Gtd |
| 03. Okt | Tue | 15:05 | WCOOP 107-L: $5.50 NLHE [Heads-Up,][Turbo,][Progressive][Total][KO,][Zoom], $35K Gtd |
| 03. Okt | Tue | 15:05 | WCOOP 107-M: $55 NLHE [Heads-Up,][Turbo,][Progressive][Total][KO,][Zoom], $130K Gtd |
| 03. Okt | Tue | 15:05 | WCOOP 107-H: $530 NLHE [Heads-Up,][Turbo,][Progressive][Total][KO,][Zoom], $175K Gtd |
| 04. Okt | Wed | 13:05 | WCOOP 108-L: $55 NLHE [Progressive][KO,][Final][Freeze], $135K Gtd |
| 04. Okt | Wed | 13:05 | WCOOP 108-M: $530 NLHE [Progressive][KO,][Final][Freeze], $150K Gtd |
| 04. Okt | Wed | 13:05 | WCOOP 108-H: $5,200 NLHE [Progressive][KO,][Final][Freeze], $350K Gtd |
| 04. Okt | Wed | 14:15 | WCOOP 109-L: $11 PLO, $25K Gtd |
| 04. Okt | Wed | 14:15 | WCOOP 109-M: $109 PLO, $75K Gtd |
| 04. Okt | Wed | 14:15 | WCOOP 109-H: $1,050 PLO, $135K Gtd |
| 04. Okt | Wed | 15:30 | WCOOP 110-L: $5.50 NLHE [7-Max,][Hyper-Turbo,][Progressive][KO,][Series][Wrap-Up], $30K Gtd |
| 04. Okt | Wed | 15:30 | WCOOP 110-M: $55 NLHE [7-Max,][Hyper-Turbo,][Progressive][KO,][Series][Wrap-Up], $115K Gtd |
| 04. Okt | Wed | 15:30 | WCOOP 110-H: $530 NLHE [7-Max,][Hyper-Turbo,][Progressive][KO,][Series][Wrap-Up], $125K Gtd |