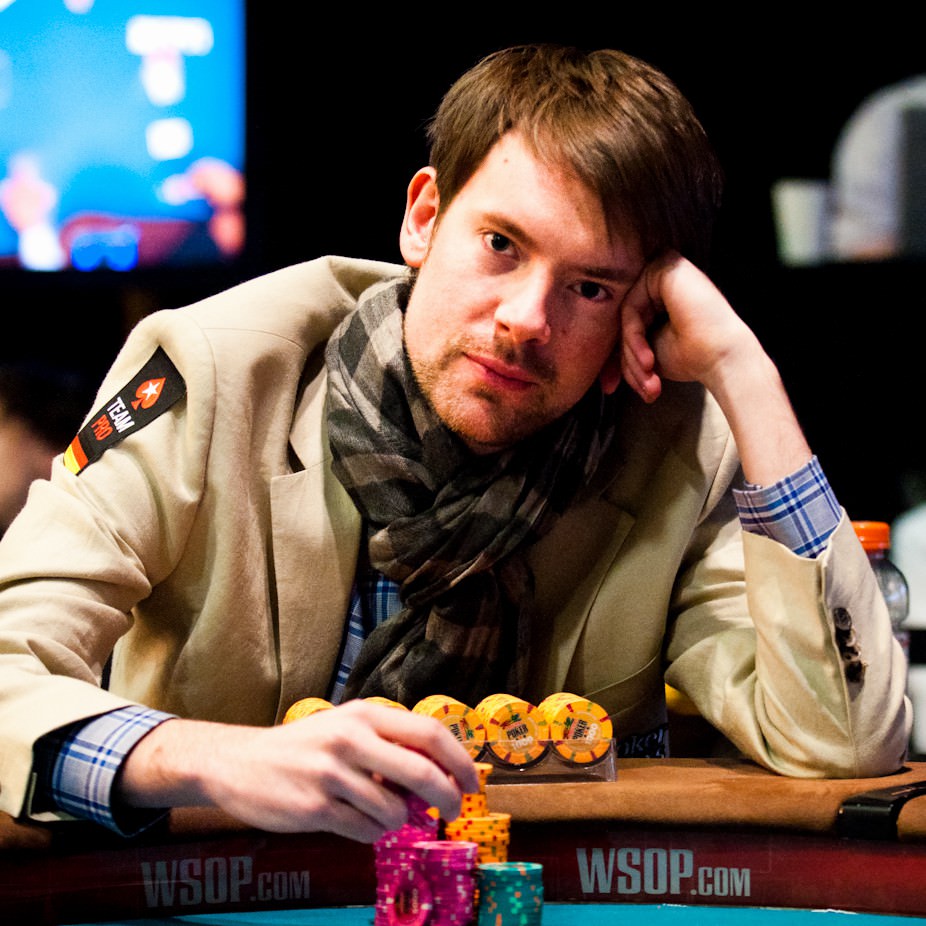 421 Anmeldungen gab es für das 52. Event der diesjährigen WSOP zu verzeichnen. Beim $2.500 10-Game Six-Handed sichteten wir neben vielen internationalen Pokergrößen, 13 deutschsprachige Spieler. Chipleader nach dem ersten Spieltag ist Tommy Hang aus den Vereinigten Staaten.
Bei diesem Event wechselt alle acht Hände die Pokervariante. Begonnen wurde mit No Limit Hold'em. Mehr als die Hälfte des Feldes musste sich bereits aus dem Turnier verabschieden. Die besten 48 Spieler bekommen mindestens $4.309. Generiert wurde ein Preispool von $957.775. Als Chipleader wird der Amerikaner Tommy Hang an Tag Zwei ins Rennen starten.
Aus unseren Breitengraden fanden wir die beiden Hamburger Mark Bartlog und Qushgar Morad, sowie PokerStars Pro und Event #42 Runner-Up George Danzer (Foto), Marc "Grindheim" Gork, Ismael Bojang, Leonard Martin, Jens Grieme, Wilfried Härig, Johannes Holstege, Christopher Hunt, Martin Knorr, Christian Martin und die Schweizer Samuel Gerber und Mike Gorodinsky an den Tischen im Amazon Room. Einige internationale Pros suchten bereits den Weg an die Rails. Unter anderem Shaun Deeb, Andy Frankenberger, Martin Staszko, Allen Bari und Jennifer Harman überlebten die ersten acht Level nicht.
Für George Danzer lief es Anfangs sehr gut. So konnte er beim Badugi seinen Stack relativ früh auf über 15.000 an Chips ausbauen, doch dann meinte es der Pokergott nicht mehr so gut mit ihm. Er twitterte: "It is pretty brutal when you get berater by the second worst player on the table. And if you are getting sucked out on ALL the hands, too. But i am very optimistic, because i finished day one of the O8/Stud8 with only 7900 Chips and i am very close to that now. 5.5k." Des Weiteren hatte er wohl sein Glücksschal verloren. Doch die Security hat ihn wieder gefunden: "Security got my scarf back. Now i am really optimistic as i lost it during dinner break. And you know what happened to my chips after." Nachdem er sich seinen Schal wieder um den Hals legen konnte, ging es Bergauf und so tütete der Mannheimer letztendlich 22.000 Chips ein und findet sich damit auf Rang 51 im Chipcount wieder. Besser lief es für den Schweizer Mike Gorodinsky. Er zählte 28.525 Chips und wird morgen von Rang 25 starten. Ismael Bojang (Rang 120/12.525 Chips) und Leonard Martin (Rang 122/12.350 Chips) sind ebenfalls noch mit von der Partie.
Im vergangenen Jahr meldeten sich gerade einmal zehn Spieler mehr an. Damals durfte der Amerikaner Chris Lee das Bracelet in die Luft heben und $254.955 mit nach Hause nehmen.
Alle WSOP 2012 News im Überblick.
Hier die Chipcounts von WSOP Event #52 10-Game Six-Handed:

Buy-In: $2.500
Prizepool: $957.775
Entries: 421
Players Left: 167
| | | |
| --- | --- | --- |
| 1 | Tam Hang | 74,000 |
| 2 | Steve Chanthabouasy | 54,000 |
| 3 | Vincent Vanderfluit | 53,000 |
| 4 | Scott Clements | 40,350 |
| 5 | Bryn Kenney | 40,200 |
| 6 | Daniel Obrien | 39,775 |
| 7 | John Dagostino | 37,650 |
| 8 | Alan Engel | 36,650 |
| 9 | Magn Persson | 35,825 |
| 10 | Richard Ashby | 35,400 |
| 11 | Christopher Wallace | 34,300 |
| 12 | James Mackey | 34,200 |
| 13 | Peter Ippolito | 33,850 |
| 14 | John Monnette | 32,600 |
| 15 | Can Hua | 32,375 |
| 16 | Thomas Chambers | 31,850 |
| 17 | David Burn | 31,700 |
| 18 | Mikhail Semin | 31,600 |
| 19 | Noah Boeken | 31,025 |
| 20 | Michael Binger | 30,600 |
| 21 | Eli Elezra | 29,757 |
| 22 | Christopher Tryba | 29,375 |
| 23 | Daniel Sindelar | 29,300 |
| 24 | Calvin Anderson | 29,050 |
| 25 | Mike Gorodinsky | 28,525 |
| 26 | Daniel Idema | 28,100 |
| 27 | David Singer | 27,975 |
| 28 | Matthew Ashton | 27,050 |
| 29 | Eric Kurtzman | 27,000 |
| 30 | Marco Traniello | 27,000 |
| 31 | Todd Bui | 26,675 |
| 32 | James Collopy | 26,500 |
| 33 | Julien Dipace | 26,475 |
| 34 | Raymond Davis | 26,375 |
| 35 | Jefey Madsen | 26,025 |
| 36 | Andrew Hallenbeck | 25,950 |
| 37 | Brian Salt | 24,975 |
| 38 | David Baker | 24,475 |
| 39 | Robert Williamson | 24,200 |
| 40 | Hernan Salazar | 23,700 |
| 41 | Daniel Heimiller | 23,600 |
| 42 | Michael Chow | 23,500 |
| 43 | Michael Matow | 23,175 |
| 44 | Duc Nguyen | 23,050 |
| 45 | Dariz Paszkiewicz | 23,050 |
| 46 | Loren Klein | 22,750 |
| 47 | Eric Wasserson | 22,500 |
| 48 | Daniel Makowsky | 22,450 |
| 49 | Eric Brix | 22,250 |
| 50 | Paul Volpe | 22,100 |
| 51 | George Danzer | 22,000 |
| 52 | Robin Keston | 22,000 |
| 53 | Gregory Peters | 21,725 |
| 54 | Eric oehlich | 21,700 |
| 55 | Christopher George | 21,600 |
| 56 | Grant Levy | 21,025 |
| 57 | Dale Phillips | 20,725 |
| 58 | Allen Chang | 20,000 |
| 59 | Andrey Pateych | 19,875 |
| 60 | Michael Fant | 19,800 |
| 61 | Vanessa Selbst | 19,750 |
| 62 | Stephen Moreschi | 19,700 |
| 63 | Yuval Bronshtein | 19,675 |
| 64 | Andrew Finkernagel | 19,400 |
| 65 | Kyle Carlston | 19,125 |
| 66 | Lee Goldman | 19,125 |
| 67 | Bradley Libson | 19,075 |
| 68 | Maria Ho | 18,650 |
| 69 | Dario Alioto | 18,625 |
| 70 | Christopher Bell | 18,525 |
| 71 | Dtin Bierma | 18,475 |
| 72 | Chad Brown | 18,450 |
| 73 | Jason Lavallee | 18,425 |
| 74 | Jeremiah Degreef | 18,400 |
| 75 | Ralph Porter | 18,125 |
| 76 | Igor Sharaskin | 17,900 |
| 77 | Hasan Habib | 17,850 |
| 78 | Kristan Lord | 17,850 |
| 79 | David Schnettler | 17,850 |
| 80 | Owais Ahmed | 17,800 |
| 81 | John Bunch | 17,725 |
| 82 | Jtin Schwartz | 17,725 |
| 83 | Joseph Kuether | 17,650 |
| 84 | Brian Tate | 17,550 |
| 85 | Michael Leah | 17,525 |
| 86 | Francesco Barbaro | 17,500 |
| 87 | Michael Wattel | 17,425 |
| 88 | Julien Renard | 17,400 |
| 89 | Paul Taylor | 16,900 |
| 90 | Rikard Aberg | 16,800 |
| 91 | Gregory Weyer | 16,375 |
| 92 | Michael Botwin | 16,300 |
| 93 | Alessandro DeMichele | 16,000 |
| 94 | Fu Wong | 16,000 |
| 95 | Timothy Burt | 15,725 |
| 96 | Alexander Dovzhenko | 15,125 |
| 97 | Christian Martin | 15,075 |
| 98 | Jameson Painter | 15,025 |
| 99 | James Hoeppner | 15,000 |
| 100 | Steven Mcloughlin | 15,000 |
| 101 | Jtin Young | 14,950 |
| 102 | Damon Sandor | 14,900 |
| 103 | Vladimir Shchmelev | 14,725 |
| 104 | Gregory Raymer | 14,500 |
| 105 | Jason Potter | 14,375 |
| 106 | Jonathan Tamayo | 14,150 |
| 107 | Jefey King | 14,025 |
| 108 | Rudolf Schwartz | 14,000 |
| 109 | Joseph Tehan | 13,600 |
| 110 | Isaac Crow | 13,525 |
| 111 | Adam iedman | 13,500 |
| 112 | Brett Richey | 13,375 |
| 113 | Samuel Gerber | 13,325 |
| 114 | Mark Trombley | 13,125 |
| 115 | Viliyan Petleshkov | 13,000 |
| 116 | Mark Provenzano | 13,000 |
| 117 | Peter Mavro | 12,775 |
| 118 | Mihails Morozovs | 12,700 |
| 119 | Jefey Siegal | 12,675 |
| 120 | Ismael Bojang | 12,525 |
| 121 | Paul Sokoloff | 12,400 |
| 122 | Leonard Martin | 12,350 |
| 123 | David Stroj | 12,025 |
| 124 | Mark Roland | 11,850 |
| 125 | Bryan Micon | 11,700 |
| 126 | Gordon Lamb | 11,675 |
| 127 | Yehuda Buchalter | 11,625 |
| 128 | David John | 11,600 |
| 129 | Todd Brunson | 11,425 |
| 130 | Moses Silverman | 11,100 |
| 131 | Ivan Demidov | 10,875 |
| 132 | Matthew Stout | 10,875 |
| 133 | David Moskowitz | 10,425 |
| 134 | Gabriel Nassif | 10,400 |
| 135 | David Paredes | 10,150 |
| 136 | Michael Saltzburg | 10,100 |
| 137 | Nicolas Adamakis | 10,000 |
| 138 | Jean Kabbaj | 9,675 |
| 139 | Benjamin Las | 9,625 |
| 140 | Charles Kassin | 9,200 |
| 141 | Tristan Clemencon | 9,175 |
| 142 | Christer Johansson | 9,175 |
| 143 | John Racener | 9,000 |
| 144 | Christopher Mchugh | 8,850 |
| 145 | David Rheem | 8,800 |
| 146 | Matthew Vengrin | 8,600 |
| 147 | Daniel Fuhs | 8,575 |
| 148 | Mickey Appleman | 8,550 |
| 149 | Matthew Smith | 8,500 |
| 150 | Christer Bjorin | 8,400 |
| 151 | Mark Gregorich | 8,275 |
| 152 | Joseph Marchal | 8,250 |
| 153 | Brian Altizer | 7,800 |
| 154 | W Staufeneger | 6,950 |
| 155 | Hieu Ma | 6,575 |
| 156 | Lonnie Heimowitz | 6,475 |
| 157 | Richard Fuller | 6,425 |
| 158 | Scotty Nguyen | 6,425 |
| 159 | Brian Brubaker | 6,400 |
| 160 | Desmond Portano | 6,300 |
| 161 | James Geary | 5,825 |
| 162 | Michael Gathy | 5,625 |
| 163 | Svetlana Gromenkova | 5,500 |
| 164 | Jordan Siegel | 4,600 |
| 165 | Greg Mueller | 3,825 |
| 166 | Jefey Hill | 3,800 |
| 167 | Benton Blakeman | 1,600 |