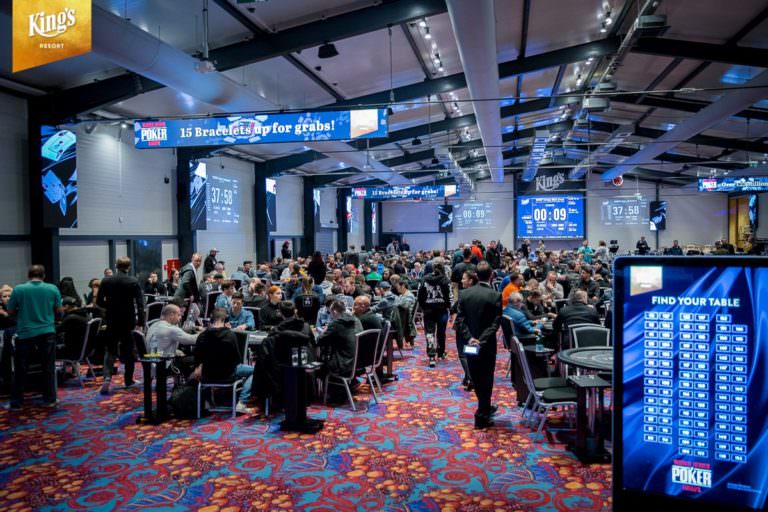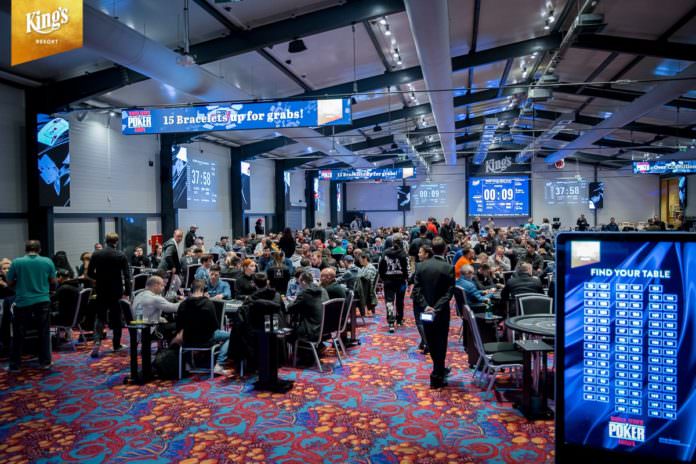 Nach weiteren sechs spannenden Levels ging Tag 2 von Event #14, dem €10.350 Main Event bei der World Series of Poker Europe zu Ende. Es war wieder einiges los im King's Resort in Rozvadov, 279 Spieler kehrten zu ihren Chipstüten zurück. Diese Zahl fiel am Ende des Tages auf 129, Paulius Vaitiekunas sicherte sich mit 1.221.000 Chips den größten Stack und geht als Chipleader in Tag 3. 
Da die LateReg noch fünf Level lang möglich war, wuchs das Teilnehmerfeld zunächst einmal weiter an. Mit insgesamt 541 Entries ist es das größte WSOPE Main Event im King's Resort jemals. Die Garantie von €5 Mio. wurde klar geknackt und der Main Event Sieger wird mit mehr als €1,1 Mio. belohnt werden.
Viele andere große Namen der Pokerszene versuchten ihr Glück beim Main Event. Daniel Negreanu, Phil Hellmuth , WSOP-Main Event-Meister Hossein Ensan, Dominik Nitsche, Ole Schemion, Christoph Vogelsang, William Kassouf, Sam Grafton, Phil Hui, Ryan Riess und Alex Livingston gingen leer aus. Es war auch ein harter Tag für einen der Chipleader Kahle Burns, für ihn ging es auf und ab, aber am Ende verpasste er den Anschluss ans Feld. Damit war Shaun Deeb einer der wenigen Spieler, der immer noch im Rennen für den Titel "Player of the Year" ist, er konnte sich einen Stack von 118.000 Chips erspielen. 
Einige andere große Namen, die es durch den Tag schafften, sind Jan-Peter Jachtmann (851.000), Martin Kabrhel (793.000), Joao Vieira (715.000), Dario Sammartino (687.000), Anton Morgenstern (600.000), Jeff Madsen (404.000). Benjamin Pollak (350.000) und Titelverteidiger Jack Sinclair (272.000).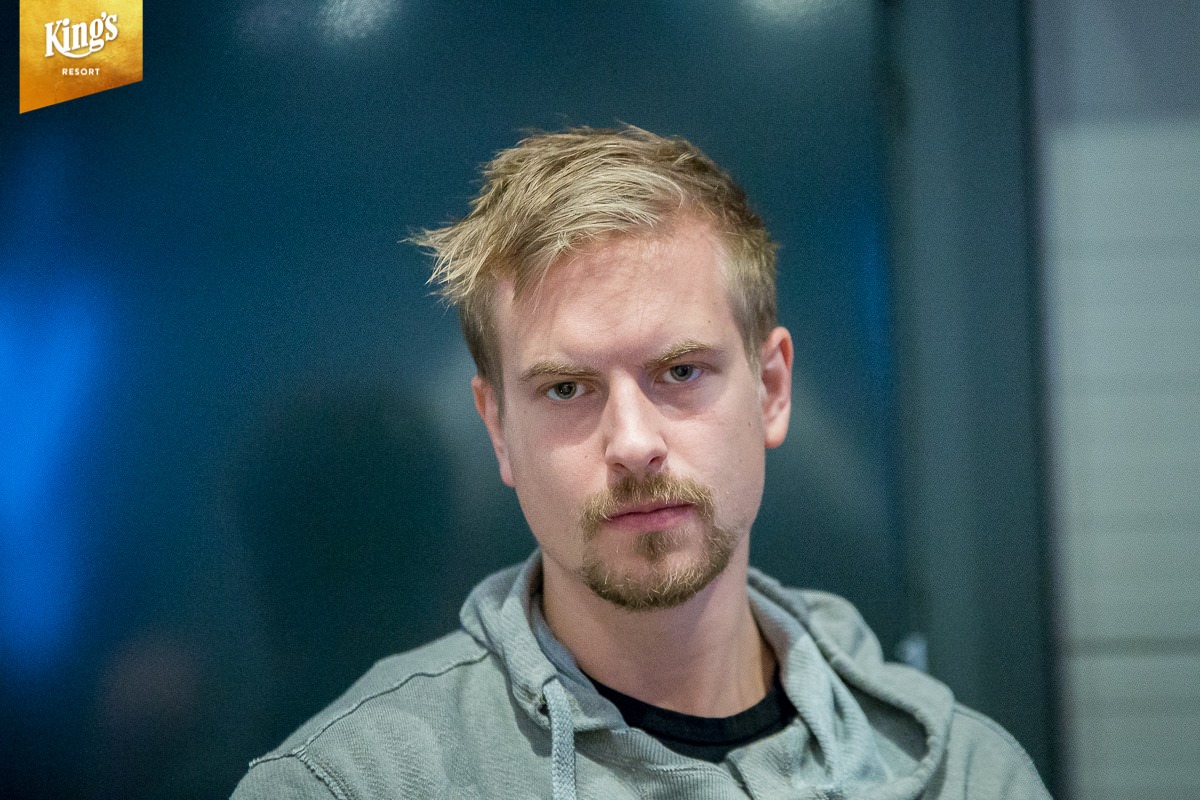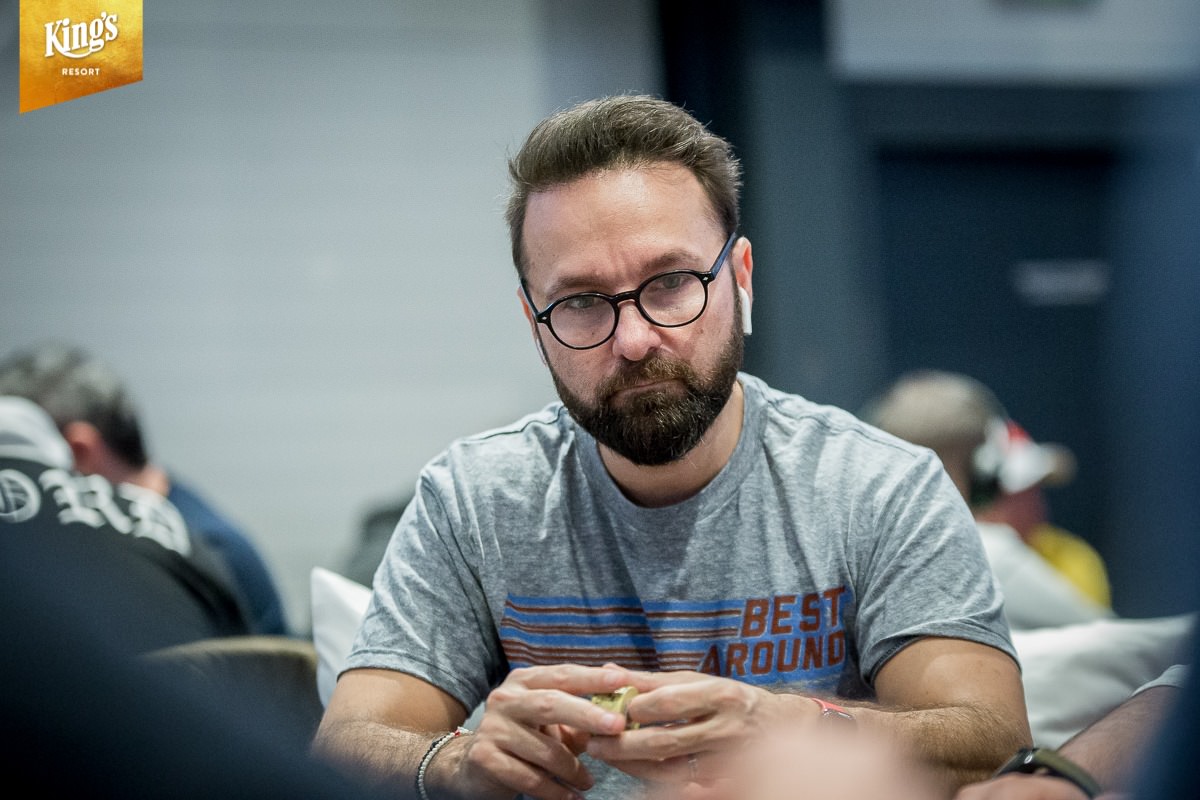 Aus deutschsprachiger Sicht konnten sich neben Habegger und Jachtmann einige weitere Spieler gut platzieren. Ahmad Qais Achegsei landete als bester Deutscher auf Platz 2, Martin Johannes Kristeller und der Österreicher Daniel Rezaei belegten die Plätze 5 und 7.
Wenn die Spieler heute an Tag 3 zu ihren Plätzen zurückkehren, haben sie die Bubble im Visier. Mit 129 verbleibenden Spielern und nur 82 verdienenden Spielern könnte die Blase schneller platzen als gedacht. 
Heute geht es im King's um 12 Uhr Ortszeit mit Level 14 und Blinds von 3,000 / 6,000 plus einem Big Blind Ante von 6.000 für die verbliebenen 129 Spielern weiter.
Ab 20.00 deutscher Zeit kann man dann die Action auch wieder live bei PokerGO verfolgen.
WSOPE Main Event, Die Chips von Tag 2
| First name | Last name | Nationality | Chip count | Table | Seat |
| --- | --- | --- | --- | --- | --- |
| Paulius | Vaitiekunas | Lithuania | 1221000 | 84 | 6 |
| Ahmad Qais | Achegsei | Germany | 1213000 | 85 | 6 |
| Daan Gerardus | Mulders | Netherlands | 1191000 | 97 | 7 |
| Alexandros | Kolonias | Greece | 1115000 | 99 | 2 |
| Martin Johannes | Kristeller | Germany | 1100000 | 111 | 6 |
| Vadzim | Lipauka | Belarus | 964000 | 108 | 4 |
| Daniel | Rezaei | Austria | 911000 | 95 | 7 |
| Julien Joseph Rene | Martini | France | 887000 | 94 | 3 |
| Duco Olivier | Ten Haven | Netherlands | 880000 | 80 | 4 |
| Markus | Dürnegger | Austria | 874000 | 82 | 1 |
| Dragos | Trofimov | United Kingdom | 861000 | 110 | 8 |
| Jan Peter Alfred | Jachtmann | Germany | 851000 | 97 | 8 |
| William Alexander | Foxen | United States | 813000 | 83 | 4 |
| Martin | Kabrhel | Czech Republic | 793000 | 84 | 5 |
| Mustafa | Biz | Turkey | 777000 | 94 | 8 |
| Adrian | Garcia Galipienso | Spain | 737000 | 82 | 7 |
| David Michael | Baker | United States | 720000 | 85 | 1 |
| Joao Filipe | Martins Vieira | Portugal | 715000 | 95 | 2 |
| Felix Daniel | Schulze | Germany | 714000 | 111 | 1 |
| Robert | Skopalik | Czech Republic | 694000 | 112 | 8 |
| Giuseppe Dario | Sammartino | Italy | 687000 | 81 | 8 |
| Claas Eyke | Segebrecht | Germany | 670000 | 98 | 2 |
| Enrico | Camosci | Italy | 655000 | 96 | 4 |
| Rene | Mueller | Germany | 648000 | 109 | 7 |
| Michal Jan | Lubas | Poland | 646000 | 80 | 5 |
| Faramarz | Safari | Austria | 639000 | 99 | 1 |
| Adi | Rajkovic | Austria | 633000 | 108 | 3 |
| Shahar | Levi | Israel | 622000 | 110 | 2 |
| Anton | Morgenstern | Germany | 600000 | 98 | 4 |
| Rifat | Palevic | Sweden | 593000 | 112 | 5 |
| Ghattas | Kortas | Sweden | 568000 | 96 | 2 |
| Artur | Rudziankov | Belarus | 550000 | 108 | 7 |
| Charbel | Salloum | Lebanon | 532000 | 81 | 5 |
| Dash Daymon Dean | Dudley | United States | 508000 | 99 | 8 |
| Hongbin | Guo | China | 507000 | 109 | 8 |
| Quan | Zhou | China | 501000 | 82 | 3 |
| Kristoffer Skipper | Rasmussen | Denmark | 491000 | 95 | 1 |
| Vlada | Stojanovic | Serbia | 486000 | 94 | 2 |
| Philipp | Zukernik | Israel | 484000 | 83 | 8 |
| Pierre Chris | Mothes | Germany | 475000 | 80 | 1 |
| Roberto | Morra | Italy | 454000 | 97 | 6 |
| Mehrzad | Moadeli | Denmark | 449000 | 84 | 1 |
| Saar | Wilf | Israel | 449000 | 85 | 3 |
| Antonio | Mdreira De Andrade Dos Santos | Brazil | 447000 | 111 | 2 |
| Deniz Cem | Dogan | Germany | 445000 | 110 | 7 |
| Karol Tomasz | Konopka | Poland | 445000 | 82 | 5 |
| Raphael | Braun | Austria | 444000 | 112 | 7 |
| Julian Constantin | Menhardt | Germany | 439000 | 108 | 1 |
| Abdelhakim | Zoufri | Netherlands | 436000 | 83 | 3 |
| David Joe | Gnirs | Germany | 435000 | 111 | 7 |
| Anthony | Zinno | United States | 430000 | 99 | 5 |
| Roberto Claudio | Romanello | United Kingdom | 425000 | 95 | 5 |
| Negjdet | Avdylaj | RKS | 423000 | 97 | 3 |
| Leonard Oliver | Maue | Germany | 414000 | 96 | 5 |
| Michael | Duerk | Germany | 413000 | 85 | 4 |
| Anas | Caudroy Belatik | France | 405000 | 109 | 3 |
| Jeffrey Peter | Madsen | United States | 404000 | 94 | 6 |
| Setki | Ajruli | Macedonia, the former Yugoslav Republic of | 390000 | 84 | 3 |
| Anders | Kjellerup | Denmark | 387000 | 98 | 5 |
| Michael | Sklenicka | Czech Republic | 386000 | 81 | 4 |
| Dennis | Wilke | Germany | 368000 | 80 | 3 |
| Jacob Thomas | Baumgartner | United States | 362000 | 110 | 6 |
| Georgios | Vrakas | Greece | 362000 | 81 | 7 |
| Emmanouil | Fountoulakis | Greece | 362000 | 94 | 4 |
| Aymon | Hata | United Kingdom | 362000 | 84 | 7 |
| Francesco | Delfoco | Italy | 360000 | 82 | 6 |
| Jakob | Madsen | Denmark | 352000 | 85 | 8 |
| Bernd Christian | Gleissner | Germany | 350000 | 97 | 5 |
| Benjamin Bernard Pierre | Pollak | France | 350000 | 108 | 6 |
| Gergely | Voeroes | Hungary | 348000 | 80 | 7 |
| Roland | Israelashvili | United States | 337000 | 99 | 6 |
| Mykola | Kostyrko | Ukraine | 333000 | 111 | 3 |
| Alfred | Kovezman | Israel | 329000 | 96 | 6 |
| Bertrand Gilles Etienne | Grospellier | France | 323000 | 83 | 5 |
| Sergei | Verkhoturov | Russian Federation | 320000 | 95 | 6 |
| Anh | Do | Czech Republic | 313000 | 112 | 1 |
| Nadim | El Ammar | Germany | 310000 | 98 | 1 |
| Philipp Christoph | Luetkemeier | Germany | 306000 | 109 | 5 |
| Bartlomiej Ryszard | Machon | Åland Islands | 302000 | 110 | 1 |
| Sasa | Lalos | Austria | 296000 | 112 | 6 |
| Jorma Kalevi | Nuutinen | Finland | 293000 | 82 | 4 |
| Bleron | Maliqi | RKS | 292000 | 94 | 1 |
| Artur Wlodzimierz | Jarek | Poland | 292000 | 80 | 2 |
| Warwick | Mirzikinian | Australia | 288000 | 98 | 8 |
| Besmir | Hodaj | Albania | 287000 | 109 | 1 |
| Christopher Robin | Frank | Åland Islands | 284000 | 97 | 2 |
| Enrico | Campanile | Italy | 283000 | 85 | 7 |
| Alessandro | Laubinger | Germany | 279000 | 81 | 1 |
| Marius Alexandru | Gicovanu | Romania | 277000 | 111 | 8 |
| Marek | Blasko | Slovakia | 273000 | 83 | 1 |
| Gianluca | Speranza | Italy | 273000 | 84 | 4 |
| Jack David | Sinclair | United Kingdom | 272000 | 95 | 4 |
| Ihor | Yerofieiev | Ukraine | 267000 | 99 | 4 |
| Oleg | Pavlyuchuk | Russian Federation | 267000 | 96 | 8 |
| Jozef | Bartalos | Slovakia | 251000 | 108 | 5 |
| Jakub | Oliva | Czech Republic | 251000 | 110 | 5 |
| Maria Konstanza Or M | Lampropoulou Or L | Greece | 248000 | 96 | 1 |
| Tobias | Peters | Netherlands | 241000 | 80 | 8 |
| Christofor | Stefanidi | Germany | 239000 | 109 | 6 |
| Zhong | Chen | Netherlands | 236000 | 85 | 2 |
| Roman Olivier | Sahin | Switzerland | 228000 | 95 | 8 |
| Michal | Mrakes | Czech Republic | 227000 | 97 | 1 |
| Thomas | Hammerl | Germany | 225000 | 112 | 2 |
| Manuel | Bulut | Germany | 223000 | 98 | 6 |
| Davidi Jacob | Kitai | Belgium | 218000 | 81 | 2 |
| Fernando | Habegger | Switzerland | 212000 | 84 | 8 |
| Orpen | Kisacikoglu | Turkey | 207000 | 94 | 5 |
| Viktor | Walter | Germany | 201000 | 83 | 7 |
| Anatoly | Filatov | Russian Federation | 200000 | 82 | 2 |
| Maxim | Lykov | Russian Federation | 196000 | 111 | 5 |
| Giorgii | Skhulukhiia | Russian Federation | 190000 | 99 | 3 |
| Nicolas | Sievers | Germany | 167000 | 108 | 2 |
| Harry Nicholas | Ross | United Kingdom | 164000 | 110 | 4 |
| Tomas | Knespl | Czech Republic | 164000 | 82 | 8 |
| Sergio | Ruiz | Spain | 163000 | 80 | 6 |
| Rainer | Kempe | Germany | 159000 | 108 | 8 |
| Raz | Alon | Israel | 152000 | 84 | 2 |
| Dennis | Martin | Germany | 134000 | 98 | 3 |
| Yake | Wu | China | 125000 | 83 | 2 |
| Shaun Kristopher | Deeb | United States | 118000 | 99 | 7 |
| Christian | Rudolph | Germany | 116000 | 109 | 4 |
| Karl-Theodor | Schoepf | Germany | 115000 | 111 | 4 |
| Per Klas Roland | Reevcrona | Sweden | 107000 | 81 | 6 |
| Balazs | Bistei | Hungary | 102000 | 94 | 7 |
| Kasparas | Klezys | Lithuania | 97000 | 97 | 4 |
| Aleksandr | Merzhvinskii | Russian Federation | 94000 | 96 | 3 |
| Didier | Rabl | Switzerland | 92000 | 85 | 5 |
| Guillaume Maxime Dany | Diaz | France | 85000 | 112 | 3 |
| Paul | Theobald | Germany | 62000 | 95 | 3 |