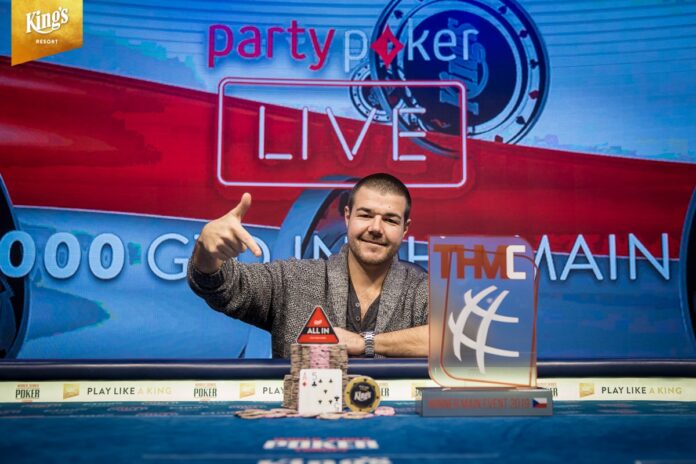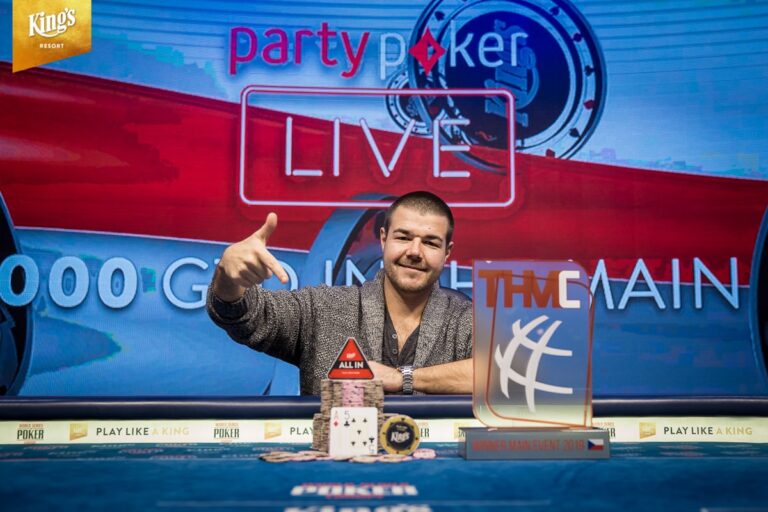 Das The Hendon Mob Championship (THMC) Main Event im King's Resort kam gestern um 10:00 morgens schon mit dem Turbo-Flight 1F in Schwung. Dort wollten nochmal 163 Spieler die Chance nutzen, sich für das Finale um 15:00 zu qualifizieren.
Das schraubte die Gesamtzahl der Entries auf 734, von denen am Ende 79 Spieler mit einem Preisgeld nach Hause gehen sollten. Damit konnte man das drohende Overlay nicht mehr vermeiden und die Spieler durften sich über einen Bonus im Preispool freuen.
Als Min-Cash gab es €576 zu verdienen und Top-Preis warteten € 42.842 auf den Sieger, mit einem WSOPE 2020 Main Event Day 1A Ticket im Wert von €10.300 inclusive.
Die Entscheidung im Finale sollte dann keine einfache werden. Per Livestream via Twitch konnte man das Geschehen aus dem King's Resort ungefiltert mitverfolgen, bis in den Morgenstunden dann die Entscheidung fiel.
Am Finaltisch angekommen baute sich Norbert Baumgartner aus Deutschland einen immer größer werdenden Chiplead auf. Mit sehr aggressivem Spiel holte er sich Chip um Chip in seinen Stack.
Im HeadsUp saß ihm dann "MENOTTI" – ebenfalls aus Deutschland – gegenüber. In der letzten Hand des Abends raiste MENOTTI mit
vom Button und callte dann für seine letzten 22BB auf den Push von Norbert hin, der einen 8:1 Chiplead und mit
auch die bessere Hand vor dem Flop hatte.
Der Flop brachte keine Veränderung und damit war das Turnier vorbei. Norbert ist der erste The Hendon Mob Champion bei einem echten THMC-Festival. Er kassiert €32.542 in bar sowie ein €10.300 WSOPE 2020 Main Event Ticket (Day 1A).
Für MENOTTI bedeutet der zweite Platz immerhin noch €20.434 in bar sowie ebenfalls einen Startplatz beim nächsten WSOPE Main Event 2020 im King's Resort.
Hier ist das Livestream-Replay vom Finale:
€32K + WSOPE ME Ticket für den Sieger! The Hendon Mob Championship Finale LIVE! von pokerroomkingsDE auf www.twitch.tv ansehen
Die Übersicht:
| | |
| --- | --- |
| Buy-in | € 200 +  € 20 |
| Entries | 565 |
| Re-Entries | 169 |
| Total entries | 734 |
| Total prizepool | € 190 000 |
Das Resultat:
| Pos. | First name | Last name | Nickname | Nationality | Payout |
| --- | --- | --- | --- | --- | --- |
| 1 | Norbert | Baumgartner | | Germany | € 42.842 |
| 2 | | | MENOTTI | Germany | € 30.734 |
| 3 | Bouabdellah | Karoui | | France | € 14.594 |
| 4 | Hendrik | Pausch | | Germany | € 11.377 |
| 5 | Marc | Schembri | | Malta | € 8.922 |
| 6 | Frederic Germain Pierre | Heinry | | France | € 7.009 |
| 7 | Rudolf Peter | Rotter | | Germany | € 5.231 |
| 8 | Alexander | Graf | | Germany | € 3.623 |
| 9 | Mihael | Vukicevic | | Croatia | € 2.861 |
| 10 | Martin | Kuba | | Czech Republic | € 2.353 |
| 11 | | | chiKKita banAAna | Israel | € 2.353 |
| 12 | | | dr.aufleger | Germany | € 1.998 |
| 13 | Frank | Elste | | Germany | € 1.998 |
| 14 | | | Uncle Gunz | Germany | € 1.744 |
| 15 | Karol | Radomski | | Poland | € 1.744 |
| 16 | Christian Andreas Maximil | Rau | | Germany | € 1.541 |
| 17 | | | Alfred Sand | France | € 1.541 |
| 18 | Valon | Kelmendi | | Åland Islands | € 1.371 |
| 19 | Josef | Gulas | | Czech Republic | € 1.371 |
| 20 | Robert Hermann | Tursi | | Germany | € 1.371 |
| 21 | Paul Emanuel | Bahnsen | | Germany | € 1.202 |
| 22 | | | Zigigi | Georgia | € 1.202 |
| 23 | Bawar | Sulaiman | | Syrian Arab Republic | € 1.202 |
| 24 | Detlef Karl Alfred | Boekhoff | | Germany | € 1.033 |
| 25 | Aaron Sebastian | Thiel | | Germany | € 1.033 |
| 26 | Sebastian | Curcu | | Germany | € 1.033 |
| 27 | Jens | Wedekind | | Germany | € 1.033 |
| 28 | Zuelkuef | Uyar | | Turkey | € 897 |
| 29 | Matus | Kucera | | Slovakia | € 897 |
| 30 | Mathias Reiner | Rodach | | Germany | € 897 |
| 31 | Tony | Do | | Germany | € 897 |
| 32 | Dietmar | Darilion | | Austria | € 796 |
| 33 | Mario | Verges Morais | | Spain | € 796 |
| 34 | Manuel | Frutiger | | Switzerland | € 796 |
| 35 | Jan | Krnac | | Czech Republic | € 796 |
| 36 | Kevin Raymond Manfred | Mamn | | Germany | € 796 |
| 37 | | | FranKKKK | Germany | € 796 |
| 38 | Markus | Luehring | | Germany | € 796 |
| 39 | Dennis | Becker | | Germany | € 796 |
| 40 | Steeven Raymo | Gerardin | | France | € 694 |
| 41 | Tien Tam | Nguyen | | Czech Republic | € 694 |
| 42 | Sascha | Neunaber | | Germany | € 694 |
| 43 | Marius | Crede | | Germany | € 694 |
| 44 | Tom Gilbert M | De Munck | | Belgium | € 694 |
| 45 | Patrik | Brichzin | | Czech Republic | € 694 |
| 46 | Christiaan | Eijfferts | | Netherlands | € 694 |
| 47 | Abeerullah | Sharif | | Netherlands | € 694 |
| 48 | Baktasch | Safi | | Germany | € 694 |
| 49 | Yan Jacques | Pelletier | | France | € 694 |
| 50 | Devy | Scattone | | Belgium | € 694 |
| 51 | Marek | Sulc | | Czech Republic | € 694 |
| 52 | Ophtr | Sella | | Israel | € 694 |
| 53 | | | Runen777 | Russian Federation | € 694 |
| 54 | Maximilian | Schardt | | Germany | € 694 |
| 55 | Anh | Do | | Czech Republic | € 694 |
| 56 | Jakob Hans Arnold | Rapatz | | Austria | € 626 |
| 57 | Ronald | Goossens | | Netherlands | € 626 |
| 58 | Brian Mark | Cornell | | Germany | € 626 |
| 59 | Bahri | Wagner | | Germany | € 626 |
| 60 | | | LABI | Germany | € 626 |
| 61 | Maciej Ludwik | Kondraszuk | | Poland | € 626 |
| 62 | Joerg | Schneegass | | Germany | € 626 |
| 63 | Ashot | Oganesian | | Russian Federation | € 626 |
| 64 | Michael Juergen | Drum | | Germany | € 626 |
| 65 | | | MAJDZR | Czech Republic | € 626 |
| 66 | Vincenzo | Lo Monaco | | France | € 626 |
| 67 | Sascha Walter | Wegmann | | Switzerland | € 626 |
| 68 | Mykola | Fomin | | Ukraine | € 626 |
| 69 | Kerstin Johanna | Collins | | Germany | € 626 |
| 70 | Guido Hermann | Kramer | | Germany | € 626 |
| 71 | Michael Klaus | Gutzeit | | Germany | € 626 |
| 72 | Marco | Foeller | | Germany | € 576 |
| 73 | Kevin | Muchow | | Germany | € 576 |
| 74 | Stefan | Scherrer | | Switzerland | € 576 |
| 75 | | | kejbe | Croatia | € 576 |
| 76 | Alexander | Mantel | | Germany | € 576 |
| 77 | Toni | Ravnak | | Serbia | € 576 |
| 78 | Remond | Schweig | | Netherlands | € 576 |
| 79 | Michael | Raschdorf | | Germany | € 576 |