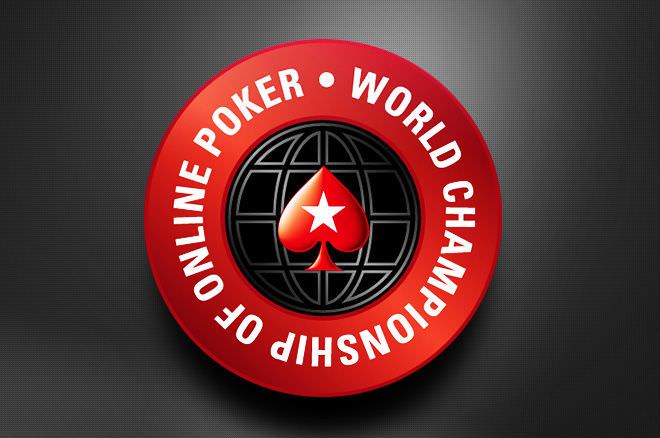 Bei der World Championship of Online Poker (WCOOP) 2022 auf PokerStars ging es nach dem Ruhetag (Freitag) am Samstag mit dem Tag 6 weiter. Hier schafften es die deutschsprachigen Online-Grinder sechsmal auf das Podium.
Mit dem $1.050 World Championship of FL Badugi stand auch die Entscheidung bei einer Online Weltmeisterschaft auf dem Plan. Hier konnte sich der Norweger "alligator" gegen den Österreicher "Keep3r" durchsetzen und den Titel sowie $19.107 abräumen. Als Runner-Up bekam "Keep3r" noch $11.810.
Der Österreicher "neeno1990" sorgte dann für den einzigen DACH-Erfolg am Samstag. Er triumphierte beim $1.050 NLHE 5-Max Turbo PKO Event #31-H und kassierte $19.815 + $16.033 Bounties. 
Eine richtig fetten Cash gab es auch für "Jepser8" aus Österreich. Er holte Bronze und $24.525 beim $530 NLHE Deepstack Event #26-H.
Dann konnte noch "FrankS86" (GER) den Platz 3 für $1.457 beim $11 8-Game Event #27-L belegen.
Beim $11 RAZZ Event #23-L holte sich "Cerigwen" (GER) den Platz 2 und $1.395 und der Schweizer "AveeySlots" belegte noch Platz 3 für $994.
Hier sind die Ergebnisse vom Samstag: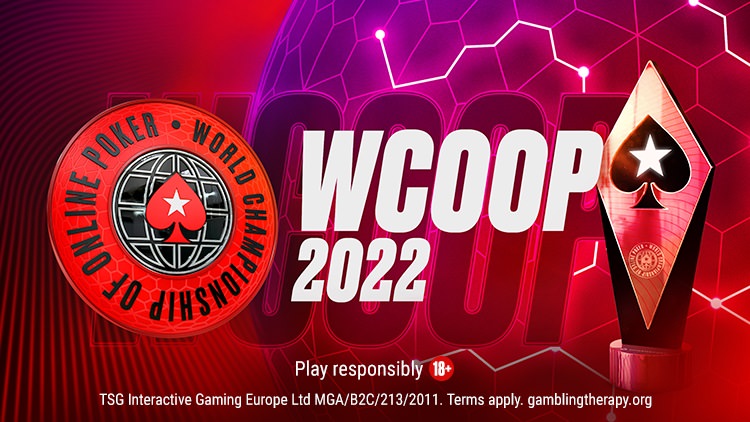 Wenn ihr noch keinen PokerStars-Account habt, könnt ihr euch hier registrieren und alle Vorteile genießen. Mit dem Ersteinzahlungs-Bonuscode "THIRTY" bekommt ihr sofort $30 Spielguthaben oder ihr benutzt bei eurer ersten Einzahlung den Bonuscode "STARS600" und bekommt 100% Deposit-Bonus (bis zu $600). 
Und hier der komplette Spielplan zur WCOOP 2022:
| | | |
| --- | --- | --- |
| Sun, 11 Sept | 08:05 | WCOOP 32-M: $109 NLHE [Sunday][Kickoff], $250K Gtd |
| Sun, 11 Sept | 08:05 | WCOOP 32-H: $1,050 NLHE [Sunday][Kickoff], $300K Gtd |
| Sun, 11 Sept | 10:05 | WCOOP 33-L: $5.50 NLHE [PKO,][Sunday][Warm-Up], $50K Gtd |
| Sun, 11 Sept | 10:05 | WCOOP 33-M: $55 NLHE [PKO,][Sunday][Warm-Up], $300K Gtd |
| Sun, 11 Sept | 10:05 | WCOOP 33-H: $530 NLHE [PKO,][Sunday][Warm-Up], $500K Gtd |
| Sun, 11 Sept | 12:30 | WCOOP 34-L: $109 NLHE [Sunday][Million], $1.25M Gtd |
| Sun, 11 Sept | 12:30 | WCOOP 34-M: $1,050 NLHE, $1.25M Gtd |
| Sun, 11 Sept | 12:30 | WCOOP 34-H: $10,300 NLHE [High][Roller], $850K Gtd |
| Sun, 11 Sept | 12:30 | World Championship of 6-Max NLHE: $5,200, $750K Gtd |
| Sun, 11 Sept | 13:30 | WCOOP 35-L: $22 5-Card PLO, $50K Gtd |
| Sun, 11 Sept | 13:30 | WCOOP 35-M: $215 5-Card PLO, $100K Gtd |
| Sun, 11 Sept | 13:30 | WCOOP 35-H: $2,100 5-Card PLO, $200K Gtd |
| Sun, 11 Sept | 15:05 | WCOOP 36-L: $11 NLHE [7-Max,][PKO], $85K Gtd |
| Sun, 11 Sept | 15:05 | WCOOP 36-M: $109 NLHE [7-Max,][PKO], $300K Gtd |
| Sun, 11 Sept | 15:05 | WCOOP 36-H: $1,050 NLHE [7-Max,][PKO], $300K Gtd |
| Sun, 11 Sept | 16:30 | WCOOP 37-L: $55 NLHE [Turbo,][PKO,][Sunday][Cooldown], $300K Gtd |
| Sun, 11 Sept | 16:30 | WCOOP 37-M: $530 NLHE [Turbo,][PKO,][Sunday][Cooldown], $400K Gtd |
| Sun, 11 Sept | 16:30 | WCOOP 37-H: $5,200 NLHE [Turbo,][PKO,][Sunday][Cooldown][High][Roller], $400K Gtd |
| Mon, 12 Sept | 12:30 | WCOOP 38-L: $22 NLHE [6-Max,][PKO], $250K Gtd |
| Mon, 12 Sept | 12:30 | WCOOP 38-M: $215 NLHE [6-Max,][PKO], $500K Gtd |
| Mon, 12 Sept | 12:30 | WCOOP 38-H: $2,100 NLHE [6-Max,][PKO], $400K Gtd |
| Mon, 12 Sept | 12:30 | World Championship of PLO8: $1,050, $100K Gtd |
| Mon, 12 Sept | 13:30 | WCOOP 23-L: $11 Stud Hi/Lo, $10K Gtd |
| Mon, 12 Sept | 13:30 | WCOOP 23-M: $109 Stud Hi/Lo, $25K Gtd |
| Mon, 12 Sept | 13:30 | WCOOP 23-H: $1,050 Stud Hi/Lo, $50K Gtd |
| Mon, 12 Sept | 15:05 | WCOOP 40-L: $11 NLHE [7-Max,][PKO], $50K Gtd |
| Mon, 12 Sept | 15:05 | WCOOP 40-M: $109 NLHE [7-Max,][PKO], $175K Gtd |
| Mon, 12 Sept | 15:05 | WCOOP 40-H: $1,050 NLHE [7-Max,][PKO], $200K Gtd |
| Tue, 13 Sept | 10:05 | WCOOP 41-L: $5.50 NLHE [Deep][Stack], $40K Gtd |
| Tue, 13 Sept | 10:05 | WCOOP 41-M: $55 NLHE [Deep][Stack], $175K Gtd |
| Tue, 13 Sept | 10:05 | WCOOP 41-H: $530 NLHE [Deep][Stack], $300K Gtd |
| Tue, 13 Sept | 11:30 | WCOOP 42-L: $11 PLO [PKO], $35K Gtd |
| Tue, 13 Sept | 11:30 | WCOOP 42-M: $109 PLO [PKO], $100K Gtd |
| Tue, 13 Sept | 11:30 | WCOOP 42-H: $1,050 PLO [PKO], $175K Gtd |
| Tue, 13 Sept | 12:30 | WCOOP 43-L: $215 NLHE [Super][Tuesday], $350K Gtd |
| Tue, 13 Sept | 12:30 | WCOOP 43-M: $2,100 NLHE [Super][Tuesday], $400K Gtd |
| Tue, 13 Sept | 12:30 | WCOOP 43-H: $25,000 NLHE [Super][High][Roller], $1M Gtd |
| Tue, 13 Sept | 13:30 | WCOOP 44-L: $22 FL 2-7 Triple Draw, $12.5K Gtd |
| Tue, 13 Sept | 13:30 | WCOOP 44-M: $215 FL 2-7 Triple Draw, $30K Gtd |
| Tue, 13 Sept | 13:30 | WCOOP 44-H: $2,100 FL 2-7 Triple Draw, $65K Gtd |
| Tue, 13 Sept | 15:05 | WCOOP 45-L: $5.50 NLHE [7-Max,][PKO], $30K Gtd |
| Tue, 13 Sept | 15:05 | WCOOP 45-M: $55 NLHE [7-Max,][PKO], $175K Gtd |
| Tue, 13 Sept | 15:05 | WCOOP 45-H: $530 NLHE [7-Max,][PKO], $300K Gtd |
| Wed, 14 Sept | 12:30 | WCOOP 46-L: $55 NLHE [Midweek][Freeze], $150K Gtd |
| Wed, 14 Sept | 12:30 | WCOOP 46-M: $530 NLHE [Midweek][Freeze], $250K Gtd |
| Wed, 14 Sept | 12:30 | WCOOP 46-H: $5,200 NLHE [Midweek][Freeze][High][Roller], $325K Gtd |
| Wed, 14 Sept | 12:30 | World Championship of Razz: $1,050, $75K Gtd |
| Wed, 14 Sept | 13:30 | WCOOP 47-L: $11 FL Badugi [6-Max], $7.5K Gtd |
| Wed, 14 Sept | 13:30 | WCOOP 47-M: $109 FL Badugi [6-Max], $15K Gtd |
| Wed, 14 Sept | 13:30 | WCOOP 47-H: $1,050 FL Badugi [6-Max], $35K Gtd |
| Wed, 14 Sept | 15:05 | WCOOP 48-L: $5.50 NLHE [6-Max], $20K Gtd |
| Wed, 14 Sept | 15:05 | WCOOP 48-M: $55 NLHE [6-Max], $100K Gtd |
| Wed, 14 Sept | 15:05 | WCOOP 48-H: $530 NLHE [6-Max], $175K Gtd |
| Thu, 15 Sept | 10:05 | WCOOP 49-L: $11 NLHE, $75K Gtd |
| Thu, 15 Sept | 10:05 | WCOOP 49-M: $109 NLHE, $200K Gtd |
| Thu, 15 Sept | 10:05 | WCOOP 49-H: $1,050 NLHE, $225K Gtd |
| Thu, 15 Sept | 11:30 | WCOOP 50-L: $22 PLO8, $30K Gtd |
| Thu, 15 Sept | 11:30 | WCOOP 50-M: $215 PLO8, $80K Gtd |
| Thu, 15 Sept | 11:30 | WCOOP 50-H: $2,100 PLO8, $150K Gtd |
| Thu, 15 Sept | 12:30 | WCOOP 51-L: $22 NLHE [PKO,][Thursday][Thrill], $150K Gtd |
| Thu, 15 Sept | 12:30 | WCOOP 51-M: $215 NLHE [PKO,][Thursday][Thrill], $400K Gtd |
| Thu, 15 Sept | 12:30 | WCOOP 51-H: $2,100 NLHE [PKO,][Thursday][Thrill], $650K Gtd |
| Thu, 15 Sept | 13:30 | WCOOP 52-L: $109 8-Game, $50K Gtd |
| Thu, 15 Sept | 13:30 | WCOOP 52-M: $1,050 8-Game, $100K Gtd |
| Thu, 15 Sept | 13:30 | WCOOP 52-H: $10,300 8-Game [High][Roller], $350K Gtd |
| Thu, 15 Sept | 15:05 | WCOOP 53-L: $55 NLHE [6-Max], $150K Gtd |
| Thu, 15 Sept | 15:05 | WCOOP 53-M: $530 NLHE [6-Max], $200K Gtd |
| Thu, 15 Sept | 15:05 | WCOOP 53-H: $5,200 NLHE [6-Max,][High][Roller], $375K Gtd |
| Thu, 15 Sept | 16:30 | WCOOP 54-L: $11 NLHE [Turbo,][PKO], $100K Gtd |
| Thu, 15 Sept | 16:30 | WCOOP 54-M: $109 NLHE [Turbo,][PKO], $250K Gtd |
| Thu, 15 Sept | 16:30 | WCOOP 54-H: $1,050 NLHE [Turbo,][PKO], $275K Gtd |
| Sat, 17 Sept | 10:05 | WCOOP 55-L: $22 NLHE [Deep][Stack], $125K Gtd |
| Sat, 17 Sept | 10:05 | WCOOP 55-M: $215 NLHE [Deep][Stack], $300K Gtd |
| Sat, 17 Sept | 10:05 | WCOOP 55-H: $2,100 NLHE [Deep][Stack], $200K Gtd |
| Sat, 17 Sept | 11:30 | WCOOP 56-L: $55 PLO, $50K Gtd |
| Sat, 17 Sept | 11:30 | WCOOP 56-M: $530 PLO, $100K Gtd |
| Sat, 17 Sept | 11:30 | WCOOP 56-H: $5,200 PLO, $300K Gtd |
| Sat, 17 Sept | 12:30 | WCOOP 57-L: $5.50 NLHE [PKO], $70K Gtd |
| Sat, 17 Sept | 12:30 | WCOOP 57-M: $55 NLHE [PKO], $350K Gtd |
| Sat, 17 Sept | 12:30 | WCOOP 57-H: $530 NLHE [PKO], $400K Gtd |
| Sat, 17 Sept | 13:30 | WCOOP 58-L: $11 NL 5-Card Draw, $12.5K Gtd |
| Sat, 17 Sept | 13:30 | WCOOP 58-M: $109 NL 5-Card Draw, $20K Gtd |
| Sat, 17 Sept | 13:30 | WCOOP 58-H: $1,050 NL 5-Card Draw, $35K Gtd |
| Sat, 17 Sept | 15:05 | WCOOP 59-L: $11 NLHE [4-Max,][PKO], $80K Gtd |
| Sat, 17 Sept | 15:05 | WCOOP 59-M: $109 NLHE [4-Max,][PKO], $175K Gtd |
| Sat, 17 Sept | 15:05 | WCOOP 59-H: $1,050 NLHE [4-Max,][PKO], $150K Gtd |
| Sat, 17 Sept | 16:30 | WCOOP 60-L: $22 NLHE [Turbo], $100K Gtd |
| Sat, 17 Sept | 16:30 | WCOOP 60-M: $215 NLHE [Turbo], $200K Gtd |
| Sat, 17 Sept | 16:30 | WCOOP 60-H: $2,100 NLHE [Turbo], $250K Gtd |
| Sun, 18 Sept | 08:05 | WCOOP 61-L: $5.50 NLHE [PKO], $60K Gtd |
| Sun, 18 Sept | 08:05 | WCOOP 61-M: $55 NLHE [PKO], $250K Gtd |
| Sun, 18 Sept | 08:05 | WCOOP 61-H: $530 NLHE [PKO], $300K Gtd |
| Sun, 18 Sept | 10:05 | WCOOP 62-L: $22 NLHE [Sunday][Warm-Up], $175K Gtd |
| Sun, 18 Sept | 10:05 | WCOOP 62-M: $215 NLHE [Sunday][Warm-Up], $500K Gtd |
| Sun, 18 Sept | 10:05 | WCOOP 62-H: $2,100 NLHE [Sunday][Warm-Up], $500K Gtd |
| Sun, 18 Sept | 12:30 | WCOOP 63-L: $55 NLHE [PKO,][Mini][Sunday][Million], $600K Gtd |
| Sun, 18 Sept | 12:30 | WCOOP 63-M: $530 NLHE [PKO,][Sunday][Million], $1M Gtd |
| Sun, 18 Sept | 12:30 | WCOOP 63-H: $5,200 NLHE [PKO,][Titans], $650K Gtd |
| Sun, 18 Sept | 12:30 | World Championship, Women's Event: $530 NLHE $65K Gtd |
| Sun, 18 Sept | 13:30 | WCOOP 64-L: $22 NLO8 [PKO], $50K Gtd |
| Sun, 18 Sept | 13:30 | WCOOP 64-M: $215 NLO8 [PKO], $80K Gtd |
| Sun, 18 Sept | 13:30 | WCOOP 64-H: $2,100 NLO8 [PKO], $150K Gtd |
| Sun, 18 Sept | 15:05 | WCOOP 65-L: $22 NLHE [6-Max], $100K Gtd |
| Sun, 18 Sept | 15:05 | WCOOP 65-M: $215 NLHE [6-Max], $250K Gtd |
| Sun, 18 Sept | 15:05 | WCOOP 65-H: $2,100 NLHE [6-Max], $275K Gtd |
| Sun, 18 Sept | 16:30 | WCOOP 66-L: $5.50 NLHE [7-Max,][Turbo,][PKO,][Sunday][Cooldown], $40K Gtd |
| Sun, 18 Sept | 16:30 | WCOOP 66-M: $55 NLHE [7-Max,][Turbo,][PKO,][Sunday][Cooldown], $250K Gtd |
| Sun, 18 Sept | 16:30 | WCOOP 66-H: $530 NLHE [7-Max,][Turbo,][PKO,][Sunday][Cooldown], $350K Gtd |
| Mon, 19 Sept | 12:30 | WCOOP 67-L: $55 NLHE, $500K Gtd |
| Mon, 19 Sept | 12:30 | WCOOP 67-M: $530 NLHE, $650K Gtd |
| Mon, 19 Sept | 12:30 | WCOOP 67-H: $5,200 NLHE, $700K Gtd |
| Mon, 19 Sept | 12:30 | World Championship of 8-Game: $2,100, $100K Gtd |
| Mon, 19 Sept | 13:30 | WCOOP 68-L: $11 6+ Hold'em [6-Max], $20K Gtd |
| Mon, 19 Sept | 13:30 | WCOOP 68-M: $109 6+ Hold'em [6-Max], $25K Gtd |
| Mon, 19 Sept | 13:30 | WCOOP 68-H: $1,050 6+ Hold'em [6-Max], $35K Gtd |
| Mon, 19 Sept | 15:05 | WCOOP 69-L: $11 NLHE, $60K Gtd |
| Mon, 19 Sept | 15:05 | WCOOP 69-M: $109 NLHE, $200K Gtd |
| Mon, 19 Sept | 15:05 | WCOOP 69-H: $1,050 NLHE, $225K Gtd |
| Mon, 19 Sept | 16:30 | WCOOP 70-L: $5.50 NLHE [7-Max,][PKO], $40K Gtd |
| Mon, 19 Sept | 16:30 | WCOOP 70-M: $55 NLHE [7-Max,][PKO], $200K Gtd |
| Mon, 19 Sept | 16:30 | WCOOP 70-H: $530 NLHE [7-Max,][PKO], $300K Gtd |
| Tue, 20 Sept | 11:30 | WCOOP 71-L: $5.50 PLO8, $15K Gtd |
| Tue, 20 Sept | 11:30 | WCOOP 71-M: $55 PLO8, $50K Gtd |
| Tue, 20 Sept | 11:30 | WCOOP 71-H: $530 PLO8, $100K Gtd |
| Tue, 20 Sept | 12:30 | WCOOP 72-L: $22 NLHE [Super][Tuesday], $100K Gtd |
| Tue, 20 Sept | 12:30 | WCOOP 72-M: $215 NLHE [Super][Tuesday], $275K Gtd |
| Tue, 20 Sept | 12:30 | WCOOP 72-H: $2,100 NLHE [Super][Tuesday], $500K Gtd |
| Tue, 20 Sept | 13:05 | World Championship of Heads-Up NLHE: $5,200, $200K Gtd |
| Tue, 20 Sept | 15:05 | WCOOP 73-L: $11 NLHE [6-Max,][PKO], $50K Gtd |
| Tue, 20 Sept | 15:05 | WCOOP 73-M: $109 NLHE [6-Max,][PKO], $175K Gtd |
| Tue, 20 Sept | 15:05 | WCOOP 73-H: $1,050 NLHE [6-Max,][PKO], $400K Gtd |
| Wed, 21 Sept | 11:30 | WCOOP 74-L: $11 HORSE, $12.5K Gtd |
| Wed, 21 Sept | 11:30 | WCOOP 74-M: $109 HORSE, $30K Gtd |
| Wed, 21 Sept | 11:30 | WCOOP 74-H: $1,050 HORSE, $60K Gtd |
| Wed, 21 Sept | 12:30 | WCOOP 75-L: $11 NLHE [PKO], $150K Gtd |
| Wed, 21 Sept | 12:30 | WCOOP 75-M: $109 NLHE [PKO], $500K Gtd |
| Wed, 21 Sept | 12:30 | WCOOP 75-H: $1,050 NLHE [PKO], $600K Gtd |
| Wed, 21 Sept | 13:30 | WCOOP 76-L: $22 5-Card NLO8, $30K Gtd |
| Wed, 21 Sept | 13:30 | WCOOP 76-M: $215 5-Card NLO8, $75K Gtd |
| Wed, 21 Sept | 13:30 | WCOOP 76-H: $2,100 5-Card NLO8, $175K Gtd |
| Wed, 21 Sept | 16:30 | WCOOP 77-L: $11 NLHE [4-Max], $60K Gtd |
| Wed, 21 Sept | 16:30 | WCOOP 77-M: $109 NLHE [4-Max], $150K Gtd |
| Wed, 21 Sept | 16:30 | WCOOP 77-H: $1,050 NLHE [4-Max], $200K Gtd |
| Thu, 22 Sept | 10:05 | WCOOP 78-L: $11 NLHE [6-Max], $75K Gtd |
| Thu, 22 Sept | 10:05 | WCOOP 78-M: $109 NLHE [6-Max], $225 Gtd |
| Thu, 22 Sept | 10:05 | WCOOP 78-H: $1,050 NLHE [6-Max], $250K Gtd |
| Thu, 22 Sept | 11:30 | WCOOP 79-L: $5.50 PLO [PKO], $20K Gtd |
| Thu, 22 Sept | 11:30 | WCOOP 79-M: $55 PLO [PKO], $85K Gtd |
| Thu, 22 Sept | 11:30 | WCOOP 79-H: $530 PLO [PKO], $175K Gtd |
| Thu, 22 Sept | 12:30 | WCOOP 80-L: $109 NLHE [PKO,][Thursday][Thrill], $400K Gtd |
| Thu, 22 Sept | 12:30 | WCOOP 80-M: $1,050 NLHE [PKO,][Thursday][Thrill], $600K Gtd |
| Thu, 22 Sept | 12:30 | WCOOP 80-H: $10,300 NLHE [PKO,][Thursday][Thrill][High][Roller], $650K Gtd |
| Thu, 22 Sept | 12:30 | World Championship of NL 2-7 Single Draw: $1,050, $65K Gtd |
| Thu, 22 Sept | 13:30 | WCOOP 81-L: $22 8-Game [8-Max], $25K Gtd |
| Thu, 22 Sept | 13:30 | WCOOP 81-M: $215 8-Game [8-Max], $40K Gtd |
| Thu, 22 Sept | 13:30 | WCOOP 81-H: $2,100 8-Game [8-Max], $80K Gtd |
| Thu, 22 Sept | 15:05 | WCOOP 82-L: $22 NLHE, $85K Gtd |
| Thu, 22 Sept | 15:05 | WCOOP 82-M: $215 NLHE, $200K Gtd |
| Thu, 22 Sept | 15:05 | WCOOP 82-H: $2,100 NLHE, $300K Gtd |
| Thu, 22 Sept | 16:30 | WCOOP 83-L: $11 NLHE [7-Max,][Turbo,][PKO], $50K Gtd |
| Thu, 22 Sept | 16:30 | WCOOP 83-M: $109 NLHE [7-Max,][Turbo,][PKO], $200K Gtd |
| Thu, 22 Sept | 16:30 | WCOOP 83-H: $1,050 NLHE [7-Max,][Turbo,][PKO], $250K Gtd |
| Sat, 24 Sept | 10:05 | WCOOP 84-L: $11 NLHE [Deep][Stack], $75K Gtd |
| Sat, 24 Sept | 10:05 | WCOOP 84-M: $109 NLHE [Deep][Stack], $200K Gtd |
| Sat, 24 Sept | 10:05 | WCOOP 84-H: $1,050 NLHE [Deep][Stack], $175K Gtd |
| Sat, 24 Sept | 11:30 | WCOOP 85-L: $11 Stud, $7.5K Gtd |
| Sat, 24 Sept | 11:30 | WCOOP 85-M: $109 Stud, $25K Gtd |
| Sat, 24 Sept | 11:30 | WCOOP 85-H: $1,050 Stud, $60K Gtd |
| Sat, 24 Sept | 12:30 | WCOOP 86-L: $22 NLHE [PKO], $275K Gtd |
| Sat, 24 Sept | 12:30 | WCOOP 86-M: $215 NLHE [PKO], $600K Gtd |
| Sat, 24 Sept | 12:30 | WCOOP 86-H: $2,100 NLHE [PKO], $400K Gtd |
| Sat, 24 Sept | 13:30 | WCOOP 87-L: $11 NLO8, $20K Gtd |
| Sat, 24 Sept | 13:30 | WCOOP 87-M: $109 NLO8, $40K Gtd |
| Sat, 24 Sept | 13:30 | WCOOP 87-H: $1,050 NLO8, $100K Gtd |
| Sat, 24 Sept | 15:05 | WCOOP 88-L: $11 NLHE [6-Max,][Turbo], $60K Gtd |
| Sat, 24 Sept | 15:05 | WCOOP 88-M: $109 NLHE [6-Max,][Turbo], $150K Gtd |
| Sat, 24 Sept | 15:05 | WCOOP 88-H: $1,050 NLHE [6-Max,][Turbo], $200K Gtd |
| Sat, 24 Sept | 16:30 | WCOOP 89-L: $22 NLHE [Turbo,][PKO], $100K Gtd |
| Sat, 24 Sept | 16:30 | WCOOP 89-M: $215 NLHE [Turbo,][PKO], $225K Gtd |
| Sat, 24 Sept | 16:30 | WCOOP 89-H: $2,100 NLHE [Turbo,][PKO], $250K Gtd |
| Sun, 25 Sept | 08:05 | WCOOP 90-L: $5.50 NLHE [Sunday][Kickoff], $50K Gtd |
| Sun, 25 Sept | 08:05 | WCOOP 90-M: $55 NLHE [Sunday][Kickoff], $200K Gtd |
| Sun, 25 Sept | 08:05 | WCOOP 90-H: $530 NLHE [Sunday][Kickoff], $400K Gtd |
| Sun, 25 Sept | 10:05 | WCOOP 91-L: $22 NLHE [PKO,][Sunday][Warm-Up], $200K Gtd |
| Sun, 25 Sept | 10:05 | WCOOP 91-M: $215 NLHE [PKO,][Sunday][Warm-Up], $600K Gtd |
| Sun, 25 Sept | 10:05 | WCOOP 91-H: $2,100 NLHE [PKO,][Sunday][Warm-Up], $600K Gtd |
| Sun, 25 Sept | 12:30 | WCOOP 92-L: $109 NLHE [NLHE][Main][Event], $2.5M Gtd |
| Sun, 25 Sept | 12:30 | WCOOP 92-M: $1,050 NLHE [NLHE][Main][Event], $4M Gtd |
| Sun, 25 Sept | 12:30 | WCOOP 92-H: World Championship of NLHE: $10,300 Main Event, $6M Gtd |
| Sun, 25 Sept | 13:30 | WCOOP 93-L: $5.50 NLHE [PKO,][Womens][Event], $3K Gtd |
| Sun, 25 Sept | 13:30 | WCOOP 93-M: $22 NLHE [PKO,][Womens][Event], $10K Gtd |
| Sun, 25 Sept | 13:30 | WCOOP 93-H: $109 NLHE [PKO,][Womens][Event], $25K Gtd |
| Sun, 25 Sept | 15:05 | WCOOP 94-L: $109 PLO [PLO][Main][Event], $250K Gtd |
| Sun, 25 Sept | 15:05 | WCOOP 94-M: $1,050 PLO [PLO][Main][Event], $600K Gtd |
| Sun, 25 Sept | 15:05 | WCOOP 94-H: World Championship of PLO: $10,300 Main Event, $1M Gtd |
| Sun, 25 Sept | 16:30 | WCOOP 95-L: $11 NLHE [7-Max,][Turbo,][PKO,][Sunday][Cooldown], $85K Gtd |
| Sun, 25 Sept | 16:30 | WCOOP 95-M: $109 NLHE [7-Max,][Turbo,][PKO,][Sunday][Cooldown], $350K Gtd |
| Sun, 25 Sept | 16:30 | WCOOP 95-H: $1,050 NLHE [7-Max,][Turbo,][PKO,][Sunday][Cooldown], $400K Gtd |
| Mon, 26 Sept | 12:30 | WCOOP 96-L: $11 NLHE [PKO,][Series][Saver], $175K Gtd |
| Mon, 26 Sept | 12:30 | WCOOP 96-M: $109 NLHE [PKO,][Series][Saver], $700K Gtd |
| Mon, 26 Sept | 12:30 | WCOOP 96-H: $1,050 NLHE [PKO,][Series][Saver], $1M Gtd |
| Mon, 26 Sept | 13:30 | WCOOP 01-L: $5.50 NLHE [Phase][2], $500K Gtd |
| Mon, 26 Sept | 13:30 | WCOOP 01-M: $22 NLHE [Phase][2], $600K Gtd |
| Mon, 26 Sept | 13:30 | WCOOP 01-H: $109 NLHE [Phase][2], $1M Gtd |
| Mon, 26 Sept | 15:05 | WCOOP 97-L: $55 NLHE [Turbo][ME][2nd][Chance], $250K Gtd |
| Mon, 26 Sept | 15:05 | WCOOP 97-M: $530 NLHE [Turbo][ME][2nd][Chance], $300K Gtd |
| Mon, 26 Sept | 15:05 | WCOOP 97-H: $5,200 NLHE [Turbo][ME][2nd][Chance], $400K Gtd |
| Mon, 26 Sept | 16:30 | WCOOP 98-L: $11 NLHE [Turbo], $50K Gtd |
| Mon, 26 Sept | 16:30 | WCOOP 98-M: $109 NLHE [Turbo], $175K Gtd |
| Mon, 26 Sept | 16:30 | WCOOP 98-H: $1,050 NLHE [Turbo], $200K Gtd |
| Tue, 27 Sept | 12:30 | WCOOP 99-L: $22 NLHE [Super][Tuesday], $100K Gtd |
| Tue, 27 Sept | 12:30 | WCOOP 99-M: $215 NLHE [Super][Tuesday], $250K Gtd |
| Tue, 27 Sept | 12:30 | WCOOP 99-H: $2,100 NLHE [Super][Tuesday], $400K Gtd |
| Tue, 27 Sept | 13:30 | WCOOP 100-L: $11 NLHE/PLO [6-Max], $20K Gtd |
| Tue, 27 Sept | 13:30 | WCOOP 100-M: $109 NLHE/PLO [6-Max], $60K Gtd |
| Tue, 27 Sept | 13:30 | WCOOP 100-H: $1,050 NLHE/PLO [6-Max], $85K Gtd |
| Tue, 27 Sept | 15:05 | WCOOP 101-L: $5.50 NLHE [Heads-Up,][Turbo,][Progressive][Total][KO,][Zoom], $60K Gtd |
| Tue, 27 Sept | 15:05 | WCOOP 101-M: $55 NLHE [Heads-Up,][Turbo,][Progressive][Total][KO,][Zoom], $200K Gtd |
| Tue, 27 Sept | 15:05 | WCOOP 101-H: $530 NLHE [Heads-Up,][Turbo,][Progressive][Total][KO,][Zoom], $250K Gtd |
| Wed, 28 Sept | 13:05 | WCOOP 102-L: $55 NLHE [Final][Freeze], $150K Gtd |
| Wed, 28 Sept | 13:05 | WCOOP 102-M: $530 NLHE [Final][Freeze], $200K Gtd |
| Wed, 28 Sept | 13:05 | WCOOP 102-H: $5,200 NLHE [Final][Freeze], $400K Gtd |
| Wed, 28 Sept | 14:15 | WCOOP 103-L: $11 PLO, $30K Gtd |
| Wed, 28 Sept | 14:15 | WCOOP 103-M: $109 PLO, $85K Gtd |
| Wed, 28 Sept | 14:15 | WCOOP 103-H: $1,050 PLO, $175K Gtd |
| Wed, 28 Sept | 15:30 | WCOOP 104-L: $5.50 NLHE [7-Max,][Hyper-Turbo,][PKO,][Series][Wrap-Up], $40K Gtd |
| Wed, 28 Sept | 15:30 | WCOOP 104-M: $55 NLHE [7-Max,][Hyper-Turbo,][PKO,][Series][Wrap-Up], $125K Gtd |
| Wed, 28 Sept | 15:30 | WCOOP 104-H: $530 NLHE [7-Max,][Hyper-Turbo,][PKO,][Series][Wrap-Up], $125K Gtd |