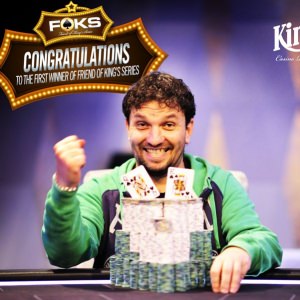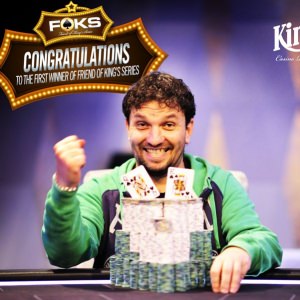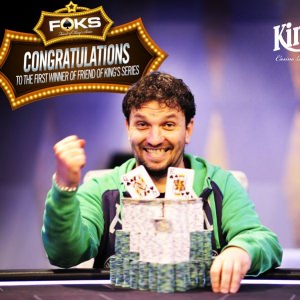 Laute Jubelschreie hallten gestern durch die Pokerarena des King's Casino in Rozvadov. Der Tscheche Tomáš Kvapil setzte sich gegen die Konkurrenz durch und gewann das Main Event der ersten Friend of King's Series (FOKS). Für seinen Sieg kassierte er mehr als 70.000 Euro!
Tomáš Kvapil hat es geschafft! Er ist der erste Sieger des Main Events der Friend of King's Series (FOKS). Mit Ausdauer, Skill und dem nötigen Quentchen Glück setzte sich der junge Tscheche durch und nahm nach einem 6-way Deal satte 70.326 Euro mit nach Hause. Insgesamt lagen 500.000 Euro im Preispool.
24 Spieler von  insgesamt 2060 Entries hatten sich für den Finaltag qualifiziert und kehrten gestern ins King's zurück. Denn  jeder startete in Tag 2 des Events mit einem Stack von 50.000 Chips. Mit  24 Spielern ging es gestern in den Finaltag. Und die Reihen sollten sich schnell lichten. Bereits nach wenigen Minuten mussten Stefan Macak und Martin Boleček ihre Stühle räumen. Für den Schweizer Burim Lulaj war auf dem 19. Platz (Preisgeld: 2940 Euro) Endstation. Ronny Voth (Deutschland), Scott "Scotty" Hanna und Luděk Figr (beide Tschechien) folgten ihm wenig .päter an die Rail.
Davy Maes  hatte den Final Table vor Augen und wurde kurz davor aber doch noch abgefangen. Der Belgier beendet das FOKS Main Event auf dem 13. Rang (3.920 Euro).  Die Schwedin Margaretha Nyholm schaffte es hingegen an  den Finaltisch. Sie war chronisch "Short Stack", schaffte es aber immerhin auf einen hervorragenden 9. Platz. Dieser wurde ihr mit einem  Preisgeld von rund 6.700 Euro versüßt. Ganz nebenbei gewann sie auch noch noch das interne  Familienduell gegen ihren Ehemann Magnus, der den 103. Platz (1.127 Euro)  belegte.
Tomáš Kvapil (Foto) kam als Chipleader an den Finaltisch und legte einen Start-Ziel-Sieg hin. Als nur noch sechs Spieler im Turnier waren und über einen Deal verhandelten, hielt Kvapil rund 40 Prozent aller Chips. Demnach sicherte er sich mit mehr als 70.000 Euro auch das größte Stück vom Kuchen. Runner Up wurde "T.S" aus Deutschland für rund 38.000 Euro. Für Rang 3 erhielt Petr Buhuslav aus Tschechien etwas mehr als 34.000 Euro.
Im King's Casino folgt unmittelbar auf die Friend of King's Series die GERMAN POKER TOUR (GPT) – The European Edition. Beim Main Event der GPT (Buy-In: 550 Euro), eines der besten Deepstack-Formate in Europa, wird um einen garantierten Preispool von 200.000 Euro gepokert!
Morgen geht es beim GPT Opening Event um garantierte 20.000 Euro. Gespielt wird mit unlimited Re-Entries. Für ein Buy-In von 140 Euro gibt es einen Startstack von 20.000 Chips. Die Levels dauern 25 Minuten. Los geht das One-Day-Tournament um 19 Uhr.
Beim Main Event werden drei Starttage angeboten: 22.5. (Start: 18 Uhr), 23.5. (17 Uhr) und 24.5. (15 Uhr).  Gestartet wird mit einem Stack von 50.000 Chips! Insgesamt sind drei  Entries (ein Buy-In und zwei Re-Entries) möglich. Die Levels dauern an  Tag 1a, 1b und 1c jeweils 45 Minuten. Der Tag 2, der am kommenden  Sonntag um 14 Uhr beginnt, und der Finaltag (Montag, 26.5.), werden mit  60-Minuten-Levels gespielt. Alle weiteren Infos gibt es HIER.
Das Endergebnis (Main Event FOKS):
FOKS Main Event 
 
 
 
 
 
 
 
 
 
 
Buy In 
250 €
 
 
 
 
Entries
2060
 
 
 
 
Re-entries
 
 
 
 
 
Re-entries
 
 
 
 
 
Total
 
 
 
 
 
Prize pool
€ 500.000
 
 
 
 
 
 
 
 
 
 
 
 
 
 
 
 
No
Name
First Name
Nation
Prize
Deal
 
 
 
 
 
 
1
Kvapil
Tomáš
Czech republic
€ 100.352
70.326 €
2
T.S
 
Germany
€ 49.000
38.012 €
3
Bohuslav
Petr
Czech republic
€ 25.970
35.430 €
4
Bartoš
Martin
Slovak republic
€ 17.640
26.290 €
5
J.E
 
Germany
€ 13.230
25.663 €
6
Medveckij
Olekszandr
Hungary
€ 9.800
20.270 €
7
Frič
Martin
Slovak republic
€ 8.820
 
8
Hejdánek
Petr
Czech republic
€ 7.840
 
9
Nyholm
Margaretha
Sweden
€ 6.860
 
10
Pešta
Vítězslav
Czech republic
€ 5.880
 
11
Šubík
Petr
Czech republic
€ 3.920
 
12
TDW
 
Germany
€ 3.920
 
13
Maes
Davy
Belgium
€ 3.920
 
14
SPYMAN
 
Germany
€ 3.920
 
15
Figr
Luděk
Czech republic
€ 3.920
 
16
ROCHEN
 
Germany
€ 2.940
 
17
Hanna
Scott
Czech republic
€ 2.940
 
18
Voth
Ronny
Germany
€ 2.940
 
19
Lulaj
Burim
Switzerland
€ 2.940
 
20
Hudáček
Igor
Slovak republic
€ 2.940
 
21
Haszel
 
Germany
€ 1.960
 
22
Phan
Hong Franz
Germany
€ 1.960
 
23
Boleček
Martin
Slovak republic
€ 1.960
 
24
Macak
Stefan
Slovak republic
€ 1.960
 
25
Trantalič
Matej
Slovak republic
€ 1.960
 
26
Hnilička
Jan
Czech republic
€ 1.568
 
27
Langer
Matti
Germany
€ 1.568
 
28
Märgner
Julian
Germany
€ 1.568
 
29
Ljubisavljevic
Daniel
Germany
€ 1.568
 
30
Peter
Jaroslav
Czech republic
€ 1.568
 
31
Gajdoš
Dušan
Slovak republic
€ 1.568
 
32
Duci
 
Germany
€ 1.568
 
33
Dobies
Tomáš
Slovak republic
€ 1.568
 
34
Prívozník
Dušan
Slovak republic
€ 1.568
 
35
Růžička
Aleš
Czech republic
€ 1.568
 
36
Krupčák
Marián
Slovak republic
€ 1.568
 
37
Piterka
Mário
Slovak republic
€ 1.568
 
38
Albayrak
Kurtulus
France
€ 1.568
 
39
Steinberg
Matthias
Germany
€ 1.568
 
40
Kaylan
Hasan
Germany
€ 1.568
 
41
Diekmann
Frank
Germany
€ 1.568
 
42
Ayyad
Abdessamad
Germany
€ 1.568
 
43
Pany
Jochen
Germany
€ 1.568
 
44
Heinrich
Nico
Germany
€ 1.568
 
45
László
Alexandru
Germany
€ 1.568
 
46
Grulo
Ladislav
Czech republic
€ 1.568
 
47
Christian P.
 
Germany
€ 1.568
 
48
Stojka
Milan
Czech republic
€ 1.568
 
49
Mäckl
Thomas
Germany
€ 1.568
 
50
Pexa
Václav
Czech republic
€ 1.568
 
51
Kortus
Jaroslav
Czech republic
€ 1.274
 
52
H.O.R.S.T
 
Germany
€ 1.274
 
53
chiKKita banAAna
 
Germany
€ 1.274
 
54
Schüler
Erik
Germany
€ 1.274
 
55
Pasini
Domenico
Germany
€ 1.274
 
56
Košec
Marek
Slovak republic
€ 1.274
 
57
Petöcz
Peter
Slovak republic
€ 1.274
 
58
Kotán
Igor
Slovak republic
€ 1.274
 
59
Jusaj
Musa
Kosovo
€ 1.274
 
60
Popovič
Teodor
Saudi Arabia
€ 1.274
 
61
Hutsch
Arno
Germany
€ 1.274
 
62
Mihalčin
Peter
Slovak republic
€ 1.274
 
63
Kezer
Barbaros Hüseyin
Germany
€ 1.274
 
64
Albanese
Damiano
Italy
€ 1.274
 
65
Döring
Hannes
Germany
€ 1.274
 
66
Hierl
Michael
Germany
€ 1.274
 
67
Aerts
Stefan Frans
Belgium
€ 1.274
 
68
Monaco
Stéphane
France
€ 1.274
 
69
Dirr
Werner
Germany
€ 1.274
 
70
Zarathustra
 
Germany
€ 1.274
 
71
Cubukcu
Ömer
Germany
€ 1.274
 
72
Šidláková
Nikola
Czech republic
€ 1.274
 
73
Vranckx
Philippe
Belgium
€ 1.274
 
74
Toisul
Steve
Luxembourg
€ 1.274
 
75
Průcha
Radoslav
Czech republic
€ 1.274
 
76
Binnewies
Thomas
Germany
€ 1.274
 
77
Šajánek
Milan
Slovak republic
€ 1.274
 
78
Kresović
Kai
Germany
€ 1.274
 
79
Kyrian
Jakub
Czech republic
€ 1.274
 
80
Vlk
Petr
Czech republic
€ 1.274
 
81
Leggio
Gaspare
Germany
€ 1.127
 
82
All4Mum
 
France
€ 1.127
 
83
Wasserbauer
Robin
Austria
€ 1.127
 
84
Latzke
Sven
Germany
€ 1.127
 
85
Stani
 
Germany
€ 1.127
 
86
Garry
 
Czech republic
€ 1.127
 
87
LEO
 
Germany
€ 1.127
 
88
Wuyts
Daniel Julius
Belgium
€ 1.127
 
89
Skokan
Michael
Austria
€ 1.127
 
90
Mago
Patric
Germany
€ 1.127
 
91
Barla
Jaroslav
Slovak republic
€ 1.127
 
92
Pastrňák
Jakub
Czech republic
€ 1.127
 
93
Poker Monster
 
Germany
€ 1.127
 
94
Lamboley
Christian
France
€ 1.127
 
95
Pinter
Attila
Germany
€ 1.127
 
96
Overmann
Guy
Luxembourg
€ 1.127
 
97
Valenta
Bohumil
Czech republic
€ 1.127
 
98
Kolja
 
Czech republic
€ 1.127
 
99
Varol
Yasin
Germany
€ 1.127
 
100
Arno Nym
 
Germany
€ 1.127
 
101
Brück
Holger
Germany
€ 1.127
 
102
Megatron
 
Germany
€ 1.127
 
103
Nyholm
Magnus
Sweden
€ 1.127
 
104
Schmitt
Erwin
Germany
€ 1.127
 
105
Zeneli
Kenan
Germany
€ 1.127
 
106
Liekens
Franciscus Joannaes
Belgium
€ 1.127
 
107
Arifovski
Djadid
Germany
€ 1.127
 
108
Krautstengl
Michal
Czech republic
€ 1.127
 
109
Žák
Pavel
Czech republic
€ 1.127
 
110
Stumpf
Frank Thomas
Germany
€ 1.127
 
111
Dokas
Pantelis
Germany
€ 1.029
 
112
Geschwind
Ken
Luxembourg
€ 1.029
 
113
Jerry Bruckheimer
 
Germany
€ 1.029
 
114
Chouiba
Abderrahman
Italy
€ 1.029
 
115
Keufel
Alexander
Slovak republic
€ 1.029
 
116
Mr. Bond
 
Germany
€ 1.029
 
117
Romme
Alexander
Germany
€ 1.029
 
118
Ostwald
Thorsten
Germany
€ 1.029
 
119
Nedjal
Nabil
France
€ 1.029
 
120
Kuzník
Jonáš
Czech republic
€ 1.029
 
121
Wendl
Luboš
Czech republic
€ 1.029
 
122
Stomaci
Alessandro
Italy
€ 1.029
 
123
Ensan
Hossein
Germany
€ 1.029
 
124
Widmann
Martin
Germany
€ 1.029
 
125
Einicher
Jürgen
Austria
€ 1.029
 
126
Siebroth
Marc
Germany
€ 1.029
 
127
Jimenez
Michael
Germany
€ 1.029
 
128
Spivack
Zohar
Germany
€ 1.029
 
129
Jusaj
Sylejmon
Portugal
€ 1.029
 
130
Uharček
Marián
Slovak republic
€ 1.029
 
131
Kannenberg
Malte Leander
Germany
€ 1.029
 
132
Hromčík
Richard
Czech republic
€ 1.029
 
133
Cordier
Maxime
France
€ 1.029
 
134
Niewerth
Michael
Germany
€ 1.029
 
135
Kozel
Radim
Czech republic
€ 1.029
 
136
Koschnitzke
Frank
Germany
€ 1.029
 
137
Cenk
Oguz
Belgium
€ 1.029
 
138
Langthaler
Jan
Germany
€ 1.029
 
139
Scholz
Hannes
Germany
€ 1.029
 
140
kurrr
 
Germany
€ 1.029
 
141
Dieu Huy
Lam
Belgium
€ 931
 
142
Šourek
Martin
Czech republic
€ 931
 
143
Schneegaß
Jörg
Germany
€ 931
 
144
Andreew
Frank
Germany
€ 931
 
145
Belyaev
Viacheslav
Russian federation
€ 931
 
146
Rakewitsch
Juri
Germany
€ 931
 
147
Kušnírik
František
Slovak republic
€ 931
 
148
Neumann
Heinz
Germany
€ 931
 
149
Sykora
Sascha
Germany
€ 931
 
150
Thiele
Laura
Lithuania
€ 931
 
151
Abendorth
Jörg
Germany
€ 931
 
152
Hackl
Michael
Austria
€ 931
 
153
Somers
Fabrice
Belgium
€ 931
 
154
Amenacken
 
Germany
€ 931
 
155
Goll
Jürgen
Germany
€ 931
 
156
Radauer
Andreas
Austria
€ 931
 
157
Baskharon
Marcel
Germany
€ 931
 
158
Postman
 
Germany
€ 931
 
159
Curcu
Sebastian
Germany
€ 931
 
160
Bats
Mykola
Czech republic
€ 931
 
161
Dieterling
Pierre
France
€ 931
 
162
Savić
Nenad
Germany
€ 931
 
163
Staebner
Kevin
Germany
€ 931
 
164
Targa
Petr
Czech republic
€ 931
 
165
Gazdík
Michal
Czech republic
€ 931
 
166
Johanning
Inga
Germany
€ 931
 
167
Tovar Matos
Giordano
Germany
€ 931
 
168
Magro
Dennis Christian
Germany
€ 931
 
169
Pfleger
Friedrich
Germany
€ 931
 
170
Barukčic
Goran
Germany
€ 931
 
171
Remois
 
Germany
€ 833
 
172
Hamdam
Shakib
Germany
€ 833
 
173
HansOlymp
 
Czech republic
€ 833
 
174
Glutsch
Stephan
Germany
€ 833
 
175
FRANCIS ELEPHANT
Germany
€ 833
 
176
Robert
 
Germany
€ 833
 
177
Aghajan Schakeri
Schayan
Germany
€ 833
 
178
Maximum1
 
Germany
€ 833
 
179
Kohoutek
Roman
Czech republic
€ 833
 
180
Schneider
David
Germany
€ 833
 
181
Sen
Recep
Germany
€ 833
 
182
Müll
Josef
Austria
€ 833
 
183
AS Andreas
 
Germany
€ 833
 
184
Dvořák
Martin
Czech republic
€ 833
 
185
Malackanič
Michal
Slovak republic
€ 833
 
186
Mašek
Ivo
Czech republic
€ 833
 
187
Radomski
Karol
Poland
€ 833
 
188
Winter
Joachim
Germany
€ 833
 
189
Sauer
Ronny 
Germany
€ 833
 
190
randzík
František
Slovak republic
€ 833
 
191
Sadri
Immanuel Shahram
Germany
€ 833
 
192
Frindt
Peter
Germany
€ 833
 
193
Rösnick
Johann
Germany
€ 833
 
194
Kalkan
Ismail
Germany
€ 833
 
195
Müller
Peter
Austria
€ 833
 
196
Donev
Ivo
Austria
€ 833
 
197
Erko
 
Germany
€ 833
 
198
Minar
Rene
Germany
€ 833
 
199
Stezo
 
Germany
€ 833
 
200
Die Matter
 
Germany
€ 833
 
201
Litz
Hans Peter
Germany
€ 784
 
202
Mühlbauer
Johann
Germany
€ 784
 
203
Ramachandrani
Kisohkumar
Switzerland
€ 784
 
204
Skotadis
Georgios
Germany
€ 784
 
205
Ižmám
Matúš
Slovak republic
€ 784
 
206
Räz
Friedrich
Switzerland
€ 784
 
207
Moric
Ibro
Germany
€ 784