Die legendäre "Poker Hall Of Fame" hat ihr 59. Mitglied. In der Nacht von Mittwoch auf Donnerstag wurde das Ergebnis der Wahl bekanntgegeben.
Die 31 lebenden Mitglieder der PHOF wählten Huckleberry "Huck" Seed in die Ruhmeshalle. Der WSOP Main Event Champion aus dem Jahr 1996 konnte sich gegen seine neun Mitwettbewerber durchsetzen.
Huck erfüllte alle wichtigen Kriterien für die Wahl. Er spielt High Stakes Cash Games mit sechsstelligen Buy-Ins, besitzt vier WSOP Bracelets, gewann 2009 das NBC Heads Up Tournament und triumphierte 2010 beim WSOP Tournament Of Champions. Insgesamt konnte er in seiner Karriere $7.649.846 an Turniergewinnen einsammeln.
Der ehemalige College Basketballer lebt aktuell in Las Vegas und spielt immer noch regelmäßig Poker.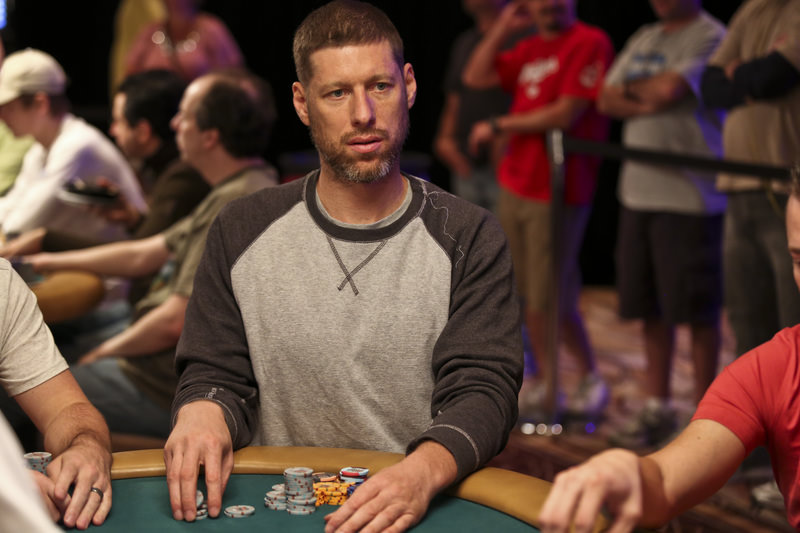 Alle 31 lebenden Hall of Fame-Mitglieder waren berechtigt, auf jede von ihnen gewählte Weise bis zu zehn Stimmen auf der Liste der Finalisten abzugeben. Insgesamt wurden 30 Stimmzettel bei einer Enthaltung abgegeben. Von den möglichen 300 Stimmen war die endgültige Bilanz wie folgt.
• Huckleberry Seed – 76 Votes
• Matt Savage – 51 Votes
• Isai Scheinberg – 45 Votes
• Eli Elezra – 30 Votes
• Antonio Esfandiari – 23 Votes
• Lon McEachern and Norman Chad – 20 Votes
• Ted Forrest – 20 Votes
• Mike Matusow – 17 Votes
• Patrik Antonius – 15 Votes
• Chris Ferguson – 3 Votes
Das sind die bisherigen 58 Mitglieder der Hall Of Fame, von denen noch 31 leben, in alphabetischer Reihenfolge:
o Tom Abdo '82
o Crandell Addington '05
o Bobby Baldwin '03
o Billy Baxter '06
o Lyle Berman '02
o Joe Bernstein '83
o Benny Binion '90
o Jack Binion '05
o Bill Boyd '81
o Doyle Brunson '88
o Todd Brunson '16
o Johnny Chan '02
o T.J. Cloutier '06
o Nick Dandolos '79
o Eric Drache '12
o Barbara Enright '07
o Mori Eskandani '18
o Fred "Sarge" Ferris '89
o Henry Green '86
o T "Blondie" Forbes '80
o Barry Greenstein '11
o Jennifer Harman '15
o Dan Harrington '10
o Murph Harrold '84
o Phil Hellmuth '07
o John Hennigan '18
o James Butler "Wild Bill" Hickok '79
o Red Hodges '85
o Edmond Hoyle '79
o Phil Ivey '17
o Linda Johnson '11
o Berry Johnston '04
o John Juanda '15
o Jack Keller '93
o Jack McClelland '14
o Felton McCorquodale '79
o Tom McEvoy '13
o Chris Moneymaker '19
o Roger Moore '97
o Carlos Mortensen '16
o Johnny Moss '79
o Daniel Negreanu '14
o Scotty Nguyen '13
o David Oppenheim '10
o Henry Orenstein '08
o Walter "Puggy" Pearson '87
o Julius Oral Popwell '96
o Thomas Austin "Amarillo Slim" Preston '92
o David "Chip" Reese '91
o Brian "Sailor" Roberts '12
o Erik Seidel '10
o Mike Sexton '09
o Jack "Treetop" Straus '88
o Duane "Dewey" Tomko '08
o David "Devilfish" Ulliott '17
o Stu "The Kid" Ungar '01
o Red Winn '79
o Sid Wyman '79
Alle weiteren Informationen zur Poker Hall of Fame gibt es hier.