Die WSOP 2023 ist in den Büchern. Mit Blick auf die 54th Annual World Series of Poker in Las Vegas, treten nicht nur zahlreiche Erfolgsstories, schmerzhafte Bad Beats, persönliche Geschichten oder Emotionen pur zu Tage auch jede Menge Zahlen, lieferte die diesjährige Auflage der Pokerweltmeisterschaft. Viele von ihnen beeindruckend, überraschend oder rekordverdächtig. Hättet ihr gedacht, dass die diesjährigen Buy-Ins das Bruttoinlandsprodukt so mancher Staaten überstiegen, dass WSOP Main Event Champion Daniel Weinman mehr Steuern von seinem Gewinn zahlen muss, als das gesamte Payout für Rang 3 gewesen ist, dass knapp 11 Millionen Dollar im Tronc für Floormen und Dealer gelandet sind oder Bulgarien mehr Bracelets geholt hat als Deutschland, Österreich oder die Schweiz?
Entries, Buy-Ins, Payouts, Fees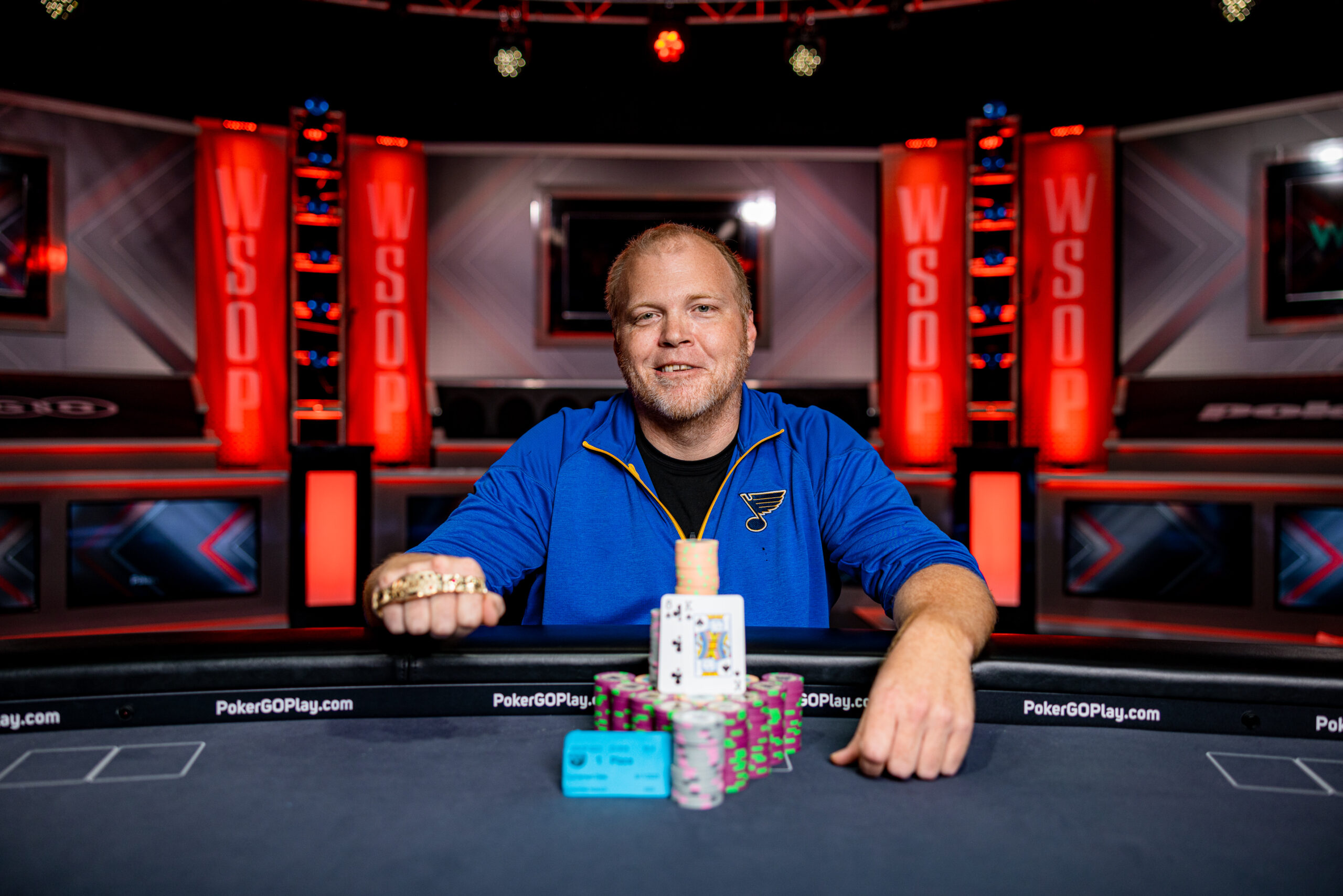 Die WSOP 2023 machte sich ab dem 22. Juni daran, im Horseshoe und Paris in Las Vegas Rekorde zu brechen – und das tat sie auch!
Entries: In den 95 Bracelet Events kamen insgesamt 215.655 Entries zusammen. Davon allein 23.088 in Event #18, dem $300 Gladiators of Poker. Mit 18.188 Total Entries in den $1.000 Mystery Millions, Event #3, 15.894 Starts im $400 Colossus NLH, Event #70, 10.416 Teilnahmen im $1.500 Millionaire Maker, Event #53, und nicht zuletzt 10.043 Starter*innen im WSOP Main Event, Event #76, gab es gleich 5 Events, die 5-stellige Teilnehmerzahlen verbuchen konnten.
Buy-Ins: $440.562.594 US-Dollar kamen bei der diesjährigen WSOP an Startgeldern zusammen. Das entspricht mehr als das dreifache Bruttoinlandsprodukt (BIP) von Nauru, mehr als das doppelte von Palau und auch immer noch deutlich mehr als das jährliche BIP der Marshall Inseln ($259.500.000) oder von Mikronesien ($404.000.000).
Payouts: Von den Buy-Ins flossen $401.837.583 wieder in die Preispools der einzelnen Events und damit zurück an die Spieler*innen.
Entry Fees / Dealer & Staff: Im Umkehrschluss wurden damit $38.925.011 von den Veranstaltern einbehalten. Davon verteilten sich $27.247.508 auf Entry Fees, während $11.6777.503 im Tronc für Dealer und das Turnierpersonal landeten.
Bracelets, Bracelets, Bracelets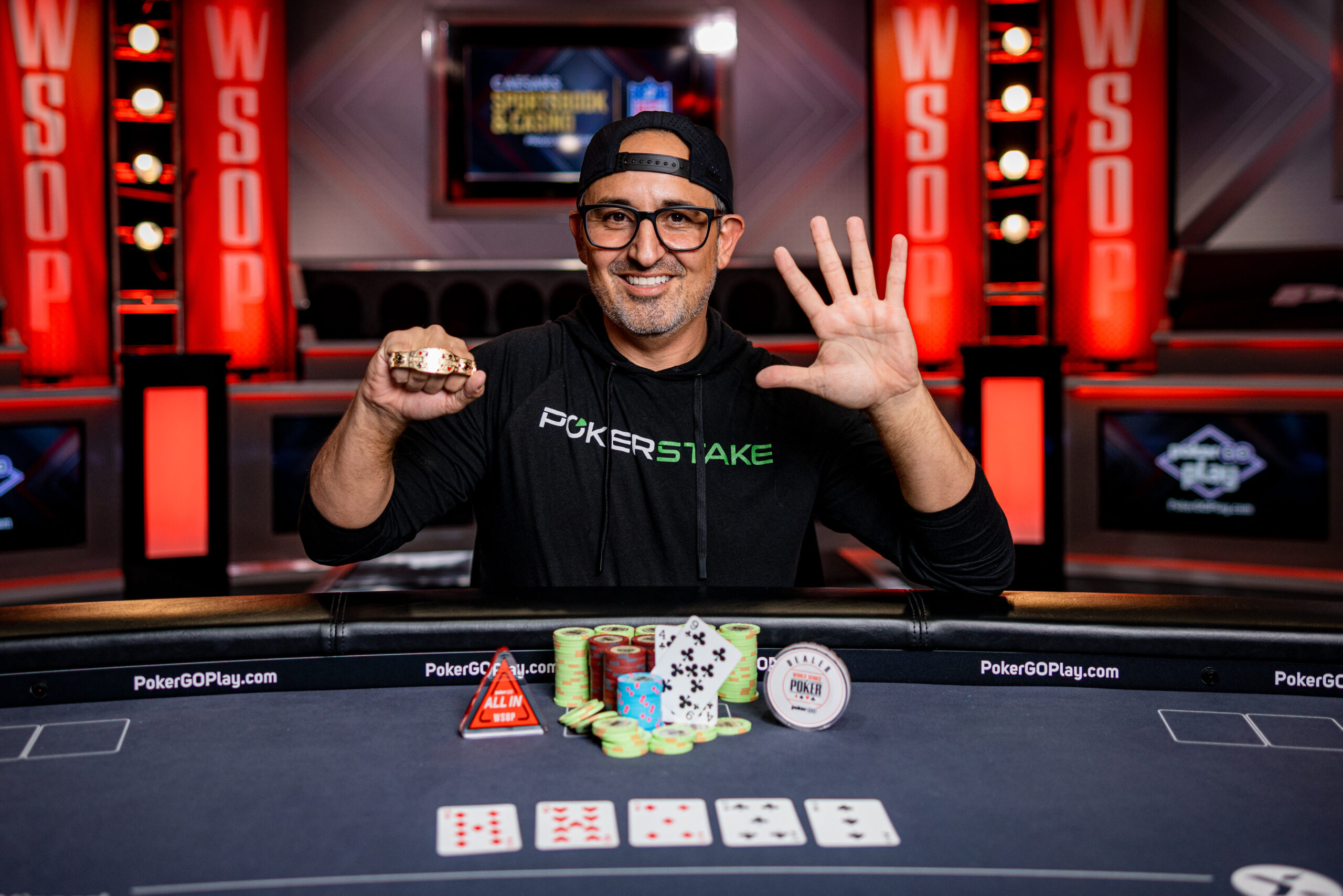 Der Bracelet-Rekord, der alles in den Schatten stellte, war ganz klar der Gewinn des 17. WSOP-Bracelets von Phil Hellmuth. Damit baute er die Führung in der ewigen Rangliste der Gold Bracelet-Gewinner weiter aus. Auf dem geteilten 2. Platz folgen weiterhin mit 10 Bracelets Johnny Chan, Phil Ivey und der kürzlich verstorbene Doyle Brunson.
Den Rekord an Mehrfachgewinnen bei der diesjährigen WSOP teilen sich die Doppelgewinner Chris Brewer, Josh Arieh, Chad Eveslage und Ryan Miller. Den All-Time-Rekord von 3 Braceletgewinnen in einem Jahr konnten sie nicht einstellen oder überbieten. Dieses Kunststück bleibt weiterhin Puggy Pearson (1973, USA), Phil Hellmuth (1993, USA), Ted Forrest (1993, USA), Phil Ivey (2002, USA), Jeff Lisandro (2009, AUS) und George Danzer (2014, GER) vorbehalten.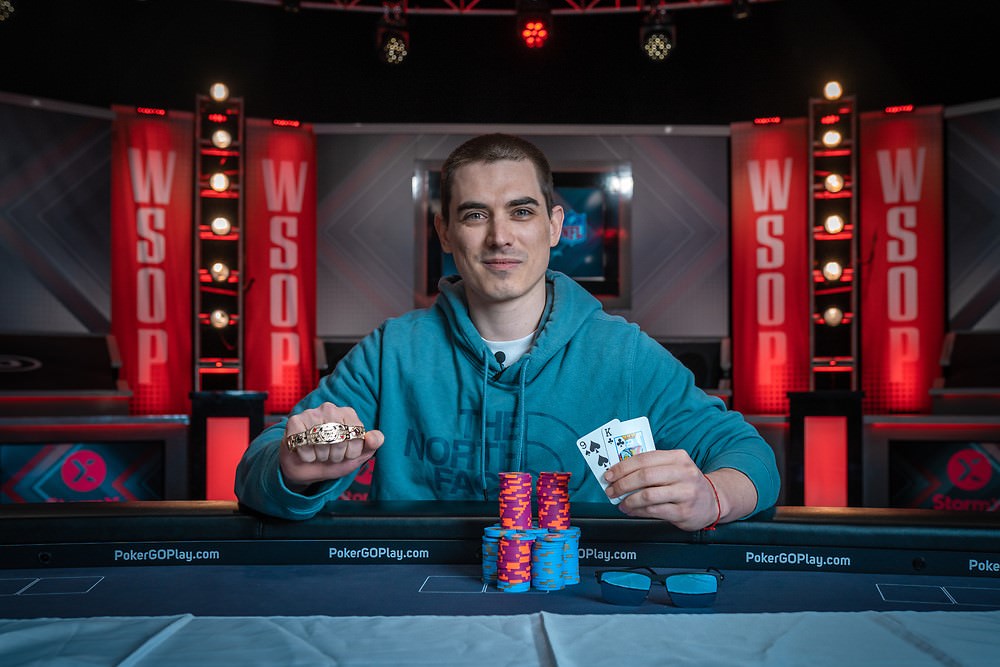 Nicht überraschend ging der Großteil der gewonnenen Gold Bracelets an die USA – genau genommen konnten 58 US-Amerikaner*innen ein (oder eben zwei) WSOP Armbänder mit nach Hause nehmen. 6-mal war Kanada, aber auch China erfolgreich. Platz 4 im "Medaillenspiegel" belegt Brasilien mit 3 Bracelets. 2 der goldenen Geschmeide gingen nach Bulgarien, das damit Platz 5 in der Nationenwertung belegt, während 16 Nationen einmal erfolgreich waren, unter ihnen auch Deutschland, Österreich und die Schweiz.
Das Rekord Main Event!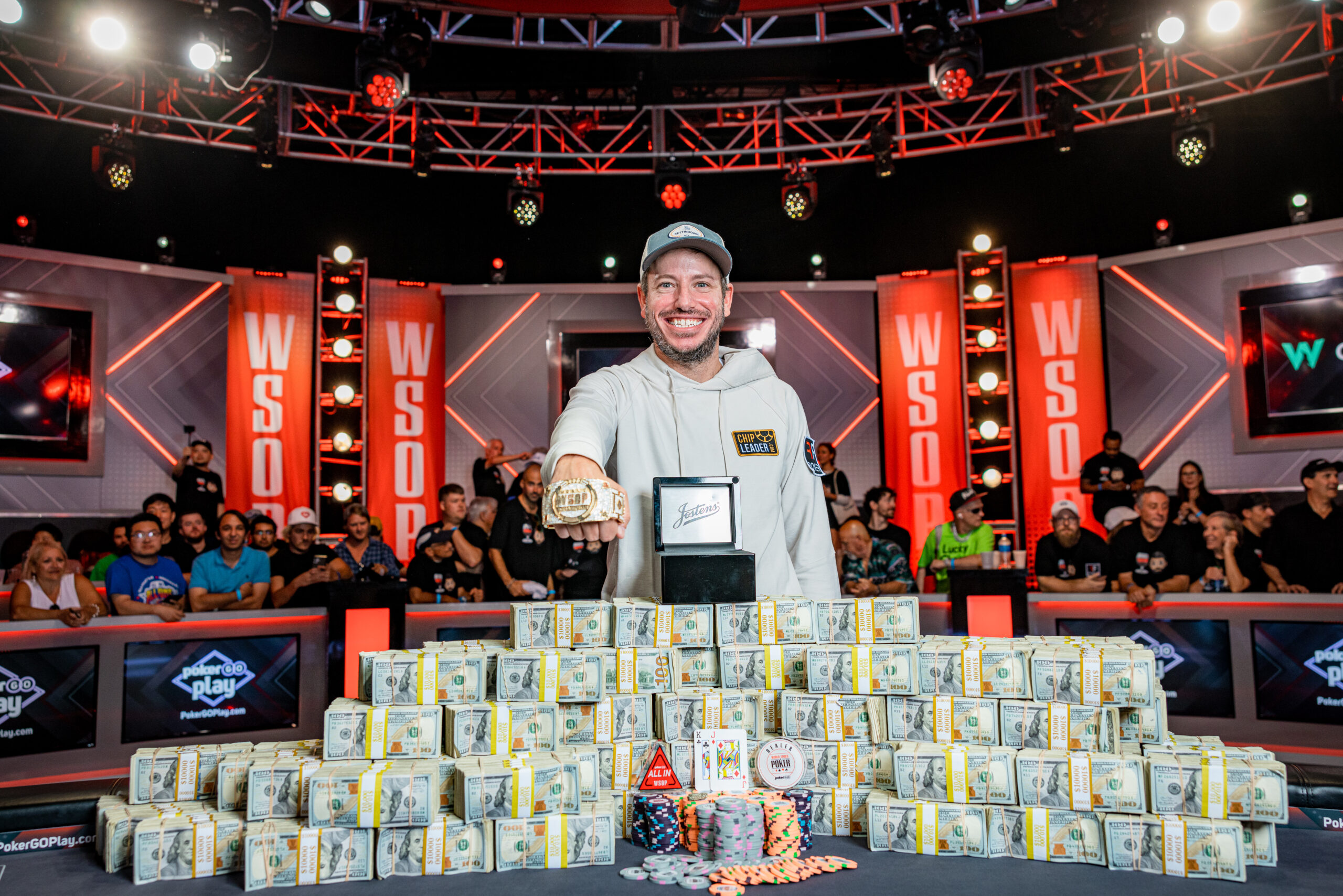 Nicht wenige dachten, dass die Rekorde aus dem Main Event 2006 mit 8.773 Entries und einem Rekord Payout von $12.000.000 für den Champion Jamie Gold für die Ewigkeit gemacht seien – doch der neuerliche Pokerboom setzte die Messlatte jetzt noch ein wenig höher:
10.043 Entries sorgten für einen Preispool von $93.399.900, der unter 1.508 ITM Spieler*innen aufgeteilt wurde, bei einer Siegprämie von $12.100.000 für Daniel Weinman – allesamt neue Rekordwerte.
Die Main Event Final Table Payouts … nach Steuern
Genauso spannend wie die Zahlen der Payjumps am Final Table des Main Events, sind die Zahlen, die am Ende nach Steuern zu Buche stehen. Je nach Heimatland, Beruf und Steuerabkommen verschiebt sich hier sogar oft das bereinigte Ranking von dem Geld, was "hinten rauskommt". Die Kolleg*innen von PokerNews haben sich die einzelnen fiskalischen Regelungen in der jeweiligen Heimatländer und die Berufe der Finalisten angeschaut und danach folgende Payout-Tabelle nach Steuern erstellt: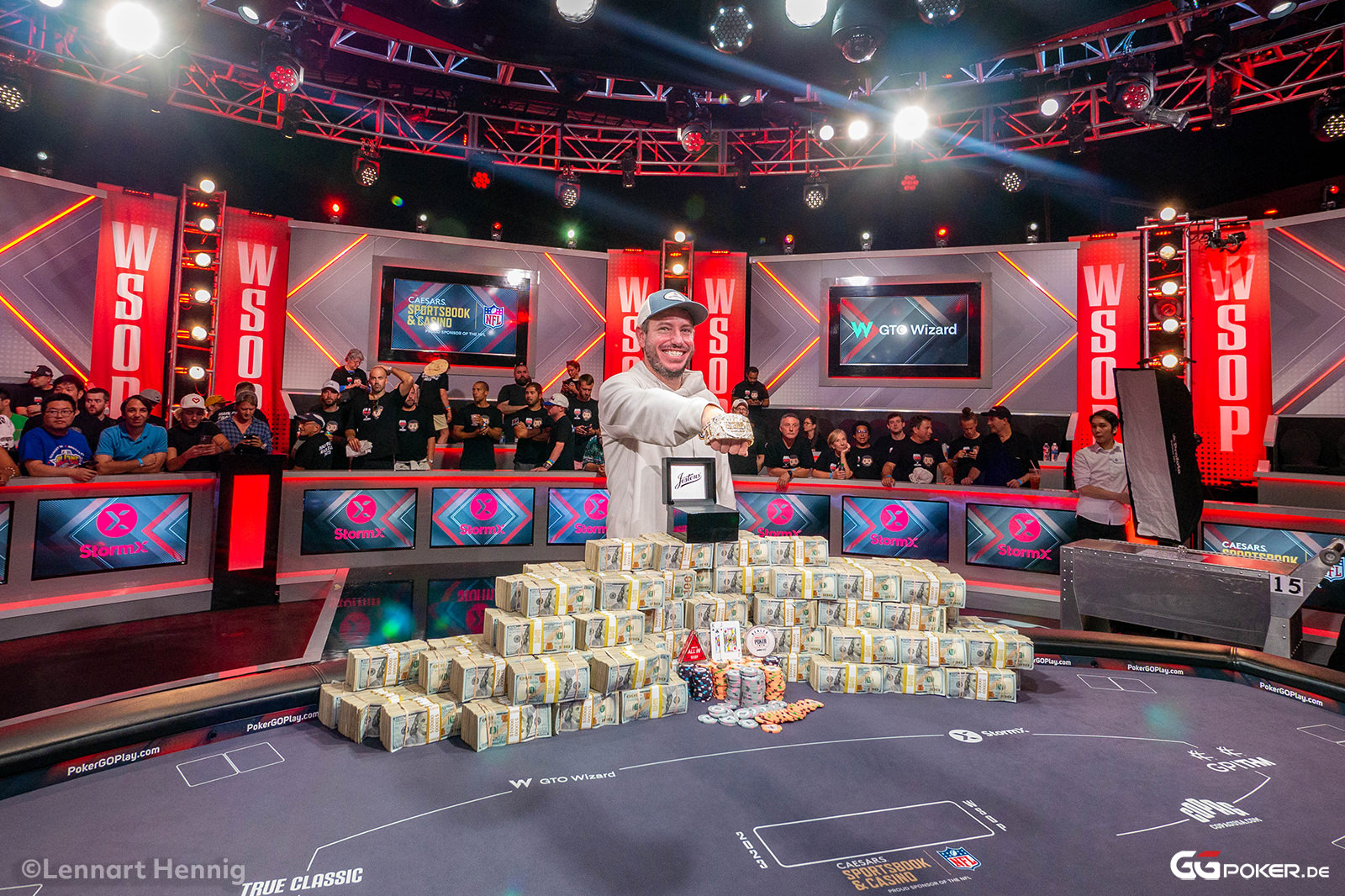 | | | | | | |
| --- | --- | --- | --- | --- | --- |
| Platz | Spieler | Nation | Preisgeld | Steuern | Preisgeld nach Steuern |
| 1st | Daniel Weinman | United States | $12,100,000 | $5,130,321 | $6,969,679 |
| 2nd | Steven Jones | United States | $6,500,000 | $2,653,860 | $3,846,140 |
| 3rd | Adam Walton | United States | $4,000,000 | $1,438,163 | $2,561,837 |
| 4th | Jan-Peter Jachtmann | Germany | $3,000,000 | $1,405,678 | $1,594,321 |
| 5th | Ruslan Prydryk | Ukraine | $2,400,000 | $465,454 | $1,934,546 |
| 6th | Dean Hutchison | Scotland | $1,850,000 | $0 | $1,850,000 |
| 7th | Toby Lewis | England | $1,425,000 | $0 | $1,425,000 |
| 8th | Juan Maceiras | Spain | $1,125,000 | $482,475 | $642,525 |
| 9th | Daniel Holzner | Italy | $900,000 | $0 | $900,000 |
Alle Events, alle Zahlen (von den Kolleg*innen von PokerNews):
| | | | | | | | | | |
| --- | --- | --- | --- | --- | --- | --- | --- | --- | --- |
| Event | Buy-in | Entries | Buy-Ins | Prize Pool | Rake | Entry Fees | Dealers & Staff | Winner | 1st Place Payout |
| Event #1: $500 Casino Employees No-Limit Hold'em | $500 | 1,015 | $507,500 | $426,300 | $81,200 | $56,840 | $24,360 | Peter Thai | $75,535 |
| Event #2: $25,000 High Roller Six Handed No-Limit Hold'em | $25,000 | 207 | $5,175,000 | $4,864,500 | $310,500 | $217,350 | $93,150 | Alexandre Vuilleumier | $1,215,864 |
| Event #3: $1,000 Mystery Millions – No-Limit Hold'em | $1,000 | 18,188 | $18,188,000 | $16,187,320 | $2,000,680 | $1,400,476 | $600,204 | Tyler Brown | $1,000,000 |
| Event #4: Tournament of Champions (Invite-Only) | NA | 741 | NA | $200,000 | NA | NA | NA | Ronnie Day | $200,000 |
| Event #5: $1,500 Dealers Choice | $1,500 | 456 | $684,000 | $608,760 | $75,240 | $52,668 | $22,572 | Chad Eveslage | $131,879 |
| Event #6: $5,000 Mixed No-Limit Hold'em; Pot-Limit Omaha | $5,000 | 567 | $2,835,000 | $2,608,200 | $226,800 | $158,760 | $68,040 | Michael Moncek | $534,499 |
| Event #7: $1,500 Limit Hold'em | $1,500 | 527 | $790,500 | $703,545 | $86,955 | $60,869 | $26,087 | Vadim Shlez | $146,835 |
| Event #8: $25,000 Heads Up No-Limit Hold'em Championship | $25,000 | 64 | $1,600,000 | $1,504,000 | $96,000 | $67,200 | $28,800 | Chanracy Khun | $507,020 |
| Event #9: $1,500 Seven Card Stud | $1,500 | 360 | $540,000 | $480,600 | $59,400 | $41,580 | $17,820 | Nick Schulman | $110,800 |
| Event #10: $10,000 Dealers Choice Championship | $10,000 | 130 | $1,300,000 | $1,209,000 | $91,000 | $63,700 | $27,300 | Chad Eveslage | $311,428 |
| Event #11: $600 No-Limit Hold'em Deepstack | $600 | 6,076 | $3,645,600 | $3,098,760 | $546,840 | $382,788 | $164,052 | Kenneth O'Donnell | $351,098 |
| Event #12: $5,000 Freezeout No-Limit Hold'em | $5,000 | 735 | $3,675,000 | $3,381,000 | $294,000 | $205,800 | $88,200 | Jeremy Eyer | $649,550 |
| Event #13: $600 Pot-Limit Omaha Deepstack | $600 | 3,200 | $1,920,000 | $1,632,000 | $288,000 | $201,600 | $86,400 | Joseph Altomonte | $217,102 |
| Event #14: $10,000 Seven Card Stud Championship | $10,000 | 130 | $1,300,000 | $1,209,000 | $91,000 | $63,700 | $27,300 | Brian Yoon | $311,433 |
| Event #15: $1,500 6-Handed No-Limit Hold'em | $1,500 | 2,454 | $3,681,000 | $3,276,090 | $404,910 | $283,437 | $121,473 | Rafael Reis | $465,501 |
| Event #16: $25,000 High Roller No-Limit Hold'em | $25,000 | 301 | $7,525,000 | $7,073,500 | $451,500 | $316,050 | $135,450 | Isaac Haxton | $1,698,215 |
| Event #17: $1,500 Omaha Hi-Lo 8 or Better | $1,500 | 1,143 | $1,714,500 | $1,525,905 | $188,595 | $132,017 | $56,579 | Jim Collopy | $262,542 |
| Event #18: $300 Gladiators of Poker No-limit Hold'em | $300 | 23,088 | $6,926,400 | $5,679,648 | $1,246,752 | $872,726 | $374,026 | Jason Simon | $500,332 |
| Event #19: $2,500 Freezeout No-Limit Hold'em | $2,500 | 1,137 | $2,842,500 | $2,529,825 | $312,675 | $218,873 | $93,803 | Valentino Konakchev | $435,924 |
| Event #20: $1,500 Badugi | $1,500 | 516 | $774,000 | $688,860 | $85,140 | $59,598 | $25,542 | Michael Rodrigues | $144,678 |
| Event #21: $1,000 Pot-Limit Omaha 8-Handed | $1,000 | 2,017 | $2,017,000 | $1,795,130 | $221,870 | $155,309 | $66,561 | Stephen Nahm | $267,991 |
| Event #22: $10,000 Limit Hold'em Championship | $10,000 | 134 | $1,340,000 | $1,246,200 | $93,800 | $65,660 | $28,140 | Josh Arieh | $316,226 |
| Event #23: $50,000 High Roller No-Limit Hold'em | $50,000 | 124 | $6,200,000 | $5,921,000 | $279,000 | $195,300 | $83,700 | Leon Sturm | $1,546,024 |
| Event #24: $1,500 Razz | $1,500 | 556 | $834,000 | $742,260 | $91,740 | $64,218 | $27,522 | David "ODB" Baker | $152,991 |
| Event #25: $10,000 Omaha Hi-Lo 8 or Better Championship | $10,000 | 212 | $2,120,000 | $1,981,600 | $138,400 | $96,880 | $41,520 | Ben Lamb | $492,795 |
| Event #26: $800 No-Limit Hold'em Deepstack | $800 | 4,747 | $3,797,600 | $3,341,888 | $455,712 | $318,998 | $136,714 | Renji Mao | $402,588 |
| Event #27: $1,500 Eight Game Mix 6-Handed | $1,500 | 789 | $1,183,500 | $1,053,315 | $130,185 | $91,130 | $39,056 | Shaun Deeb | $198,854 |
| Event #28: $1,500 Freezeout No-Limit Holdem | $1,500 | 2,046 | $3,069,000 | $2,731,410 | $337,590 | $236,313 | $101,277 | Benjamin Ector | $406,403 |
| Event #29: $100,000 High Roller No-Limit Hold'em | $100,000 | 93 | $9,300,000 | $8,997,750 | $302,250 | $211,575 | $90,675 | Jans Arends | $2,576,729 |
| Event #30: $1,500 Limit 2-7 Lowball Triple Draw | $1,500 | 522 | $783,000 | $696,870 | $86,130 | $60,291 | $25,839 | John Monnette | $145,863 |
| Event #31: $600 Mixed No-Limit Hold'em/Pot-Limit Omaha Deepstack | $600 | 2,759 | $1,655,400 | $1,407,090 | $248,310 | $173,817 | $74,493 | Joseph Dulaney | $194,155 |
| Event #32: $3,000 6-Handed No-Limit Hold'em | $3,000 | 1,241 | $3,723,000 | $3,313,470 | $409,530 | $286,671 | $122,859 | Mark Ioli | $558,266 |
| Event #33: $10,000 Razz Championship | $10,000 | 102 | $1,020,000 | $948,600 | $71,400 | $49,980 | $21,420 | Jerry Wong | $298,682 |
| Event #34: $1,500 Pot-Limit Omaha | $1,500 | 1,355 | $2,032,500 | $1,808,925 | $223,575 | $156,503 | $67,073 | Sean Troha | $298,192 |
| Event #35: $10,000 Secret Bounty No-Limit Hold'em | $10,000 | 568 | $5,680,000 | $5,282,400 | $397,600 | $278,320 | $119,280 | Chris Klodnicki | $733,317 |
| Event #36: $3,000 Nine Game Mix (7-Handed) | $3,000 | 361 | $1,083,000 | $963,870 | $119,130 | $83,391 | $35,739 | Ryutaro Suzuki | $221,124 |
| Event #37: $2,000 No-Limit Holdem | $2,000 | 1,962 | $3,924,000 | $3,492,360 | $431,640 | $302,148 | $129,492 | Yuan Li | $524,777 |
| Event #38: $10,000 Limit 2-7 Lowball Triple Draw Championship | $10,000 | 130 | $1,300,000 | $1,209,000 | $91,000 | $63,700 | $27,300 | Benny Glaser | $311,428 |
| Event #39: $1,500 MONSTER STACK No-Limit Hold'em | $1,500 | 8,317 | $12,475,500 | $11,103,195 | $1,372,305 | $960,614 | $411,692 | Braxton Dunaway | $1,162,681 |
| Event #40: $250,000 Super High Roller No-Limit Hold'em | $250,000 | 69 | $17,250,000 | $17,181,000 | $69,000 | $48,300 | $20,700 | Chris Brewer | $5,293,556 |
| Event #41: $1,500 Big O | $1,500 | 1,458 | $2,187,000 | $1,946,430 | $240,570 | $168,399 | $72,171 | Scott Abrams | $315,203 |
| Event #42: $800 8-Handed No-Limit Hold'em Deepstack | $800 | 3,773 | $3,018,400 | $2,656,192 | $362,208 | $253,546 | $108,662 | Qiang Xu | $339,377 |
| Event #43: $50,000 Poker Players Championship | $50,000 | 99 | $4,950,000 | $4,727,250 | $222,750 | $155,925 | $66,825 | Brian Rast | $1,324,747 |
| Event #44: $3,000 No-Limit Holdem | $3,000 | 1,735 | $5,205,000 | $4,632,450 | $572,550 | $400,785 | $171,765 | Yang Zhang | $717,879 |
| Event #45: $1,500 Mixed Omah | $1,500 | 1,091 | $1,636,500 | $1,456,485 | $180,015 | $126,011 | $54,005 | William Leffingwell | $253,651 |
| Event #46: $500 Freezeout No-Limit Holdem | $500 | 5,342 | $2,671,000 | $2,243,640 | $427,360 | $299,152 | $128,208 | Jay Lockett | $262,526 |
| Event #47: $1,500 H.O.R.S.E. | $1,500 | 836 | $1,254,000 | $1,116,060 | $137,940 | $96,558 | $41,382 | Yuri Dzivielevski | $207,688 |
| Event #48: $1,000 SENIORS No-Limit Hold'em Championship | $1,000 | 8,18 | $8,180,000 | $7,280,200 | $899,800 | $629,860 | $269,940 | Lonnie Hallett | $765,731 |
| Event #49: $1,500 Super Turbo Bounty No-Limit Hold'em | $1,500 | 2,226 | $3,339,000 | $2,971,710 | $367,290 | $257,103 | $110,187 | Pengfei Wang | $270,700 |
| Event #50: $10,000 Pot-Limit Omaha Championship | $10,000 | 731 | $7,310,000 | $6,798,300 | $511,700 | $358,190 | $153,510 | Lou "AP" Garza | $1,309,232 |
| Event #51: $1,000/Team TAG TEAM No-Limit Hold'em | $1,000 | 1,282 | $1,282,000 | $1,140,980 | $141,020 | $98,714 | $42,306 | S. Tanaka – M. Savakinas | $190,662 |
| Event #52: $2,500 Mixed Limit Triple Draw Lowball | $2,500 | 353 | $882,500 | $785,425 | $97,075 | $67,953 | $29,123 | Nick Pupillo | $181,978 |
| Event #53: $1,500 MILLIONAIRE MAKER No-Limit Hold'em | $1,500 | 10,416 | $15,624,000 | $13,905,360 | $1,718,640 | $1,203,048 | $515,592 | Pavel Plesuv | $1,201,564 |
| Event #54: $10,000 H.O.R.S.E. Championship | $10,000 | 185 | $1,850,000 | $1,720,500 | $129,500 | $90,650 | $38,850 | Mike Gorodinsky | $422,747 |
| Event #55: $1,500 Seven Card Stud Hi-Lo 8 or Better | $1,500 | 566 | $849,000 | $755,610 | $93,390 | $65,373 | $28,017 | Marcin Horecki | $155,275 |
| Event #56: $500 SALUTE to Warriors* | $500 | 4,303 | $1,979,380 | $1,936,350 | $43,030 | $30,121 | $12,909 | Steven Genovese | $217,921 |
| Event #57: $25,000 High Roller Pot-Limit Omaha | $25,000 | 449 | $11,225,000 | $10,551,500 | $673,500 | $471,450 | $202,050 | Ka Kwan Lau | $2,294,756 |
| Event #58: $3,000 6-Handed Limit Hold'em | $3,000 | 263 | $789,000 | $702,210 | $86,790 | $60,753 | $26,037 | Jason Daly | $165,250 |
| Event #59: $3,000 Freezeout No-Limit Hold'em | $3,000 | 1,598 | $4,794,000 | $4,266,660 | $527,340 | $369,138 | $158,202 | Robert Schulz | $675,275 |
| Event #60: $1,500 No-Limit 2-7 Lowball Draw | $1,500 | 548 | $822,000 | $731,580 | $90,420 | $63,294 | $27,126 | Jason Mercier | $151,276 |
| Event #61: $1,000 SUPER SENIORS No-Limit Hold'em | $1,000 | 3,121 | $3,121,000 | $2,777,690 | $343,310 | $240,317 | $102,993 | Klaus Ilk | $371,603 |
| Event #62: $1,500 Mixed No-Limit Hold'em; Pot-Limit Omaha | $1,500 | 2,076 | $3,114,000 | $2,771,460 | $342,540 | $239,778 | $102,762 | David Simon | $410,659 |
| Event #63: $10,000 Seven Card Stud Hi-Lo 8 or Better Championship | $10,000 | 141 | $1,410,000 | $1,311,300 | $98,700 | $69,090 | $29,610 | Ryan Miller | $344,677 |
| Event #64: $600 Deepstack Championship No-Limit Hold'em | $600 | 4,303 | $2,581,800 | $2,194,530 | $387,270 | $271,089 | $116,181 | David Guay | $270,972 |
| Event #65: $5,000 6-Handed No-Limit Hold'em | $5,000 | 1,199 | $5,995,000 | $5,515,400 | $479,600 | $335,720 | $143,880 | Weiran Pu | $259,459 |
| Event #66: $1,500 Pot-Limit Omaha Hi-Lo 8 or Better | $1,500 | 1,125 | $1,687,500 | $1,501,875 | $185,625 | $129,938 | $55,688 | William Kopp | $259,549 |
| Event #67: $10,000/$1,000 LADIES No-Limit Hold'em Championship | $1,000 | 1,295 | $1,295,000 | $1,152,550 | $142,450 | $99,715 | $42,735 | Tamar Abraham | $192,167 |
| Event #68: $1,000 Super Turbo Bounty No-Limit Hold'em | $1,000 | 2,824 | $2,824,000 | $2,513,360 | $310,640 | $217,448 | $93,192 | Gabriel Schroeder | $228,632 |
| Event #69: $10,000 No-Limit 2-7 Lowball Draw Championship | $10,000 | 154 | $1,540,000 | $1,432,200 | $107,800 | $75,460 | $32,340 | Chris Brewer | $367,599 |
| Event #70: $400 COLOSSUS No-Limit Hold'em | $400 | 15,894 | $6,357,600 | $4,989,540 | $1,368,060 | $957,642 | $410,418 | Moshe Refaelwitz | $501,120 |
| Event #71: $50,000 HIGH ROLLER Pot-Limit Omaha | $50,000 | 200 | $10,000,000 | $9,550,000 | $450,000 | $315,000 | $135,000 | Jesse Lonis | $2,303,017 |
| Event #72: $10,000 Super Turbo Bounty No-Limit Hold'em | $10,000 | 642 | $6,420,000 | $5,970,600 | $449,400 | $314,580 | $134,820 | Phil Hellmuth | $803,818 |
| Event #73: $2,500 Mixed Big Bet Event | $2,500 | 377 | $942,500 | $838,825 | $103,675 | $72,573 | $31,103 | Julio Belluscio | $190,240 |
| Event #74: $1,000 MINI Main Event No-Limit Hold'em | $1,000 | 5,257 | $5,257,000 | $4,678,730 | $578,270 | $404,789 | $173,481 | Bradley Gafford | $549,555 |
| Event #75: $10,000 Pot-Limit Omaha Hi-Lo 8 or Better Championship | $10,000 | 247 | $2,470,000 | $2,297,100 | $172,900 | $121,030 | $51,870 | Hassan Kamel | $598,613 |
| Event #76: $10,000 MAIN EVENT No-Limit Hold'em World Championship | $10,000 | 10,043 | $100,430,000 | $93,339,900 | $7,090,100 | $4,963,070 | $2,127,030 | Daniel Weinman | $12,100,000 |
| Event #77: $777 Lucky 7's No-Limit Hold'em | $777 | 7,323 | $5,689,971 | $5,007,175 | $682,796 | $477,957 | $204,839 | Shawn Daniels | $777,777 |
| Event #78: $1,500 BOUNTY Pot-Limit Omaha | $1,500 | 1,214 | $1,821,000 | $1,013,690 | $807,310 | $565,117 | $242,193 | Thomas Skaggs | $171,742 |
| Event #79: $2,500 No-Limit Hold'em | $2,500 | 2,068 | $5,170,000 | $4,601,300 | $568,700 | $398,090 | $170,610 | Samuel Bernabeu | $682,436 |
| Event #80: $25,000 High Roller H.O.R.S.E. | $25,000 | 112 | $2,800,000 | $2,632,000 | $168,000 | $117,600 | $50,400 | Josh Arieh | $711,313 |
| Event #81: $600 Ultra Stack No-limit Hold'em | $600 | 7,207 | $4,324,200 | $3,675,570 | $648,630 | $454,041 | $194,589 | Joseph Roh | $401,250 |
| Event #82: $3,000 6-Handed Pot-Limit Omaha | $3,000 | 1,013 | $3,039,000 | $2,704,710 | $334,290 | $234,003 | $100,287 | Matthew Parry | $480,122 |
| Event #83: $1,500 Short Deck No-Limit Hold'em | $1,500 | 363 | $544,500 | $484,604 | $59,896 | $41,927 | $17,969 | Thai Ha | $111,170 |
| Event #84: $50,000 HIGH ROLLER No-Limit Hold'em | $50,000 | 176 | $8,800,000 | $8,404,000 | $396,000 | $277,200 | $118,800 | Alex Kulev | $2,087,073 |
| Event #85: $1,500 SHOOTOUT No-Limit Hold'em | $1,500 | 997 | $1,495,500 | $1,317,645 | $177,855 | $124,499 | $53,357 | Faraz Jaka | $237,367 |
| Event #86: $1,979 Poker Hall of Fame Bounty No-Limit Hold'em | $1,979 | 1,417 | $2,804,243 | $2,495,776 | $308,467 | $215,927 | $92,540 | Diego Ventura | $402,054 |
| Event #87: $2,500 Mixed: Omaha Hi-Lo 8 or Better; Seven Card Stud Hi-Lo 8 or Better | $2,500 | 460 | $1,150,000 | $1,023,500 | $126,500 | $88,550 | $37,950 | Bradley Smith | $221,733 |
| Event #88: $1,500 The Closer – No-Limit Hold'em | $1,500 | 3,531 | $5,296,500 | $4,713,885 | $582,615 | $407,831 | $174,785 | Pierre Shum | $606,810 |
| Event #89: $1,000 FLIP & GO No-Limit Hold'em | $1,000 | 1,329 | $1,329,000 | $1,182,810 | $146,190 | $102,333 | $43,857 | Dong Meng | $160,490 |
| Event #90: $10,000 6-Handed No-Limit Hold'em Championship | $10,000 | 550 | $5,500,000 | $5,115,000 | $385,000 | $269,500 | $115,500 | Alexandre Reard | $1,057,663 |
| Event #91: $3,000 H.O.R.S.E. | $3,000 | 331 | $993,000 | $886,440 | $106,560 | $74,592 | $31,968 | Ryan Miller | $208,460 |
| Event #92: $1,000 Freezeout No-Limit Holdem | $1,000 | 1,71 | $1,710,000 | $1,521,900 | $188,100 | $131,670 | $56,430 | Kang Hyun Lee | $236,741 |
| Event #93: $10,000 Short Deck No-Limit Hold'em | $10,000 | 84 | $840,000 | $734,700 | $105,300 | $73,710 | $31,590 | Martin Nielsen | $270,160 |
| Event #94: $5,000 8-Handed No-Limit Hold'em | $5,000 | 813 | $4,065,000 | $3,739,800 | $325,200 | $227,640 | $97,560 | Alex Keating | $701,688 |
| Event #95: $1,000 Super Turbo No-Limit Hold'em | $1,000 | 1486 | $1,486,000 | $1,318,980 | $167,020 | $116,914 | $50,106 | Paul Berger | $212,645 |